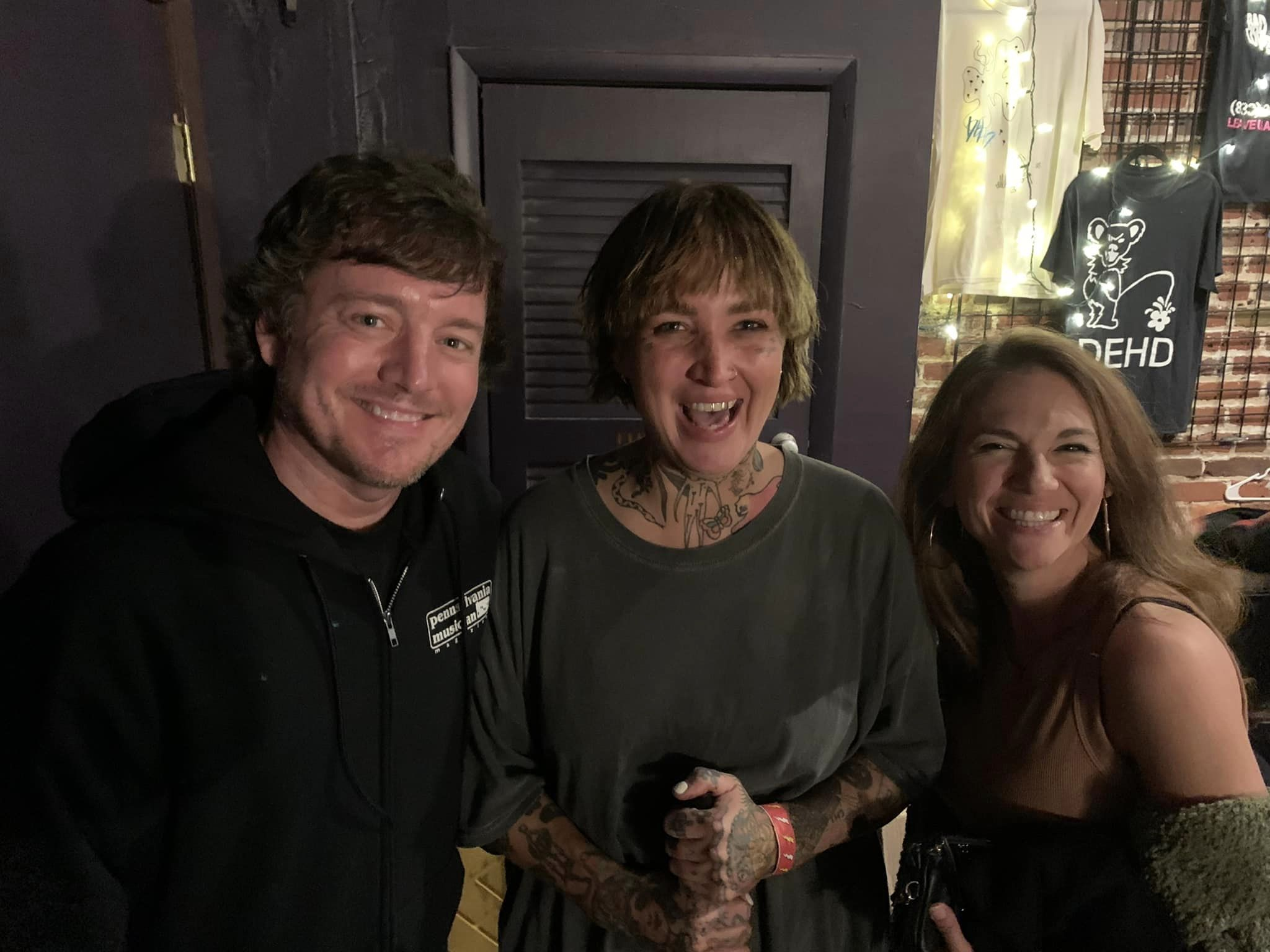 ---
By: Eric Hoffman
Greetings Rockers 'N' Rollers! Last month proved to be possibly the best of the year for seeing favorite artists! Yeah Yeah Yeahs returned for a mere 10 shows in 2022 (5 in America). The art-rock trio brought their edgy post-punk music back to their home of New York City on October 1st at Forest Hills Stadium. An incredible show with openers Japanese Breakfast and The Linda Lindas to support the YYY's fifth-studio album, "Cool It Down". The band rarely performs anymore except for possible large festivals across the world and will perform in Mexico on November 19th.
English electronic band, Morcheeba, returned to North America for 16-concerts. The tour is supporting their tenth-album, "Blackest Blue". The band's primary fanbase is in Europe but we were very fortunate to see Morcheeba play Washington DC's Lincoln Theatre on October 2nd. Ireland's Fontaines DC also returned to America for 14-dates including Baltimore's Rams Head Live on October 3rd. The Irish post-punk band formed in Dublin in 2017 and were nominated for Best Rock Album at the 2021 Grammy Awards.
Baltimore-based hardcore band, Turnstile, played an incredible sold-out 6,000 capacity show at Washington DC's Anthem on October 9th. The band's popularity is skyrocketing at the moment from playing huge festivals, constant touring and their incredible album, "Glow On". Turnstile toured with My Chemical Romance this past year and have signed on to support Blink-182 next year for 34-shows. Do not miss Turnstile's final unprecedented headline show of the year here in Harrisburg at XL Live on November 21st. The band will return May 27th, 2023 with Blink 182 at Hersheypark Stadium.
Female grunge band, L7, visited the East Coast to celebrate the 30th Anniversary of their iconic album, "Brick Are Heavy". L7 saw the height of their popularity in the late 80's early 90's during the grunge movement with the likes of Nirvana, Pearl Jam, Mudhoney, etc. The band played a great show on October 10th at Philadelphia's Union Transfer. Chicago based, Dehd, is about to finish their North American tour for the past month. The indie rock trio visited Washington DC's Black Cat on October 23rd and put on a fantastic show playing hits "Bad Love" and "Loner."
Notable Central PA shows included The Melvins at Tellus 360 in Lancaster on September 27th, The Briefs at Harrisburg's Stage On Herr on October 20th and The Super High-Tech Jet Fighters at Lancaster's ABAG on October 21st. York County-native, Del McCoury, returned to Pennsylvania for two shows in one night at the Sellersville Theatre on October 21st. The Del McCoury Band, featured two of his sons —the legendary bluegrass musician has been playing for 6 decades and has received countless awards including two Grammys.
NATIONAL NEWS: Blink-182's Mark Hoppus and Travis Barker have reunited with guitarist Tom DeLonge and announced a tour marking the trio's first trek together in nearly 10 years. The band will steadily be touring for an entire year, starting on March 11th in Mexico with 32-dates in America and will conclude, on February 26th, 2024 in New Zealand. Turnstile will provide support for American dates. DeLonge departed the band in 2015, Hoppus and Barker continued touring with Alkaline Trio vocalist/guitarist Matt Skiba taking over for DeLonge. Blink-182 visits Hersheypark Stadium on May 27th.
Loretta Lynn, the Kentucky coal miner's daughter who sang country music passed away at the age of 90. In a statement, Lynn's family said "Our precious mom, Loretta Lynn, passed away peacefully this morning, October 4th, in her sleep at home in her beloved ranch in Hurricane Mills." The Country Music Hall of Famer wrote fearlessly about sex and love, cheating husbands, divorce and birth control and sometimes got in trouble with radio programmers for material from which even rock performers once shied away. She and her husband were married nearly 50 years before he died in 1996. They had six children, 17 grandchildren and four step-grandchildren.
A second COVID diagnosis that left him "surprised" forced Ringo Starr to cancel the remainder of his North American tour. The 82-year-old former Beatle tweeted "I'm sure you'll be as surprised as I was. I tested positive again for Covid the rest of the tour is off. I send you peace and love, Ringo." Starr postponed several tour dates October 3rd after his first positive test. Edgar Winter and Steve Lukather, members of the All Starr Band, tested positive for COVID in June, forcing the rescheduling of a dozen shows.
The Original Misfits have announced another reunion gig for 2022, New Year's Eve in Las Vegas, Nevada. The horror-punk outfit recently played Riot Fest in Chicago and a Halloween show in Dallas, Texas. Featuring founding members Glenn Danzig and Jerry Only, plus Only's brother Doyle Wolfgang von Frankenstein on guitar and Slayer icon Dave Lombardo on drums, the band will perform with Circle Jerks and Tiger Army in Las Vegas December 31st.
Rage Against The Machine has canceled the North American leg of their 2023 tour following frontman Zack de la Rocha's leg injury from July. The singer suffered a tear in his left Achilles tendon at their Chicago show. And the Asian leg of Justin Bieber's "Justice World Tour"is now postponed along with the rest of the tour. The Asian portion was still on the schedule, but apparently, Bieber's health problems have persisted, according to a statement, confirming that Bieber will not perform again this year anywhere.
Dead & Company have announced "The Final Tour" for summer 2023 with 30-show dates including Philadelphia's Citizens Bank Park on June 15th. "The Final Tour" is just that – Dead & Company are ending their historic run after former Grateful Dead members Weir, Hart and Kreutzmann brought some friends along for the legendary band's 50th anniversary "Fare Thee Well" concerts in 2015, and decided to keep it going. The band – Mickey Hart, Bill Kreutzmann, John Mayer, and Bob Weir, with Oteil Burbridge and Jeff Chimenti – will perform two sets of music drawing from the Grateful Dead's historic catalog of songs. Dead & Co grossed $50.2 million in 2021 ranking No. 5 in Top Tours.
Beck has dropped off Arcade Fire's tour following allegations of sexual misconduct which surfaced against co-leader Win Butler. Feist, who was scheduled to open in Europe for Arcade Fire, also dropped off after the news broke and stated, "I'm claiming my responsibility now and going home." Butler has denied the allegations against him, which were made by multiple people, saying "I have never touched a woman against her will, and any implication that I have is simply false. I vehemently deny any suggestion that I forced myself on a woman or demanded sexual favors."
Coolio, the rapper who was among hip-hop's biggest names of the 1990s with hits including "Gangsta's Paradise" and "Fantastic Voyage," died September 28th at age 59. The cause was not immediately clear.
In 1997, rapper Puff Daddy released the song, "I'll Be Missing You" a tribute to his friend The Notorious B.I.G who had passed. The song won a Grammy and spent 11 weeks at No. 1 on Billboard. The huge song famously sampled The Police's 1983 hit "Every Breath You Take." However, Sean "Diddy" Combs never asked permission to sample The Police and due to copyright laws frontman Sting was able to claim 100 percent of the royalties. To this day, Sting earns $730,000 a year, or $2,000 a day, off the royalties of the song.
Journey and Toto had such a great time touring together in 2022, they're going to do it together again in 2023. The two rock bands will share the stage on the continuation of Journey's 50th anniversary "Freedom Tour." The new dates start February 4th at PPL Center in Allentown and also will visit the Bryce Jordan Center in State College on March 3rd. Other National bands who have already announced major 2023 North American tours include: The Eagles, Arctic Monkeys, John Mellencamp, Death Cab For Cutie, Muse, Ed Sheeran, and Dawes with a Harrisburg show on March 11th. Both Motley Crue & Def Leppard will tour Europe and South America together. And Depeche Mode will tour for the first time in 5 years.
UPCOMING SHOWS: Rakim – Harrisburg XL Live November 3rd. Big Gorgeous – Mechanicsburg Lovedrafts November 4th. Dave Hause – Lancaster Tellus360 November 9th. Bright Eyes – Baltimore Soundstage November 14th. Tommy Conwell & Young Rumblers – Ardmore Music Hall November 19th. Turnstile – Harrisburg XL Live November 21st. Morrissey – Washington DC Anthem November 28th.