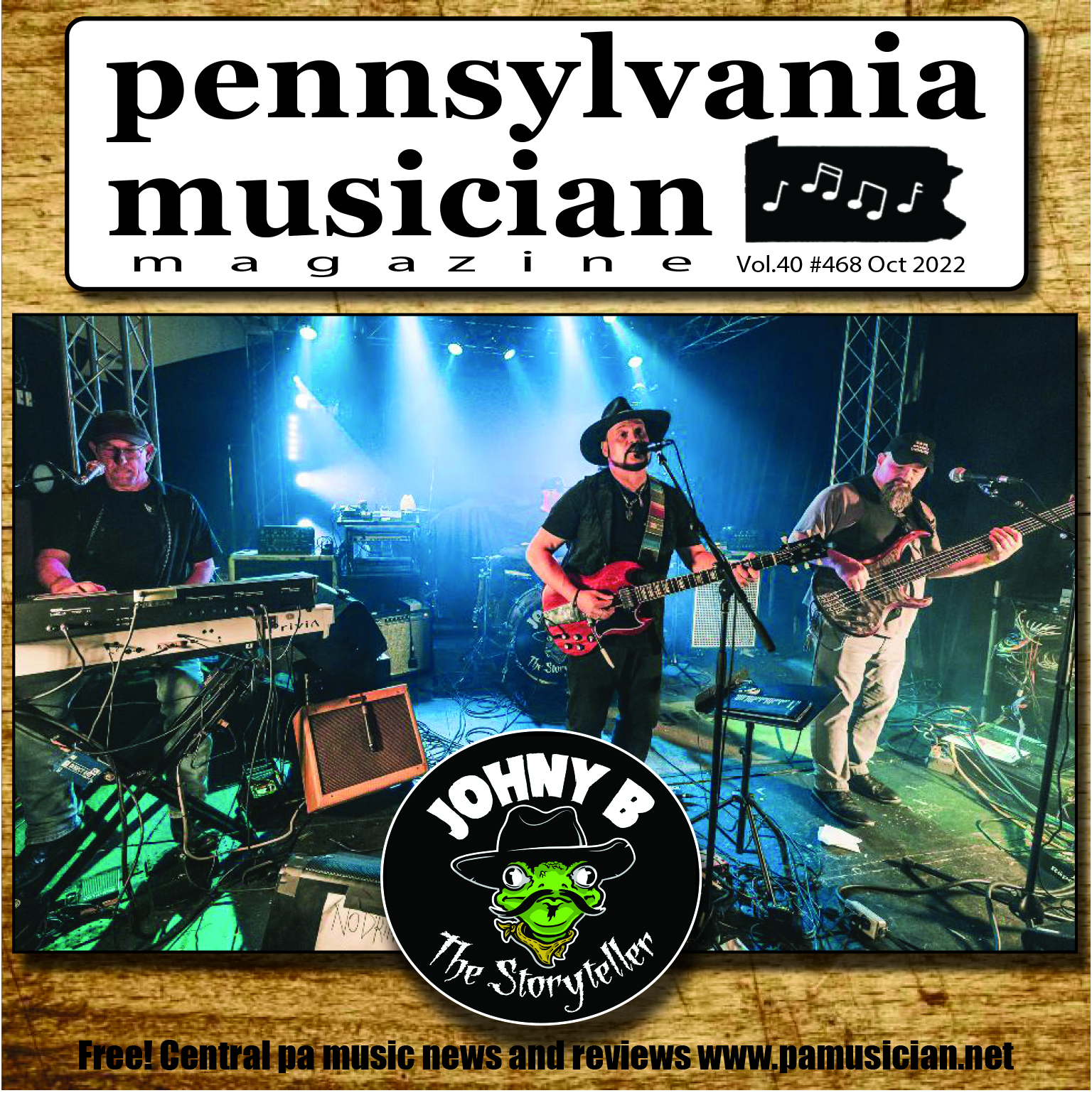 ---
THE STORY OF A STORYTELLER
By Josh Noll photos By Chris Rider photography
JohnyB The Storyteller grew up in the streets of Northeast Baltimore. Times weren't always easy as Johny was growing up but one thing was always on his mind: music. Music has always been a part of his life thanks to his parents and older brother. He picked up his first guitar when he was 6 years old and the rest, as they say, is history. Learning songs off the old records his mom would play or writing his own, he was always playing music. Watching his older brother's band jam out on the porch only fueled the fire inside. He was done singing "Down in the Valley" and was heading for bigger and better things. By his senior year he was already touring with the band "Buzz Buster" playing guitar and doing covers. However, originals were always on his mind.
Living in the Disco age meant Johny couldn't always play the songs he was into but what the crowds wanted to hear. Yearning for more and wanting to focus on singing, Johny put an ad in the Sun paper and landed a gig with the band Deceiver, playing all the heavy hitting covers from Ozzy to Led Zeppelin, even developing theatrical sets to take the performance a step further. But that wasn't enough. Still looking for a place to fit in and explore original music, he soon moved to Detroit. Here he hooked up with the band Seduce, whom he seduced into believing he was from England. After the audition, they quickly made him the new singer, and Johny B from Baltimore was now a bloke from the UK calling himself "Johnny Roxx". He spent the next two years with an accent and a band that would help shape his future. Here Johny learned a valuable lesson, "be yourself", as Seduce moved on to California and "The Decline of Western Civilization Part II: The Metal Years". Johny, however, got dropped by the band, leaving him in Detroit. Hurt and heartbroken, Johny licked his wounds and moved on, just another lesson that would make him who is today. He doesn't hold any grudges and loves the band today and cherishes all the moments he had, good or bad.
After Seduce Johny went on to a couple other projects but hard times struck again when a freak accident left him with two cut ligaments in his hand. The damage was so severe that it was uncertain if Johny would be able to regain use of his hand, let alone play a guitar again. As he battled to overcome not only the injury to his hand but also to his heart, Johny picked up a new passion and began giving back to the community through motivational speaking. For the next 20 some years he gave back by teaching about lessons learned through his own hardships to help people deal with the issues in their lives.
Fast forward a bit to 2015 and Johny found a new groove with JJGunn. As JJGunn he was finally able to do his originals and realize the dream he had strived to achieve for so many years. His hand now rehabilitated and his soul mended, JJGunn was playing with bands like Gilby Clarke, G-n-R, Faster Pussycat, Ratt, The Fabulous Thunderbirds, Pappa Chubby, Chayce Beckham and more. For 8 years he enjoyed the JJGunn persona but over time found himself and his music style changing once again. JJGunn was evolving into "JohnyB The Storyteller".
As the pandemic hit, Johny had already felt the need for a change in his branding. With the down time forced from the pandemic and the changes happening around him in the world, he knew it was time for a change. Followed with the sudden loss of both his parents and two dogs, one would think the pandemic had won. While Johny's life was changed forever, what seemed like the end turned out to be a beginning. He turned his loss into love of life and has decided to focus on the good instead of the evil. As JohnyB The Storyteller, he is not only looking to further his career, he is looking to help the next generation of story tellers find the path to success. He wants to connect with the central PA music scene and help musicians blossom and flourish. Along with his manager Jimmy Mast, they have created a studio space where local musicians can go to create and feel at home. They offer help with demos, recordings, producing and whatever help you may need. They want to help keep the musicians on track and moving forward.
Johny has a lot in the works and has been working with producer Dan Malsch at Soundmine Recording Studios. He will be releasing new material along with some remakes on a regular basis starting this fall with an acoustic release of "Can You Hear Me", a song he wrote after his parents passing. He has already been playing live in the area and likes to draw talent from local musicians to back him up. His go to guys have been Bobby Fry Jr on Bass, Jamie Fuhrman on Drums and Tom Lowry on keys. He has also done shows teaming up with the Jeremy Edge Project and Ben Brandt & The Soul Miners Union. Given a choice of what he would call his style of music, Johny referred to it as "Swamp Blues" or blues with a twist, some might even call it "Frog Rock". To me it's a raspy blues background mixed with the hardships of life, twisted into a story that in some way each of us can relate to. He has been fine tuning his sound and has become obsessed with vintage tube amps and using multiple tube amps to create his swampy frog rock sound. A raspy twang, with soft slides of the strings mixed in, as he manipulates each note. The sort of sounds that make you want to sit around a cozy fire and tell stories all night. To many of us, they are the sounds of growing up around music.
Johny has come full circle with his career, from writing his first song at age 7 to performing with heavy metal hair bands and back again to his simplistic style of swampy blues and heart felt lyrics. Johny will also be releasing some new twists on some classic covers. While I can't give anything away, let's just say his early metal roots are bleeding into his blues. Who knows, maybe we'll even get a metal version of "Down in The Valley".
After talking with Johny for a couple of minutes you'll feel like family. He has an inviting atmosphere around him, almost a calming effect and I can guarantee you'll be in for some stories. Don't believe me, then do me a favor and go check out a show and meet the man for yourself. Anyone in the music business this long can teach you a thing or two about life and music.
Johny would like to thank everyone who has touched his career and made him who he is today. His main support is his "Team"; Jimmy Mast, manager, Alex Stanilla, social media consultant, Ezra Boggs, Music industry consultant, Gordon Borawski, director of marketing arenas and amphitheaters @ Live Nation, Bernard Resnick, music attorney, Wayne Kurtz, road manager, Phil Nicolo and studio 4, Chris Werner, HMAC, and last but not least he would like to thank his number one fan Craig Werner and all of his family and friends who have supported him throughout the years.
Keep your eyes peeled and your ears open as JohnyB The Storyteller is coming to a venue near you. He will be performing live December 10th at HMAC and January 14th at the Allen Theatre. He is always looking for shows, big or small and is going to be working with Live Nation in the upcoming year to gain access to some bigger headlining shows. If you would like to book JohnyB The Storyteller for your venue or just want to know more about his fascinating life story then head over to johnybthestoryteller.com for all your JohnyB info. You can also find a great interview on YouTube, just search "the Metal Summit episode 134:" where Johny dives deep into the days with Seduce and what it was like growing up metal in the late 70's and early 80's.