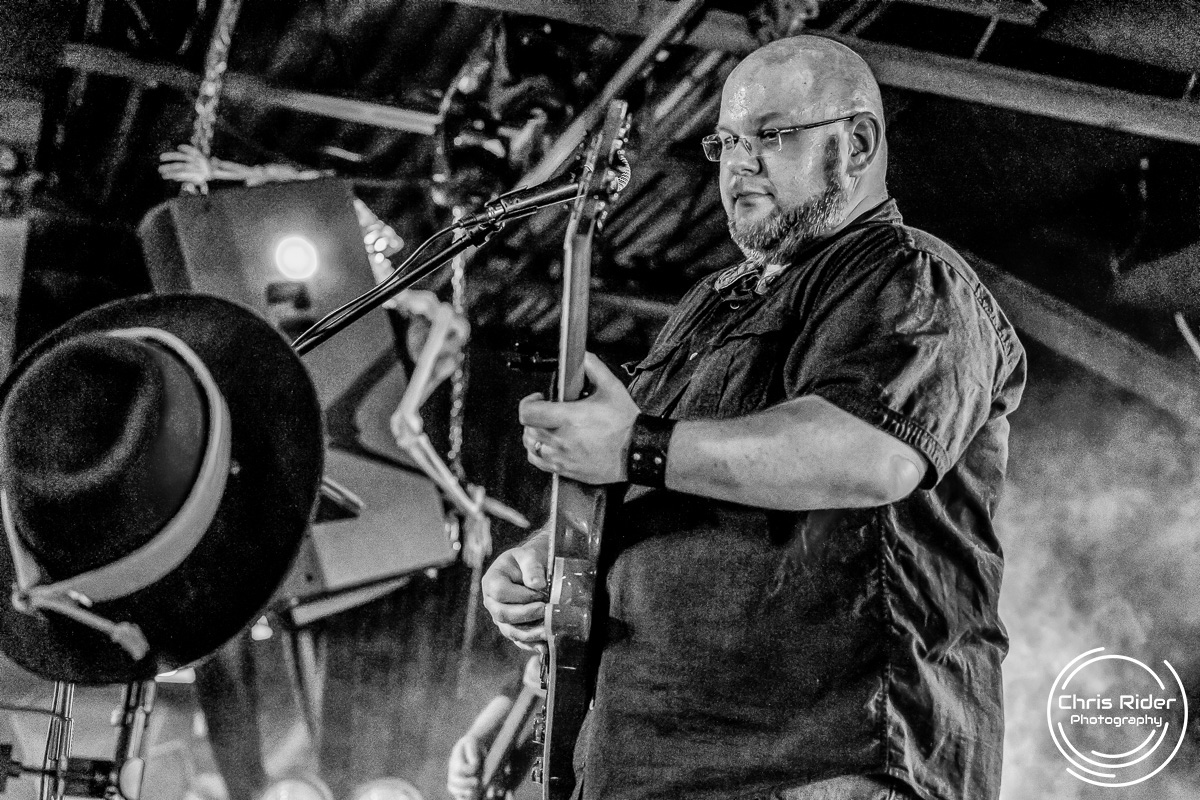 ---
By: Chris Rider
March is almost done, and here I sit listening to some tunes and cranking out my article wondering who pissed Mother Nature off LOL. Despite her bipolar behavior, it was still a great month for music. Between the return of The Badlees, the CPMHOF's Central Pennsylvania Music Award show, and a mind-boggling number of music shows (local, national and even international)…a person really can't find any excuse for not being able to find a show to go out & support.
My first trip was down to The Englewood. Have I mentioned how beautiful this venue is? They've got a great stage, great setup on that stage, great food and beer, and they bring in some awesome acts, so what's not to love? This particular trip was extra special to me, bringing back memories of sitting with my brother back in the 90's and listening to a cd he'd just bought: "Diamonds in the Coal" by The Badlees. My brother still has that cd and listens to it from time to time, so he was excited for me when I told him I'd be attending The Badlees' first show in years (not counting their reunion performance at the CPMA's last year of course!). When they opened up ticket sales for the Saturday show, they'd sold out in less than 24 hours which convinced them to add a second show for Friday night…which sold out in 30 minutes. This speaks to how big their fanbase still is, and to the love for their music. When Pete and the boys took to the stage, you'd never have guessed it'd been a bit since they were up there. Their connection with their fans was unreal…and something that I love to see from bands no matter how long they've been around. This was a pure Central PA Rock and Roll show…these guys loved being on stage, and they belong there. Playing favorites like "Fear of Falling" and "Angeline", and closing out their encore with The Band's "Take A Load Off"…it really was a magical night. They didn't give any details that evening, but did say there would be more shows announced in the future so keep an eye open. I know they have already booked as the headliner for Northumberland's 250th Birthday Bash on June 4th…and I have reason to believe we'll see more announcements soon!
My next trip was to Liquid Noise Brewing in Marysville to see Patrick Cusick do a solo acoustic set that sometimes included harmonica. Side note – it's hard for my brain to process how to play a guitar alone…or play it and sing…and it blows my sometimes simple mind when I see someone playing guitar AND harmonica together, and doing it well! Patrick covered a wide range of tunes from the 50's through the 90's including Zeppelin's "Rock & Roll", Springsteen's "How Long", and Supertramp's "Give A Little Bit". It made for a great night that we enjoyed quite a bit.
A few days later, we headed down to the beautiful Hershey Theater for the 3rd annual Central Pennsylvania Music Award ceremony put on by the Central Pennsylvania Music Hall of Fame and sponsored by The Englewood. Every year this event grows by leaps and bounds, but it's main goal remains the same: to recognize and celebrate the incredible music scene that we have here. The red carpet event prior to the award show was amazing, and I loved seeing so many of the great local musicians that work so hard, and that I'm proud to call my friends. I don't have the room to cover each award category, each nominee & each winner, but you can see the whole list at www.cpmhof.com/awards. I was once again nominated in the Best Photography category, and for the second year in a row I brought home the award! I was speechless when I heard my name called…humbled, and honored. To those that nominated and voted for me, thank you so much. To those that nominated and voted for any of the other nominees, thank you for that just as much! I'd like to take a moment to mention the other nominees: Frances Axsmith, Doctor D Photography, Rock Documented, and PA Musician's very own Rachel Rocks. Each and every one of you truly inspire me, and help motivate me to do what I do. I appreciate each of you. Ya'll rock and I'm proud to call you my peers. To all the other inductees, nominees and winners in each category, congratulations! Don't see someone nominated that you think should be? Awesome! Please make sure to nominate them when nominations open up for next year's awards. Get your friends and family to nominate them too, the more the better! Once again, thank you to the CPMHOF for being such an incredible organization, and doing what you do. It's very much appreciated.
Next up was a trip back to The Englewood. Opening up the show was Hershey local Corinna Joy, a solo keyboard musician playing a mix of originals and covers including "Many Miles" by Sara Bareilles…she sang with a sweet, soulful and sometimes powerful voice that everyone in the crowd really enjoyed. Headlining the show was Rhett Miller of The Old 97s, currently on a solo tour. Rhett played a solo acoustic performance with a high energy pop-rock feel to it. He brought in a great sized crowd, many of who had driven from pretty far to see him play. Rhett played a great mix of songs including a song that he'd written with Brandi Carlisle for Old 97's, and performed in a duet with Corinna Joy called "Good With God".
The following day I headed down for my first visit to Lovedraft's Brewing Co in Mechanicsburg for The Evening Sun Festival, put on by Lovedraft's and 717 Entertainment, LLC. This was a last minute trip out as I had plans that evening, but I couldn't pass up seeing at least a few of the bands scheduled for the day at this event. Over the course of about 7 hours, they had 11 hard rock, punk, and metal bands scheduled for this show. As I already was scheduled for a show later that evening, I was able to see the first 5 bands…if they were any indication of the rest of them, this entire lineup was fire. First up was Harrisburg based punk band Coalstate. These guys came out and kicked off the day with a lot of loud energy. They did a great job of warming up the crowd. Next up was Central PA based Alt-Rock band Number Of The Sun. These guys played really well, they had a great sound with solid melodies and vocals. Third on the bill is a band I've seen a time or two, although it'd been a year or three: Williamsport based hard rock band Audiobox. Still a trio, although with a new (and I might add VERY energetic!) bass player, Matt and the fellows brought out a great set of originals and covers including Manson's "Beautiful People". Fourth on the bill was a band that readers of our magazine are no doubt familiar with: Six Bar Break. Somehow, this was my first time seeing these guys play, but they killed it from the start with their hard rock high energy set. The last band I saw was Relentless Souls, a Metalcore & Hard Rock band based in Ellicott City, Maryland. These guys clearly drank a case of Red Bull prior to their set as the energy and constant motion on stage was incredible…and tough to photograph LOL. I really enjoyed their set that included originals and a cover or two including an awesome version of Linkin Park's "One Step Closer".
From there I headed up to Shermansdale to Sherman's Creek Inn for a show by Fell From Zero, a Harrisburg area based hard rock/metal band. They played a whole slew of covers, starting off with Foo Fighters' "All My Life", Rage Against The Machine "Guerilla Radio", and Tool's "Sober". These guys big energy, a great song selection and put on a killer show that had a packed house dancing.
My final trip for the month was back down to Lovedrafts Brewing to see my buddies in Crippled But Free play. A Central PA Grateful Dead tribute band, these guys do an awesome job of bringing their fans the Grateful Dead sound and experience. Playing songs like "West LA Fadeaway", "Sugar Magnolia", and Tennessee Jed…this was a great way for me personally to wind down a bit from a crazy and busy weekend. After being to Lovedrafts twice over the weekend, I have to say…their beer selection and food menu is simply amazing. I had a few different beers of theirs as well as their "Deadwood" sandwich with chopped brisket, pulled pork, pickled onion and other deliciousness, and I was amazed. Definitely a place worth checking out!
So there it is, my month of music through my eyes and ears. Just a reminder: if you've got a show coming up that I should see, make sure to send me an invite, shoot me an email or a message, let me know about it. Venues: please don't hesitate to reach out to me as well. The majority of the shows that I go and shoot I find out about through invites from all of you or your friends. Hit me up on facebook: @chrisriderphotography or email: chrisriderphotography@gmail.com, stop me if you see me out & around and say hi. Until next month…go find some live music and give them and the venue your support, they truly need it more now than they ever did.