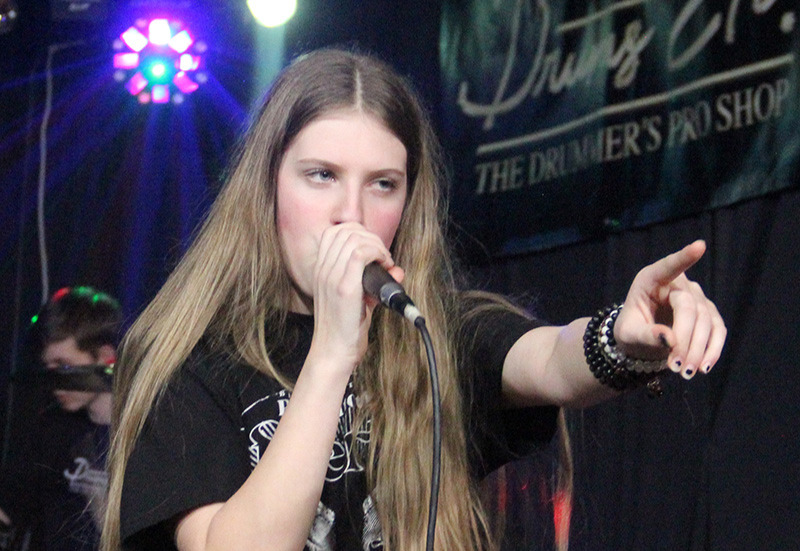 ---
By: Rachel Rocks
March Madness was a great name to describe this month. I had a super crazy, yet super fun month filled with lots of live music, a quick and crazy trip to the beach, and then ended the month with the Central PA Music Awards! It was a whirlwind of craziness, but so much fun. I'm truly blessed to have a husband that supports my shenanigans and lets me run all over the place, supporting live music, doing what I love to do, and just being me!
The month started quite a while ago at HMAC for a special tribute night with Shout at the Devil (Motley Crue) and Bark at the Moon (Ozzy Osbourne). I haven't seen either band for a really long time, both of them have undergone some band member changes, but both of them still rocked! I'm not sure how Brett Bowman, the lead singer for Shout at the Devil showed up in central PA, but he's definitely a great addition to the scene, and to SATD. It was awesome to see Xj wailing away on the guitar in true Xj fashion again too. Hopefully it won't be another 10 years til our paths cross again. Bark at the Moon quickly snagged your attention playing all of your favorite Ozzy music! Don Hosler, their drummer has been telling me about shows and reminding me for years, I'm glad I also got to see these guys again too! They are definitely a great match up to play a show together. There were lots of 80s fans in the house, dancing, singing and having a great time! This night was also super special because we were celebrating my good friend, Vicki Trott's birthday. As a cancer survivor, every birthday is that much extra special. We are all truly blessed to still have Vicki here with us, rockin' along, and having a great time! Happy Birthday Vicki! On a Side Note, congrats to HMAC on winning the Best Live Music Venue for 2021 at the Central PA Music Awards! It was doubly awesome because I'm the one that got to present the award!
The following Wednesday night I headed over to Flinchy's for my first Derek sighting of the month. I love when he plays during the week. It's so refreshing to take a step out of the day work grind for some night time fun! This was an all 90s night, so Derek learned some new songs to stick with the 90s theme. It's always awesome hearing him learn new songs and pushing himself out of his comfort zone. I also saw Derek later in the month at Fratelli's. Fratelli's had a full house and it was standing room only, after Matt played during Derek's break is when he got offered to play his first full show there! Derek, who used to be the shy guy in the band, as close to the back wall as possible, has also just won the CPMA for Best Male Vocalist of 2021. Again! I am super proud of him!! It's a true example of anything is possible if you put your mind to it. During the entire pandemic, Derek kept us all sane by doing Thirsty Thursday Livestreams. They were from his living room to ours, we would all chat, do some shots, and just have a good time! He also wrote songs like a mad man, and kept singing, recording, and releasing music. He definitely didn't waste time during the "lockdown", but took full advantage of a life with less distractions. He truly is an inspiration.
Thursday night it was time for some more live music, Dave Gates was hosting an Open Mic at Boneshire, so Matt and I decided to go check it out. Dave had a great full stage set up with lights and everything. It gave us all a chance to really experience a true stage set up. When I got there, Joe Cigan was on stage and he sounded absolutely amazing, playing some bluesy rock, and even treating us to a few originals. It never ceases to amaze me at all of the talent in our area, and how brave people are to get up and show their talents. Matt Bynum (Matt Jameson Acoustic) stepped up next to play some solo songs, and then we played a few together. After we had so much fun at the open mic, we decided it was time to get real, and start playing music as much and as often as possible. We started an acoustic duo page called, Staying Vertical, which is me on the ukulele and Matt on guitar. We also started Matt's own solo page, Matt Jameson Acoustic. Matt used to play out many moons ago, but I'm so glad he finally got inspired to get back out there. Matt's first solo show is April 9th at Fratelli's in New Cumberland, and our first show as Staying Vertical is May 7th at the Sip n' Dip in Newport which is a Beer and Wine Festival to support the Millerstown Community Swimming Pool. It's very exciting! We've been practicing like crazy, and we are ready to entertain the masses! Thanks Dave, for hosting this open mic, and convincing us it's time to get out there and do this!
Friday night it was a nice, local show right down the street at Spring Gate with Six Bar Break. Representing the band this night it was Ben and Dave. Everytime I see these guys I think they both buy a new gadget or gizmo. Dave has so many interesting percussion gadgets that he can really add a lot of effects to their songs even in a smaller acoustic setting. Ben has his own amazingness with his voice and his amazing guitar skills. Six Bar Break has been releasing a new original song the first Friday every month for all of 2021, and now still going strong into 2022. That's a lot of music! You can check out their music and see where they are playing next at www.sixbarbreak.com.
Saturday morning started off with an early walk on the Greenbelt with my good friend Michelle. We just kept walking and wound up on City Island where we figured out the Harrisburg Ice and Fire Festival was happening. All of the ice sculptures we say were absolutely gorgeous. I can't imagine all of the time and talent that takes! We also wound up checking out the Beach Bar on City Island. What an awesome set up! They are open Thurs-Sun, and they even have little bubbles to help keep you warm in chilly weather. I saw the band schedule for the night and I saw the band Before the End was playing later in the evening, I heard them play at the Central PA Music Hall of Fame Youth Music Showcase, and I knew I definitely wanted to see them play again. I gathered up some more friends and headed out for round 2. It was oddly warm and a beautiful night for music! They had a stage set up right on Front St. of Harrisburg, and I got there right in time for the beginning of the show. The talent that these young kids have is crazy! Even seeing Amani and Gilad be able to switch rolls from Drummer to Guitar player just adds to their awesomeness! All of their energy was super crazy and they put on one heck of a performance. It was awesome to see so many young fans out supporting them too. They had a whole big circle of dancers just having a blast! I'm glad to see these young bands getting the opportunity to play at super cool events!
Sunday the fun continued with an afternoon show by DMC Duo at the Vineyard and Brewery at Hershey. I also saw them later in the month at the Fredericksburg Eagle Hotel. Both shows were filled with great music and great friends! At the Eagle Hotel I also had some delicious dinner. If you're looking for an adventure out on the town with great food and on Fridays, Saturdays, and Deck Sundays, check out the Eagle Hotel's ad in this issue and make plans for a trip out there! And, if it's your birthday, it's even better, because their birthday specials are ridiculous! I am super proud to say DMC Duo has stepped out into the world of original music. On March 24th they released their first single, "Love You Anyway" on all of your favorite music platforms. Get out there and give it a listen, you won't be disappointed! DMC Duo is playing like crazy all over Central and Eastern PA, chances are they're playing somewhere near you! Get out there and support live music!
On a super special Sunday night show I zoomed down to The Church for a very special Nail Bite show. They were playing in a Battle of the Bands to play in the Welcome to Rockville show, and they would also get to go on tour with Escape the Fate! The contest was live streamed through DW Presents on Twtich TV. It was very intense… when it was their turn they played for 15 minutes, and immediately following their show the voting window was only open for 1 minute to vote for them. They won their first battle by 14 votes! Then it was time for the finals! At one point over 17,000 people were watching the live stream! Nail Bite rocked like never before and they were the only band in the Battle that also had an audience at their live stream head banging and dancing along! Unfortunately, they lost in the final round, but the exposure they received from this opportunity is just crazy! On April 15th, Nail Bite will be playing in Freedom Hall in Lancaster as part of the Launch Music Festival's Metal Showcase! They are opening for The Bunny The Bar on April 24th at Lovedrafts, then on April 28th they are playing with two other female fronted Metal Bands, Living Dead Girl, and Fate DeStroyed at Lovedrafts. Check them out in this issue and online for all of the details, www.nailbiteofficial.com.
The next night out was another local stop to New Fangled for Jason Carst. Jason is starting to be TRL (Total Request Live). He at least makes a good attempt to play anything requested. Some of it he handles a bit better than others, but one thing for sure, everyone is having a blast! Jason also takes the time to livestream all of his shows. His fans have gotten used to the ability to stay home, stay safe, but still listen to great music. The super cool part is that Jason can still put his Virtual Tip Jar on the live stream, so people still tip him from home. He actually sometimes makes more money through his Virtual Tip Jar than he does at a show. It's a great thing to consider doing at your shows! It doesn't cost anything with all of the unlimited data plans, but he can be financially beneficial.
After an early night at Fratelli's for Derek and Matt, Angie and I zoomed over to Flinchy's to catch the end of Phil Cannizzaro. It's awesome to see Phil playing more solo shows. He plays a lot of your favorite sing-a-long songs to keep people drinking and having a good time. Flinchy's was packed with just that when we arrived. Phil is practically part of the Flinchy's family, so it was awesome to see so many of his friends and "family" out there supporting him at his show.
On a very weird snowy night in March, Observe the 93rd had their first show up at Shermans Creek Inn in Shermansdale. I'm thrilled to say even with the weather, they still had a packed house at Sherman's Creek. It's awesome to see how the patrons of Shermans Creek just love music, all kinds, from country to rock! OT93 sold quite a bit of merch, CDs, and gained quite a few new fans! These guys have been working hard releasing new music, and even professional videos to go with their songs. They also just won the CPMA for the Best Alternative Rock Band of 2021. I'm super proud of these guys and so happy they got the recognition they deserve. Matt played during their break and got offered the opportunity to possibly play a private show in the near future. I'm telling you, once you hear him play you're going to want him booked at your venue too.
I had another super fun night at the Copper Pub and Grill open mic night. Erika is doing a great job as the host and just keeps bringing in more and more talent. If you'd like to sign up make sure and get there early! So far she's managed to squeeze in everyone who wants to play and it's been a crazy good time! Kudos to Dave for actually booking people and bands that come to play for full paying gigs at the Copper Pub. Open Mics are truly a great place to find the talent you want for your venue! Staying Vertical will be playing there Memorial Day Weekend, May 28th, and we can't wait!! I know Six Bar Break also got a few dates coming up this Summer. There will be lots of fun nights at Copper Pub.
On St. Patrick's Day I actually convinced my husband to go out with us for dinner to Snapper's in Mechanicsburg. Snapper's was going above and beyond with their tempting Facebook posts and delicious festive menu, so we wanted to go check it out, plus our good friend Janet is a bartender there, so it helped seal the deal! After dinner Amy stopped by on her way to Hook & Flask for Cody Wilt and John Rossey. After some convincing and since I was now holding my husband hostage we went down the road to Carlisle. Kris actually had a really fun night (his own words)! We keep trying to convince him to come out more, but ultimately, it's his choice, he has his fun, and I have mine, and then we meet back in the middle somewhere. John and Cody play in a full band called Cold Spring Union. I joined the "Union" a while ago and have become a huge fan of their music. The two of them together acoustic is awesome in it's own way. You can really appreciate their harmonies even more and their amazing guitar work! It was a great show and I'm glad Amy stopped in, so we knew where we could find some live music!
After a very crazy and fast trip to pick up a car from Virginia Beach, I got home all hopped up on Energy Drinks, so decided to drive just a little further down the road back to Copper Pub for the Acoustic Version of Vertigo Vultures. They recently just started their "acoustic option" of the band, but so far it's going very well. After I arrived, I quickly showed their fans you can still dance to music, even when it's acoustic. We created our own dance floor and had a great time dancing and singing along. I'm thrilled to say that in the end we weren't the only crazy people yelling for one more song, the whole bar joined in on the chant! I'm sure you'll be seeing more of the Vertigo Vultures at the Copper Pub because they were a big hit!
Finally, it is time for the highly anticipated review of the Central PA Music Hall of Fame's big night, the CPMAs! This year the CPMAs were at a bigger venue, the Hershey Theatre. It's absolutely crazy being on stage, but the good thing was with their lighting you couldn't see the crowd at ALL. It was just like a big black giant wall! That worked for me because it greatly helped cut back the stage fright! The best part of the CPMAs is seeing so many bands, fans, etc in one place celebrating our Central PA Music Community. It is truly a super beautiful thing! If you want to see all the details on who won the different categories and who was inducted into the Hall of Fame, check it all out at www.cpmhof.com. One big winner was Chris Rider for Best Live Music Photography. I didn't win, but just being nominated was such an honor. Thank you to everyone who voted for me. Better luck next year! When it comes to true awesomeness the right winner should be Chris. His pictures are way better than mine. I've always been more of a quantity type girl, not necessarily quality. I do my best to make everyone look like rockstars, while still dancing and having a good time! I'm so glad Brandon Valentine came up with this idea, and made it become a reality, it is definitely one of the biggest and best nights of the year!
My next night out I headed to Buddy Boy Winery in Duncannon for Tommy B, the guy on our cover this month. I never got a chance to catch a live show, so when I saw one close to home I jumped at the opportunity. All the tables and bar were full, but luckily, I was able to jump on a table with Tommy's friend Trish and be all up close and personal with Tommy for his show. He is quite the one-man band! He had the whole crowd singing along and very surprised at some of his song choices, one second Pat Benatar, and then switch it right over to some John Denver! Buddy Boy loved him so much she had her calendar whipped out before he could even put his guitar way at the end of the night to book him for some future dates! I love watching that happen. It is so rewarding for the musician, and Tommy B definitely deserved it. You can read all about Tommy B and how he got started in the music world and how to get him booked in your music world in his Cover Story article this month!
The last band of the month is Smooth LIke Clyde at Hollywood Casino. It was against the doctor's orders, but when your friends text you and say they are heading to the casino to do some dancing, I unfortunately can't resist, especially for Smooth Like Clyde. Of course, I'll just sit in the back and watch! HAHAHA! I think it only took about 3 songs til we danced our way up to the front. Hey, at least I was wearing my brace! Needless to say, I've spent the last 2 days on the couch, but it was worth it. The guys in Smooth Like Clyde always put on one heck of a show! The place was absolutely packed full of people dancing, singing and having an absolutely fantastic time! I'm so glad Hollywood Casino continues to support our local bands and gives them a place to play, and a place for us to party!
Well, that is finally all for this month! I don't know how much you'll see me throughout April. I have this lovely bum foot in the beginning of the month, and go for some lovely surgery on April 12th. I'm hoping I bounce back quick and get right back there on the dance floor, but April should be a pretty low key month for me! We'll see how that plan goes! Please get out there and Support Live Music! Party for me this month!! I'll be laying in bed scrolling Facebook living vicariously through you, so tag me, and let me see what I'm missing!!! Have a rockin' month!!