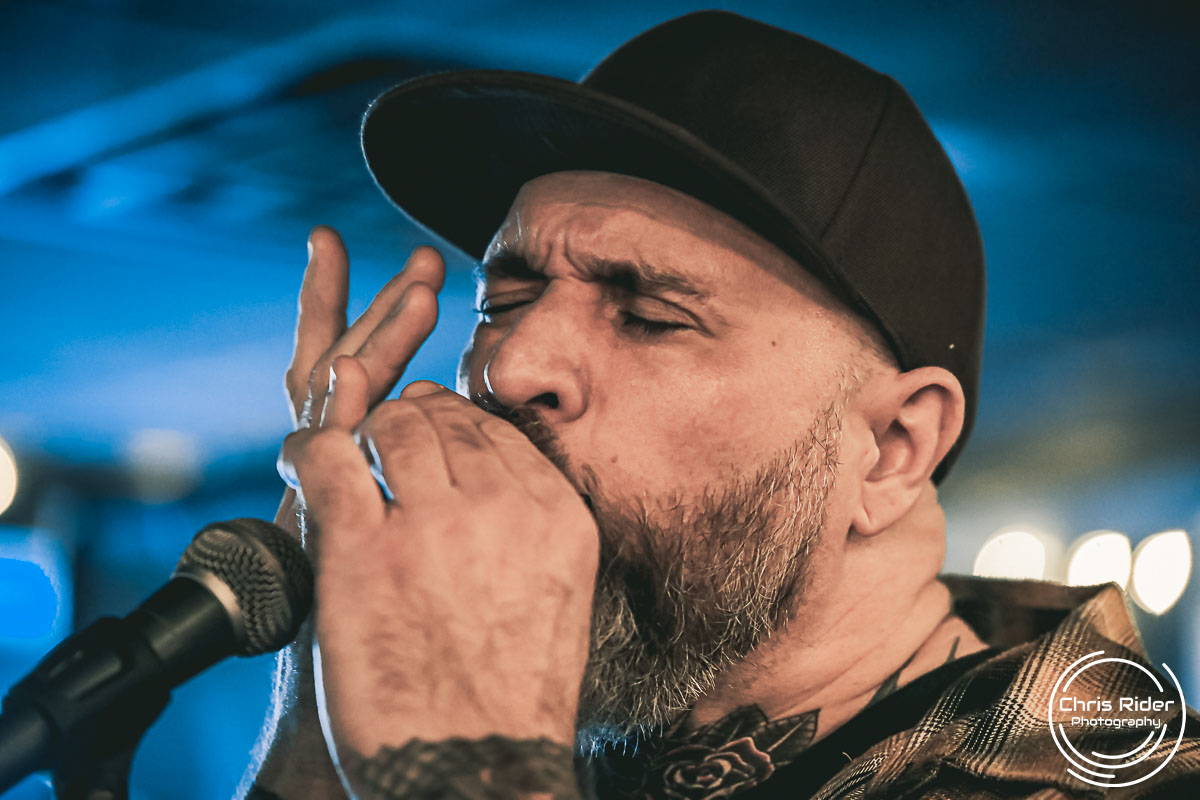 ---
By: Chris Rider
April showers bring May flowers, or so they say. It's still March as I write this, but it IS raining so I suppose we'll see LOL. March has been a busy month for sure with getting out 7 nights to 4 venues for 12 bands. Some of the bands are old friends, some are new ones, but all made for great nights of music.
My first night out was a short trip down to the Doyle Hotel in Duncannon. This place has great staff, food and drink and a really neat and cozy atmosphere. This evening my buddy Zach King was playing a solo acoustic set. His booming, raspy vocals combined with skilled acoustic guitar work brought out his Americana, Folk and Country styled originals and covers including; 'Quit While I'm Ahead,' '8 Drunken Nights,' and his newly released single 'Another Year, Another Beer.'
Next up was a trip to The Grotto Pub in Enola for Nate Myers & The Aces' cd release of 'Speakeasy Prophet.' Nate's smooth, deep voice and infectious laugh along with the great musicianship of Pete, Chris and John behind him rocked the joint with their great selection of blues originals and covers. Their setlist included some of my fav's, and some of their new songs – Porch Light, Embrace It, Speakeasy Prophet and Little Drop of Sunshine just to mention a few. If you love the blues and you haven't seen Nate and the boys play, you're doing yourself a disservice.
The following night was down to the beautiful Englewood for a show I've been waiting on for a while. Opening up the evening was Hot Wing Jones, a six piece band coming off a seven year hiatus with a rock/jam/country sort of feel to them. Belting out songs like Castaway, Folsom Prison, and Be My World: the guys did a great job warming up The Englewood for the evening. Headlining the evening a band needing no introduction in this area: The Badlees. It turns out that exactly one year before I'd photographed Pete and the guys for my first time. At the time it wasn't really known if that was going to be a sort of one-off performance weekend, or if we were going to be seeing a lot more of the guys. They've been playing a number of shows over the last year with more booked out for 2023 and I have to say that they're just a blast to see, and to photograph. Meeting the guys for a minute or so prior to the show, they welcomed me with open arms…it was very cool just getting a few moments to hang out with them to talk. The Badless have the term stage presence down to an art, bringing a mix of their classic and new originals as well as a few great covers to the stage for a crowd that loves them.
A couple nights later I headed back down to The Englewood for a birthday party like no other. celebrating Pisces birthdays for Crippled But Free members Mike Banks, Travis Warlow, and Grammy Award winning Fred Pellegrini. I didn't get to stay for as long as I'd have liked, but had a blast while I was there hearing Crippled But Free's love for Grateful Dead tunes.
The next week, we headed back down to The Doyle Hotel for dinner and to finally catch a guy that has spent a lot of time in PA Musician, but my schedule hadn't lined up until now to see him. Matt Jameson Acoustic brought his energetic solo acoustic show for a crowd that had folks dancing and even belting out a solid "Yee Yee" at one point LOL. Covering a wide mix of songs like Stuck In The Middle, Can't You See, and Dock Of The Bay: Matt put on a great evening of music.
The following night I went out for St Patrick's night at The Englewood with a few friends, the world renown Inspector B and his wife who are big fans of the headliner and were looking forward to their first time to this beautiful venue. Warming up the stage for the evening was Ford The River, a four piece "Elder Millennial Grumpy Dad Pop-Punk Rock band" (their words, not mine LOL) out of Lancaster. Their rock was fast, had great energy and did a good job of warming up the crowd playing all original songs including a hilarious tune about Chucky Cheese while the video backdrop showed video footage from early 80's punk clubs. Next up was Mighty Joe Castro & The Gravamen, a four piece rockabilly group with a cool classic 50's or 60's rock style to them that I had a blast listening to. Headlining the evening was a band I've been wanting to catch for a while: Celtic rock band, The Kilmaine Saints. This seven piece band brought out the bagpipes, accordion, and a multitude of other sounds that generally aren't quick to be thought of in a rock band…but damn did they sound good. They brought a huge energy, impressive stage presence, and a ton of fun for their 14th Kilmaine St Patrick's Day celebration playing originals like "Whiskey, Booze & Faded Tattoos", an incredible cover of House Of The Rising Sun, and ending the night with a fun rendition of "Jump Around." I have to say, they lived up to every expectation that I might have had, and more.
After a short recovery day from the holiday, I trekked down to HMAC in Harrisburg for the first show put on by Effigy Entertainment. These folks put a ton of work into their first show and I have to say they did an awesome job and I can't wait to see future shows with them. Starting out the evening was And Also Bye, a five piece female fronted pop band playing all original songs. This was only their fourth gig, but they played with a lot of power and skill with great vocals that made it hard to believe they're relatively new to the scene. Next up was Dragon Fruit, a three piece punk/pop rock band and the originators of the Fruit Club. I can't tell you about Fruit Club as it's against the rules apparently, but it appears to be a good club to be in. They played a high energy set of infectious, fast paced all original music with some really juicy bass riffs that the crowd really enjoyed. Coming out to the stage third was Burden Of Guilt, a two piece grunge rock band that is very passionate about their music and our music scene. They had a great sound, surprising for just two musicians, and played a great set. Headlining the evening was my buddy Jon Garcia and The Hopeless Romantics. Playing all original Pop-Rock songs born from life experiences, including his newest release "No", JHR played a killer set and finished off the night with style.
My last trip out for the month was a really last minute call made by Wendy & I, visiting our friends up at Iron Vines Winery to finally catch a set by Cass And The Bailout Crew: a Williamsport based original roots rock band "with a touch of 'twang". They're a four piece female fronted roots rock band with some blues and country under-tones lead by powerful and soulful vocals, great guitar riffs, and thumping bass plucking in the background. Playing a number of originals as well as a few covers like X's & O's, Folsum Prison, and awesome versions of White Rabbit and Me & Bobby Mcgee: it made for a great end to this month of music along with a few bottles of some of our favorite wine.
So there it is, my month of music through my eyes and ears. Just a reminder: if you've got a show coming up that I should see; make sure to send me an invite, shoot me an email or a message, let me know about it. Venues: please don't hesitate to reach out to me as well. The majority of the shows that I go and shoot I find out about through invites from all of you or your friends. Hit me up on facebook: @chrisriderphotography or email: chrisriderphotography@gmail.com, stop me if you see me around and say hi. Until next month…go find some live music and give them and the venue your support, they truly need it more now than they ever did.