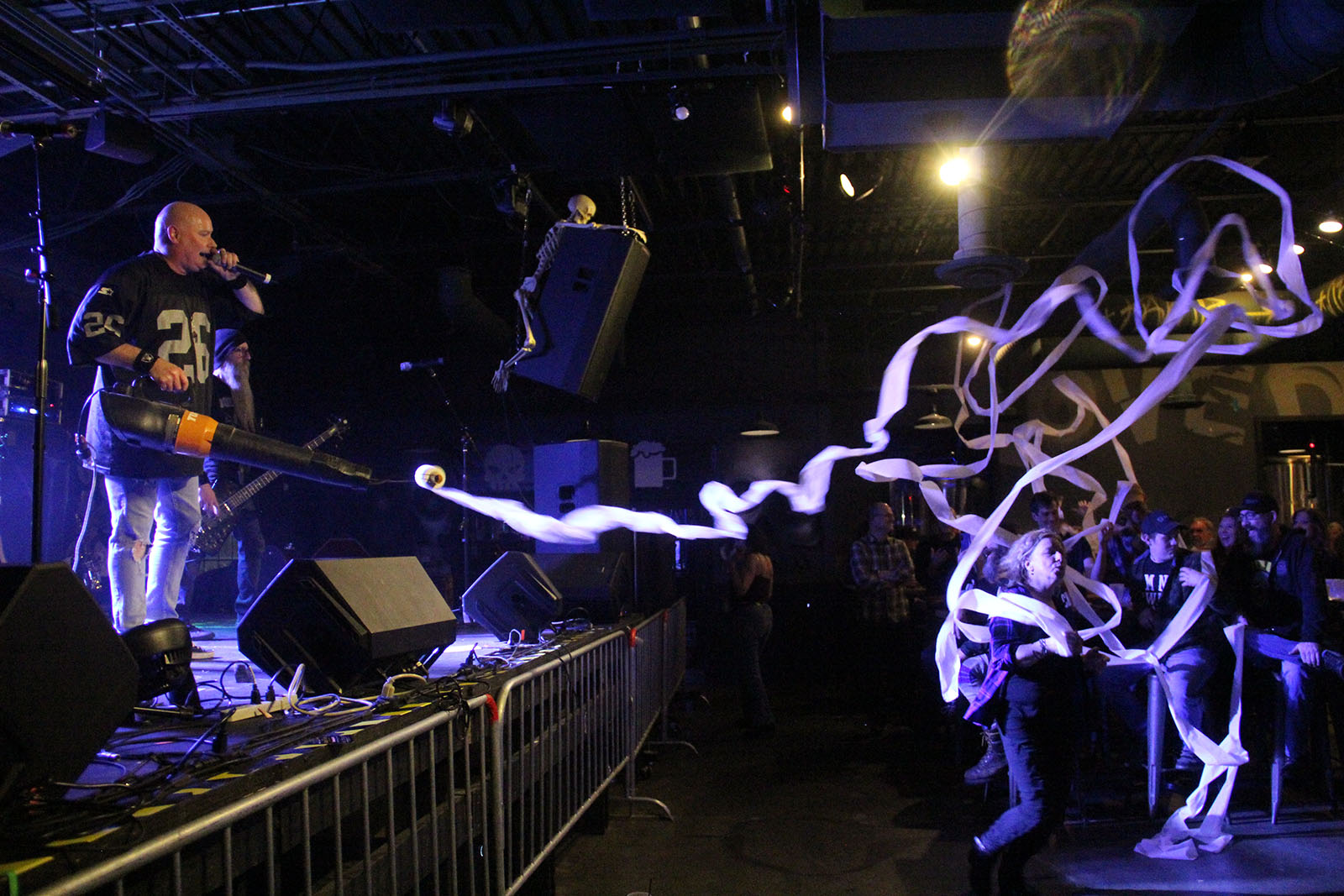 ---
By: Rachel Rocks
March in like a lion and out like a lamb.. Haha!! I saw so much music this month my head was spinning like a tornado! Music is definitely good for my soul. It's good for me to keep moving and grooving, I definitely don't like to sit still. Most days of the week I can find live music around me somewhere, in some form, and for that I'm truly grateful.
My first night Out and About this month was a busy one, it all started with a trip to Jigsy's in Enola for dinner, one ginormous salad that lasted me 3 meals! After stuffing myself I headed to the Grotto for Nate Myers and the Aces's CD Release Party. They released their album Speakeasy Prophet. This one was bittersweet because two of the songs were recorded with Chad Salvaggio hittin' those skins. It was a packed house, standing room only, and we were all standing super close! The album itself is fantastic! If you like to swing, dance and move to the groove, this album is for you! During the show it was beautiful to see Pete wearing Chad's infamous hat. He was definitely there in spirit, enjoying the show, hanging with us all. Chris Rider was also in the house taking pics, and representing, so I decided to grab my CDs and hit the road.
My next stop of the night was down at Blue Sky Tavern for Devon Beck. She was up from Nashville, giving us all a special treat. I haven't seen Devon in quite a while and I couldn't believe the change in her confidence, and her overall performance. It's awesome seeing her doing what she loves and excelling at it. In Nashville, Devon has been doing a lot of writing, and performing. It's always awesome seeing people do what they love, I'm so glad she is pursuing her dreams and reaching for the sky! You can find out all about Devon and listen to her music online at www.devonbeckofficial.com. During Devon's break Nick Minahan took the stage. Nick has been playing more and more throughout the area. I can't believe I still haven't caught one of his shows, but I'm glad I at least got this little peek. Hopefully our paths cross soon because the couple of songs I did hear sounded great!
The next day started out early with a family trip to Harrisburg's Fire & Ice Festival. It was very chilly, but that didn't stop Colby Dove, the 12-string Wonder of the World, from performing. He was supposed to be in a heated tent, but unfortunately a storm the night before destroyed the tent and the heaters, but Colby knew, the show must go on. We could only stand there for a couple songs because of how cold we were, I felt terrible for leaving Colby out there in the freezing cold. Hopefully he managed to get through his show. It was great hearing him again, and although it was very brief, he sounded great!
Next, it was adventure time with Matt Jameson. He had a show at the Union House in Richland, we left a little early so we had time to stop in at the Fredericksburg Eagle Hotel for Six Bar Break. It was way too long since I heard them playing as a full band, so I'm so glad we were able to catch a bit of their show. A lot of their acoustic shows are usually just played as a duo, but this time we all had a special treat. Six Bar Break has been busy releasing videos they record at their shows of their original songs. I'm not sure what their current camera count is, but at every show they have cameras at every angle, then Ben edits the videos and puts them up on Facebook. I can't imagine how time consuming it is, but they turn out really cool! You can check them out on Facebook, or keep an eye on their happenings at sixbarbreak.com.
Next we headed to the Union House for Matt's debut show in Richland. It was cool to see some people investigated him through his website, mattjamesonacoustic.com, and already had their song requests ready! We really have to update his website because he keeps learning more songs, and it's so much fun when people request songs they want to hear and enjoy. Matt plays such a wide variety of songs there's a little bit on that list for everyone! He also has a complete list of all of his upcoming shows thanks to Bandsintown. When he sits there and books 15 shows on a Sunday, it's nice that he takes the time to immediately put them on Bandsintown so we can all keep track of where he is and what he's up to. There is definitely a buzz happening for Matt, and the more people hear him, the more he's just gonna keep on buzzing! Check out his ad in this issue for all of his April shows! The Union House has some absolutely delicious food. I ate all of my dinner and then even enjoyed some of Matt's leftover pizza later. Anna was hauling butt behind and in front of the bar, being a server and bartender, but all of her patrons were very patient and everyone seemed to be having a great night. The Union House has live music every Friday and Saturday. Check out their schedule in this issue and plan your next adventurous night on the town.
After Matt's show we still had time to zoom down the street to the Schaefferstown Fire Hall for Vertigo Vultures last set. We had such a blast dancing and singing along! If you haven't caught Vertigo Vultures yet, you really should! They are all such talented musicians and play all of everyone's favorites! According to my FitBit I "danced" 2.3 miles from 12-12:30! HA!
On a Tuesday I headed over to the "live" version of Derek's "livestream". He was leaving that Thursday for his 10 Day Tour with Lyndhurst, Lives Lost, and Observe the 93rd, and he decided to jump on a livestream and raise some tour funds. It was awesome watching the interwebs for tour updates. They were all over the place, Nashville, Florida, Alabama, Ohio, etc.. Observe the 93rd is planning another mini tour at the end of May. In the meantime, there is a local show you can catch, April 27th at HMAC! Plus Derek is playing a jam packed super exciting amount of acoustic shows. Follow him on Facebook at Derek Henry Acoustic for all of those dates, and check out Observe the 93rd at observethe93rd.com.
After checking out an early Matt Jameson show at Wolf Brewing Company, I headed over to Lovedrafts for Emily's Toybox with my friend Chad. It was awesome to see so many people actually off their butts and dancing! It was refreshing to see Emily's Toybox at a venue where anything goes; the original music, the toilet paper shooter, the lovely hand gestures from Mike.. they were all there, in all their glory! It was the Emily's Toybox we all know and love! The casino shows are fun, but it's hard to hear everyone requesting songs that aren't "casino" appropriate. It was a great show with lots of laughs and jaw dropping fun!
On a Sunday afternoon I swung down to Hershey Vineyards for DMC Duo. I actually caught them twice this month, I also managed to see them at Riverhouse in Middletown. These two are getting quite the following, and they also keep 'Pump'ing out the originals! I heard them play another original that isn't recorded yet.. At least I think it was an original they snuck in their repertoire of very popular covers. Marisa's range is maddening, ya just never know what she's going to belt out next, no matter how tired she is. Both times were great nights of music with great friends! Don't forget you can stream their 3 original songs on all of your favorite digital platforms, and I heard someday they might even have merch at their shows!
On a Wednesday night I had a nice escape from daily life with a trip to Blue Sky for their open mic hosted by Erica Lyn Everest and Matt Jameson. It was awesome to see Kyle Schnitzer, the lead singer from Vertigo Vultures get on the stage and belt out a couple songs with Matt playing guitar! What an opening! I also saw a new band, Which Way This Way, comprised of Josh Krevsky, Angie Stipe, and Chris Beidelman, definitely worth keeping an eye out for! It was a great night of local talent once again. It's always fun catching local mics because you never know what you're going to see or hear.
On a Thursday night I was just in the mood to chill at Angie's and eat some Jigsy's pizza, but we were enticed by friends to come out to Cold Springs Brewery for some Shea and Ryan. It's awesome to see Cold Springs is back open for the season! We need all the places we get for all of the live music we can possibly hear! Shea and Ryan had the deck packed and had people dancing and clapping along. It always amazes me at all of the die-hard Shea fans, but it doesn't matter where or when, they are there supporting him in all of his music endeavors!
The next night was a crazy, but super fun, St. Patrick's Day! My first stop of the night was down to Hook & Flask in Carlisle for Matt Jameson. Matt went above and beyond to learn some hilarious Irish songs to entertain all of the lucky leprechauns in the audience. He learned some of the special songs with his good friend Hunter Reiner who joined him on guitar for a few of them. You can usually catch Hunter behind the kit with Y2Kids, but he had the night off, so he jumped at the opportunity to join Matt. Between songs there were plenty of toasts and Irish Blessings to be told. From young to old, everyone was having a good time!
My next stop was my first trip to 2nd street in a very long time to check out the new nightclub, Nocturnal, where Midnite Riot was on the stage. Nocturnal is the same building as the Harrisburg Hardware Bar, The Vault, or many other places have existed through the years. It's basically the same, they just spray painted everything black, and took out the stairs so it opens up the room, and the creepy sound guy (Ritt) isn't lingering under the stairs. HA! Midnite Riot had the party hopping in full force. Their song selection is on point, they are playing so many favorite sing-a-long, dance-a-long hits to keep the crowd partying all night long! Check out Midnite Riot's ad in this issue to see where they will be rockin next!
After a rough and super emotional Tuesday, I took the opportunity to go catch Bob Patterson's solo show at the Falls Hotel. The Falls is definitely a fun little hangout, and I love that they have live music on a Tuesday! Bob hasn't played solo in a long time, so he had a gaggle of musician friends there ready to jump in if necessary to help! I was able to hear Bob and Mike Eagan break out in a country song!! That's right…COUNTRY. It was definitely an everything goes, crazy night, but it was awesome to see so many people out having a good time on a Tuesday.
After Bob's show I swung into Grotto Pub for the tail end of Nate Myers Tuesday show. It's crazy to believe they've been playing Grotto Pub on Tuesdays for 10 years, minus of course Covid times, but wow, that's impressive. People definitely know where to go on Tuesdays for a good time, the Grotto is always packed! Ya can't ever leave a Nate Myers show without a smile on your face, so it was a perfect way to end this day! If you need a smile on your face, head to Grotto on a Tuesday, you'll be glad you did!
I ended the month with a few Matt Jameson shows: Fenderz in York, on a Wednesday, took a road trip to Tony Locos in Maryland on a Thursday, and finally a trip up the mountain to Shermans Creek Inn. The crowd at Shermans Creek was the craziest I've seen. It was absolutely awesome to see so many people dancing and singing along to Matt's solo show. The energy in that place was bouncing all over the place like a pinball machine! So many requests for everything from country to rock, and even slow songs to snuggle up with their hunnies on the dance floor. Some shows musicians just get treated like background noise, but definitely not at Shermans Creek, that place absolutely loves music and comes out to specifically enjoy the music. It was a truly beautiful sight to see!! Check out Shermans Creek's ad in this issue and check out their full schedule. They are supporting music, and are having a ton of special events. Make sure ya go early for dinner because their food is also delicious, especially their Peanut Butter Pie! Mmmm!!!!!
We unfortunately have to go to press before the 4th Annual CPMAs on March 30th, but I have my dress picked out, I think, and I'm ready for an amazing night with friends, celebrating the local music scene. I hope everyone is ready to get their selfie, because there are gonna be lots of them! Make sure and check out the May Issue with all of our CPMA coverage.
Wow! What a month! Thanks so much to everyone for all of the amazing entertainment! We have one heck of a full issue this month. Check out all of the festivals, shows, venues.. Just turn the page, and plan your next night out on the town! Get out there and Support Local Music! We are getting closer to releasing our all new website, but for now, you're still stuck with my updates at www.pamusician.net. If you see me Out & About, please stop me and say Hi! If you have any words of wisdom, or just fun facts, please email me at RachelRocks@pamusician.net.