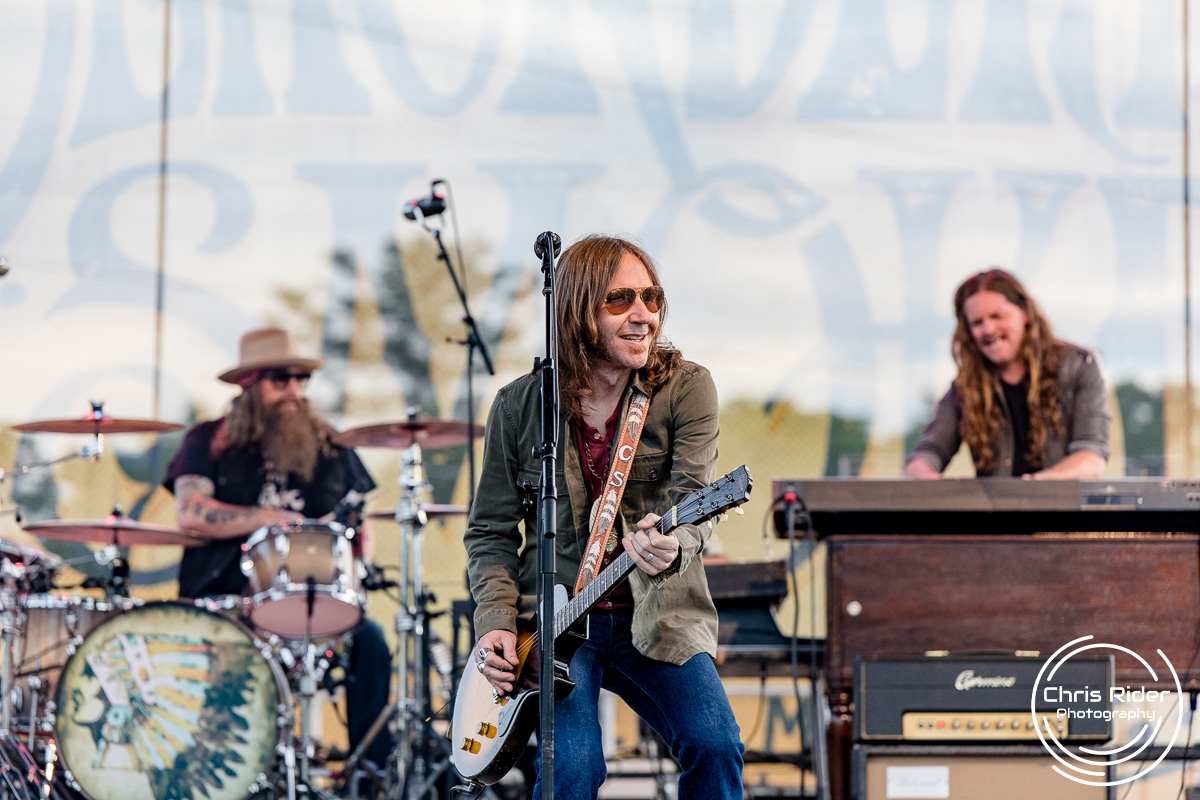 ---
By: Chris Rider
Welcome back music fans! July came and went in a flash…and as hot as it was, the live music was even hotter. Most every venue is back and rocking it, and bringing Central PA's incredible live music to us in loud fashion for sure. Bars, wineries, clubs, anyone with a stage or at least a free corner…live music is back everywhere you look and I know I'm not the only one happy about that.
My first trip of this article was up to Sunbury, to Spyglass Ridge Winery. This was actually the end of June, but too late for me to include in last month's article. I'm not gonna lie, this was a long time coming…I can't tell you how much I've missed shooting bands on this stage! Opening up the evening was a band I wasn't familiar with, Nick Perri & The Underground Thieves. Based out of Philly, they released their first album "Sun Via" last year and are now on tour with Blackberry Smoke. I'll put this very simply…these guys blew us away! They put on an incredible show, they're music was outstanding, and they interacted with the crowd (especially a little girl that was sitting on her daddy's shoulders up front) in a way that I love to see from bands. These guys were great, I can't wait to see what they pull off in the future. They certainly gained a lot of new fans this night! Headlining the show, as mentioned was Blackberry Smoke. I'd been introduced to their music a few years ago by a friend, and have listened to them off and on since then. I've recently learned these guys have been playing for just over 20 years, and it showed on stage. They did an awesome job bringing their Southern Rock with a definitive country vibe to an awesome crowd and venue.
Next up was a trip down to HMAC's Stage on Herr for a trio of bands that I was pretty excited to see. First up was Lucid Ruby. I'd caught Lucid Ruby as a solo act before, this time he added a percussionist to the act as well. They warmed the crowd up quickly with their high energy, upbeat indie style music that got folks dancing and grooving pretty quickly. They're definitely an act worth checking out, you can't help walking away with a smile on your face.
RJ and the guys from Rascal Revival (with guest drummer Logan Bedard) took the stage next. Starting out with some of their older tunes, these guys killed their set with beautiful harmonies reminiscent of Dave Matthews, Dispatch, and a few other like-minded jam bands. The room was fairly well packed by this point by a great crowd, including a hula-hoop artist that was mesmerizing. It made for such a great set of music. They played a few covers, then played all 5 songs off their newly released EP "Passing Time Around". The EP is available just about anywhere you look for digital music and I can't recommend it enough. The guys even came back out for an encore playing Dave Matthew's "Grey Street", one of my favorite DMB songs, which they did quite well. If you get a chance to check these guys out, definitely do so as you won't be disappointed!
Closing out the night was local favorites Medusa's Disco. This was my first time seeing them play since they went from 4 to 3 members, and I gotta say…they didn't miss a beat. Hunter's haunting and soulful voice, combined with the bands hard driving rock made for an awesome close to the evening. Every time I have seen these guys (and it's been a few LOL), they get better and better and I can't wait to see what the future holds for them.
I then kept it even more local to me, trekking down to Hunter's Valley Winery to see my friend Brandon Barnhart "The Electric Piano Man" ( play a three hour outdoor set for a nice sized group of wine lovers. Brandon brings his own style to a wide variety of great songs including Werewolves of Thunder, Rikki Don't Lose That Number, Rider's On The Storm (a personal favorite!), and even a tune by TransSiberian Orchestra. Brandon's booking a lot of shows in the area at some great local venues, so check him out!
My final trip out for the month turned into two shows due to torrential rain. We went up to Spyglass Ridge Winery for Eaglemania, THE Eagles Tribute Band. Shortly before the show was to start, the heavens opened up unleashing a storm of pretty epic proportions forcing the venue to cancel the show for their first time in 15 years of having great concerts. While sitting in Three Beards Brewing at the top of the hill (highly recommended btw!), it was announced that the band had agreed to come up to the brewery and do a short acoustic set for those that were waiting out the storm. The guys showed up and played for a half hour or so to a very appreciative packed house. After the show, it was announced that the show was rescheduled for the following week. After hearing their short acoustic set, I knew I had to come back up to see the full show. Their show the following weekend went off without a hitch, and these guys were incredible. Their harmonies were so beautiful, closing my eyes I could imagine that I was in front of the band they play tribute to. This was one of the bands I grew up listening to, so it brought back some pretty powerful memories and feelings.
So there it is, my month of music through my eyes and ears. Just a reminder: if you've got a show coming up that I should see, make sure to send me an invite, shoot me an email or a message, let me know about it. Venues: please don't hesitate to reach out to me as well. The majority of the shows that I go and shoot I find out about through invites from all of you or your friends. Hit me up on facebook: @chrisriderphotography or email: chrisriderphotography@gmail.com, stop me if you see me out & around and say hi. Until next month…go find some live music and give them and the venue your support, they truly need it more now than they ever did.