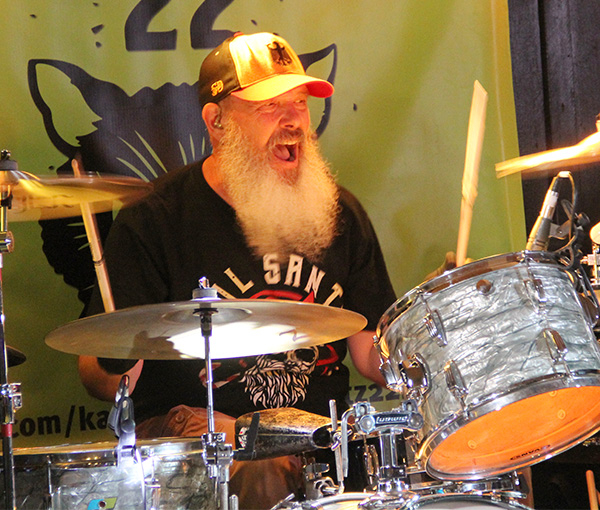 ---
By: Rachel Rocks
July definitely did not disappoint. As the hot, Summer days heated up, so did the live music. Shows have been popping up everywhere, and it's so awesome to see all of the people coming out to see the shows, big, or small, inside, outside, near or far! We've all been missing live music so much! It's amazing to see the energy not only coming from the bands, but from the fans as well. It seems to me that the fans are more involved with every show. I think maybe we were taking our live music for granted before the pandemic. Now that we all know what life is like without it, we want to take full advantage of every second of every show!
Last month kicked off with one of the biggest events for the Central PA music community and that was the 2nd Annual Central PA Music Awards, which also included inducting 6 new acts into the Central Pennsylvania Music Hall of Fame. The inductees for 2021 are: The Badlees, Jimmy Dorsey, Tommy Dorsey, Jeffrey Gaines, Halestorm, and Pentagon. Another super special award given out was a Lifetime Achievement Award for Dad, aka Whitey Lee Noll. Our own Jim Price presented the award and gave an awesome speech about Dad. With Dad's brilliant idea to start the PA Musician Magazine he really created a close family throughout the Central PA music community and beyond. He also encouraged and taught tons of people to play music, and perform their talents. The magazine he created not only gives bands a way to promote their shows, and develop their fan base, but it also allows bands a place to get recognized with either a mention in an article, or if you're lucky maybe even a Hot Shot of a live performance. Thanks to Josh Noll carrying on Dad's legacy, bands still have all of the same opportunities, and even more now that we also publish an online Digital Issue and have a website that can be accessed all over the world. It was fun to have my whole family at the event this year to receive Dad's award. I also have to admit it was fun once again announcing the winners to 3 awards, the crowd really helped me feel welcomed on the big stage. Even though it's crazy being on the stage instead of in front of it, it was a good time. And also a special shout out to my friend Holly for shopping with me for hours til she finally convinced me to wear a dress! The CPMAs are such an amazing night seeing so many bands get the recognition they deserve, and also just to be able to look throughout the crowd and see so many bands all together in one room just supporting each other and having a night to be together and celebrate! There were also live performances by Eternal Frequency (representing Halestorm), Jeffrey Gaines, Pentagon, and the Badlees. All of the original Badlees were on the stage together again! Hopefully they got the itch to keep playing and you'll see more special performances by the original Badlees soon! You can check out all of the winners of the Central PA Music Awards on the website, www.cpmhof.com. Brandon Valentine, the Founder and President of the Central PA Music Hall of Fame, once again outdid himself. The entire night was a success and ran flawlessly. Since Covid pushed back the date of the CPMAs to July, we are very soon going to be asking for Nominees for this year's CPMAs, so please keep your eyes out!
My next night out was a special Thursday night show at The Englewood in Hershey for Cold Spring Union. If you haven't already, you really need to "Join the Union". Since I first saw these guys I was instantly hooked. They are a great combo of rock and country that keeps ya boot scootin' and dancing all night long. The Englewood is an amazing venue to go see a band. They have a great big stage and the room itself is huge and beautiful with plenty of seating and plenty of space for dancing. Cold Spring Union are just so much fun to watch; they are always having a great time on stage and it always carries out to the crowd! I actually saw them a 2nd time this month at Hershey Vineyard outside on a beautiful, almost full moon night! I also snagged my copy of their first EP at this show. Their EP sticks with their theme of combining genres and gives you just enough country mixed in with some Americana Rock that keeps you listening. It's not too often that I listen to a whole CD without hitting skip, but on this one I only hit repeat! CSU is hoping to plan a little mini tour on their way to a festival in Texas later this year, but you can usually catch them somewhere in central PA or beyond. If you want an great night out on the town check these guys out and get to a show soon!
On a Friday night I headed down to the Racehorse Tavern for Katz 22. It's awesome to see these guys and gal picking up more shows all throughout the midstate and beyond. This was their debut trip down to the Racehorse, but Jim loved their song choices and was excited to get them back on the books for another show this Fall. With 3 different lead singers it's amazing all of the different artists Katz 22 can cover. They must span everything from the 70s to today! One thing for sure every song they play, you will say, "Oh I love this song!" When they can cover such a wide range of music, it's easier for them to play songs that everyone loves! You can check out Katz 22's ad in this issue for their full schedule so you can plan your next night out on the town, you won't be disappointed.
The next night Out and About I met up with Holly and Matt for Rich Clare's Pentagon at XL Live. Pentagon played a quick, but very entertaining 15 minute set at the CPMAs, so when we saw they were playing a full 3 set show, we had to check it out! Pentagon has been playing together for 50 years! That's right, 5-0! They've had many different members throughout the years, but two original members remain, Rich Clare and Jim Colestock. Both guys switch up the lead vocal duties and Jim even switches off on drums with Joe Mohn, so he can come out and sing some AC/DC and other great songs! With 50 years of performing as a band, they can definitely cover an unbelievable amount of music, plus they are still constantly learning new songs too! Rich Clare's Pentagon has a full schedule, playing all different types of gigs. I've been told for years to check these guys out and I'm so glad I finally did!
HMAC is definitely back! And they have a full amazing line up of bands coming in throughout the rest of the year. You can check out their full schedule and get your tickets through their website, www.harrisburgarts.com. I made it out for their Sevendust show, and man what a great night! I unfortunately missed the first band, but we did make it in time for Austin Meade. I personally really liked Austin Meade's set and was impressed with his vocal talent and they had a super cool bass player! Some people said they didn't mesh very well with Sevendust, but I enjoyed their set.
When we got there, I was totally surprised by how packed the Capitol Room was. The Capitol Room holds 1,200 people, and it had to be very close to a sold out show. Sevendust came out and killed the show as usual. It's hard to believe these guys have been together for 25 years! It again reminds me, I ain't as young as I once was, but you're only as old as you feel.. right? Well after an awesome night of headbanging and dancing, I felt 25! Haha! Yeah right! Kudos to HMAC for keeping such a large crowd under control. There was a huge mosh pit in the middle of the room, but it seemed to me from my position in the room that everyone stayed cool and had an amazing night. To me Morgan Rose, the drummer, stole the show! No surprise there if you know me.. but he was just so much fun to watch. Such an amazing drummer with crazy faces and one hell of a singer too! It was so rejuvenating to be in a sweaty group of people rockin' out to good music! Thank you HMAC for providing a stage and bringing in such amazing talent! I can't wait to for the next show!
I wanted to shout out a kudos to Jay Hunter from wwe.iRockRadio.Me. Jay has an online radio platform plays the newest bands and latest releases, as well as favorites through the years & eras of the 2000's, 90's, 80's and even unsigned bands known as "iROCK iNDiES". It is truly REAL ROCK and REAL VARIETY! Most of the music is "UNCENSORED", the way it was meant to be recorded, played and performed … Although, sometimes an edited version is played due to what was available during the creation of our music library. That is the benefit to having an online radio show. Jay is working with HMAC to bring these amazing shows to our city, and it was awesome to see him up there announcing Sevendust. If you have your own CD/EP/music, make sure and send it over to Jay so he can get it on his airwaves.
Since I already mentioned my Cold Spring Union show at Hershey Vineyards, I guess my last stop of the month was back at the BBQ Tavern for Derek Henry. Derek and I have a love/hate relationship, so I'm sure he was thrilled to see me walk in the door for his last set. I of course do my best to sing along, I'm sure Derek wishes I wouldn't, but it's so much fun! The BBQ Tavern is such a fun, but very small venue. We always have a blast there! The staff are very accommodating, and the women's bathroom is an adventure in itself! I've heard good things about a lot of their food too. The BBQ Tavern is one of those little hidden secrets, don't blink or you'll drive right by! Derek's schedule is getting quite busy with full band Observe the 93rd shows, and plenty of solo acoustic stuff. They also just announced !DEAD! A tribute to My Chemical Romance, will be playing at XL Live October 15th. Make your plans now! That is always a show you don't want to miss!
It's hard to believe this is already my August article. Summer was such a whirlwind of fun! I'm so glad that music is coming back with a vengeance and I am definitely getting out there to enjoy every show I possibly can. Tomorrow night I'm heading to the York Fair for Kix, Slaughter, and Warrant! Thursday is Adelita's Way at XL Live, then Friday is Small Town Titans and Halestorm back at the York Fair, followed by Guns N'Roses at Hershey Stadium! I better take Advil now, I think my neck is gonna be sore by Sunday! And just think, that's only 1 week! I can't wait to see what the rest of the month brings!
Don't forget bands.. The best way to get me out to a show is to advertise! It's not a guarantee that I will necessarily make it to your show, but we do have three other writers, plus the boss himself, not to mention all of the fans that read our pages. I often have people ask me, where do you look to see who's playing where? Back in the day, the answer was simple, the PA Musician Magazine! That is still the first place I look, but sometimes I have to get creative. It would be so much easier if we could all join forces and make the PA Musician Magazine be your source for all things music! Clubs, bands, Festivals, Special Events, anyone can advertise in our pages. Our rates are so cheap with everything from a business card for $30, all the way to a Full Page for $375! We do all ad design at no additional cost, and we even send you a proof that you can use for your own flyers, or promotion. Not only do we still deliver 7,000 hard copies, but we also have our Digital Issue and website too! Please help us keep Dad's Legacy Alive, and advertise today! Feel free to call and talk to Josh about all of your advertising needs: 717-636-4203, or email him at JoshNoll@pamusician.net.
That's all for this month. If you have any cool shows or events you would like to see me at, please email me at RachelRocks@pamusician.net. Ya never know where I'll show up next. Don't forget to check out our website, www.pamusician.net, and "Like" and "Follow" us on Facebook.com/PAMusicianMagazine. Get out there and Support Local Music and Local Businesses!