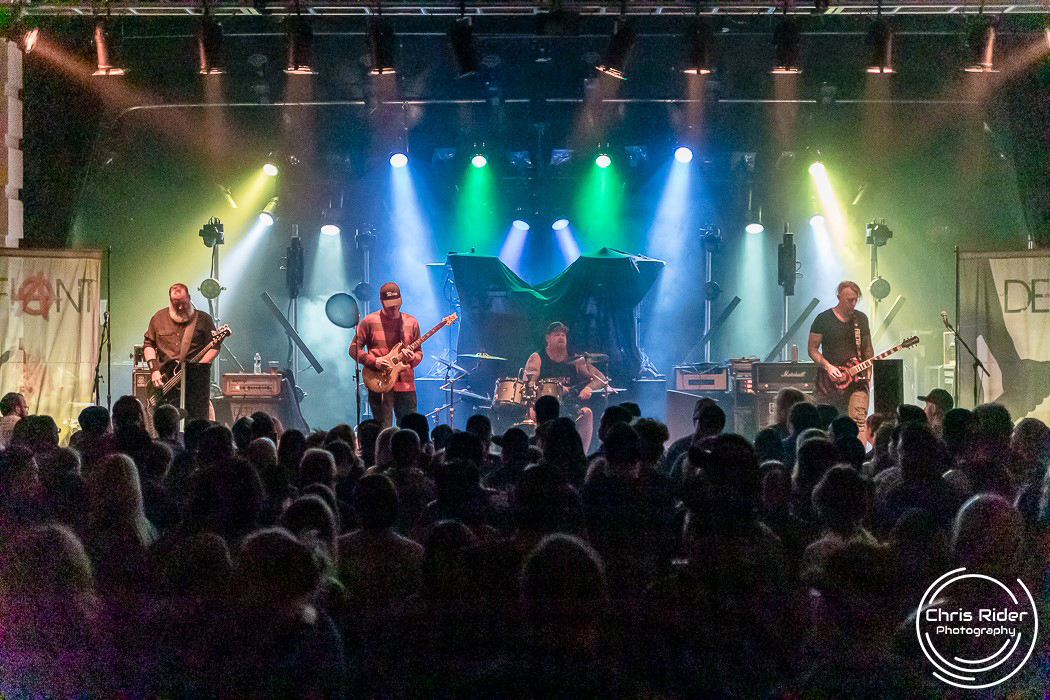 ---
By: Chris Rider
2020…a new year, new beginnings, all that humdrum and stuff. But this month does bring something new to Central PA's music scene: the first annual Central PA Music Awards, hosted by the Central PA Music Hall of Fame at the Whitaker Center on January 30th. By the time you read this, the ceremony will be over and the winners known, but I'll give my take on it ahead of the ceremony. I've been nominated along with 4 other fantastic photographers for the Best Photography Award. As a relative newcomer to the scene, I'm extremely humbled and excited by this nomination. Win or lose, I consider simply being nominated a huge compliment to what I have worked so hard on and I'm sure the other nominees feel the same way. I won't lie, I've never been a big fan of the big award ceremonies like the Grammy's and such…but maybe that's just because I didn't feel a personal tie to them. Sure…I knew a lot of the music and was familiar with the work of the artists being celebrated, but I didn't have a personal tie with them other than hearing them on the radio. Even if I wasn't nominated for an award, I'd still have a very personal tie to this ceremony as many of the bands, venues etc. that have been nominated are ones that I'm familiar with, have covered, and a lot of whom I even consider my personal friends. I'm so proud of each and every one of them that have been nominated, and I can't wait to see how this ceremony continues to grow over the coming years. If you haven't already, please reach out to all the nominees and congratulate them on their accomplishment!
My month has been an odd one to say the least, but I managed to see some great shows. You'll notice that I spent quite a bit of time at HMAC this month…this was just an odd happenstance as I do try to spread the love among the venues around the area, but this month I had a few can't-miss gigs at HMAC and it all seemed to blur together. I guess it goes that way sometimes, I can assure you next month will be much more spread out!
I started off at HMAC a few weeks ago to see TWEED, an electronic rock band that had some heavy Jam-Band influences and lists their current location as "Deladelphia". I couldn't find it on the map, but I'm putting them in the South East corner of PA LOL. These guys had a very psychedelic flow to them that kept the folks in the crowd moving. I had a blast hearing these guys and can recommend them to anyone interested in that scene.
My next trip out was up to Isle of Que Brewing in Selinsgrove to see Ricky and Harv, a local duo playing hits from the 60's on up including some Beatles, Tom Petty, and even "I think we're alone now" by Tiffany. They were a pretty entertaining pair that kept the crowd involved during their entire two hour show.
That weekend was back down to HMAC for the Jake Joyce Band, followed by Vintage Pistol. I've seen Jake perform a few times before with Rascal Revival, and Jake invited me down to catch his other project. His band is an "Americana infused Rock & Roll" band, with various classic rock, blue & country influences. They released their debut EP in 2018 and it's available on all streaming services. Vintage Pistol came out next onto the Herr St Stage. Based out of Fayetteville, AR; these guys brought a Rock sound with a lot of jam roots. They claim influences of the Allman Brothers, Steely Dan, Marcus King Band and many others. I can tell you they have a very wide style, and a solid & polished sound to them with a great mix of originals and covers including "Shakedown Street" and "Without Love". I've added them to my Spotify list and can assure you that they're at least worth checking out!
Next trip down to HMAC for a night of 5 metal and rock acts including a personal favorite of mine, Defiant. First up for the night was Violet Nine, an Allentown based rock band with a lot of energy. They did an awesome job warming the crowd up. Next up was Lancaster based Dawns Divide. They call themselves a "Stoner Rock" band…I think that's the first I've heard that. These guys formed in 2018 and play all original music with a pretty wide range of style & influences. It's easy to see, and feel, that their music pours straight from their hearts as a result of life experiences. I truly enjoyed their set. Next up was Defiant, a band that's no stranger to our pages here or to stages across the area. The guys brought their hard charging metal act to the main stage at HMAC, and they killed it. I might add, this is the first time I've had a band invite me up on stage to get pics of them and the crowd that was clearly enjoying the show. I had a blast, but man does it get warm up there! LOL. Thanks again guys for the invite, that was an awesome experience for me and I truly appreciate it! Eva Under Fire followed the guys from Defiant on stage. Have I mentioned that I'm a sucker for a female-led rock band? Especially when she's got a powerful voice? Well, I am…and Eva Under Fire fits this category very well. Coming out of Detroit with their alternative rock sound, Eva Under Fire almost literally lit that stage on fire. They claim a wide variety of influences from The Cure to Nirvana, and their music shows it. From beginning to end, they brought their very powerful sound to Harrisburg and the crowd just ate it up. You can check the folks out on Itunes, Spotify, and many other digital services. Headlining the evening was a band I've heard of, and maybe even heard a song or two from, but never really took the time to listen to: From Ashes To New. Coming out of Lancaster, this Alternative/Rock/Rap group has music available through Better Noise Records on Spotify & Itunes. Their songs are, maybe surprisingly, very positive, passionate, and powerful. They speak of hope and inspiration, not only for themselves but for all of us. While their music isn't a style that most would attribute to me, I found myself really enjoying their show a lot and have (once again) added them to my Spotify list. From the sound, to the lighting, to their performance on stage…this was a high quality show.
Final trip to HMAC was one of personal preference for me. Turkuaz was coming to town and I finally had a chance to see them. The night started off with the pre-party show down on the Herr St Stage with Los Elk, a groovy indie-rock band out of Boston. You can find them on Spotify, Itunes, Soundcloud and Bandcamp, and I'd highly recommend it. These guys brought a very unique mix of funk, rock, pop, maybe a little hippie-jam to the stage. Upstairs on the main stage, Neal Francis brought a 70's styled blues/funk/rock/soul show that was unlike any I've ever seen before. I felt like I was transported back to the 70's, from the styling of their outfits, to the style of their play, Neal and his bandmates certainly brought the 70's to life on stage. Headlining the evening, as mentioned, was Turkuaz: a nine piece PowerFunk band from Brooklyn. I'd heard bits and pieces from them over the years and I think, sometimes I heard songs from them that I perhaps even attributed to other bands. It's hard for me to put them in a category, or even a few categories. "PowerFunk" even seems incomplete. They've got a very complex sound to them, from the 3 piece horn section to the downright funky guitars, the powerful percussion, and mesmerizing vocals…it was truly an experience to hear and see them live. They have a very "big band" sound, but still somehow manage to maintain their individual sounds as well. I'm not sure where all you can find their music, but I've found them on my Pandora and Spotify playlists so far, I imagine they're not too hard to find on most any of the digital streaming platforms. Check them out…maybe they'll be your flavor, maybe not…maybe they'll just be nice to toss in the mix of all the other music you may listen to. They're worth trying out though for sure.
So, there you have it, another month of music from my point of view. Just a reminder: if you've got a show coming up that I should see, make sure to send me an invite, shoot me an email or a message, let me know about it. The majority of the shows that I go and shoot I find out about through invites from all of you or your friends. Hit me up on facebook: @chrisriderphotography or email: chrisriderphotography@gmail.com, stop me if you see me out and say hi. Until next month…go find some live music and give it some support!