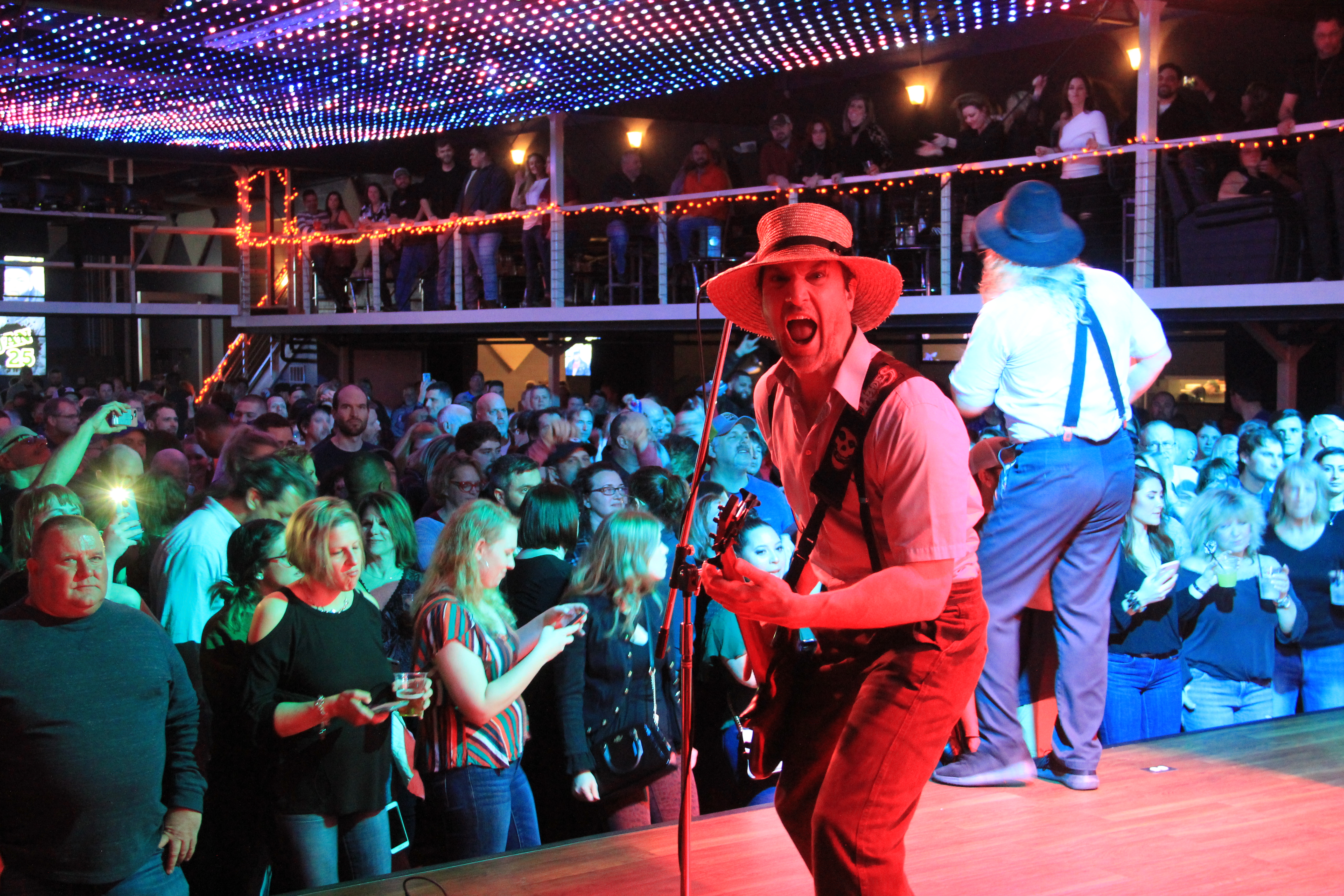 ---
By: Rachel Rocks
I can't believe it is already February, and time for the Millennium Music Conference! This month will definitely be filled with music!! Even though for me it seems like every month is filled with music. I was excited to see so many packed shows this month! Lots of people out supporting live music which is awesome!! This Thursday I'll be attending the Central PA Music Awards at the Whitaker Center. It is so amazing that the Whitaker is sold out for this event! It's awesome to see so many people supporting the music scene, and it will be even more awesome seeing bands and people in the music community getting the recognition they deserve. Read all about the show next month, but for now, let's get on to the music I did see.
This month started out at Chick's in Hummelstown for Calling Off Doug. I've seen these guys and gal quite a few times now, and every time they put on one heck of a show. They are definitely a crowd favorite at Chick's packing the room and the dance floor with fans having a great time. I always know there are people willing to dance with me at a Calling Off Doug show. It's always a plus when everyone in the band can sing and mix things up throughout the night, plus it helps add to the variety of the music they can cover. Check out Calling Off Doug's ad in this issue and see where they will be partying the night away next.
I was able to sneak out early on a Saturday so I headed out to the Eagle Hotel in Fredericksburg to see and hear Nate and Pete playing acoustic, also to get some amazing food! I had high hopes of enjoying their famous Steak Dinner Special, but when I arrived I was more in the mood for some Fried Pickle Chips, and a burger. No matter what food you get at "The Hoootel", it is always amazing. Nate and Pete are also always a pleasure to listen to. Nate and Pete have so many great originals to play. It's always fun watching them on stage and hearing their stories! They have a relationship unlike any other, that's for sure! You can check out their full schedule on their website, www.natemyers.com. You can also check out the Eagle Hotel's ad in this issue and check out their full schedule of entertainment.
To end this night, I took one more long zoom over to Johnny Joe's in Mechanicsburg to see Stricken, the new Disturbed tribute band. Stricken only emerged a few short months ago, but already have over 3,000 likes on Facebook. They are quickly growing in popularity throughout the midstate and beyond. When I got to Johnny Joe's it was packed and it was Stricken's first show. They were definitely "Disturbed" in more ways than one. When Dave sang "Sound of Silence" he had the room completely captivated. If you want to check out what everyone else is talking about, check out their ad in this issue and get out there and get "Disturbed" like the rest of us.
On Thursday nights I had the opportunity to go to Boneshire Brew Works to hear their acoustic music. The first night I saw Sweet Corn and Peanut. This husband and wife combo make one heck of a sound together, unlike anything else in the area. On another night I heard Peter Stone. He's a solo act, but easily kept our attention, and kept the patrons entertained. Boneshire has acoustic music every Thursday night from 7-9, plus they have great beer too!
My next night out I went to XL Live for Observe the 93rd's Night of Chaos. I unfortunately missed the first two bands: Big Boy Brass and Big Fat Meanies, but I heard they were both amazing. I'll definitely have to keep them on my radar. I did get there in time for Gas Station Disco. It was my first time seeing them with a female lead singer. I have no idea how long she's been their lead singer, but man, she could sing. Gas Station Disco definitely helped keep the party hopping. The last band of the night was Observe the 93rd. It was awesome to see they brought a new guitar player, Brett Scheib, so Derek come out without a guitar. It was nice because it allowed him to really focus on singing and entertaining the crowd. It's awesome to see how the guys have really built up their fan base, and their fans definitely helped add to the chaos part of the night. The energy pouring from the crowd just helps fuel the energy of the guys on stage, and makes it one heck of a show! You can check out their ad in this issue to get them booked at your venue or private party.
Saturday night started out a little calmer at Bald Hills Distillery for DMC Duo. Darrell and Marisa don't mess around, they travel all over the state playing their music wherever they can go! Bald Hills Distillery is in Dover, PA. It's a very neat Distillery with delicious drinks, my favorite was of course the Root Beer Float! Mmmm!! I've seen DMC Duo play a few times now, they are constantly adding to their set list and developing their show. There were plenty of people dancing and singing along and having a good time.
After their show, we headed about 15 minutes down the road to Racehorse Tavern for Maiden America and the Racehorse's 20th Anniversary Y2K New Year's Eve Party. I'm so glad I finally made it to a Y2K Party, it is such an awesome idea to celebrate New Year's a couple weeks later so they don't have a bunch of other parties to compete with. I loved how everyone got their party hats on and actually had a countdown to midnight, when they dropped a (stuffed) horse from the ceiling and everyone did a champagne toast. The Racehorse Tavern definitely knows how to party.
Stricken opened up this wild party and I heard they put on an even longer show at Racehorse. They are already adding to their set list and covering even more Disturbed songs. Maiden America had the dance floor packed all night long with people headbanging and singing along. Gordon always has super intense energy that always has him flying off the stage and working his way throughout the room. Congrats to Missy Jo from Mad Hatter Entertainment for organizing yet another amazing night of music! Make sure and check out Racehorse Tavern and Maiden America's schedules in this issue to see where and when all of the parties are happening next month!
Next up was a special Thursday night show to see the Glorious Sons. I'm always amazed by big week night shows that are packed. The Glorious Sons have quite a few songs getting air time on the radio, one of those more popular songs is "Sawed Off Shotgun". XL Live, Reverb, HMAC, The Chameleon, and Harrisburg University are constantly bringing phenomenal entertainment to our area. You really have to keep your ears out to hear what's coming to the area. Reverb still has an ad you can easily check out in the magazine, unfortunately the other venues do not, which makes it even trickier to figure out who is playing where. At only $130 for a ¼ page or $198 for a ½ page, or even $375 for a full page, it is crazy not to advertise in one central location so everyone could look in one spot and check out everything happening. After all we are "THE" magazine for not only the people who MAKE music, but also for the people who LOVE music. People like to flip through our pages and see what is happening where, so they can plan their next night out on the town. You can advertise by giving Josh a call at 717-636-4203.
I was horribly sick with the flu for a week, but I finally crawled off the couch because I couldn't resist the rockin' good show at HMAC with From Ashes to New headlining. I have been told all about From Ashes to New for years, so when they were playing so close I couldn't miss their show. The bonus was that Defiant was opening for them, so I made it out in time for their set. It was awesome seeing Defiant on a big stage again. They definitely had the Defiant fans out there supporting the show, there were Defiant shirts and merch everywhere! Defiant is getting amazing opportunities to open for a lot of big bands at all of the local venues. They definitely know how to get the party started, and it doesn't hurt that their "Defiant Army" will follow them anywhere! Check out Defiant's ad in this issue to see where they will playing and get out their and join their army! Defiant will be playing at HMAC's Capitol Room as part of the MMC on Saturday, Feb. 29th.
Eva Under Fire played next. I'm not sure where they are from, but they were traveling with From Ashes to New and they definitely rocked! Their lead signer had an amazing voice and all of the guys in the band had a fantastic stage presence. I personally liked the lead guitar player's Eva Under Fire onesie. He definitely knew how to represent his band on stage. When you are a band traveling through an area, like so many of the MMC bands that will be here soon, there is nothing wrong with wearing your own merch, especially at shows where you don't even have time to hang your banner. Let people know who you are without a doubt when you are on the stage, and even more importantly walking around the venue.
Finally ,it was time for Lancaster's own, From Ashes to New. These guys don't play in our area very often because they are too busy touring, but I've glanced at these guys on YouTube and checked out songs that have been sent to me, but I definitely wasn't prepared for their live show. With them only being a 4 piece and the only instruments on stage are a guitar, drums, and two crazy amazing voices, they really put out one heck of a sound. The lyrics to every song are so powerful. We all know we all have our daily struggles, life hurdles, or whatever you want to call them, but From Ashes to New's lyrics are exactly what their band name suggests. Even when you are completely down into ashes, if you keep trying and keep fighting, you can and you will be new again. It was a great show and I will definitely pay more attention to these guys! So glad I finally caught a show.
After their show I headed over to XL Live for the last set of The Amish Outlaws. These guys are another band I've heard so much about, but never got a chance to see them before. Again, they were nothing like I expected, but they were fantastic and hilarious. They play all of everyone's favorite party/dance music, but they are dressed like a bunch of Amish guys. I'm told some of them are legitimately Amish, but hey whatever, they are still very entertaining. When you see a show like this so packed it makes you realize how desperate our area is for the dance party cover bands. There really aren't that many left, but the ones that are, always have a great following, and these guys had XL Live packed!
My final night of the month started out early with a trip to Mellow Mink Brewing to hear Derek Henry playing acoustic. His confidence on stage continues to grow, and it's awesome just sitting back and hearing him perform. Derek will be playing with his band Observe the 93rd as part of the CPMA's. They are also nominated for Best Rock Band, I can't wait to see who wins! Check out Derek's ad in this issue with booking info for both his Acoustic Project and his Full Band Observe the 93rd.
After hanging out with Derek for a bit I headed to The Wharf for The Famous's Special Acoustic Show and more importantly Amy's birthday extravaganza! I couldn't believe how packed it was in The Wharf. Not to mention the parking lot was so full we had to park on the side streets. It was pretty much just like a rockin' Famous show, except they were sitting down. The full band was still there covering their music on a slightly calmer scale, it was slightly weird tho because the fans were sitting down too, except it was standing room only, so for those of us without a seat we were crammed in the back being shuffled back and forth by the poor waitresses trying to work their way through the madness. People get upset when they don't have a lot of people at their shows, but I really don't do well with crowds, I started to feel claustrophobic and had to leave before the 1st set was even over. From the pictures I saw it looked like it was packed, crazy, and super fun night, all night long!
The MMC is pushed back another weekend, so this year it is February 27-29th, because it is so late in the month, unfortunately my MMC coverage won't be in until our April Issue. Please check out the full schedule of the showcase performances in this issue and get out there and support local music. People travel from all over the world for the MMC. We are truly blessed to have this conference right here in our own backyard! This year the trade show and conference with panels, etc.. will be at the Hilton in Downtown Harrisburg. Rock Mill Industries will once again be hosting the Open Mic Stage at the MMC, so make sure and bring your guitar and play us a song or two! I can't wait for the MMC! It's one of the craziest/best times of the year!
Well that's all for this month. The CPMA's are THIS Thursday, I will be writing all about that for our next issue. I can't wait to see who wins, and I also can't wait to see all of the amazing things that will be done to help support music education with the funds raised at this event! If you see me Out and About, please say Hi! Please also check out our website, www.pamusician.net, and of course SUPPORT LOCAL MUSIC!!!