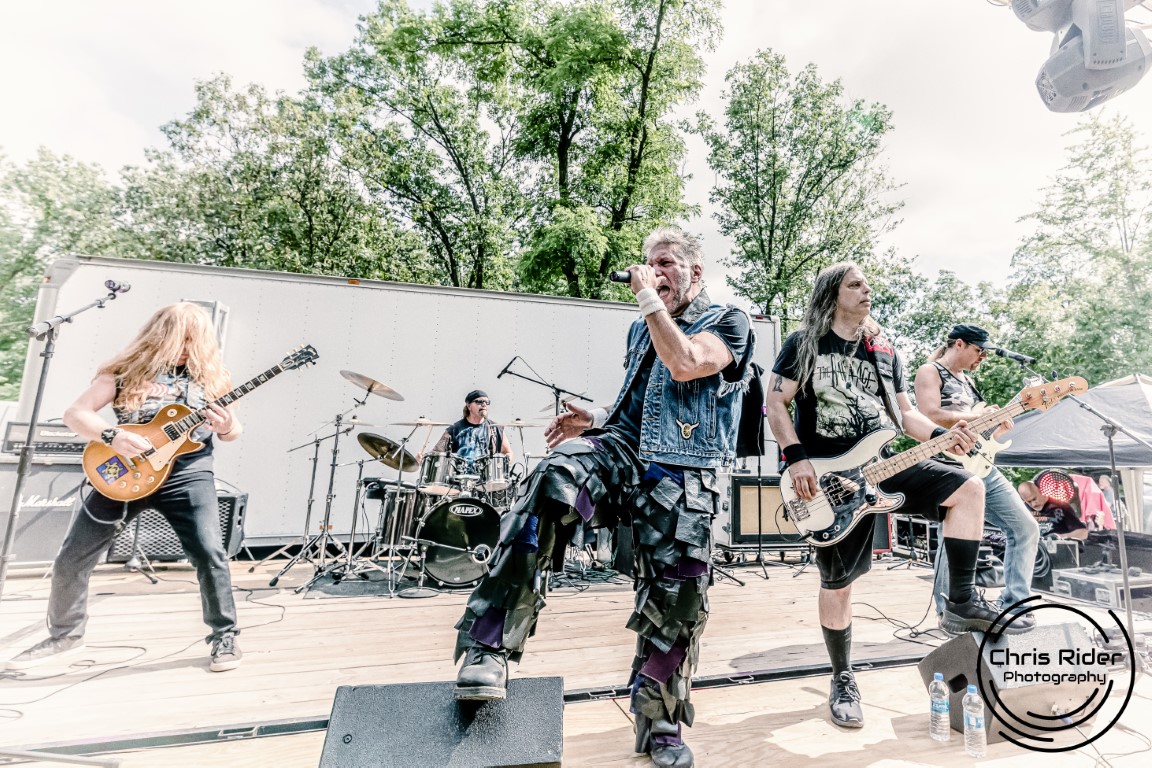 ---
By: Chris Rider
Welcome to July! Well…it will be by the time you read this at least. June was one hell of a month, to say the least. As many of you may know, I was nominated for the 2nd year in a row in Central Pennsylvania Music Hall of Fame's Music Awards as one of Central PA's best music photographers. This year, I was honored to bring this award home, presented by Glenn Hamilton of 97.3 The River at the beautiful Englewood. I am completely humbled by each and every person that took the time to not only nominate me, but to vote for me as well and I can't say "Thank You" enough. I went there without a speech prepared because let's face it, all of the nominees are outstanding photographers and I can't stress enough how I am continually impressed by all of their incredible work. Once again, a big shout out to PA Musician for taking a chance on me and adding me to the team, to my family and friends, and everyone that has supported me so much over the years in my pursuit to learn and grow as a music photographer. It was a pretty amazing night to say the least.
Over the last month, I made it out to 6 events: 1 4-day festival, 2 1-day festivals, and 3 other events. Over the course of those 6 events, I shot performances by 25 bands. 25! Live music is back…and the way each and every single one of these musicians played, it felt like they didn't skip a beat. I've got a lot to cover here, so let's get started.
My first trip out was to see my pals Ken Damelio and Kenny Jenkins in their new project "K2" up at Iron Vines Winery. They did a whole set of covers including Down by the River, I shot the sheriff, My Girl, House of the rising sun, and even had Sunbury Slim join in with his harmonica for an awesome cover of Red House.
My next trip was out of PA, but it was with some of the best friends a guy from PA could ask for (most also from PA), down to the mountains of West Virginia for Waynestock Outdoor Adventure and Music Festival. Waynestock started out with a group of just 20 or so friends, and has grown to over 300 outdoors and music enthusiasts. White water rafting, zip lining, frisbee golf, mountain biking…and of course MUSIC! Look up Waynestock on Facebook for more info on everything this awesome festival has to offer…I only have so much room on these pages and a LOT of music to cover LOL. First group up was Alo Ver (@AloVerMusic), a female fronted group playing old time Appalacian style tunes with sweet, melodic vocals. These folks were the perfect start to the weekend's music. Next up was FRUTE (@thefruteband), a jam band with a Grateful Dead'ish vibe and a soulful groove that really got the crowd moving. They've got an album in the works that has one single "Stephen Hawking" out on Spotify now that's definitely worth checking out. Next group to play was Nicole June & The Boys (@nicolejunelive). Nicole recently joined up with the boys to create this group, but it was honestly hard to tell as they played as though they've been together a long time. They played a great mix of tunes including an original titled "Camping with Gretchen" that was written just the night before! The music shifted gears with Snatch the Snail (@SnatchtheSnail), a 3 piece band with a hard funk/groove sound that echoed through the mountains. These guys played with an energy that made me jealous LOL. Bringing back the funk and jam was a Southeast PA group called Spaghetti Legs, named after one of the band members' cat named Spaghetti who has neurological issues. These guys killed their set, laying down awesome funk rhythms with extended jams…just enjoying being out in the woods sharing their music with an awesome crowd. I didn't know it at the time, but this would end up being the first of 3 times I'd see James Klippel (on keys) playing in various bands this month. He seems pretty cool for a stalker 😉 The final band of the weekend was a band that played Waynestock last year, The Roof. Based out of Pittsburg, these guys formed while at Penn State out of their love for Led Zeppelin, Allman Brothers and several others, and these influences come through strong in their well written originals. I suspect they'll be regulars at Waynestock as everyone loves them. Several of the members were recently involved in a car accident that was pretty serious, but they were ok and went on to play 2 shows that coming weekend. That's some dedication to their art right there. I'll end this part by reiterating this: if you have not checked out or attended Waynestock, you need to at least check it out! This is a special and fantastic little festival, every time I pull in down there I feel like I've arrived at my second home.
My next trip out was to the CPMHOF pre-awards show at The Englewood, followed by a performance by Shea Quinn and The Luv Gods. I've heard these guys since I was…well, much younger…but never got to see them until that evening. They covered tunes from all over the classic rock spectrum, including Tom Petty, AC/DC, and Glenn Hamilton even joined them on stage to perform Bruce Springsteen's "Born to Run" (quite well I might add!). Shea was also joined later on by several members of The Sharks to perform some of their great tunes as well as James Klippel (sighting #2).
I then headed down to Mechanicsburg for "A Tribute of our Generation Music Festival". This one day festival featured tribute bands for each of the decades from the 60's through the 00's, some of them traveling a pretty good distance. The bands playing were: LEGZZ – A tribute to ZZ Top, The Seven Bends – a tribute to the Allman Brothers Band, Nicks In Time – a tribute to Stevie Nicks, Maiden America – a tribute to Iron Maiden, Outta The Cellar – a tribute to RATT, Fade to Black – a tribute to Metallica, SIN – a tribute to Nine Inch Nails, Children of the Korn – a tribute to Korn, Next to Nothing – a tribute to Breaking Benjamin, and Hybrid Theory – a tribute to Linkin Park. All of these bands did an awesome job of paying tribute to their respective bands. Not surprisingly I guess, I was really looking forward to The Seven Bends performance and was certainly not disappointed as they did a great job of covering The Allman Brothers.
Next up was a long commute of about a mile for the PA Musician's festival, Whitey Noll's Celebration of Life Music Festival. The event started off with Robin remarking on, and remembering Whitey Noll's remarkable journey in life, both within our incredible local music scene, as well as what made him such a great human being outside of the music world. This was followed by an Official Memorial Service led by Pastor Tim from Abundant Harvest Church. Following the service, several family and friends played a few songs, including Rachel Rocks in her debut performance with her ukulele, a great acoustic performance by Danielle Farhat, as well as a few others. This was followed by 5 bands that have been featured and written about so many times over the years that the magazine has been in business. Starting off with the Syn D' Cats, followed by Shea Quinn, Ian Rawhauser, Steve Zero of The Sharks (with a few friends including James Klippel…sighting #3 LOL). The Martini Bros brought their raw rock and roll to the stage next, followed by Road Case. The finale of the evening was brought to us all by The Suicide Puppets. The entire evening was just amazing…so many people that were affected in such positive ways by Whitey's work over the years, there to remember him and recount stories of him.
My final trip out for the month…well, you'll have to wait til next month's article to hear about it 🙂
So there it is, my month of music through my eyes and ears. What a whirlwind…I went from seeing 5 or 6 performances last month to shooting 25 bands this month. 25! It made for a busy month, but a welcome one. Just a reminder: if you've got a show coming up that I should see, make sure to send me an invite, shoot me an email or a message, let me know about it. Venues: please don't hesitate to reach out to me as well. The majority of the shows that I go and shoot I find out about through invites from all of you or your friends. Hit me up on facebook: @chrisriderphotography or email: chrisriderphotography@gmail.com, stop me if you see me out & around and say hi. Until next month…go find some live music and give them and the venue your support, they truly need it more now than they ever did.