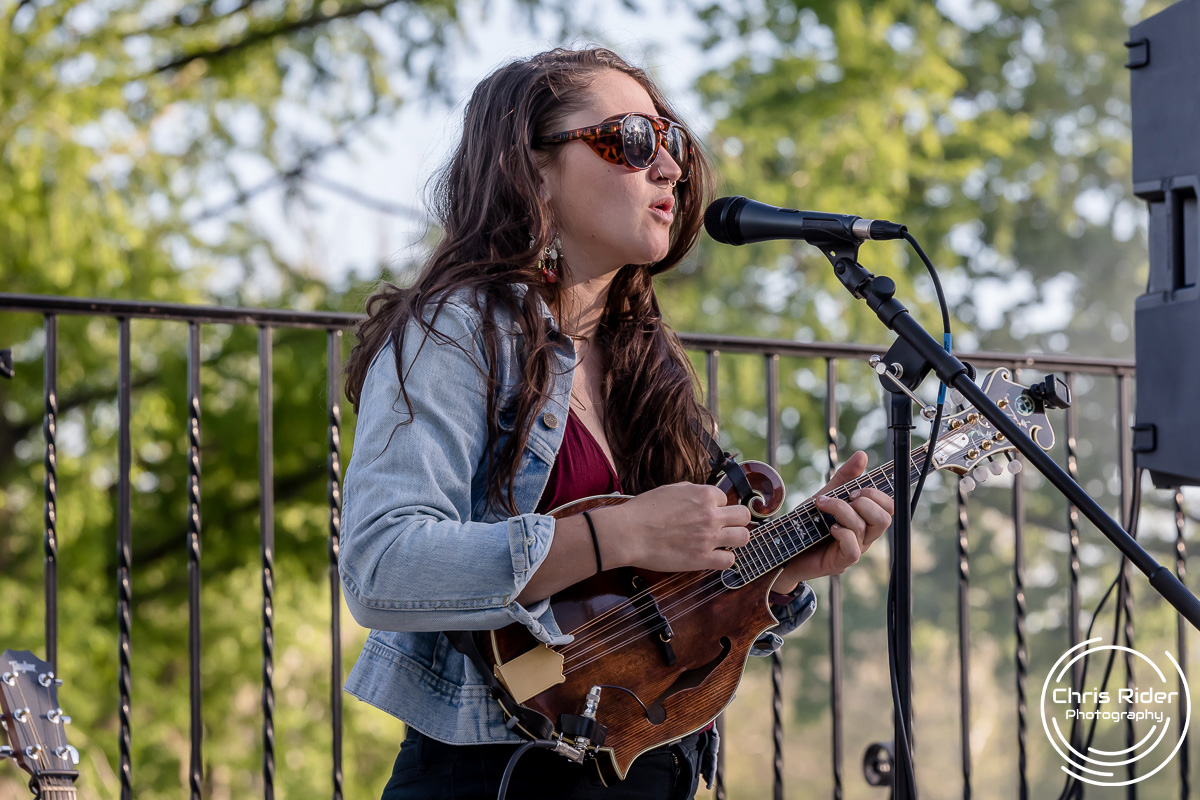 ---
May is pretty much a wrap as I type this up, and while I only got out for a few nights of music, I was able to make the most of them and see some great shows. Venues are now permitted higher capacities, mask mandates are loosening (and about to disappear)…maybe "normal" is almost back? We'll leave the politics out, but I know everyone has to be excited as I am to see the list of shows coming up to be growing in both number and scale. Not only is there light at the end of the tunnel…but lights on the stages are starting to get lit.
My first trip out was to an outdoor performance at Allenberry by Cumberland Honey. Being my first time to Allenberry, we took a walk around and were pretty amazed at not only the size of the property, but how well kept and beautiful it is. This fantastic female duo brought their beautiful harmonies with Folk, Appalachian and Bluegrass influences to the outdoor patio for a great crowd. Steph and Virginia played a mix of originals off their EP released last year, as well as a mix of covers from some favorite artists of mine including Bob Dillan, John Prine and Yonder Mountain String Band. Add a bottle of wine or two, some great food, incredible service, and this made for a very nice evening.
My next voyage was at the invitation of Fred Pellegrini to see one of his projects, Crippled But Free – a 6 piece Grateful Dead tribute band that has played all over Central PA. This evening, they were playing to a sold out crowd at The Englewood (Site for the "pre-show" awards for CPMHoF and Sponsor of the CPMHOF Central Pa Music Awards & Hall of Fame Induction Ceremony by the way). This was my first time to The Englewood and I was completely blown away by both their lighting system (always important to photographers LOL) and their sound system. Easily rivals any in Central PA and beyond, and they've got a beautiful stage as well. Fred and the guys from Crippled But Free made full use of both the lights and the sound system as they started out their set with They Love Each Other, moving on to Jack Straw and many others including several favorites of mine like Franklins Tower, and Fire on the Mountain. They came out for an encore as well, finishing the night with One More Saturday Night. The staff was awesome and courteous, the venue is just gorgeous, the food was great. I can safely say I can't wait to catch another show here!
Up next, I headed back up to hang with the guys from Isle of Que Brewing for their Singer/Songwriter Showcase evening, hosted by Jason Yoder. They hold this showcase every month, on the second Thursday, and anyone is welcome to show up and play a few of their original songs. This evening featured a variety of performances, each with their own original sound to them and styles ranging from upbeat pop, to classic rock and country styles. Performing were the Mile Hill Band, Kevin Regan, Rebecca Hoover, Jeff Shoemaker, John Burns, Keith Bossert, Kevin Correll, "Boog", Justin Aurand, and Jason Yoder. These folks all played some outstanding tunes to a packed and enthusiastic crowd.
My final night out for the month was one that I was looking forward to since I saw the show announced. #1 – it was at HMAC. They were finally able to open their doors and welcome music and art lovers back to their great venue. #2 – It was The Martini Bros. This would be my second time seeing them as I'd first seen them at Club XL a few years ago where they put on an awesome show, and I couldn't wait to see them again. Opening up the show was a band named Dirt Road Redemption. I'd heard of them but wasn't familiar with them. I can only assume that these guys' pep talk back stage prior to coming out went something along the lines of "let's kick this show in the ass", or something similar. These guys went ballistic right out of the gate with their mix of Country/Rock/Rockabilly. They were a blast to listen to, as well as to shoot. Their style blended well with The Martini Bros who came out next after having the same pep talk LOL. Kicking out their rocking originals, as well as a cover or three, they brought the heat from beginning to end. The house was pretty well packed by a crowd that was more than familiar with the trio's blazing Rock and Roll style. It was great seeing these guys, and it was great being back to HMAC as well, I'm looking forward to many more in the near future!
Next month is already looking to be pretty packed between a couple festivals I'm shooting including the PA Musician "Whitey Noll's Celebration of Life Music Festival" as well as "A Tribute of our Generation Music Festival" in Mechanicsburg. I think I'm going to be a little busy…
So there it is…a short month, at least music-wise for me, through my eyes and ears. I'm definitely planning on seeing and hearing a lot more this month and I hope you are too. Just a reminder: if you've got a show coming up that I should see, make sure to send me an invite, shoot me an email or a message, let me know about it. Venues: please don't hesitate to reach out to me as well. The majority of the shows that I go and shoot I find out about through invites from all of you or your friends. Hit me up on facebook: @chrisriderphotography or email: chrisriderphotography@gmail.com, stop me if you see me out & around and say hi. Until next month…go find some live music and give them and the venue your support, they truly need it more now than they ever did.