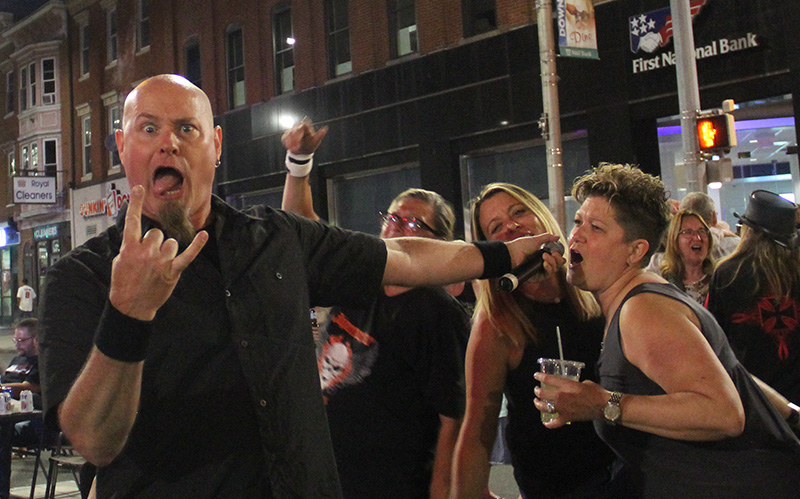 ---
By: Rachel Rocks
Ahhh.. Summertime is here! We're back to nice and warm deck shows, festivals, camping, and fun! June is also the month we celebrate Dads. This month will be bittersweet, it would've been Dad's 80th Birthday on June 16th, so we are going to Celebrate his Life on Saturday, June 19th! We are looking forward to an amazing day of music, friends, and lots of memories. We hope you can join us. Please check out the ad in this issue for all of the details. Please remember to carpool when possible, parking is limited. Bring a canopy, bring a cooler, and have a fantastic day with us!
This month was busy, but yet so much fun! The first night out this month was to Fratelli's in New Cumberland for Derek Henry. Mom was Out & About with me for her first Derek show. I think she had fun hanging with us crazy ladies and listening to some good music. Derek had a great crowd and he did a great job playing all of our special request songs. Derek keeps getting busier and busier, and I'm thrilled to say he even has an Observe the 93rd show coming up on June 26th at XL Live with Madison Ryan and some other great bands. It's awesome to see bands events filling back up again. Now if only I could clone myself so I could be everywhere I want to be!
The next day was SUPER special, when my two best friends got married. Congrats to Mr. and Mrs. Bynum, aka Matt and Holly. They met while Holly was Out and About with me at the DAM Party 2 years ago, and now they are married! It is very exciting watching their love grow and I am so happy for them both. They had a regular reception with DJ John who did a great job at getting people up and dancing and having a good time, and then they had an after party with one of their favorite local bands, Nineties Entertainment System. NES plays all 90s and they put on one heck of a party. Now they can officially say they are a wedding band! The whole day was absolutely beautiful, I can't wait to see what adventures they get into next.
On a Thursday night we stopped in at Boneshire Brew Works for Nate Myers and Pete, and also for pizza and beer! It was great seeing Nate and Pete again with no masks and performing again. They are finishing up a new album and I can't wait to add it to my collection. I love watching these two together, their songs, stories, and banter are always entertaining. You can check out their full schedule at www.natemyers.com and see when they will be playing near you. I have to throw a shout out to Boneshire's pizza and beer, they just put in a pizza oven and it is so delicious and fast!
Saturday started early and ended late, but felt GREAT feeling back to normal again. We started at a special Back in Black afternoon show at Appalachian Harley Davidson. They have an amazing set up for bands with a huge pavilion with a full stage. Even though the pavilion is huge it still couldn't fit all of the people there, so many people! But also so much fun! I have to admit it's a little scary seeing Back in Black in the daylight, but they put on one heck of show! It was also seeing all ages of fans dancing along from the youngest to the oldest and whole bunch in between. Back in Black has a show coming up at XL Live on June 5th! I can't wait to see them back on the big stage.
After Back in Black we headed downtown for Emily's Toybox at Taste of Key West on 2nd St. in Harrisburg. If you haven't experienced the street shut down for music, you really should. I hope they continue doing this, even after everything goes back to normal. They close 2nd st. and put tables and chairs in the streets. There are plenty of choices for food and booze, and ETB set up right at the intersection of Walnut and 2nd Sts. We took our friends Sonya and Amir with us. Amir just turned 21 and he of course thought it was the best night ever! Emily's Toybox put on a great show even tho Ritt was running sound.. haha, JK, we all know I love Ritt! It was fantastic seeing so many familiar faces and dancing in the streets of Harrisburg!
On Sunday, things calmed down a bit, but it was time for a party on the deck at Fredericksburg Eagle Hotel with DMC Duo. It was crazy thinking back to their Pandemic Live Stream on the same deck where they were all sealed in with no actual guests, but yet, the Hoootteell still found a way to support live music, and DMC Duo found a way to continue to bring us music. I know I appreciated that show while sitting at my Mom's playing Scrabble. It was definitely different being there live and in person and getting a chance to harass them during songs. DMC Duo just started throwing an original song into their mix, I hope we hear more originals soon. Overall it was a great afternoon with friends enjoying beverages that start with the letters.. "PB". The Eagle Hotel has live music Fridays and Sundays. Check out The Eagle Hotel's full schedule in this issue to see who's playing and plan your night out on the town. Great food and beverages.
The last day Out & About for this month was a big one, The 1st Annual Lebanon County Builders Association Spring Festival. It was a long day filled with music, friends, and lots of fun! We actually camped for the weekend down the street at the Lebanon/Lickdale KOA, so I was actually able to convince my hubby to come along with Holly and Matt, and we all had a great weekend. When we got there Stu Huggens and Jimmy Landis were on the stage. This is a country duo playing all of your favorite country classics. I heard I missed a great Elvis impersonator, Jeff Krick, earlier in the day. They had a great mix of music all day to keep all ages and music lovers entertained.
Bryan Stevenson took the stage next. Before he took the stage he was walking around introducing himself and handing out a brochure full of songs, you could choose whichever song you wanted and then he had his phone number there so you could text him requests. I never saw that done before, but that was a super cool idea! Not only do you get people to make requests, but then you also have contacts for a future show if you need it. I was impressed with the wide range of songs, everything from Rainbow Connection to All Along the Watchtower. For a one man band, he really did a great job!
Next up we had the DMC Band, this was DMC Duo, but with Kyle on Bass, Wade on Drums, and Darrell was playing his electric guitar! Marissa wasn't used to the fast playing band at first, but she quickly adjusted and rocked her set away! It was cool hearing them play more of a variety of upbeat party music instead of the more subdued dinner hour acoustic music.
Nineties Entertainment System (NES) took the stage next. I had the privilege of seeing these guys twice in the same month! Obviously, they play all of your 90s favorites. The 90s finally got some people up dancing and having a good time, or maybe it was the wine, spirits, and beer we were tasting all day, but either way, we all had a great time. It was nice to see so many people bringing in their lawn chairs and sitting back to enjoy the show. It was also cool to see the band members families out enjoying a show too, especially the little Barny Twins!
The last band of the night was new and exciting an all 80s band out of New York, called Rubix Cube: The Eighties Strike Back Show. They were definitely the Galaxy's Most Excellent 80's Tribute Band Show. It's hard to believe 80s party bands are hard to come by here in PA. The ones that are around in the area were all booked, so they had to reach outside of the Lebanon County Area to find their 80s music. Rubix Cube put on a great show and it was quite the spectacle with costume changes during almost every song! The lead signer would come out as whoever they were singing, whether it was Axl Rose, Ozzy Osbourne, etc. It was awesome to see a band really put on a show! It was a great way to end our day and head back to the campground. Overall the Lebanon County Builders Association outdid themselves. In a year of total craziness and uncertain times, they were able to pull off an amazing day that almost made you feel back to normal again. I can't wait til next year!!
Of course while I was at the festival I was taking notes to prepare for Dad's Celebration of Life! Don't forget it is Saturday, June 19th. It will be Rain or Shine, but if it does rain bring an umbrella the show must go on. We will have 3 food options, for you to purchase; Deimler's Butcher Shop will be providing all of your BBQ Favorites, Bricker's French Fries will be there with French Fries and Chicken Fingers, and The Ben Hines Memorial Foundation will have a food stand with Burgers, Hot Dogs and other yummy treats! It is BYOB, so feel free to bring a cooler, a pop-up, blanket or anything else to spread out in the field and listen to some good music. There will be an actual Memorial Service for Dad at 3:30, followed by some family & friends playing a few songs, and then at 5pm: the Syn D'Cats, 6pm: The Sharks, 7pm: The Martini Bros, 8pm: Road Case, 9pm: Suicide Puppets. Also, between bands we will have DJ Ray Rossi spinning some awesome music to take us back to the days of the Metron. Please remember parking is limited! Carpool if ya can! We can't wait to see everyone there. The gates will open at 2:30 and yes, there is a gate at the bottom of the lane.
Another super exciting special event coming up is the Beach Bash at Racehorse Tavern. The Beach Bash itself will be June 11th and 12th. The Beach Bash is held every year to help raise funds for the foundation, Ryan's Hope. Ryan's Hope is a non-profit 501C-3, charitable organization dedicated to conquering childhood cancer and enhancing the lives of pediatric cancer patients and their families affected by Diffuse Intrinsic Pontine Glioma (*DIPG). The Bash itself has live music both Friday and Saturday to help raise money, but in preparation for the Beach Bash, there will be guest bartenders all week long at the Racehorse Tavern, and on TUESDAY, JUNE 8th, I am guest bartending from 7-8pm. There is a contest for which guest raises the most money for Ryan's Hope, so I really hope you can come out and support me and ultimately support Ryan's Hope! This is my first time Guest Bartending, so this should be interesting, you definitely don't want to miss it!
Two more super special family announcements.. My baby is GRADUATING! Congrats to my very own Zachary Lee Boob! He is graduating at the top of his Diesel Technology class from Dauphin County Vo-Tech. It has been challenging to say the least, and I'm so proud of him and his girlfriend Madi Bortolotto who will be graduating as a Dental Assistant.
Also, June 12th will be my 22nd Wedding Anniversary!!! I am super lucky to have an awesome husband who supports me and all of my crazy antics! Thanks Kris for loving me and letting me be the crazy girl that I am. Also, Happy Father's Day to my super stud. He is an amazing Dad and he has always stayed home with our boys while I'm running Out and About! Without him, there would be no Rachel Rocks! I love you baby.. the first 22 years were a cinch, let's see what happens in the next 22!
There is so much happening this month, it's kind of ridiculous, I can't possibly write about it all, but that's what our ads are for, so please flip through our pages and see what's happening and get out there and Support Local Music!!! Don't forget you can always check out our Digital Issue at www.pamusician.net.
See Rachel's Hotshots on page 20….