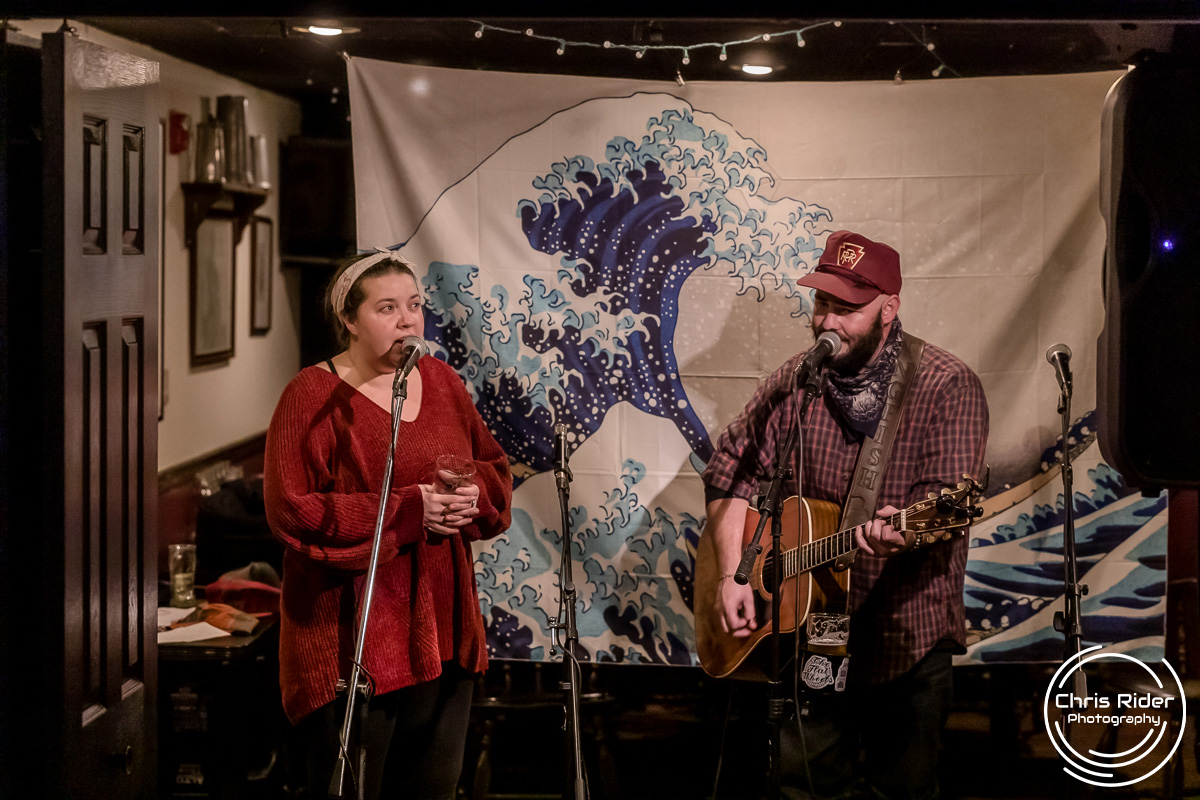 ---
By: Chris Rider
Here we are, almost to Spring…and it's been quite a winter. Between the ongoing restrictions, some crazy weather, selling a house and buying a new one, it's been a bit tough for me to get out much lately. The music I'll discuss in this month's article took place over the last few months since my last article when I was able to break free for a few hours at a time. Hopefully we'll see the restrictions start to loosen up in the near future and be able to have more live music…but it's important to note that there IS live music happening all over the place yet. It may not always be as big, or as often, but it's out there if you look. While I miss shooting bigger shows and really can't wait til they come back…there's something special about the smaller (often solo acoustic) shows that I love just as much, but maybe in a different way. They're more close…intimate…there's often more interaction I think between the artists and the crowd and there's really something to be said for that. With very little exception, I've been able to interact with each of these artists before or after the show to get to know them a little more than I would get to at "larger" shows.
The first show I attended was up at Iron Vines Winery to see Kenny Jenkins play a few hours of acoustic covers ranging from Jimi Hendrix, Neil Young and BB King to Prince and Steppenwolf. Kenny has a long history of entertaining music fans all across the country for many years with a number of bands, and even has a Grammy Award to his name. Kenny brings both skill, and a love for just playing for people to every song he plays and is definitely an act worth catching if you get the chance.
Next up was Zach King & Friends at the Market Cross Pub in Carlisle. Zach and I'd been talking through Facebook for a while about me catching a show, and I was finally able to make this one work. Zach started out the show solo with a mix of campfire and country tunes. He was joined by Lindsay Hutchinson for a song or two. Jan Nawa played a few songs next, describing his style as "totally Baroque, a classic and deep country style" with a mix of covers and originals. Virginia Masland followed with a mix of folk and country covers as well as some original pieces. Noah Fowler also came up on stage with his folk/country melodies with a strikingly "happy" theme among them. It was a great night of music…the food and beer were pretty tasty as well, making the Market Cross Pub a place to be checked out!
My next trek out was to Sherman's Creek Inn to see Shine Through The Shade. Kevin and Andy have played together for years with this acoustic duo being their most recent project. These guys played a wide variety of covers including STP, Green Day, Poison, Violent Femmes, Deftones and a whole slew of others. They brought their own style to each and every song (including a kazoo in one case LOL) that the crowd loved. These guys play a lot of shows, and frequently at Sherman's Creek Inn, so do yourself a favor and check them out!
I caught Rapid Run up at Iron Vines Winery next. Rapid Run is an acoustic classic rock trio consisting of Sue Stover on vocals and percussion, Joel Stover on guitar and vocals, and Brian Feltman on guitar and vocals. They've known each other, and played music occasionally together, for over 30 years prior to forming their band together. They focus on tight three-part harmonies focusing on feel-good songs from the 70's and 80's and encourage crowd participation as well. Rapid Run was a lot of fun to listen to, and they've got a great following judging from how they packed Iron Vines to their current limits with ease.
Next up was a gentleman (he may scoff at being called that LOL) that I'd first met one of my nights up at Que Brew. We talked quite a bit about music, the local music scene and how it's been affected by current events, etc…and he encouraged me to come out and see one of his shows. My son and I finally made it up to McGuigan's Public House in Sunbury to see him play. I'll start out by saying that McGuigan's is a very cool place…they've got a beautiful menu and beer list, and very friendly staff. Brandon is a one man electric piano act that puts a very eclectic spin on some awesome covers from ZZ Top, Sublime, Billy Joel (of course!), Queen and a bunch of others. Brandon put on a great act, entertaining a full house (well, as full of a house as you can get these days) many of whom seem to follow him from show to show. My boy & I had a great time, with David talking about it much of the ride home which is really saying something. I look forward to seeing Brandon play again in the future.
The last show I caught (last night actually) was a last minute decision for me, but I couldn't pass up seeing Ann Kerstetter play up at Iron Vines Winery (if you're paying attention…John has made me a bit of a fan of the place LOL). I was expecting to just see Ann play with Brian as their duo act, but they brought along Brian's son Tyler as well. It's not hard to see where Tyler's talent comes from and I gotta say…seeing father and son play together like this was an awesome experience. The trio covered a whole mix of songs from CCR, Roy Orbison, Linda Rondstadt, Billy Joel, as well as a few of Ann's favorites from The Beatles. Tyler led his father in a cover of the GooGoo Dolls' "Name" that was…amazing. Tyler plays with an ease and skill that belies his age and I hope to catch him playing again in the future as well.
So, there it is…my last few months, at least music-wise, in a bit of a nutshell through my ears and eyes. Some of it was new to me, some of it familiar…but all of it was a great release from reality for a few hours at a time. Now that things in real life are settling down a bit (relatively of course), I expect I'll be able to get out much more frequently over the next month to get my music fix. Just a reminder: if you've got a show coming up that I should see, make sure to send me an invite, shoot me an email or a message, let me know about it. The majority of the shows that I go and shoot I find out about through invites from all of you or your friends. Hit me up on facebook: @chrisriderphotography or email: chrisriderphotography@gmail.com, stop me if you see me out & around and say hi. Until next month…go find some live music and give them and the venue your support, they truly need it more now than they ever did.