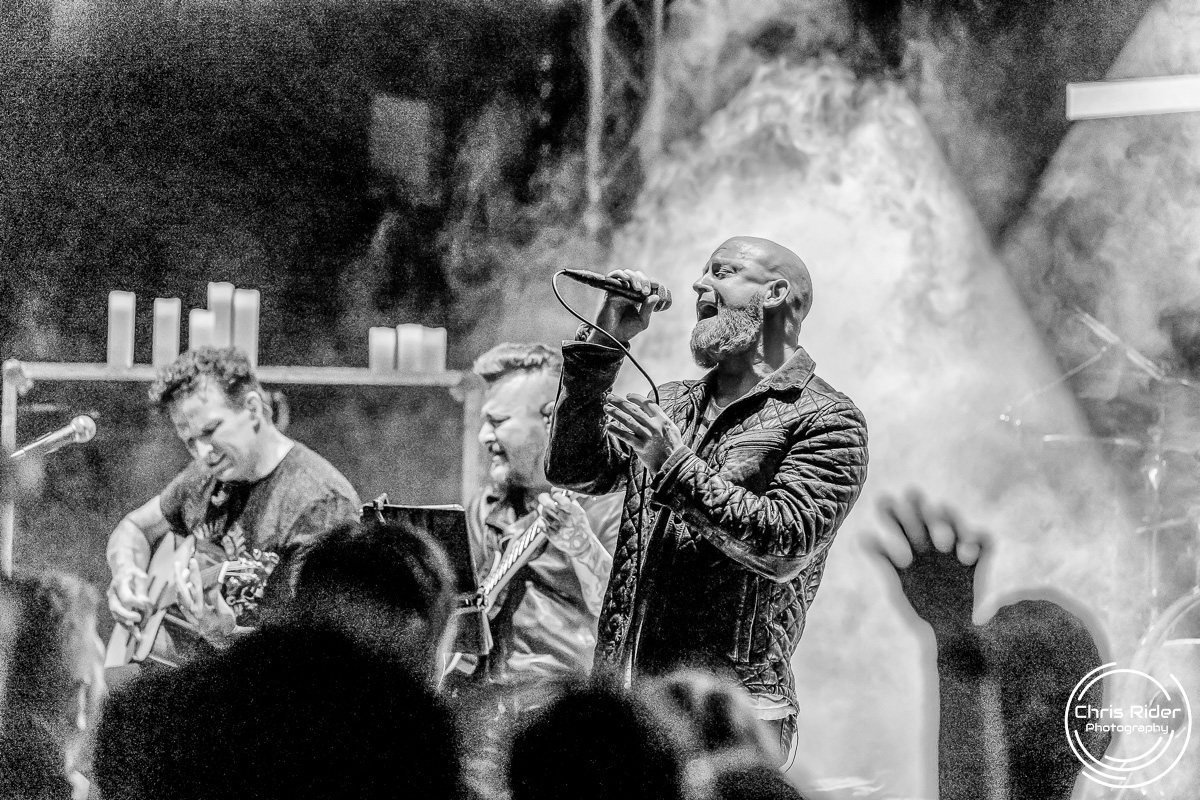 ---
By: Chris Rider
February came and went quickly…it's amazing how a month having only 2 or 3 days less than the rest of the months can seem so much shorter. I'm sure it's mostly a figment of my imagination, but it that's just how it felt to me…short. I still managed to get out to see 10 bands between 5 different shows with a wide variety of style…from blues, to hard rock, to a new genre to me: "Nudist Punk Rock". Every time I get out, I'm reminded how awesome our local music scene truly is here, and how lucky we are to have it. From the incredible venues, the super talented musicians, and die-hard music fans…we really do have it pretty damn good here.
My first trip was down to HMAC for a 5 band show on the Stage On Herr. Opening up the show was Towson, Maryland based pop-rock band Kings Of The Wild Things. These guys came out with fast, upbeat jams that got the crowd pumped up quickly. They were a lot of fun to watch and listen to, playing a nice mix of covers and originals. They are on a mission to bring "jazz hands" back…I'm not sure why, but it seemed important to them LOL. This evening they had a bassist filling in for them (I apologize for not catching his name!) on extremely short notice who played with such skill with the rest of the band that I would never have guessed he was just filling in. This sort of musicianship is just astounding to me, so kudos to him and the rest of the band! The second band up was Central PA based Edgewood, a punk rock party band trio that played a setlist of originals with a ton of energy. These guys clearly had a blast being on stage and sharing their music with the crowd. Next up was August Winters, a solo project of singer-songwriter Drew Zimmerman from State College, PA. I found it a little harder to put this group into a genre, but I suppose I'd call it a mix of pop and punk with a dash of Rage Against The Machine tossed in for good measure. They played a number of their originals along with a few covers…all with a sky-high level of energy, and a stage presence that speaks well of their experience which includes opening for artists like Red Jumpsuit Apparatus. I'd been trying to catch their show for a while and was very happy I finally did. Fourth up on stage for the night was Poconos based Don't Panic, a Pop/Punk Rock and Roll band with two full length albums released so far. These guys were great, they had a large following in the crowd singing along with them and played with a level of energy that I'd kill for nowadays. The final band for the evening was self described "Nudist Punk Rock" band Keep Flying. I'm not sure where the nudist part comes in as it didn't make an appearance on this night, but this six piece band included a tenor sax and a trombone. These guys spent as much time in the air as they did on the stage playing a great mix of fast paced high energy punk rock to a very enthusiastic crowd that danced, thrashed and sang along with them.
My second trip out was just a few days later, back to HMAC for a show that had such a high demand for tickets, it was moved from Stage On Herr up to the Capital Room stage to handle the swarm of fans that came for this show. Opening up the show was Keith Wallen from Breaking Benjamin. Keith came out and played an 8 song solo acoustic set with a mix of songs from his recently released solo album "This World Or The Next"…moving and soulful songs that I really enjoyed. He also played a cover or two including Roxette's "The Look" in a style that I probably would not have imagined for that song. I met him after his set as well for a moment, and he was a very nice and gracious guy. It was very cool meeting him. Headlining the set was Grammy-Nominated rock band Red. Not normally and acoustic band, the guys were doing an acoustic tour with Keith and put on an extremely powerful and raw performance. These guys brought a great crowd to Harrisburg, full of fans that love their music. The interaction throughout the show between the band and the crowd is what I love to see at shows. Fans of all ages, whole families had come out for this show and all of them were enthusiastically singing along with each of their songs.
Our next trip out was up to Iron Vines to see Rebecca Dressler play her honest, expressive music to a nice crowd. She sings with a sweet and soulful voice with a little bit of grit to it. She performed a number of originals plus a few covers including "Black Horse and the Cherry Tree", "Landslide", and "Fast Car". She's currently working on her next EP expected to be released later this year. You can find more of her music on her website: www.rebeccadresslermusic.com
The following week I headed down to The Englewood in Hershey for a promo shoot with Ben Brandt & the Soul Miners Union, as well as to catch their show. Opening up the show was Noah Fowler. Originally from the Carlisle area and currently living down in Nashville, Noah plays a mix of original tunes including a few that he wrote recently, rooted in Folk, Americana and Bluegrass styles. I caught him a little over a year ago in Carlisle, so it was nice seeing him play again. Headlining the evening was a familiar name in the local blues scene, Ben Brandt with his trio the Soul Miners Union. The group features Ben Brandt on guitar and vocals, Joe Shattis on drums, and recently added Liam Galiano on bass. Liam may have just joined the group, but he's a perfect fit and played as though he'd been with them for years. The trio brings a blues and rock mix that pays strong homage to the likes of Jimi Hendrix, Joe Bonamassa, Stevie Ray Vaughn and many other classic blues greats. Smooth, soulful and full of passion, these guys put on a great show and even debuted a new song "Love of Illusions".
Our final trip for the month was back up to Iron Vines Winery to celebrate Ken Damelio's birthday as he played with his friend Bonnie as the duo The Dreamcatchers. It turned out to be a celebration for Bonnie's birthday as well which took place a few days earlier. Playing a wide mix of covers including "Crimson & Clover", "Mustang Sally", "Beast of Burden" and many more, these two put on a great show for friends and family.
March is already looking to be a packed and exciting month. I'll be covering one of the shows at The Englewood showcasing the reunion weekend of The Badlees…the Central Pennsylvania Music Hall Of Fame's music award show is later in the month…and a ton of great music all over in between those shows.
So there it is, my month of music through my eyes and ears. Just a reminder: if you've got a show coming up that I should see, make sure to send me an invite, shoot me an email or a message, let me know about it. Venues: please don't hesitate to reach out to me as well. The majority of the shows that I go and shoot I find out about through invites from all of you or your friends. Hit me up on facebook: @chrisriderphotography or email: chrisriderphotography@gmail.com, stop me if you see me out & around and say hi. Until next month…go find some live music and give them and the venue your support, they truly need it more now than they ever did.