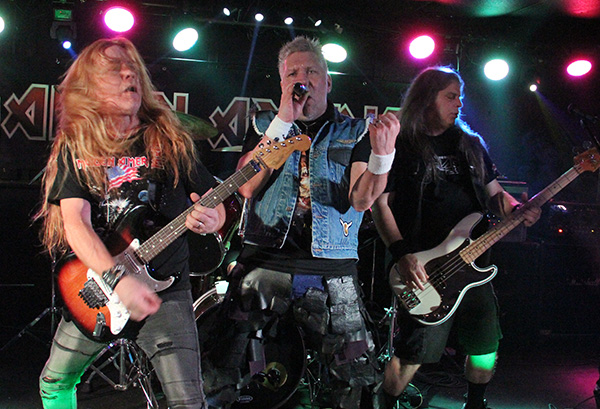 ---
By: Rachel Rocks
Every time I get ready to type this article, I think, hmm.. I really didn't do much this month, this should be easy… Then, as I start to flip through my pictures I'm always like, oh yeah, I guess I did that, oh and that, and THAT!!! UGGGHHH get typing, stop procrastinating!!!!! 20 events in less than 28 days, no wonder people often say things to me, like girl, I don't know how you do it! Let me tell ya how easy it was this month, and I even slipped in a trip to the beach!
This month started with a trip down to the Lebanon County Expo Center for the Lebanon County Builders Association's 6th Annual Wine & Chill Night. Thanks to their sponsor, Patrick Brewer Carpentry, it was a free event, and you could chill, sip wine, shop at the vendors, and ultimately, listen to live music. They had two stages set up with tables and chairs in the middle, so we heard a set from DMC Duo and then it would switch over to Nate Myers and Pete Netznik. It was a great mix of music, and you could literally just sit, sip, n' chill. DMC Duo keep their schedule pretty jammed pack, with a great rotation of regular monthly gigs. They've been sneaking in some time to work on an original album! I can't wait to get my hands on a copy. They've been sneaking in a couple of originals into their sets, but I can't wait to hear the whole thing. Nate and Pete are always a blast to listen to. It's always awesome seeing how well they compliment each other and can really just jam the night away from one song to the next. Nate and Pete play every Tuesday at the Grotto Pub in Enola. Plus, they have shows all over the place every other night of the week, so check out their schedule at www.natemyers.com.
The next night we headed down to Gettysburg to go see Derek Henry at O'Rorke's. Gettysburg is such a cool little town with so many shops, restaurants and breweries, not to mention the Battlefields. Every time I finally make it down that way I always say the same thing, it's really not that far, I need to come down here more! O'Rorke's is a great little pub with delicious food! I'm so glad they also host live music, and we were able to check out this hidden treasure. Derek once again sang all of our favorites, and earned a few new fans in the process. It's always fun watching him play new places to new people, and watch them start singing along and making requests by the end of the night. Derek does a great job at connecting with his audience, and by the end of the night it always shows. Matt Bynum also stepped in during his break, as usual, and played us a few songs. It's awesome to hear Matt trying out new songs and expanding his repertoire of music. Soon he'll be playing on his own, and Derek will be playing during his breaks! Yes, I saw Derek 6 times this month. I thought I'd save some of you the pain of counting it.. I also had a blast watching him play at Flinchy's, Hook & Flask (during Carlisle's Ice Festival), Fratelli's where I always enjoy their pizza, Flinchy's twice! (Mmmm can anyone say Martini!) PJ Whelihan's, I'm so glad they started hosting music on Fridays! Every time it was a blast, and I wasn't usually there for his whole show, but I'd at least stop in and say hey! I gotta see my friends every chance I get!
After Derek's show we zoomed down the road to the McSherrystown Moose for the last set of Big Jack! It was great to get to finally see these guys! They had some fill-ins this night, but even though they never really played much together before, they didn't miss a beat and kept the dance floor rowdy, singing and rocking along! I'm not going to complain that one of their fill ins was Donnie B., who used to be the guitar player for Back in Black. It's been a few years since I saw Donnie, but it was great to see him again. I'm glad the McSherrystown Moose has such a great stage and dance floor and the support live music! It's always a fun night at the Moose!
Next up was Jason Carst at New Fangled. I'm so glad he's advertising his schedule again so I know when and where he's playing. New Fangled is practically in my backyard, so it's super easy to pop in there and listen to some music. I know there is so much music going on everywhere, and it is a bummer that I miss so much, but if you don't advertise, it's seriously hard to keep track and know when and where it's all happening! Jason plays so much of my favorite music from the 80's 90's and today! It's always a great music and he's always up for requests. He has printed lists of his songs so people can get request ideas and hear a song that maybe they don't get to hear all the time. It's a win/win for everyone. The looping machine is always fun to watch him build and then play. It's like he's a one man band!
After stopping by to see Derek for a bit at Hook and Flask I zoomed back to Harrisburg to XL Live for Defiant. When I got there, Eternal Frequency was still on stage rockin' their originals to their fans. It's always awesome to see a crowd singing along to a band's original music. Music is amazing in so many ways, but I always think it's a whole different level at an original show where the band can connect so personally to their music, and when I see their fans truly appreciating every note, it is simply awesome.
The awesomeness continued when Defiant took the stage. They announced they were recording a live music video and the fans didn't disappoint. They showed up ready to rock! Defiant fans always show up wearing Merch which is awesome! They are truly dedicated and always looking forward to Defiant's next show. I can't believe how long it had been since I heard these guys, but it was great to finally hear them again. They have a few shows on the horizon, but one of the big ones is opening for Doyle at HMAC on April 6th! Get your tickets now, and get ready to rock!! Check out Defiant's schedule in this issue, and plan your next adventure out on the town.
This past month Erica Everest started hosting open mic nights every other Tuesday at the Copper Pub & Grill in Linglestown. The first time there, Matt and I played together and we had a blast and had the bar singing along! The second time Matt was busy so I ventured to the microphone alone! And I lived, but was very thankful when Jason Carst who was co-hosting that night, jumped up on the stage and joined me, what a relief! We were playing Wagon Wheel, and then Jason broke into a medley of songs with the same exact chords. It always amazes me how if you just know a couple basic chords, how many songs you can play! I'm trying to build up my confidence, preparing to play our next show, May 7th from 4:00-5:30 at the Sip N' Dip at the Newport Fairgrounds. It is supporting the Millerstown Swimming Pool which was one of my favorite places to hang out when I was a youngin! The pool definitely needs our support to keep afloat! Matt and I are very excited for our next show! We hope you can join us.
On a Friday we zoomed up to Sherman's Creek Inn for Vertigo Vultures. I was so glad to see these guys show on another night I was available. They are so much fun and so entertaining. Their flock is growing as the word gets out about these guys. Their frontman Kyle is simply captivating with his energy and powerful vocals, but he's also backed by a flock of experienced musicians! The line on their website explains them perfectly: "Together the Vertigo Vultures signature tight performances will make your hands clap and toes tap while singing and dancing along to every song." I can't wait til the next time I get to rock out with these guys!
It had been a while since I made my way over to Boneshire Breworks for their Thursday night live music, but when I heard Nate Myers and Pete were playing I couldn't resist! Holly and Matt got there early and already had my pizza ordered! Boneshire pizza is delicious! Especially mixed in with a flight of beer and live music! It's always awesome to see a place packed with people on a Thursday night enjoying music. Nate and Pete definitely know how to bring in a crowd and put on a show! I happened to have my fluke in the car, so they invited me up to play Wagon Wheel with them and then Matt borrowed Pete's guitar to come up and play Country Roads with me and Nate. Good times for sure!! And a little more experience under my belt! Thanks guys for the opportunity.
The last night of the month was a busy Friday night! My first stop was out to the Fredericksburg Eagle Hotel for DMC Duo's monthly visit. The Hooootel was packed and standing room only! Darrell and Marisa have a great built-in crowd every time they play here, and it's always a race to the next available table. The Hoootel also has scrumptious food. I had their Pork BBQ Sandwich with Carolina Gold BBQ sauce.. Mmmmmm!!! DMC Duo will be back at the Fredericksburg Eagle Hotel on March 26th. You can check out the Eagle Hotel's schedule in this issue to see their full line up of amazing music and food specials. It's a great place to go eat, drink, and be merry while listening to amazing music!
After their 2nd Set it was time to continue on my way, I zoomed to PJ Whelihan's to catch the tail end of Derek's show and scooped up Angie and Michele to head down to Thomasville to the Racehorse Tavern for Maiden America. As soon as we got out of the car we could hear the party inside! As usual Maiden America had the place rockin'! Jimmy and his crew provide a great place and service to local bands and their fans. It's a great place to go let my hair down and rock the night away! The Racehorse has a lot going on throughout March. Check out their schedule and make your way down to the Racehorse, you won't be disappointed!
Well, that's all for this month! Such a whirlwind of craziness. A big event coming up in March is the Central PA Music Awards Show! As of the time I'm writing this there are still about 50 or so seats left! It will be awesome to see this super special show get sold out for the 3rd year in a row! Come hang out and help celebrate your local music scene! Flip through the magazine, and check out all of the other amazing events happening in your area.
Thanks again for all of your love and continued support. It warms my heart to walk into a venue and see someone have a PA Musician Magazine sitting on their table, or watch them carry them out of the venue to read later. Without all of your support we wouldn't be, but we do need your support now more than ever! You don't have to be a band to advertise, maybe you're a car dealer selling trucks and trailers? Maybe a tattoo shop? What about a super fan that just wants to support their favorite band, or even their favorite writer (I know it's me). If you don't have the funds to advertise, I get it, but do yourself a favor and get out there and support local music! Music is all around us. Please get out there and support your local musicians and businesses. Music is definitely food for the soul!