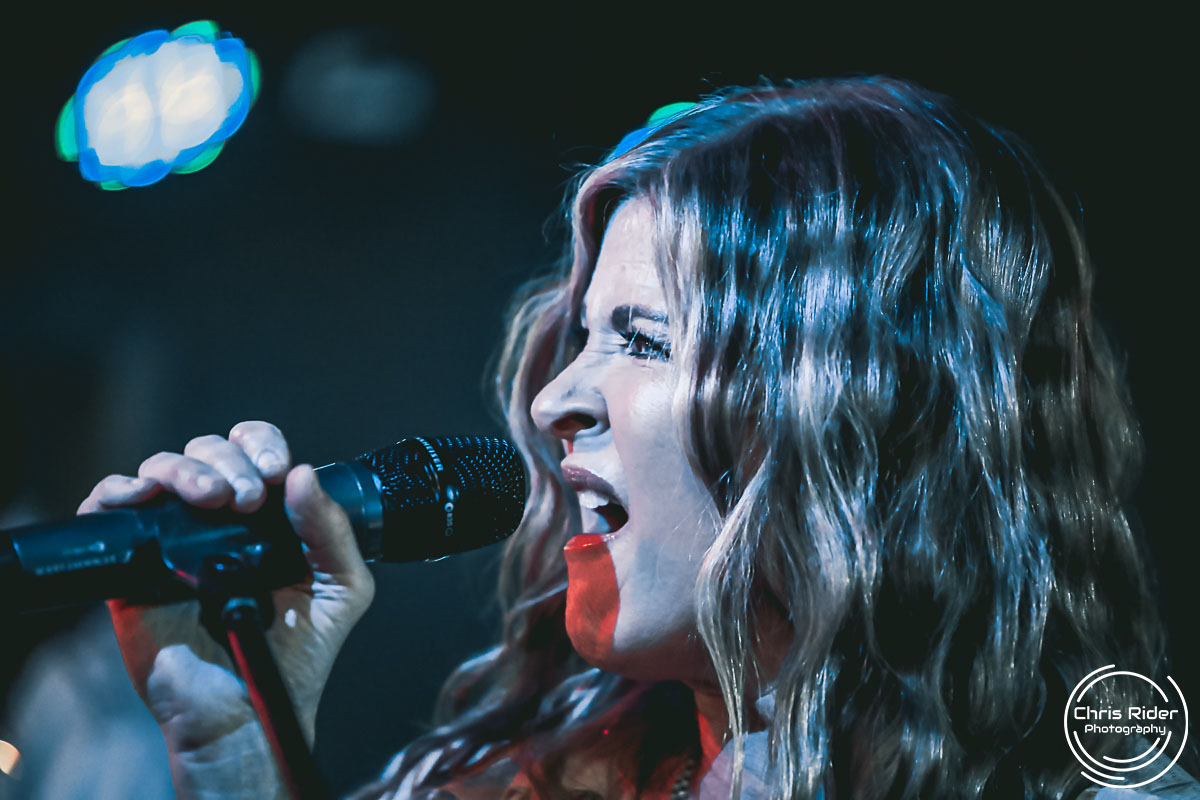 ---
By: Chris Rider
I know it's only two or three days shorter this month, but it sure feels like more than that LOL. As I write this, looking at the tail end of February already and March peeking around the corner, I'm looking forward to Spring getting here for sure. This month only saw four shows again for me, but two of those were at new (to me) venues which is always a cool thing for me. Between meeting new people, new music fans, and also the challenge of photographing a new stage with lighting that I haven't experienced yet.
My first trip was right across the river…less than 2 miles as the bird flies, but a forty mile drive since there's no bridge right here, I headed over to Peace Of Mind Cafe in Millersburg to see Hunter Root play a solo acoustic set. Peace Of Mind is a cool little coffee shop with a great coffee and food menu run by my friend Krystle and is certainly worth a visit when you're in the area. It'd been a little bit since I saw Hunter play and he once again did not disappoint: his somewhat haunting, but booming and unique voice mixed with his very talented guitar work to put out songs such as Little Red Riding Hood (still my favorite of his I think), Quick Sand Sinking, Lampshade, and his newest release Town Rat Heathen. If you haven't heard Hunter's new stuff, check him out on your favorite streaming service and give him a listen.
My next trip was down to Harrisburg to finally get back to HMAC for a pop show that I had no idea what to expect down on the Stage On Herr. This show actually sold out over a month before anyone took to the stage. First up was Hotel Friction, a young (ok, very young LOL) five piece indie pop band out of Athens, Georgia. This female fronted band combined solid melodies with catchy lyrics for a mostly young crowd that pressed the stage and sang along at the top of their voices. Next up was Flipturn, a five piece indie-pop band out of Fernandina Beach, Florida. They'd recently released their newest full-lengeth album and played a few from that as well as some of their "older" songs. While this admittedly wasn't my "normal" style of show, I have to admit we had a great time, enjoyed the music and met some great people. HMAC never disappoints, and this show was no exception.
My third adventure was a little further than my norm, down to York to The Kennel, a small club in the West York Inn. These folks are doing a great job supporting the local music scene and bringing local bands in, and I was happy to finally be able to make it down there for a show. First up for the evening was a relatively new (this was the fourth show I believe?) three piece metal-core band out of Wellsville named Horse Grenade. These guys stormed the stage with great energy, they were fast, loud and heavy and did a great job of setting the pace for the evening. Next up was Above The Treachery, a band that I've been looking forward to seeing ever since speaking to lead singer Dave Moore about them. This metal and hardcore rock band is based in York and played an all original set including songs such as Dissect The Circle, End Of Eternity and Heart Of Darkness. If you're in to the metal and metal-core scene, keep your eyes open for these guys! Headlining the evening, and celebrating their new EP release (available digitally) "Confessions", was Felt Side Out. I think this makes the third or fourth time I've caught them now over the last year or two, and each time they seem to crank it up a notch higher. This evening they were welcoming their new member Gavin to the stage with them as well. The guys put on a great show playing some of their new songs, some of their older songs, and even an incredible cover of Simple Minds' song Don't You Forget About Me.
My final trip out for the month was across the county to one of my favorite places, the Sherman's Creek Inn in Shermansdale. I can't stress enough how good this place is, both for their service and hospitality, as well as their food and drink. This particular evening we were there to see Harrisburg based Honeypump belt out their awesome collection of classic rock covers. Ritt and his wife Stephanie front the band with an energy that's just downright infectious playing songs like Let's Go, Rample On, Rock Steady, Saturday In The Park, and a ton of other great classics that many of us grew up listening to. I've photographed them a number of times now over the last few years and always enjoy getting the opportunity to see them play.
Since my article's a little shorter this month, I thought I'd take a moment to bring up a musician out of Kansas that I've been listening to a lot lately – Dusty Grant. I found this guy through Tik Tok of all places, and instantly felt a deep connection with his music. Songs like I Think I'm Okay, When It All Crashed Down, and his newest release Sinking Further. Dusty's a local artist out there, but I'm hoping he makes a trip out this way sometime so I can see him play live. Definitely look him up and give him a listen if you're into hard rock with driving guitar work, incredible vocal and lyrics.
Next month should be a busy one, there's shows all over as well as the 4th Annual Central Pennsylvania Music Hall Of Fame's CPMA event which is an incredible time. I can't wait to see all my friends, meet new ones and just enjoy a night celebrating our incredible local music scene that we have here.
So there it is, my month of music through my eyes and ears. Just a reminder: if you've got a show coming up that I should see; make sure to send me an invite, shoot me an email or a message, let me know about it. Venues: please don't hesitate to reach out to me as well. The majority of the shows that I go and shoot I find out about through invites from all of you or your friends. Hit me up on facebook: @chrisriderphotography or email: chrisriderphotography@gmail.com, stop me if you see me out & around and say hi. Until next month…go find some live music and give them and the venue your support, they truly need it more now than they ever did.