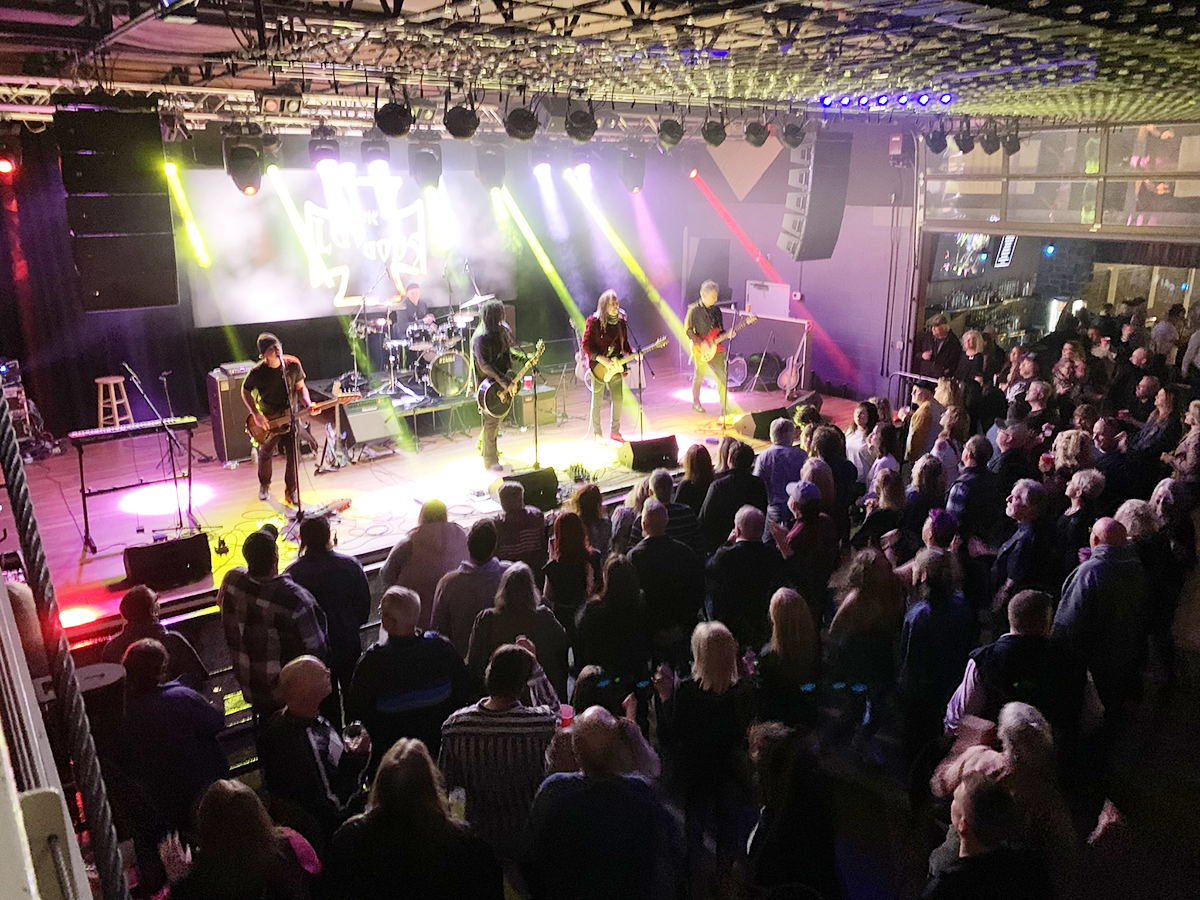 ---
By: Rachel Rocks
Hard to believe I'm writing my March article, but alas here we are. February was a full month for me with a lot of traveling, but I did manage to catch some local live music, and I hope you did too.
This month started off with an open mic night at Blue Sky Tavern with Erica Lyn Everest and Dr. Nyce hosting. Erica used to host the open mic at Copper Pub, but she recently moved, and then encouraged Blue Sky Tavern to have an open mic night so she could be closer to home. It's awesome to see how, if she hosts it, they will come… ha! The time slots quickly got filled up and the musicians kept coming in. Erica and Dr. Nyce (Zach) kicked it off to get the party started, and the music just kept flowing. Matt Jameson was up first and tickled our ear holes, and even tho there were some sound issues for a minute Matt didn't let it phase him, he just broke into his acapella sing a long song, "All I Want is a Proper Cup of Coffee".. He quickly had the audience engaged, clapping, and trying to sing-a-long. Matt's special power is easily and quickly going along with the flow and connecting with the audience. Lee Lang stepped up next and had us all hooked with the clever lyrics of his original songs. It was awesome to see him smiling and enjoying every minute of his set. Next up was a Dad/Daughter combo, Dale and Angie Stipe, they played some awesome Beatles covers and had some awesome harmonies. Dovetail stepped up next and since Dr. Nyce had his keyboard there, we were given the special treat of having Joreen play us a couple songs accompanied by John on guitar. Joreen nailed Carol King and Bonnie Raitt. The last act of the night I was able to catch was Wes Hoke. A blast from the past since our Dad's used to hang out when we were just little kids. Wes recently released his first solo album, Pretty Pictures. He also regularly plays with a full band, Wes Hoke and the Bare Roots Band. I've heard his name on the scene for a long time now, but I'm glad our paths finally crossed again and I was able to hear a couple songs. Right now Erica is still hosting Open Mic NIght on Wednesdays at Blue Sky Tavern from 6:30-9:30. Wed, March 1st, Matt Jameson will be co-hosting with her, I'm sure it will be a crazy fun night to help get you through the week!
The following weekend I headed back out to Lawrenceburg, IN, to work with Blackberry Smoke. They had a sold out show at the Lawrenceburg Event Center. They were an amazing band to work with from beginning to end, true professionals. It was awesome at the end, they had the most genuine Meet and Greet I've witnessed yet. It was more of a meet & mingle. They had everyone come in to the room together and the whole band was in there hanging out, taking selfies, signing autographs, and having a great time. All of their Meet & Greet proceeds are donated to the Lana Turner Foundation for Children's Cancer Research. This foundation supports families in treatment at every step of the process. The Foundation uses the power of music, art and community to promote and benefit children's physical and mental wellbeing as we work to find the cure for children's cancer. Their drummer, Brit Turner's, daughter was diagnosed with cancer at only 3 years old, she is thankfully now in remission, but they understand first hand how a family is affected by a cancer diagnosis, and they wanted to do whatever they could to help, hence the foundation was created. Since 2011 they've donated more than $430k to childhood cancer organizations! So if you ever get a chance to see these guys, get the Meet and Greet and know it's going for a good cause and you'll get to meet some amazing guys and even more amazing musicians!
On my way home I conjured up my own super secret plan, and successfully made it back in time to surprise Matt Jameson and Holly at his debut show at SpringGate Estate. I got 'em good, and the added bonus was also surprising my other friends that were out supporting him. It was awesome to see the nice crowd, and so many people clapping and singing along. I also made it to his shows at Flinchy's, Middletown Angler's and Hunter's Association, and lastly at the Fredericksburg Eagle Hotel, aka the Hoooooootel. It's awesome to see how he adjusts and adapts to every crowd he plays for, and is quickly able to connect with them, and get them joining in and having a great time. We had a delicious dinner at the Eagle Hotel, it's always a fun venue because it's one that my husband can't even refuse, he loves their food, and of course he's always willing to get out there and support Matt too. Matt has another month jam packed with shows. Check out his full ad in this issue, and get all the details, and more on his website, mattjamesonacoustic.com.
On a Thursday night I got a text from Linda that she was at Sons of Italy for Shea & Swish, I was just trying to figure out what to make for dinner, so I grabbed the hubby and we headed over. (I can't believe I got my husband out twice in one month!) The shenanigans quickly got under way as Shea & Swish started their show, by the 2nd song people were already up dancing! I didn't get to stay long, the service was too quick! After we were done eating it was time to get the hubby home.
On a busy Friday we got the party started early and headed to Wolf Brewing Co. for DMC Duo. These two play all over the place, but it's so rare when our schedules align so I get the chance to go see them! They've been busy in the studio releasing originals, their most recent song "Getaway" was released on Feb. 14th and is available on all streaming platforms, along with their other two originals "Loved You Anyway" and "Pump". "Getaway" is personally my new fave because it's a little more rock and Marisa gets to really sing with her full voice and show you what she's capable of! Marisa is nominated as the Best Female Vocalist in this year's CPMAs, as well as the DMC Duo being nominated as the Best Duo, and when you get a chance to see them, you can definitely understand why! Check out their website, dmcduo.com, or their ad in this issue for all the details.
After dinner and their show it was time to head to XL Live for the Metron Reunion. I've been to a few reunions now, but this one was definitely one of the best attended, it seemed like everyone was out for this one. Although, I did miss Ray Rossi, I hope he's feeling better soon. The stage was filled all night with amazing music, Friction, The Martini Bros, The Sharks, Jeffrey Gaines, The Luv Gods, and other random musicians! The crowd was also filled with even more musicians, and music lovers alike, all reminiscing and having a fantastic time! Ray Boudreau was even out on the scene, Shea got him up on stage to say a few words, which was awesome. The Metron was a big piece of Dad's life, when the magazine was getting started, so it will always hold a special place in all of our hearts. I'm glad I got out there to see the show!
It was a XL Live double header weekend, the next night we headed back to XL for the Elle King show. It's crazy to see bigger shows like this because I have a much better understanding of what's been happening all day to make it all possible. Elle King proved to be her normal bad a** self coming out in a beanie cap and sweats. She played all of her big hits, and had the crowd packed in tight, enjoying every song. XL Live does an amazing job with their amount of bartenders, security, and most importantly their supply of cherries!
For my Facebook followers a lot of you already know I've hopped on the train to Sobriety. As I type I'm at Day 92. We all have our own share of struggles and craziness in our lives. Sobriety is one of those things I definitely needed to do on my own for myself! It's awesome to see how all of my friends have quickly adjusted to partying with Rachel "Sober" Rocks. I'm truly thankful for all of their love and support. I have some of the best family and friends a girl could ever ask for!
One big event coming up in March is the 4th Annual CPMAs will be held on March 30th. It's definitely one of the biggest party nights of the year for Central PA. It's awesome seeing the music scene come together to recognize each other for all of their hard work and dedication to the music scene. It's awesome to see so many people I love in one gigantic room. I'll see ya on the Red Carpet!!
March should be another crazy month, but I will be catching as much music as humanly possible! If you see me Out and About please say Hi! Turn the pages of the magazine, check out what's happening all over the place, festivals are starting to pop up, shows are happening, music is being released. Support it.. All of it.. And Thanks for supporting us!!! Check out our website, pamusician.net. Call Josh to advertise today.. 717-636-4203