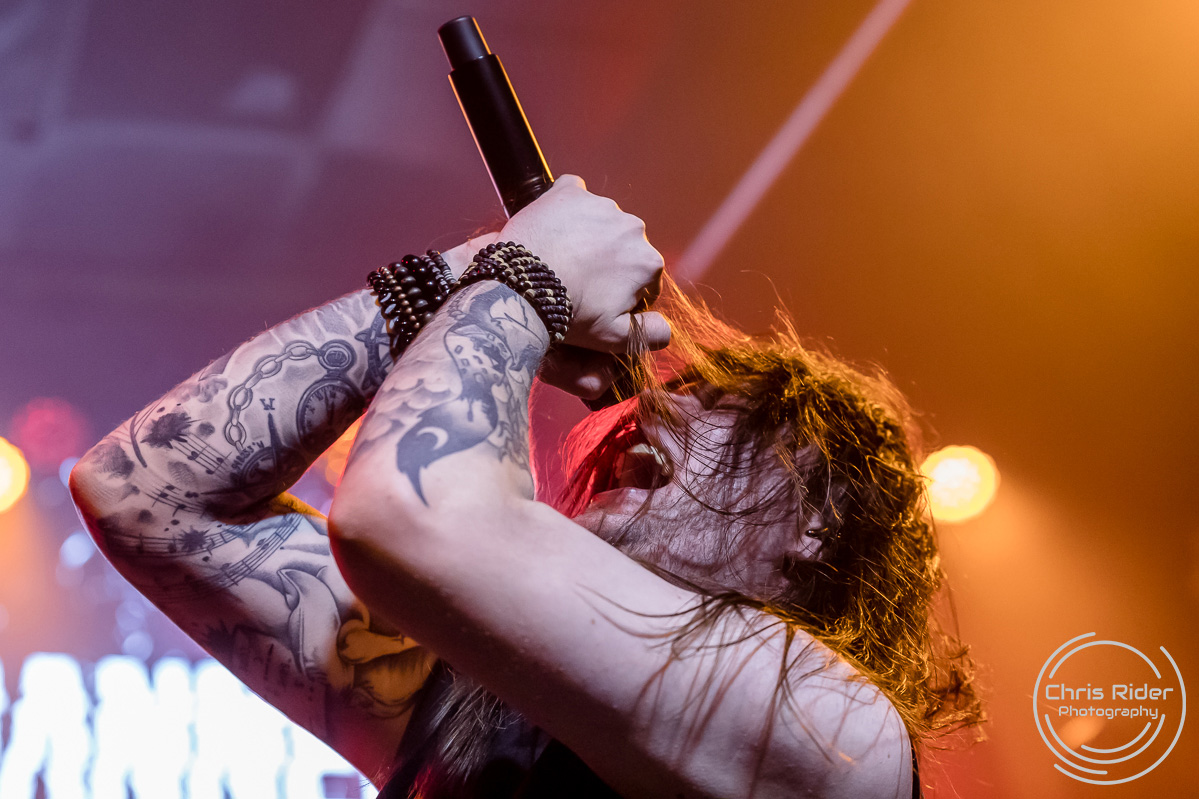 ---
By: Chris Rider
So, here I sit at my desk once again at the end of the month, typing frantically to convert some of this month's adventures into an article. I got out to 4 events (plus one that I got to too late to make this article…stay tuned LOL) with fourteen bands and performers. Nine of these were new to me, and nine (not all the same nine) were local bands, or at least started out locally. I didn't get out quite as much as I'd have liked, but I enjoy the fact that such a high percentage are local folks. Some of them are doing their own thing, some of them are opening for (and sometimes touring with) national acts, some have become national acts of their own…I think that says a lot about our music scene here.
So my first trip out was down to HMAC for what turned out to be a pretty epic night of Horror Punk/Rock/Industrial Metal. Starting off the night was Elizabethtown based Cold Blood Creep, a four-piece Horror Punk-Rock band. These guys came out and set a great pace for the evening with their loud and "in your face" originals. They were a lot of fun and dig a great job setting the crowd up for the rest of the evening. Next up was a band that is no stranger to the area, or genre: The Suicide Puppets. Twisty and the gang came out ready to play for their crowd of "Necro-Fans" that faithfully hit up their shows. The guys played a great set with a ton of energy and honestly sounded probably the best I've ever heard them sound of all the times I've caught their show. Headlining the evening was a gentleman that has been killing it (pun intended) in the Horror Punk scene for 30 years: Wednesday 13. They played a variety of songs spanning his career including a few from his Murderdolls' albums. I had not heard Wednesday's music prior to the show, but pre-gamed on a few on Spotify on my drive down to HMAC…I knew it was going to be an entertaining show and I was not disappointed. Coming out in their makeup and costumes, playing songs titled "I walked with a zombie" and "Your mother sucks cock in hell", this was not a show for anyone that gets offended or takes life too seriously…but it totally rocked. This crowd may be the most I've ever seen packed into Stage on Herr at HMAC, and they all loved every minute of this show.
My next trip out was a few days later to see my pal Dave Gates play up in Lewistown at Shy Bear Brewing. It'd been a bit since I was up to Shy Bear, and seeing Dave play up there was the perfect excuse (as if I needed an excuse to go to a great local brewery with great food LOL) to get back up there. If you can't find a beer that fits your tastes here, you're just doing something wrong…and if I haven't mentioned it before, I'm a sucker for fish tacos. I wasn't sure about fish tacos with "balsamic strawberries", but these may have been the best damn fish tacos I've had yet. Dave and I shared a beer or two, then he went on to play a slew of songs, including some of my favorites: All Along The Watchtower, Riders On The Storm, Peaceful Easy Feeling as well as a number of requests from the crowd.
The following week was an event I'd been looking forward to since Jay Hunter asked if I'd be interested in photographing it: The iRock Radio Birthday Bash at Reverb Nightclub out in Reading. Celebrating iRock's 8th year on the air, they joined forces with a great event. Starting off the evening out on the deck, the iRock cast interviewed a few of the performers of the evening as well as had a few "pre-show" performances as well. Derek Henry of Observe The 93rd showed up for a solo accoustic set playing some covers as well as a few OT93 songs. The second performer for the Pre-Show was a band I've heard of and been following on social media, but hadn't caught up with until now: Take The Name. These guys had a cool Indie Pop/Rock sound to them and put on a great set full of originals and covers that the crowd loved. I'm looking forward to catching them again in the future! As the rain looked to be moving in, the doors opened and it was time for the main event inside. This was my first show at Reverb, and I was impressed. It's a nice large club, friendly staff, lots of floor-space with a gorgeous stage and a great photo-pit (which I always appreciate LOL). Starting off the final night of the Still Panicking Tour, Boston based Above Snakes brought out a great opening set with big energy, starting off the evening for that got the large crowd hopping and moving. Next up was Billboard Top 40 Charting Rock Band: Kingdom Collapse. This 4 piece rock group came out and killed their set. They played a number of their original singles that have not only broke into the Billboard Mainstream Rock Top 40, but have also done extremely well on YouTube, Spotify, and Sirius XM Octane. This is a band that's on the rise and is definitely worth giving a listen to. Third up on the bill was Oulu, Finland based Blind Channel. Calling themselves a "Violent Pop" band, the band was originally formed in 2013. I had no idea what to expect prior to their arrival…but these guys came out and did everything but literally set the stage on fire. They rocked the crowd with an insatiable energy and simply put on an incredible performance. They made an instant fan out of me, as well as many others that were there and saw them for their first time. I found out after the fact that these guys have a huge international following which resulted in my photos being shared all over Europe (and especially Ukraine) on Facebook and Instagram which was a pretty cool experience. Fourth act of the evening was Austin Tx based Fire From The Gods. This Metal/Rock/Rap band had a great sound, lots of jumps and big movement on stage, and music that just screamed with positivity (my spell check says that isn't a word…I don't care, I like it and this is my article so it stays 😀 ), focusing on their message of "In Us We Trust"…meaning "we the people" are responsible for change, whatever that change may be. Playing shows in the near future with bands such as Green Day, Weezer, The Offspring, Korn, Three Days Grace and Five Finger Death Punch, these guys clearly have a great sound and a great future ahead of them. Headlining the evening was Lancaster originals From Ashes To New. I'd first seen these guys play at HMAC a few years ago, and they wow'd me then both with their music and their light show. This night would be more of that same feeling…but with even more intesity than the last time I saw them. Playing a powerful setlist that included some of their biggest hits: "Scars that I'm hiding, Crazy, and one of my personal favorites "My Name". This was the final night of their 34 show tour and they left everything on the stage that night. Another thing that I love about this band, other than their music, is the way they interact with their fans. Before the show, during the show, after the show, and I see it all the time on social media…these guys truly love and appreciate their fans. Thanks go out to Jay Hunter with iRock Radio for inviting me out to cover this show…what an incredible night it was!
My final trip out for this month's article was to Mechanicsburg's Lovedraft's Brewing for The Writer's Roundup hosted by Kingfish & Friends and Lovedraft's Brewing Co. This was an event with a sort of different setup: 3 artists up on stage sitting side by side, rotating through individual original acoustic pieces. Hunter Root brought his unique sharp and punctuated voice, pounding out a nice mix of his some of his older originals, a few new ones like "Grain of Rice", "Can't Outshine The Truth" and a pair of songs I'm used to hearing from him with Medusa's Disco: " Bellyache" and "Lampshade" Sitting beside Hunter was Derek Paris Frantz – similar sound to the band "Sleeping At Last" and Rag N Bone man…playing all original songs of his own like "Morning" and "I care for you still" which was his first time playing this particular song for a crowd. Third in the group for this month, but certainly not last, was Janessa Suguitan – I'm not sure what I expected exactly before I heard her, but Janessa brings a deceptively sweet, sultry and smooth voice reminding me a bit of a cross between Jewel and Sheryl Crow that just tugs at the heartstrings. She sang a number of sad "relationship" originals that almost anyone can relate to with titles such as "Bitch" and "No Hard Feelings". Not only was the music all original, and very well played…but we also got to hear the stories behind the songs. I always love those moments as I feel like it gives us a little bit of a view into the artists' mind while they go through this creative process to bring us the music we love. Talking to Zach King from Kingfish & Friends, this is going to be a monthly gig at Lovedraft's, so if you're a solo-acoustic artist you might want to reach out to him and see about being added to the list of artists on this bill.
So there it is, my month of music through my eyes and ears. Just a reminder: if you've got a show coming up that I should see, make sure to send me an invite, shoot me an email or a message, let me know about it. Venues: please don't hesitate to reach out to me as well. The majority of the shows that I go and shoot I find out about through invites from all of you or your friends. Hit me up on facebook: @chrisriderphotography or email: chrisriderphotography@gmail.com, stop me if you see me out & around and say hi. Until next month…go find some live music and give them and the venue your support, they truly need it more now than they ever did.