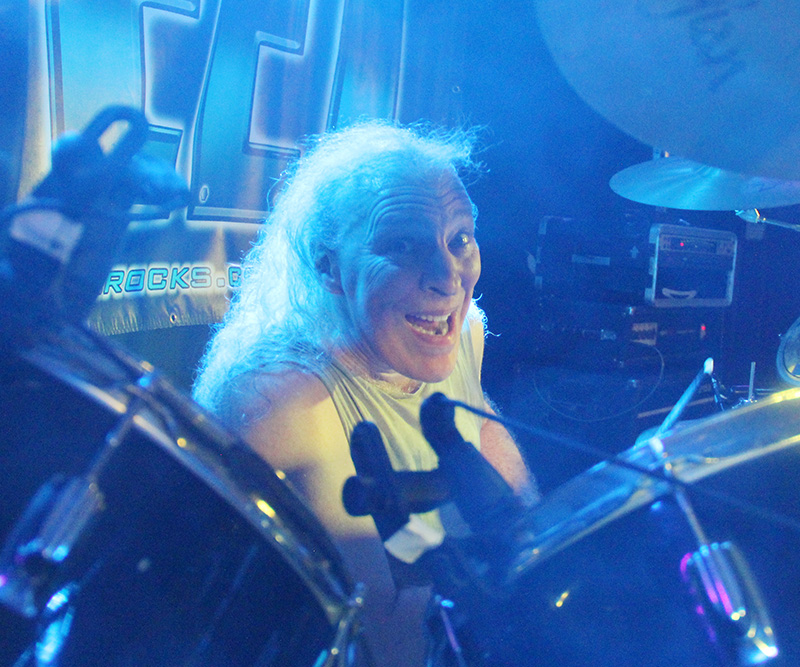 ---
By: Rachel Rocks
Ahh.. Springtime! I love the warmer days, but these colder days can just go away! It's always awesome as the decks start to open, and music can move outside at times. Lots of festivals and fun planned this Spring and Summer! Make sure and check out all the schedules and make plans to get out there and support live music! Music is so good for the soul, I can't imagine my life without it!
This month there were lots of soul filling moments in my month. It all started on a Friday night with DMC Duo at the Eagle Hotel. DMC Duo has quite the following at the Hotel and people are always fighting for tables to get a good seat close to the entertainment. DMC Duo recently released an original, "Loved You Anyway" on all streaming platforms and they are working on recording a full album. It's awesome to hear them play their original music. They play great covers, but when any band plays their originals, you can literally feel the music! DMC Duo is booked all throughout the midstate and the whole way over to Allentown area and beyond! Keep an eye out for them, and get out to a great venue and hear some great music. Speaking of the Great Venue, check out the Eagle Hotel's ad in this issue also, they provide live music every Friday, Saturday, and even music on the deck on Sundays! Plus, their food is simply fabulous!! I've never eaten anything there I didn't like, and I'm a picky eater!
My next night out was a special Wednesday Night show over to Flinchy's for Dave Gates. He's been playing all over the place, I was glad to see him playing locally on Hump Day! Live music definitely helps me get through the hump of the week. When I got there Dave was jamming into his 2nd set. The crowd was loving every song and the requests were pouring in. Dave does a great job at least attempting requests and keeping everyone happy. It's exciting to know that live music will soon be moving to the deck at Flinchy's. It's great that Flinchy's hosts live music Wed, Thur, Fri, and even some Saturdays. Get on out there and support the venue and live music all at the same time.
Next up was a busy night, it started off with dinner at the Copper Pub to catch Jason Carst's show. I had no idea he had Zach Nyce playing with him for the first set! What a nice surprise! Jason and Zach met playing at one of Copper Pub's open mics, and they decided to get together and jam a bit. It was cool to see Jason actually got on the keyboard and played a song, his talents are just never ending. I love that Jason also still livestreams his shows. When I was home because of surgery it was great watching his livestream and feeling like I was there enjoying the show! Jason is getting ready for boating season, so you better catch a show while you can!
After Jason's show we headed over to Hollywood Casino Grantville for the Amish Outlaws. I've seen a good crowd at Hollywood, but this was INSANE. The crowd was jam packed together and flowing out into the casino. I've never seen so many people trying to see the band there. We of course wiggled and squeezed our way to the front, but it definitely wasn't easy. The Amish Outlaws really put on a great show, even though I feel like most of the time they are so tired of playing the same songs that they have lots of little quirks and jokes that help make the show even more interesting. I've said it before, and I'll say it again.. as a musician I know the same songs get boring, but at the same time, the people in your audience don't get to hear the same songs all the time, it might be the first time they are out in 6 months or a year, or ever! So to them it's fresh and exciting! And obviously that crowd thought every song was amazing to stay squished together like a bunch of sardines! The Amish Outlaws will be at XL Live on Friday, May 13th.. Get your tickets now!
The next night out was a very bittersweet night. Steel was back on stage, but with a new lead singer, Kyle Stuhler. Kyle has experience as a front man because he's from the band Ever Rise. He's not leaving Ever Rise though, he's just pulling double duty. We all missed Chris Redding, but at the same time, we were blown away by Kyle. It was awesome to see that not only did he do an amazing job at covering some regular Steel favorites, but the rest of the guys also learned a couple of new songs that Kyle was more familiar with, which added more new songs to their show, and even more variety. It was awesome to see everyone smiling and having such a great time on the stage and on the dance floor. Steel has been running out of venues to play in, so I'm so happy they are able to at least play at the Moose. They have another show coming up on May 20th at the Middletown Moose, don't miss this one! The fire is back in Steel and they always put on one heck of a show!
The next day was another special Sunday afternoon show at Hershey Vineyards with Derek Henry, and Matt Jameson playing during his break. Derek has been getting so many shows which in one hand is awesome, but it's also important to rest your voice sometimes. So far he's been able to keep things under control, but there is definitely a happy medium. Derek will be playing May 14th at Sherman's Creek Inn with his full band, Observe the 93rd. Matt Jameson Acoustic will also be opening for them from 8-9. Two other big show announcements for Derek's acoustic show are he will be opening for Marc Roberge of O.A.R. at The Vineyard and Brewery at Hershey on 6/18, and also on 8/27 he's playing an opening acoustic set for the Spin Doctors! Pretty awesome!! Two great opportunities that are well deserved!
On a special Thursday night I headed over to Boneshire for Holly Serio and Brandon Valentine. Holly is one heck of a ukulele and keyboard player, and of course singer. She recently won the award for the Best Children's Music creator at the CPMAs. It was awesome seeing a ukulele on stage. Holly had Boneshire packed with family and friends. I do believe at one point it was even standing room only. Brandon is actually her brother in law, so he was happy to be accompanying her on his Cajon. Thursdays are also fun at Boneshire because it's also pizza night at the Shire, and their pizza is delicious. Pizza and Music, ya just can't go wrong! Boneshire doesn't have music every Thursday, but there is music there quite a bit.
Friday night I stopped in at Fratelli's for a bit to see Derek and pick up Michele, then it was time to head down to Phantom Power in Millersville for Tragedy: All Metal Tribute to the Bee Gees & Beyond. I caught Tragedy a few years ago when they were at HMAC, and when I saw they were playing close to home I knew I didn't want to miss it! They are described perfectly on their website as a headbangin' bootyshakin' good time, and they are definitely right, except they should also add in Sparkly! There is literally glitter flying everywhere during their show. They have some crazy amazing harmonies, plus a whole ton of humor. You are cracking up during every song, all while being amazed at their talent! When Lance came out ripping on a ukulele at the end of the show, (even though it was fake) it completely cracked me up. Such a hilarious surprise! It was also my first time to Phantom Power. It is a very cool set up, picture the Chameleon, but cut it in half and you have Phantom Power, there is an upstairs/balcony area and a downstairs with a bar on each level. They also have a super cool outdoor area. It actually used to be an old community theatre, so the floor has a slight slope to it, which helps us short people when we get stuck in the back to still be able to see the show. They also do have a bunch of free parking which is always a plus! I'm going to keep an eye on their schedule and hopefully get back down there for more shows in the future.
The next night was a HUGE show for me, and that was Matt Jameson's very first full 3 hour show at Fratelli's. It was awesome so many friends and family came out to support his first show. Fratelli's was packed and everyone was having a blast. Matt does an amazing job on stage with a fine mix of interacting with the crowd, but still flowing flawlessly from song to song. He already acts like a seasoned professional. I'm so glad that after a year or so of coaxing, he finally stepped out of his comfort zone and back on stage. Just seeing his confidence grow by playing during Derek's breaks has been awesome, but seeing him have his own show and building up his fans on Facebook is very awesome. I'm just so proud of him, it's like seeing my own son on stage! He will be playing as my sidekick in Staying Vertical on May 7th at the 2nd Annual Sip N' Dip at the Newport Fairgrounds, and again we will be playing at the Copper Pub on May 28th! Check out our ad in this issue for all the details. Matt will be playing May 14th at Sherman's Creek, and at the New Cumberland VFW on Memorial Day, May 30th, (This show is open to Members and Guests, if you want to go, please reach out to Matt thru Facebook.com/MattJamesonAcoustic).
The final band of the month was The Swisher Sweets at the New Cumberland VFW. I haven't seen these guys in so long, I was so glad our paths crossed once again. It's hard to believe they were celebrating 6 years together. They had the VFW packed with people dancing and singing along. To prove once again that the Swish Dogg can play anything, they decided to throw in a Joey Dalto original into the mix, but Swish played it like he's been playing it for years! Swish, Phil, and Joey are such seasoned musicians they can easily play pretty much any song they get thrown at them. This was my first night out dancing since surgery, and I'd have to say it felt amazing to get out with my friends and have a great time! Hopefully now that the decks are opening, we will have some more chances to catch The Swisher Sweets.
Well, that's all for this month! What a month it was! It's hard to believe I was able to get out there and see everything I did this month, but somehow, I squeezed it all in! Thanks to everyone for all the love and support during my surgery and recovery. All you fine ladies out there, if you ever want to talk to someone about Endometriosis, please hit me up, and if you think there's something wrong with your body, listen to it and be persistent with your crazy doctors until you truly feel better. No one should ever have to live life in pain.
My weekends are pretty insanely busy during the month of May. If you happen to have any weekday shows, please hit me up at RachelRocks@pamusician.net. If you have anything exciting going on I'd love to hear about it. I know I'm looking forward to checking out Nail Bite's show this Thursday night, April 28th at the Lovedrafts! These kids have so much going on, it's overwhelming! Have a fabulous month and get out there and SUPPORT LIVE MUSIC!