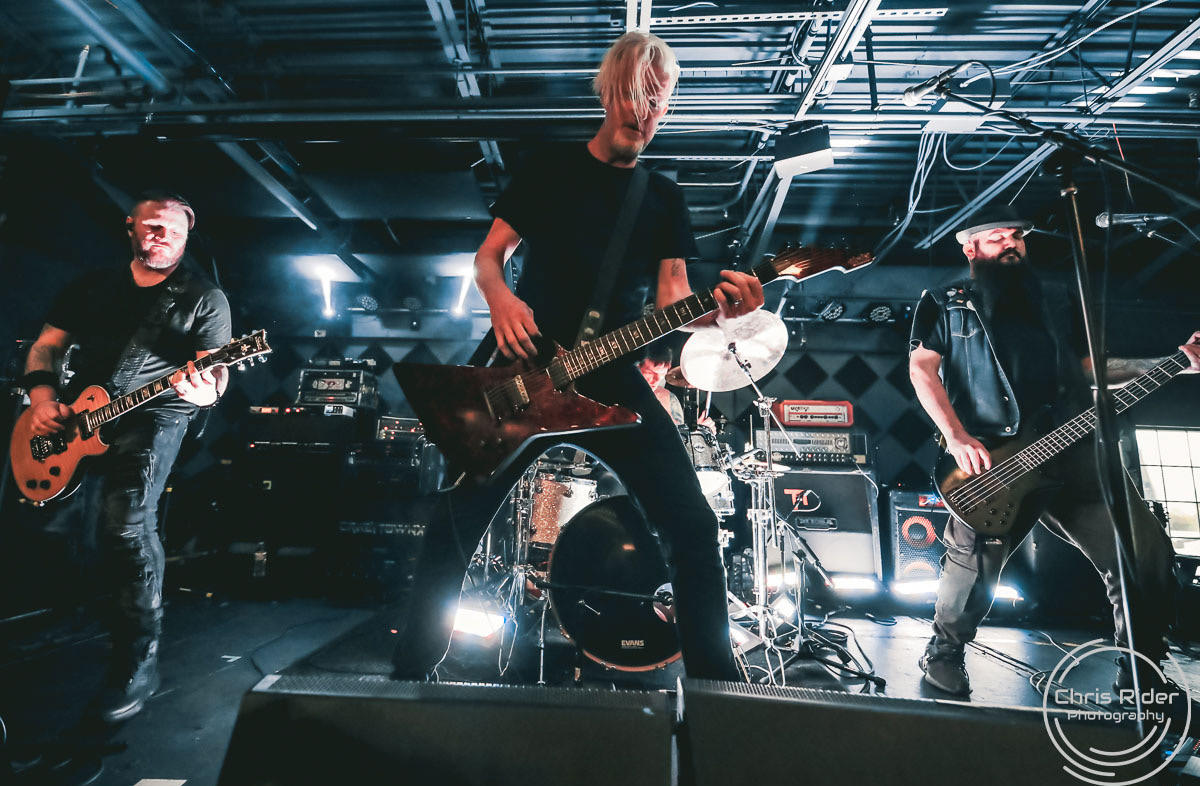 Adema at Lovedrafts Brewing in Mechanicsburg
---
Just like last month, it's raining as I write this month's article. And just like last month, April was a busy month with some great music and great friends…and some bands that I had the pleasure of seeing and photographing for the first time which is always a blast for me. Of the fifteen acts I photographed this month, nine of them were new to my lens. I also got to stop in at a new (well, reopening) venue as well which is always cool.
My first trip out for the month was to the recently re-opened Underground LIVE (formerly Gullifty's of Camp Hill). Opening up the evening was a band I've been looking forward to covering for a while, The Cretins. Silent Paul and the guys did an awesome job of paying tribute to who some would call the ultimate punk rock band, The Ramones. Belting out some of my favorites including Sedated, Blitzkreig Bop, Sheena Is a Punk Rocker and more, this was just a blast. Coming out on stage next was a band that I recently found out has been around the Central PA area for 10 years now – Hot and Dangerous. This cover band has a wide range of genres in their repertoire, and they do it all so well. Some of my favorites from their set included Oh Well, The Chain, and Lay Down. Any fan of rock over the last 4 or 5 decades will have a great time listening to these folks. Speaking of Underground LIVE, I have to say I was really impressed with the place. The staff was awesome, the lighting and sound were better than I expected, and it's just a great place to go to checkout more of our local music scene. Check out their Facebook page for upcoming shows…I know I'll definitely be going back.
A few nights later we headed down to the Doyle Hotel in Duncannon to see my buddies Kevin and Andy play an acoustic show as Shine Through The Shade. Covering songs like Knockin' On Heaven's Door, Lovesong, Kryptonite, Faith and a ton of others, as well as taking requests from the crowd, the guys had a blast playing on the small stage for an appreciative crowd.
The following weekend I headed across the county to the Shermans Creek Inn in Shermansdale for a band that owner Troy had been working for two years to get in there to play. Based out of Lancaster and playing for 21 years, the Screamin Daisys finally came to the Creek to party! This dual female-fronted party band covered music of multiple genres and eras: You Oughta Know, X's & O's, Hate Myself, and Push It just to name a few. The Daisys had the place packed and had a great crowd of people up dancing and singing along with them.
The next day I went down to Lovedrafts Brewing in Mechanicsburg for the Nu Metal Tour 2 and an evening of high energy tunes brought to us once again by Nick and 717 Entertainment LLC. Starting out the evening was Heartbent, a young Maryland based Emo/Pop/Rock band that did a great job setting the bar for the evening in terms of energy with their hard driving melodies. Second band up was Defending Cain, a West Virginia based Nu Metal rock band that I've heard of, but didn't have the pleasure of seeing until now. These guys had an awesome sound with vocals ranging from deep screams to rap and rock singing. Coming out third was Bakersfield California based Adema. While they were missing lead singer Ryan Shuck (congrats on the birth of his new baby!), but the rest of the guys did a great job carrying on with songs like Unstable, Close Friends, and Immortal. Fourth in the lineup was a band who's music I'm very familiar with, and was very thankful to cover for my first time last year at the Rock On The Hill Music Festival – Tantric. Hugo and the boys tour the stage up with with a setlist of songs that frequently show up in my playlist like Astounded and Breakdown. It was an absolute pleasure seeing them perform again. Coming out next was a band that…while I knew the name, and was more than familiar with one of their songs, that was really all I knew of them. Crazy Town hit the stage with an almost frantic, high energy set that had the crowd rocking, and ended it with their ever-familiar "Butterfly". Rounding out the evening was headliner Hed PE. Bringing their unique fusion of Rap and Metal to the stage with songs like Blackout, Sophia, and Peer Pressure…they had the crown slamming and singing along with them for the entire set. Once again, 717 Entertainment brought a great show to a great venue!
The following week Wendy and I headed down to Hook & Flask in Carlisle for some dinner, drinks and relaxing tunes provided by Ben Simcox Music. Covering songs like Tennessee Whiskey, Livin On A Prayer, and a great version of Ain't No Sunshine, Ben played his acoustic guitar with occasional harmonica tossed in to go well with his smooth vocals.
My last evening of music for the month was just the other night, and to be honest it still has a smile on my face. All four bands playing this night on Stage On Herr at HMAC I am happy and proud to call friends. Starting out the evening was Dinosaurs In Paris. Louis and the boys brought their Pop/Punk originals to the stage and lit it up. I've enjoyed these guys since I first caught them a few years ago and they get better each time I see them. I also should mention they have some of the cutest fans I've seen, bass player Jesse's young son and daughter came out for the show throwing down right in front of the stage with everyone else. The memories I saw them create that evening will last a lifetime. Next up was Lyndhurst bringing their Pop/Punk/Emo originals to the stage with a huge energy that sorta belies the whole "emo" part of their description LOL. Their songs are all about life, different aspects of it, and are easily relatable to most people. They played a great setlist including several of my favorites: Jaded, I'm Sorry For The Way I Am, and Messy. Third on the bill for the evening was another band needing little introduction in these pages: Observe The 93rd. Derek and the guys definitely had their crowd there, dancing and singing along to their originals like Nightraid, Simulation, and Hypnotic. Headlining the evening is my friends in Sink In. Originally from Pennsylvania and now based in LA, Tighe and the guys rounded out the evening in style with their all original Pop/Rock tunes. I hadn't seen them in about two years now I think, and this time they had a new drummer Sam that somehow managed to multiply the awesome energy this band already had. With constantly changing lighting, smoke/vapor machines, and the guys moving around on stage more than a pack of 12 year olds high on Mountain Dew, they're always a challenge and absolute blast to photograph. If you haven't seen any or all of these bands, I can't recommend enough that you do.
I've got a couple shows already lined up to cover next month, including the 2nd annual Rock On The Hill Music Festival in Hanover. Twenty or so bands on two stages over the course of the day on May 13th, including locals acts like Brenden Starr, Coal, Faith Noel, JHR and Heroes 4 Ransom, as well as bands like Sponge, Flaw, and Trapt…this festival has music, food, games and activities for everyone and I can't wait to experience it again.
So there it is, my month of music through my eyes and ears. Just a reminder: if you've got a show coming up that I should see; make sure to send me an invite, shoot me an email or a message, let me know about it. Venues: please don't hesitate to reach out to me as well. The majority of the shows that I go and shoot I find out about through invites from all of you or your friends. Hit me up on facebook: @chrisriderphotography or email: chrisriderphotography@gmail.com, stop me if you see me out & around and say hi. Until next month…go find some live music and give them and the venue your support, they truly need it more now than they ever did.