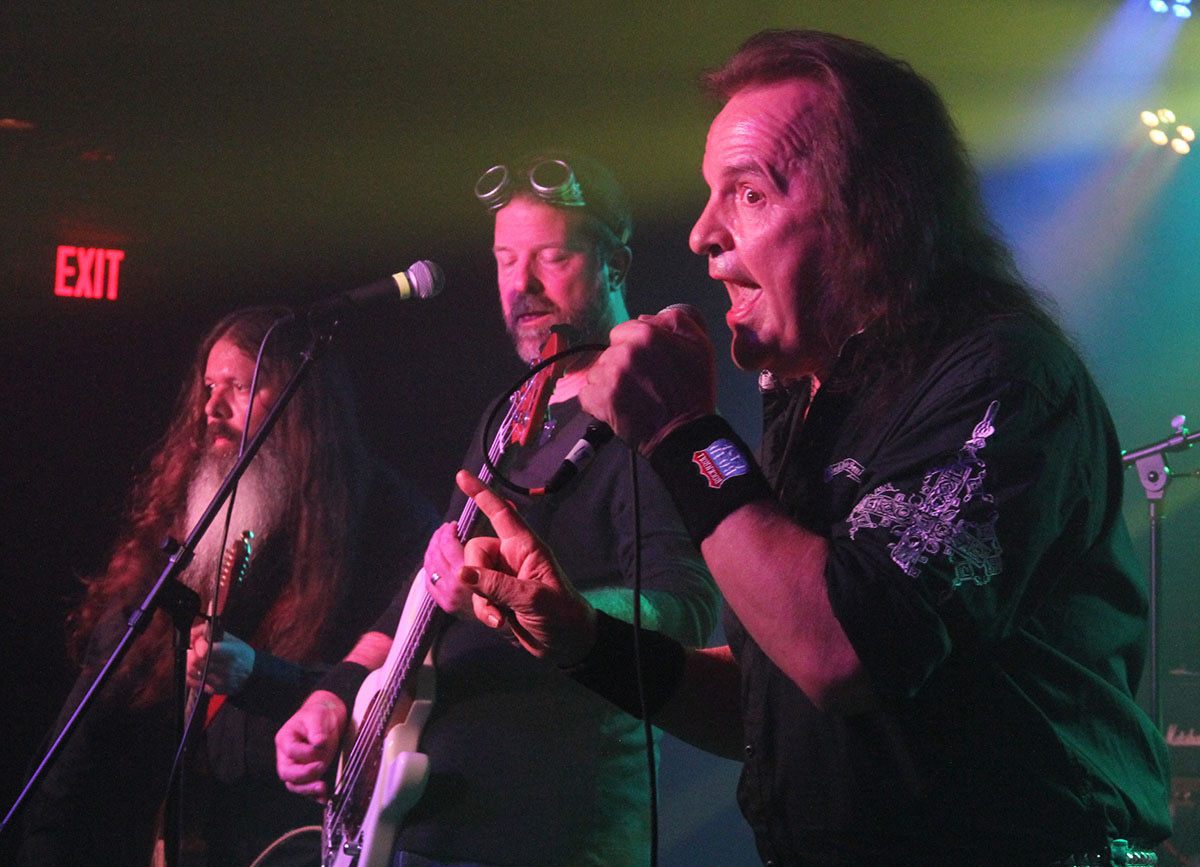 Roadcase at Underground Live
---
April definitely showered me with music! Music was everywhere this month, anytime I wanted to hear it! It's so awesome to see so many venues having some form of music.
My month started and ended at the same spot, the River House with DMC Duo. DMC Duo just won a CPMA Award for the best Duo of 2022! It was the third year they were nominated, and it was awesome to see them finally win! DMC Duo has multiple shows most weekends and they play all over the place! I always love when our schedules align and I get a chance to sit back and listen to them. I'm super excited for their EP, hopefully getting released sooner than later.
Speaking of the CPMA's, the April Issue was printed on the same days as the 4th Annual CPMAs, so it seems like it was forever ago, but definitely worth mentioning! The Central PA Music Hall of Fame celebrated their 4th Annual CPMA's at the Hershey Theatre. This year they decided to kick things off with a Pre-Party at the Midstate Distillery booth in the Hershey Market. Matt and I decided to go check it out and it was awesome to see everyone already networking and meeting each other. Matt got a chance to talk to Phil and got a couple dates lined up at Flinchy's, plus he was able to meet some people that he only saw or heard about on Facebook, so it was awesome to put a face to the name, and actually get a chance to talk to people. We met Cory Rosen of The Story. Cory is doing some great podcasts with local musicians that are both entertaining and even educational. Cory won the CPMA for the best podcast of 2022.
Then it was time for the Ceremony itself! So many people jammed into one building! I never did hear the final count of ticket sales, but the Hershey Theatre was packed! It was almost too packed it was hard to move around and talk to people. But the event itself was flawless. There were 43 CPMA awards handed out, and then of course the actual 2023 Hall of Fame Inductees: Breaking Benjamin, The Buoys, The Legends, The Maxwell Project, The Quintones, and Steve Rudolph. This year the Lifetime Achievement Award was awarded to the Clair Brothers. It's always awesome seeing all of the local musicians getting the recognition they definitely deserve, but also awesome to hear the stories of the inductees, some of which are still rockin' today! You can check out all of the winners at www.cpmhof.com.
After the awards show it was time to head to the After Party at the Englewood! What a full day of fun celebrating the Central PA Music Scene! There was so much dancing and networking and just an overall great time of letting loose and enjoying being together for such an awesome event! Next year I have to remember to take off work the day AFTER the CPMAs for sure! Congrats to Brandon and the entire CPMHOF team. You really put together one heck of a show!
The next night I headed down to The Underground for The Cretins and Hot & Dangerous. I was shocked when I got there to see the amazing upgrades they did to the sound and lights! The Cretins were already rockin' the Underground when we got there. I was actually surprised at how many Ramones songs I knew. I saw some friends I haven't seen in a while, and we quickly had the dance floor hoppin! I was excited to see Hot & Dangerous play second because I finally had the opportunity to catch a full show. I was a sweaty, hot mess by the end of their show, but had a blast singing and dancing to every song. It was like they got on my favorite playlist, and just went down the line! Erica can sing such a wide range of songs, that girl definitely has some crazy pipes for sure!
Saturday afternoon I was out delivering and got a text that Dr. Nyce was playing at the Broad St. Market so I swung in there for a little while. I think that might've been the first solo Dr. Nyce show I was able to see. It was an emotional day because it started at a funeral for a dear friend, and then out of nowhere Dr. Nyce started playing "All Along the Watchtower", it just so happens to be a very special song to my family and a song that Dad would play quite frequently, so needless to say I almost lost it, but managed to keep it together! Music is so moving for so many reasons, but truly moves my soul, and gives me a peace like nothing else can. Thanks Zach, aka Dr. Nyce for the entertainment. Shortly after his show we had a family emergency, so music was truly there when I needed it, for sure!
Matt Jameson had another super busy month! April 9th marked one year since his first solo show! Robin and Migsy at Jigsy's helped him celebrate with a delicious ice cream cake! Jigsy's has their patio open on beautiful days, and Saturdays you can catch lots of great music! Matt will be back there May 20th! Check out Jigsy's ad in this issue for their full schedule and all they have to offer! He also celebrated his 100th show at Stoney Creek and he had the place packed with family and friends, to the point where people were being turned away! Some other momentous shows were the Sherwood Inn, that place had reservations made on a Saturday afternoon and people were dancing wherever they could, pretty much because of 81 year old Carol, who got someone up dancing with her for every song! Matt has made so many fans at Sherwood they've also followed him to other shows throughout York and some even came the whole way up to The Doyle! The Doyle is always standing room only and that place absolutely LOVES live music, and the whole bar is singing along! Matt had the opportunity to play at Moe's Bar and Grill! Moe's was Matt's home away from home for many years, so when Erika Rutt-Atkens asked him to play her LLS event, it was a no brainer. Moe's was packed and tons of money was raised for a great cause! I of course have to mention the 4/20 show at Sturges Speakeasy. That place was a party before the first note and it continued all night where he ended with "Because I Got High" which was obviously a HUGE "hit" with the crowd! It's so awesome to see people make their birthday plans to celebrate at Matt's shows, or just their night's out, or whatever! His fan base is growing and it's truly a beautiful thing to see. He has another gigantic month of shows! Check out his ad in this issue, and come on out and sing and dance along!
I was able to catch two of Derek Henry's acoustic shows this month. I saw him on the first deck show of the season at Flinchy's. It was truly a beautiful night and it's always fun hearing Derek. We were also celebrating Michele Rider's birthday, so a great night with friends and greater music is always a special treat, especially on a Wednesday! Thursday Derek played up at The Doyle and I was able to catch a full show! The Doyle is a cool spot to check out music. A lot of their Thursday shows are in the small downstairs bar, but they also have a big ballroom upstairs for their bigger shows. We packed the downstairs for Derek's show and had lots of delicious food! Derek has a ton of Acoustic Shows for May, check out his facebook page, Derek Henry Acoustic, for his full schedule. Also, make sure and check out The Doyle's full ad in this issue. SO many great bands, and of course the big Free Spirit Campground Music Festival they are hosting Memorial Day Weekend. 3 days of camping and music in the heartland of Perry County!
On a Saturday afternoon I finally got a chance to catch up with Addi Grace at Rotunda Brew Pub in Annville. It was probably about a year since I caught one of her shows, but I couldn't believe how her confidence has grown! Wow!! The Rotunda Brew Pub had her playing out in their deck area, and it was a super cool place and Addi had it packed with people enjoying her show. On a day when most kids would be at an Easter Egg Hunt, Addi was too busy rockin' out! She has one heck of a stage presence, and a smile that shines for miles. You can truly see how happy she is playing music! It was also beautiful to see one of her best friends there enjoying her show too! Support is so important, and I'm glad to see even tho is rockin' in the free world, she also has an amazing support system! Addi has something like 60 shows booked in amongst, school and family obligations. She is a beast!! If you get a chance to see her, definitely do it! You won't be disappointed.
On a Friday night I zoomed down to Jen-Jen's Rhythm & Brews for Stricken and Gun Metal Gray. The parking lot was insane, but the venue itself was even crazier. People were packed in like sardines, and everyone was having a blast! It didn't take long til we were all sweaty and head banging the night away! It's unfortunate that bands like Stricken really don't have very many venues that let them play anymore, but every time they get the opportunity the place is packed and wanting more! I'm so glad Jen-Jen's is giving our local rock bands a place to play and entertain the masses! I haven't seen Gun Metal Gray in years! Dave, Christian, and Ed's harmonies are crazy! I must be getting old, because I really wish they weren't quite so loud. It was hard to stand up front and get the full experience, but from the outside deck, they sounded great! Gun Metal Gray has been releasing more originals and rockin' some amazing covers! Their shows are few and far between, but get out there and see them when you can!
On a Friday night I zoomed down to the York Hollywood Casino to see Katz 22. Any chance I can see these guys I hop on it! So much talent and what a great variety of songs. I instantly had to slip on my dancing shoes, and join the crowd in a night of dancing and fun! The craziness of having three people in a band that can all sing lead adds such a huge dynamic to their band and the amount of songs they can cover! It's always jaw dropping and tons of fun!! Check out Katz 22's ad in this issue, and plan your next night out on the town, just don't forget your dancing shoes for a great night of fun and shenanigans!
Saturday night I headed to Launch Music Conference in Lancaster, I unfortunately only made it to one stop before my ride or die partner in crime, wasn't feeling well and had to go home. We did make it to Isaac's for Emaylia, a young keyboard player accompanied by a drummer from right here in Lititz, she played some beautiful originals. Next up was Chris Johnson from 710OIL, he was the main reason we headed to Launch. We met Chris at a private party in Mifflintown, and he comes up from Virginia Beach, so since he made the trip we wanted to support him. Chris is one of those guys that plays here, there, and everywhere he possibly can. He does everything in his power to just play music! Shaky Joe Kambic took the stage next and he was playing a cigar box guitar, so he was quite entertaining. As with all music conferences it always amazes me at the wide variety of crazy good talent shows up! I was also able to chat with Casey Walton about her showcase the night before, playing with a full band! Casey is gearing up to leave us and head down to Nashville. She's been rockin' everywhere she possibly can, she even won a CPMA Spot Award for the Iron Woman of the Year! She is a full-time musician, and she also takes every advantage she can and plays here, there and everywhere! All while pumping out some amazing original music!
On a Friday night I zoomed up to Shermans Creek Inn for Fell From Zero. Another band I literally haven't seen for YEARS! These guys pump out some amazing rock and heavy metal hits that you don't hear very often, but everyone at Shermans Creek was loving every song! That dance floor was packed! I think my neck is still recovering!! They also still sneak in their own versions of some Taylor Swift favorites that always make people go.. "What the… AWESOME!" I'm so glad to have places supporting and hosting these amazing bands! Check out Shermans Creek's ad in this issue to see their full line-up and see what they have happening at the Creek! They will also be kicking things off at the Appalachian Harley Davidson pavilion in Mechanicsburg. That's always an awesome place to catch some fantastic bands on a Saturday afternoon. From what I have heard, you should be able to catch a glimpse of the infamous Jeff "Ritt" Rittenhouse running sound!
On our way home from an early Matt Jameson show at Bridgewater Public House in York, we stopped in at Lovedrafts on 2nd Street for Y2Kids. Matt's friend Hunter Reiner is their new drummer, so he wanted to stop in and support him. Lovedrafts is so tiny, but we made the most out of the dance floor and with no air conditioning that place was quickly a sweatfest! Y2Kids have their show matched up with music videos playing on screens in the background, which is quite funny, and brings back lots of memories. The guys put on a great show and had people jumping and dancing along all night long! Lovedrafts is narrow, yet tall! They have 3 full floors to explore and spread out, and luckily a really cool deck area to grab a breath of fresh air!It was also super exciting that it's finally a venue that has music til 1am! That's so rare, since Covid most places are over by midnight so we don't turn into Gremlins!
A full Thursday night of shenanigans started out early at The Doyle in Duncannon for a little bit of Matt Jameson and some delicious dinner! Holly just likes me to come for dinner so she can steal my french fries! After dinner I headed down to HMAC for the Sink In show with Dinosaurs in Paris, Lyndhurst, and Observe the 93rd opening. I got there in time to hear the tail end of Lyndhurst. These guys are always filled with tons of energy and their music is absolutely contagious! I haven't seen Observe the 93rd for a little while, it's always awesome catching a full band show. I was packed full of energy and the energy came out in full force! It's always so much fun jumping and dancing along at an Observe show! June 3rd Observe it opening for Puddle of Mudd at XL Live. Tickets are on sale now, ya better snag them before they are gone! Last band of the night was Sink In. Even though these guys are from the area, it's my first time catching a show, they are usually too busy touring the country to spend time in Harrisburg, but I'm glad they made a trip back home and HMAC gave them a place to shine! They were definitely happy to be back in the burg, and spent lots of time on the dance floor with their fans being fully immersed in their show! What a fantastic night of original music!
My last Friday night of the month I headed back to the Underground for Road Case and LeadFoot. It was awesome to catch some more Road Case! It had been a few months, and that's just too long! I love these guys and all of the songs they play. The last full band of the month was LeadFoot. The last time these guys were at the Underground it had just re-opened and it was before they had their new systems in place. What a HUGE difference. The guys were rockin' out all night long with a big smile on their face! LeadFoot definitely knows how to keep the pedal to the 80s metal and melt faces all night long!
Well that's all the music for this month. A special little extra announcement is that we welcome Christian Yeager back to our pages. He is releasing another single, "Somebody's Loving You Right". He's going to have a special event for the release at the Vineyard at Hershey on June 4th at 6pm. You can check out his ad in this issue for all of the details. He has quite a few shows throughout the area and interviews to promote his new single, so keep an eye out for Christian.
Wow! What an exciting fun filled month!!! Thanks to everyone for all of the entertainment! May has me traveling quite a bit, but as usual I will catch shows wherever I possibly can! Congrats to Josh for having his biggest issue yet!!! Thanks so much for all of the support from all of our advertisers! Please turn the pages and find something that will make you smile, and get out there and Support Live Music! If you have any questions or suggestions, you can always hit me up at RachelRocks@pamusician.net.