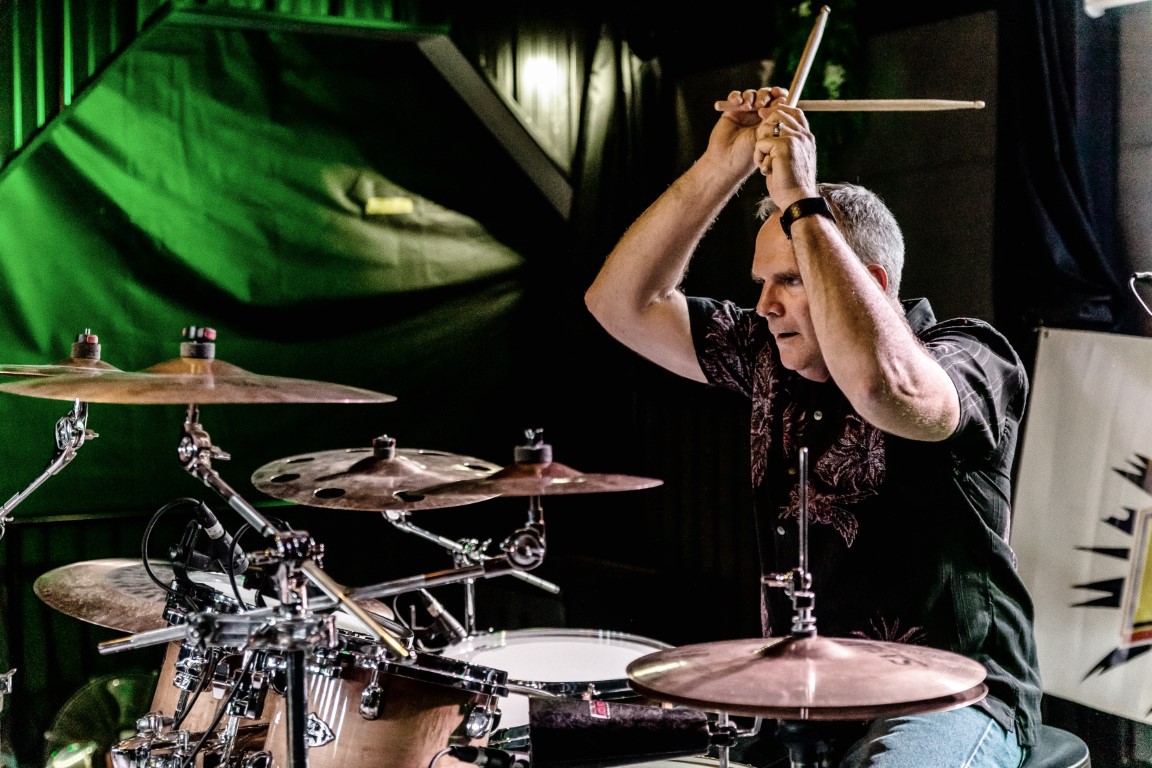 ---
By: Chris Rider
Happy Halloween folks! Hope you got some decent treats and maybe less tricks. October was another month of great music. As it starts cooling off for the year, and the days get shorter, there's less and less outdoor shows to get to but venues are finding creative ways to host live music inside and still abide by the rules we've all come to "accept". Even with all the restrictions, I still find that the musicians I go out to see, and the fans that I go out to see them, are just happy to be able to get out and enjoy some live music, food, and a few drinks among their friends.
My first trip was out to The Party Barn after an invite from Honeypump, a classic rock cover band fronted by husband & wife Ritner and Stephanie Casey. Playing a huge variety of rock from Led Zepplin and AC/DC to The Beatles and Chicago, these folks brought the party. They played to a large and appreciative crowd that clapped, sang, and danced the whole night. With folks circled around campfires outside, this place just has a really cool vibe to it that I hope can continue in the future. They are currently working with the Monroe Township officials to get an additional use permit as well as addressing parking and attendee number concerns. I hope they're able to get this all squared away soon and can go back to bringing great live music to the area.
My next trip was the trek up to Iron Vines Winery in Sunbury to see Allan Combs II. I've known Allan for a little while now, but hadn't got out to see him in bit. Allan's got a great sense of humor and always includes a bit of talk about the songs he chooses to play and why. It was nice to see him play some new tunes that I hadn't heard him play before including James Taylor, Theo Katzman, Prince, John Mayer, The Doors, as well as a number of well written originals. Allan plays all around the area as a solo acoustic act, as well as with his band "Allan Combs' Soul Medicine". Definitely get out to see him and/or the band if you get the chance.
Third venture for the month was a trip back up to Iron Vines for their one year anniversary. Nate Myers and "Historic" (Nate's word, not mine LOL) Pete Netznik were playing they're wide mix of blues with a style that only these guys can bring. The afternoon ended with an all star jam that included Kenny Jenkins, Sunbury Slim, Iron Vine's owner David Snyder and others. We had a great time, and once again I have to thank David for his incredible hospitality. Happy Anniversary to the crew at Iron Vines, and I wish you many more!
Next up was a ride out to the Shermans Creek Inn in Shermansdale. Troy, the owner, is a huge supporter of live music and has live music going several times a week. They've got a nice menu and a great beer selection which all adds up to being worth the trip. Wes Hoke was doing a solo acoustic show under the tent outside, playing a wide range of covers including The Allman Brothers, The Wood Brothers (a personal fav), as well as a number of his own originals. Wes has been playing around the area for quite a while and also has a band "Wes Hoke and the Bare Roots Band", formerly known as Root 74. I had a great time listening to Wes play as well as talking to him about his history playing music around the area.
My final trip out for the month was up see my pals at Isle of Que brewing. Jason Yoder was cranking his familiar mix of rock and blues on their small stage while I enjoyed a few of their IPA's. Jason always brings his own unique touch to the songs he covers and his many originals that he's written over the years. I've seen Jason play a number of times, and each time is full of different songs from him. It was great to get back to Que Brew…I can't stress enough how great a place it is. With a great staff and set of owners, great customers, great beer, and a love for solid local live music…what's not to love?
So, that's it. I didn't get out for as much this month as I'd like…life gets in the way sometimes. I have to say though, each of the shows I did get out to see was just fantastic. It's just a reminder that even with all the stress we're all dealing with in different ways, it's awesome to see that live music can bring so many people together at least for a short time to enjoy something together and maybe life ain't so bad. Just a reminder: if you've got a show coming up that I should see, make sure to send me an invite, shoot me an email or a message, let me know about it. The majority of the shows that I go and shoot I find out about through invites from all of you or your friends. Hit me up on facebook: @chrisriderphotography or email: chrisriderphotography@gmail.com, stop me if you see me out & around and say hi. Until next month…go find some live music and give them and the venue your support. [all photos on pages 14 & 15 by Chris Rider]