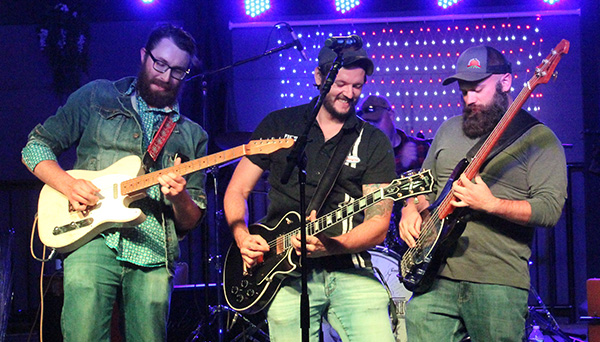 ---
By: Rachel Rocks
WOW! Rocktober did not disappoint! I had the amazing opportunity to feel "normal" at two different shows this month. I'm extremely grateful to all of the venues for having acoustic shows everywhere you turn, but I have to admit, I truly missed ROCK or any FULL BAND shows. I really missed seeing all my friends and dancing and have a good time!
The first show this month was an awesome benefit for Children's Miracle Network. Space (Eric Dengler) saw the need to help 105.7 the X with some fundraising in their "Pay for Play" campaign, so he jumped on it, got it all planned with an amazing line up of bands! I unfortunately missed the beginning of the show, I heard there were a lot of great bands to get the day kicked off. When we arrived I could hear Steel rockin' from the parking lot! I missed these guys and everyone so much! I was very glad Holly and Matt were my DDs for the day, as soon as I walked up to the crowd, Bill Obrian handed me my own JAR of Apple Pie Moonshine, and the fun didn't stop there. Of course Angie brought out her previous bar tender experience, and had a whole bar at her OT93 merch table! It was a crazy day for sure. Thank you everyone for the libations and for making it seem like a "normal" day. There were hugs, dancing, and just so much fun!
As soon as I got to the dance floor I instantly noticed the HUGE smiles on everyone's faces! The band and the fans! I think they missed playing as much as we missed hearing them. Music is definitely food for the soul. Steel rocked their whole set! Aaron, Chris, Dave, and Trevis played like they've been playing every day together! There are benefits to playing so long together without a single change in the line-up. Their set was solid, well oiled, and yet so refreshing! In perfect Steel family fashion, we lined the dance floor and banged our heads to end their set with "Hallowed Be They Name."
Ebenezer Screw took the stage next, I haven't seen these guys in forever. They had a few new members, but Mark was still leading the pack on vocals. They had the dance floor packed! With Double K closing last year, Ebenezer Screw hasn't really had a place to play where their fans could let loose and have a great time! I know for sure by the end of their set, my whole body was going to be hurting the next day, and I definitely wasn't wrong! I'm so out of practice rockin' the night away, that's for sure!
Observe the 93rd was up next and even though their style of music is more Alternative Rock, they had their fans there in full force dancing their set away. Observe the 93rd (OT93) plays a lot of original music. Their newest video for their song "Hymn" hits hard about school violence and mental health, with me having two boys, one in 9th grade and one in 12th grade, this song really hits home. It is only one of their songs of of their EP "Alive" and is a continuation from their other song "Cartoons" which has a video release last year. This Panic-demic has really hurt their momentum as a band, but it also helped them have more time to hone in on their creativity.
I've ran into Road Case a few times during this Covid Craziness, but I was still happy they were on the bill. I love hearing and seeing them play! They all have an amazing stage presence and always put on one heck of a "show". Chris and Clint switch their guitar roles back and forth and even have some jaw-dropping, guitar-ripping harmonies! Of course Jeff and Ed also have their own shenanigans, but can still keep everyone grounded, while the other Chris (Redding) wails away on the mic! These guys play some hard hitting classic rock n' roll favorites that you don't hear from everyone else.
Last but not least, Penntera took the stage! In true Rocktober fashion, they came out in costume, and of course Rockin! For Penntera not only was there head bangin' and dancing, there was even some Moshing! Remember I mentioned my body aching, this definitely did not help! Penntera played for well over an hour and had just as much if not more energy at the end as they had in the beginning. Of course, as the crowd got crazy, the band got crazier! It was a fantastic ending to a full day of entertainment.
I have to give a big shout out to Jeff Rittenhouse (Ritt) for doing an amazing job with the sound and lights. He had everyone sounding great and kept the vent running on time. After the show Ritt gave a shout out to all the bands for being so respectful and professional. Overall, it was a super fun and successful event, raising almost $5,000 for the Children's Miracle Network. Way to go Space! And everyone else who helped him along the way. What a fabulous idea!
After some much needed rest and ibuprofen, it was time for the next party! I was invited to the Party Barn in Mechanicsburg for CappelloWelsh Management's one year anniversary party. The Party Barn is privately owned and currently Tony Samento, the owner is preparing to go to battle with the township to try and keep the Party Barn partying. Of course, legal fees are expensive, there is a Go Fund Me page so the Party Barn Peeps can help out however they can. I can tell you that the Party Barn is one heck of a place! I hope they find a way to keep going!
Leslie Cappello and Tia Welsh of CappelloWelsh Management picked a crazy year to start a business, but they have survived, and if they could survive this year in the music business, then chances are they can survive anything! After a wild ride their first year they were ready to celebrate, and they know how to throw one heck of a party! They scheduled a full night of amazing entertainment, and they truly found the perfect venue for their party.
Brandi LM was the first performer. She usually plays with her full band, Brandi LM and the Bottomshelf, but this night she was flying solo. She started the night off right rockin' out on her electric guitar and belting out some amazing songs. It's always hard to be the first performer, but Brandi did it flawlessly.
Grant Bryan and Sarah Sheriff took the stage next. I caught these two once before at the Racehorse Tavern, they make a great duo! It's great how Sarah allows Grant to focus more on his vocals while she takes over on guitar. I have to admit, it's nice to see the role reversal and see a woman be the one rockin' on guitar! Way to go Sarah! Grant sings all of your country favorites, plus throws in some great originals! He has such a classic country voice. He's easy to sit back and listen to, and just enjoy the music.
Next up was Corina Rose. I was so excited I finally got to see her perform her own whole set. Corina has been making herself known throughout the midstate and beyond. Corina quickly catches you off guard, she's so stinkin cute and petite, but she is clearly the one Martina McBride wrote her song "I'm Little but I'm Loud" because she's also countrified and proud! She really played a great set! Hopefully I'll catch more of her country charm real soon!
RJ Moody is another one I've heard so much about, but this was the first time I got to hear him perform. RJ has played with different bands throughout the years, but he's finally stepping out on his own. October 30th he will be releasing his first single, "70 in November". RJ is on a new journey, but who better than to support him than CappelloWelsh Management! Sometimes finding the right management company is all you need to help give you the confidence and stamina to keep moving along within the music world. Good luck RJ!
Devon Beck stepped up on stage next. I had just seen her a few weeks earlier at Flinchy's, but it was nice to catch a full set this time. Devon is making the transition from central PA to Tennessee! Read all about her story on how she got where she is today in the Cover Story in this issue. Devon has an amazing and distinctive voice. The lyrics to her originals really draw you in to her music. I'm glad Devon reached out to get on the cover of the magazine. She is now on my radar, and I can't wait to see where her music career takes her next!
The last few times I've seen Colt Wilbur he's been with his band. I have to admit it was kind of nice to see him flying solo for this show. Even though he was all alone on that big stage he quickly got the dance floor hopping! Colt definitely knows the right songs to sing to get the people up, dancing along, and having a great time. The Colt Wilbur Band also has their own original album, "Heart of Stone", that's exactly what Colt has, a heart of stone that makes everyone feel right at home when you listen to him perform.
David Self looked like a quiet and shy guy off the stage, but once he took the stage he shined like the rest of them. He plays more rock songs than country, but he was a great asset to the show. David is new in the area, but I'm sure you'll be seeing a lot more of him as he makes his way around the midstate and beyond. Keep an eye on this guy, it's always the quiet ones that sneak up and surprise you the most!
Nathan Merovich was another pleasant surprise for me. He's obviously been doing some pretty cool things behind the mic already like opening for Big & Rich, Chris Jansen and many others, he's already released some amazing original music, but he gave us all a sneak peek of one of his latest releases, "God Bless the Blue Collars". As a blue collar family myself, this song definitely hit home. To end his set he had the closing band, Cold Spring Union, come up and play a song with him. It was a nice little tease of what was to come right after one crazy fireworks show! Tony doesn't mess around at the Party Barn, when he says there are going to be fireworks, there are definitely going to be fireworks!
After lots of Ooohs and Ahhhs from the crowd for the fireworks it was time to come in and finish up the night with Cold Spring Union. I haven't heard them in quite some time, but once again I was impressed and felt like I "joined the union" all over again. They blend Southern Rock and Americana perfectly together. Cold Spring Union is a boot stompin, hootin' and hollerin' good time! I'm thrilled to say it's the first time I saw their bass player, Morgan join the party. He usually hangs off to the backside of the stage, but this time he came up front and partied with the rest of us! They were a perfect way to end this wild party! Congrats to CappelloWelsh Management on their 1 Year Anniversary, here's to hoping there are many more and the parties just keep getting bigger and bigger!
The next adventure of the month I went up to Raystown camping for the weekend with my hubby and our good friends Holly and Matt. Our adventures led us to Lincoln Caverns where they had their caves haunted and a haunted trail through the woods. I have to admit, I don't handle scary things very well, and there were quite a few times I collapsed from fear!! Way to go to all of the ghouls and goblins, and especially to Darth Vader for scaring the bejeebus out of me! We really had a Spooktacular good time, even though I was positively terrified when I had to go in the woods for firewood after we got back to the campground!
The following weekend I went down to Midway Bowl for another opportunity to see Observe the 93rd play as a full band. This was an outside show so it was a little chilly, but Midway Bowl does a great job providing heaters and firepits to help keep people warm. Plus OT93 kept people warm by packing the place to their Covid Full capacity of 50%. People were being turned away at the door! Midway Bowl is definitely becoming a Hot Spot for fun in the Carlisle area and beyond. Hopefully they find a way to keep the music going once they have to move indoors.
Last but not least, I headed back down to the Fredericksburg Eagle Hotel for the monthly dose of DMC Duo. They seem to play there at least once a month, and the opportunity for great music and delicious food is a hard one to refuse. Friday, November 13th they will be back at the Eagle Hotel for 80's Night!! Get in your requests now by messaging them thru Facebook! Also, it just so happens to be Darrell's birthday, so I'm sure it will be a night you don't want to miss!
I have no idea what's going to happen to live music over these cold winter months! I know that I will be out there supporting music however I can. Music truly brings me happiness! I can't imagine a cold, dark Winter without it! Please keep me in the loop with what you are up to, where you are playing, or even just links to you jamming in your living room! RachelRocks@pamusician.net. Let's all work together to make it thru this! If you do see me Out and About please say Hi! I took a ton of pictures this month, so obviously they can't all fit in the magazine, I will do my best to remember to post them on our Facebook Page, www.facebook.com/pamusicianmagazine. Have a fantastic month! Stay Safe, Wash Your Hands, and Sneeze into your Elbow! And by all means.. GET OUT THERE AND SUPPORT LOCAL MUSIC!!!