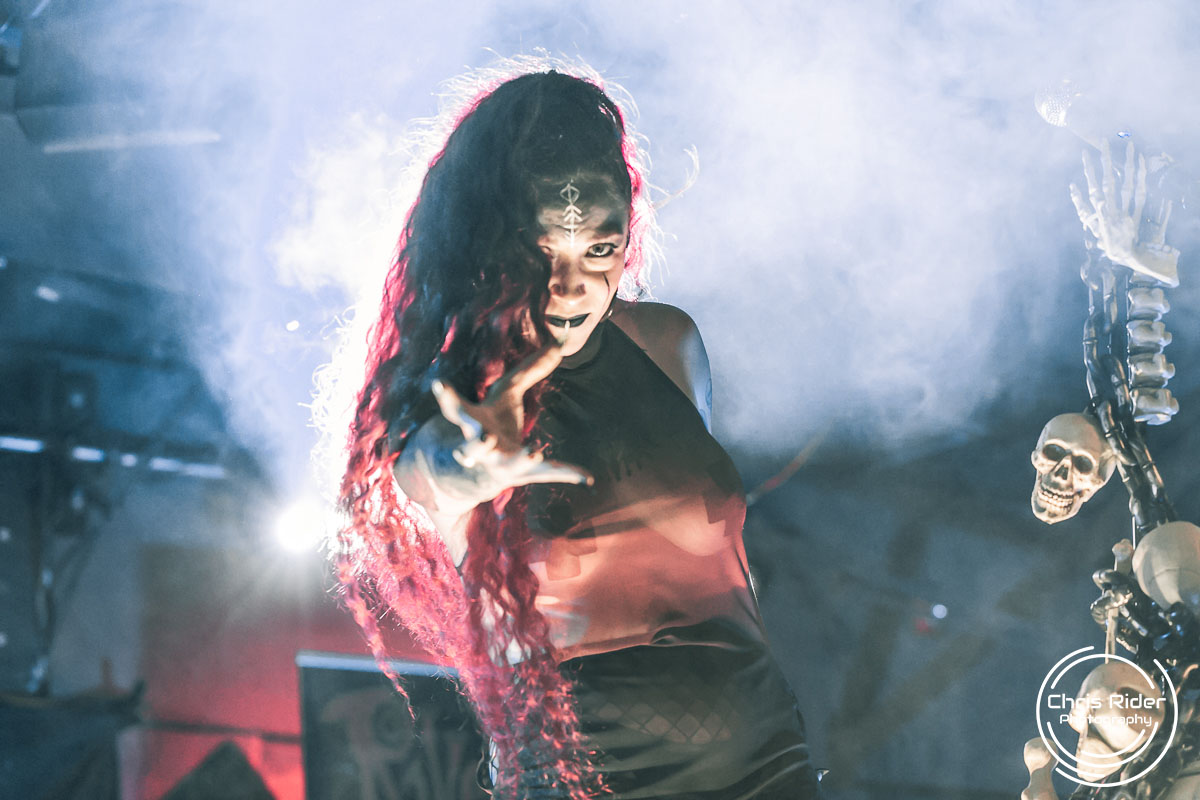 ---
I feel like I keep on saying "this past month has flown by"…maybe that's just the norm anymore. November's staring us in the eyes as October finished out with a bang. We had trick or treat here last night and I have to admit, I look forward to that every year. I didn't make it out to quite as many shows as I'd have liked to this month, but the ones I did make it to did not disappoint in the least. This month's travels included yet another new-to-me venue that we had a total blast at, a number of new-to-me bands, and a ton of great music.
Our first trip out was up to the Susquehanna Valley Event Center for what I'm sure will be our last outdoor show of the season at this point. Opening up the evening was a band I hadn't heard of before: Raising Kane – a hard rock band consisting of several former members of Noise Pollution and featuring 11 year old guitarist Kane Silva. It's no secret that I love seeing young folks enjoying live music, but it takes it to a whole other level to see them on stage jamming out! Playing a few original tunes as well as covering songs like What About Love, Ace Of Spads, and Kiss Me Deadly, this family band did a great job warming up the stage for the evening. Coming out on stage next was a band that needs very little introduction in the midstate – LeadFoot. The guys hit the stage like a storm covering hits like Round And Round, Wild Side, Sweet Child Of Mine, and a long time personal favorite of mine Thunderkiss '65. The guys played with fantastic energy and sounded great! Headlining the evening was a band I remembered listening to through the 80's and 90's quite a bit – Dirty Looks. Formed in San Francisco (after a move from Erie, PA) in 1984, the band has had 19 studio albums with a number of hits over those years. Belting out songs like Put A Spell On You, Oh Ruby, C'mon Frenchie and a bunch of others; the guys kicked ass on stage from beginning to end and made for a great night of rock.
Our second trip out for the month was down to visit my friends at Sherman's Creek Inn for a night of rock from the 70's, 80's & 90's with Mid Life Crisis. Covering songs like Change In My Pocket, Still Got The Blues For You (Gary Moore), China Grove, and even Eric Johnson's "Cliffs Of Dover"; the guys did an awesome job of keeping the crowd dancing and singing along for the entire night.
My next trip was back down to Sherman's Creek the following weekend. Troy had reached out to me, telling me he'd found a band that was really special and that we'd probably really like them if we hadn't caught them yet. Allow me to back up just a bit: this past year at the CPMA after party, I'd met a guy named Javier who proceeded to tell me about his band called Heads Or Tails Experience and we both agreed at the time that I'd probably dig their sound. I didn't get a chance to meet up with them though…until this evening at The Creek. Wendy and I had a total blast seeing these guys perform! The best description I could come with for them is "funky/jammy/rock with some occasional pop thrown in mixed with a downright infectious energy." They just don't fit any one genre, and they make it work really well while playing originals like Windstorm & Roadkill as well as a few covers like What I Got and Island In The Sun. These guys were a pure party from beginning to end and I'll definitely be seeing them again in the future.
A few days later I headed down to Lovedraft's Brewing Co in Mechanicsburg for The Black Hollows Tour brought on by 717 Entertainment and iRock Radio. Opening up the evening was York based Theatrical Rock/Metal band Illusions Of Grandeur. I'd first caught these folks at HMAC a few years ago and really liked them so it was great to finally get a chance to see them again. The Siren and her crew were fantastic. They somehow have even more energy than the last time I'd seen them and were a total blast to experience. Hitting the stage next was Virginia based Metal/Metalcore band Dying Oath. Hitting the stage loud & fast with pounding guitar riffs and blazing drums, they had a great stage presence and energy. Next up was Wisconsin based death metal band Casket Robbery. These folks were just downright brutal, playing with a ferocity that I don't see too often. Definitely worth checking out if death metal is your thing. Hitting the stage fourth for the evening was Cultus Black, a metal band that I've heard of a number of times. They put on a great show with awesome instrumental work while interacting frequently with their fans in front of the stage. Headlining the evening was Michigan based shock rock group Raven Black. Looking around online I see them described as "DIY Shock Rock", "Theatrical Rock", "Goth Rock" etc. I'm not sure which describes them best, but I can tell you they put on a hell of a show. The music is hard, and well written and performed, while accompanied by haunting vocals at the same time to combine for a show that was a lot of fun to see.
The following night we headed down to Underground Live for Green Jelly Presents Green Jelloween, a Gullifty's Reunion Show. We got there as 8088 was on stage hammering the crowd with their Alt Metal/Rap blend of music that I really enjoyed. These guys sounded great and it was a lot of fun watching the lead singer move throughout the crowd while belting out their songs. On stage next was The Other LA, hitting the stage just as they got in from their eleven hour drive! Lead singer Aria's voice was solid while she sang tunes sharing her journey of Aspergers with a ton of heart. I really enjoyed their set and hope to be able to catch them again in the future. Big shout out to my buddy Landon who came with his mom Heather (from iRock Radio) to see The Other LA as one of his favorite bands! Up next was a local metal band that's been making a lot of waves in our music scene – Nail Bite. I've seen and heard a lot about these guys for a while now and had been looking forward to finally catching them playing a show…and they absolutely did not disappoint! Their music conveys a palpable energy that is impossible to ignore. If you haven't caught them out yet, do it soon while you can at smaller venues; I guarantee these kids are destined for big things! Next up, various members of Green Jello/Green Jelly did a few songs from their individual projects, before taking the stage together as Green Jelly. Wikipedia calls them an American comedy rock band, and while that's the first time I've seen a band described as such, it certainly fits. It's tough to truly describe their show completely, but it's a combination of crude humor, theatrical (including crowd performing puppets!) performances, and "intentionally crude musicianship" all combining to make for an entertaining show. Reading up on some history on Green Jelly, I found it interesting that they've had hundreds of members over the course of their existence with vocalist Bill Manspeaker being the only constant throughout; members have included both Danny Carey and Maynard James Keenan who went on to form Tool later on. Overall, Green Jelly just puts on a show that you really have to see to believe.
So there it is, my month of music through my eyes and ears. Just a reminder: if you've got a show coming up that I should see; make sure to send me an invite, shoot me an email or a message, let me know about it. Venues: please don't hesitate to reach out to me as well. The majority of the shows that I go and shoot I find out about through invites from all of you or your friends. Hit me up on facebook: @chrisriderphotography or email: chrisriderphotography@gmail.com, stop me if you see me out & around and say hi. Until next month…go find some live music and give them and the venue your support, they truly need it more now than they ever did.