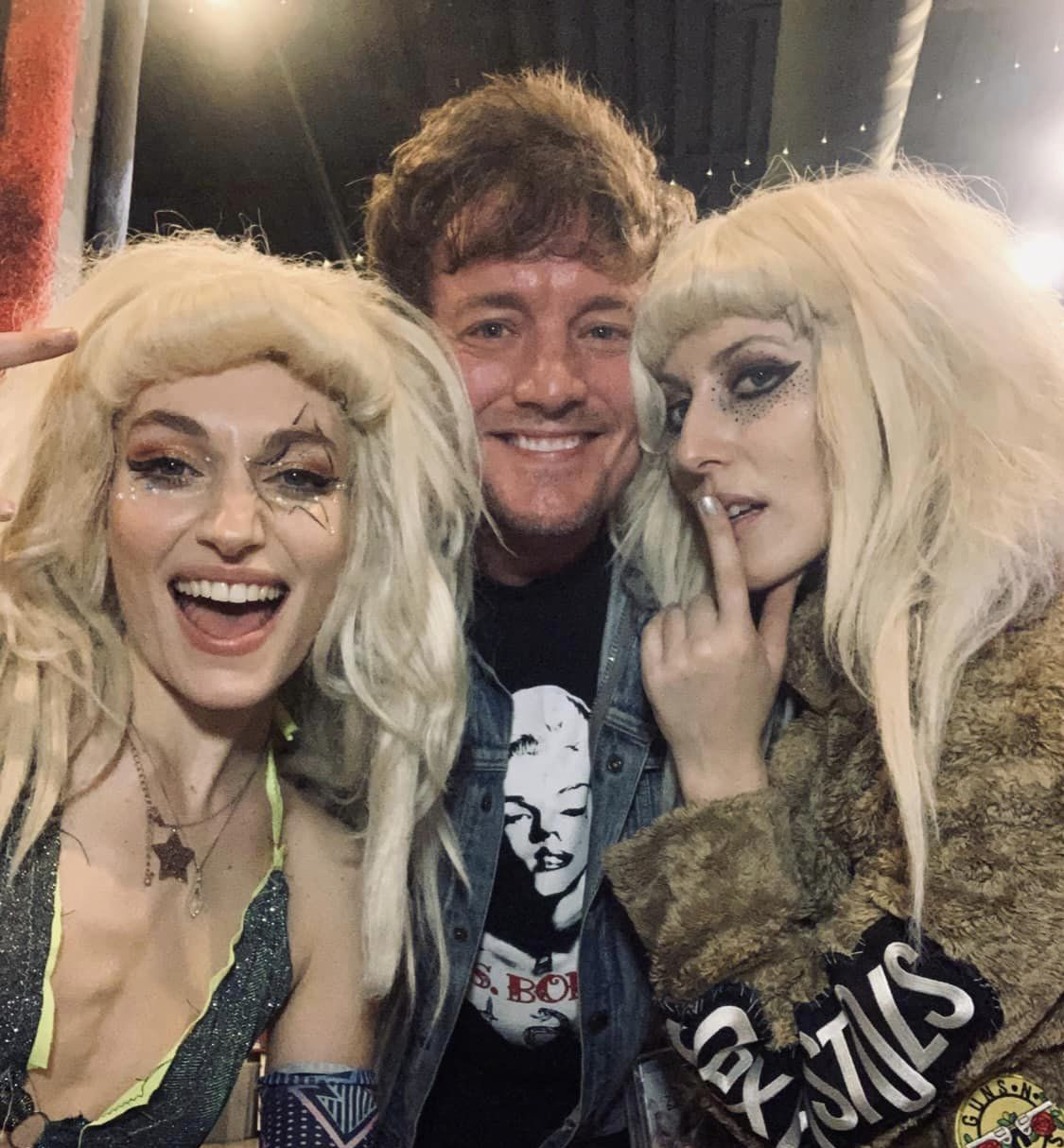 ---
Greetings Rockers 'N' Rollers! Last month began with White Reaper playing a fantastic set at Harrisburg's XL Live on October 2nd. The Kentucky-based garage punk band had visited Central PA earlier this summer when they opened for Blink-182 at Hersheypark Stadium in May. White Reaper has been around since 2012 and continues to build their fan base while opening for notable bands like The Killers, Foo Fighters and Weezer.
October 6th involved a trip to Lititz, PA to see alternative metal band Helmet at Mickey's Black Box. This was the first time visiting the newer venue that opened in October 2021 on the Rock Lititz campus and was named after Michael "Mick" Tait (Tait Towers of Lititz). Singer, Page Hamilton, of Helmet continues to rock after 34 years and included hits, "In The Meantime" and "Unsung."
The SoapGirls from Cape Town, South Africa returned to Mechanicsburg's Lovedrafts for a second time on October 12th. The three-piece band fronted by French-born sisters, Camille and Noemie Debray, flaunt sexuality with great punk rock music. Their current tour "Love Potion" has played the UK, Europe, Japan and now the USA concluding in Illinois this month.
A highlight of October required a trip to Las Vegas, Nevada to see iconic Irish band, U2, at the newly built Sphere. U2 are the first band to play the groundbreaking innovative 2.3 billion dollar venue. This was the band's 9th show in their 36-date residency. These monumental shows also mark the first time drummer Larry Mullen Jr, hasn't played with the band since 1978 due to an injury. Dutch drummer Bram van den Berg has resumed duties until January when Mullen Jr is meant to return. U2 were simply amazing, covering their 1991 album, Achtung Baby, in its entirety followed by fan favorites. The historical concerts have drawn countless celebrities including Sir Paul McCartney, Eddie Vedder, Brad Pitt, Noel Gallagher, Lady Gaga, Dr. Dre, Snoop Dogg, Jon Bon Jovi, Oprah Winfrey, LeBron James, Lars Ulrich, George Clooney, Tom Brady, Tom Hanks and Ed Sheeran to name a few.
Australian punk bands, The Chats and Cosmic Psychos, are currently touring across America together. The two great bands visited Philadelphia's Brooklyn Bowl on October 20th. A fantastic concert that also featured Schizophonics and Gymshorts. The Chats were very impressive live and have become popular with their single "Smoko." And the Cosmic Psychos were awesome with their Motorhead/Ramones vibe they've been playing for the past 40 years. Fellow Aussies, Amyl and the Sniffers, also are trekking the USA and performed the following night in Pittsburgh at the Roxian Theatre. The band always plays an unforgettable show with amazing songs and are beyond grateful to their fans. Amyl and the Sniffers play a sold-out show at Philadelphia's Union Transfer on November 3rd and will open for Foo Fighters next summer at Hersheypark Stadium on July 23rd.
Legendary electronic band, Depeche Mode, are currently on the third leg of their Memento Mior tour in North America. Depeche Mode played an unforgettable show at Philadelphia's Wells Fargo Center on October 25th. An amazing dance-fueled night with songs, "Enjoy The Silence," "Just Can't Get Enough" and "Black Celebration." Their latest album, Memento Mior, was released this past March, with the great song "Ghosts Again." It's also the bands first album and tour since the passing of keyboardist, Andy Fletcher, in 2022. The band wraps up their tour in December with four dates in Los Angeles and then is onto the European leg.
Green Day, confirmed that a 14th studio album is on the way and performed a few songs from the upcoming LP at Fremont Country Club in Las Vegas. "OK, big announcement," Billie Joe Armstrong, singer-songwriter for the pop-punk trio, said "We're doing a big tour next year. It's going to be Green Day, Smashing Pumpkins, Rancid and Linda Lindas." Dates have yet to be announced for Green Day's U.S. stadium tour next summer. Green Day's intimate show at the 1,000-capacity Fremont Country Club had a setlist that included the entirety of Dookie and many other classics.
After opening Sphere Las Vegas with "U2: UV Achtung Baby Live," legendary band U2, has announced 11 additional dates at the venue, making 36 dates total. The shows will now run through February 18th. So far, U2 has performed all sold-out shows at the venue since kicking off the shows on September 29th. "U2: UV Achtung Baby Live" marked U2's first live performances in four years, with Sphere the only venue in the world where fans can see the show. With mind-blowing visuals that fully immerse fans into the show, the venue and set highlight the best modern-day technology has to offer.
After a record-setting touring schedule in 2022 (grossing more than $435 million), Bad Bunny is going back on the road for a 31-city, 47-performance "Most Wanted Tour" of North American arenas. The tour "will be a rollercoaster of explicit lyrics that hones in on the star's trap roots, so parental discretion is advised," according to a release. The shows are designed to be a "more intimate" experience than his successful stadium run and will visit Washington DC's Capital One Arena – April 9th and Philadelphia's Wells Fargo Center on April 19th.
Liam Gallagher has announced a 12-date UK arena run in celebration of the seminal Oasis album Definitely Maybe, which turns 30 next year. The tour will see Gallagher perform the Definitely Maybe album in full for the first time, along with some select b-sides from the era, including classics like "Rock 'n' Roll Star," "Live Forever," "Supersonic," and "Cigarettes & Alcohol." Commented Gallagher, "I'm bouncing around the house to announce the Definitely Maybe Tour. The most important album of the '90s bar none. I wouldn't be anywhere without it and neither would you, so let's celebrate together LG."
Legendary Los Angeles rockers Guns N' Roses will play a legendary Los Angeles venue for the first time. The band will play the Hollywood Bowl November 1st and 2nd, wrapping up their U.S. tour and marking their first LA shows since 2021. The Black Keys will open.
Blink-182 returns to North America next summer with the announcement of the "One More Time Tour," which features 30 dates. The trek comes in support of their album, One More Time…, which serves as blink-182's Mark Hoppus, Tom DeLonge and Travis Barker's first record together in a decade. The band will be supported by Alexisonfire and Pierce The Veil on selected dates. Stops include: Philadelphia Wells Fargo Center July 26th and Washington DC Capitol One Arena July 27th.
Power Trip festival lived up to the hype on October 6th thru 8th at the Empire Polo Grounds in Southern California. Fans who braved the 100-degree desert heat and long lines to enter were treated to a marathon three-hour Guns N' Roses set, deep cuts from Maiden, Judas Priest taking it to a higher gear as one of the most influential bands in metal, the singular Metallica playing mostly classics and deep cuts, while Tool delivered the mesmerizing spectacle it has become synonymous for. AC/DC was a particular treat, with Power Trip being the band's first gigs since the 2015-2016 "Rock Or Bust" tour.
After canceling the remainder of his 2023 dates due to peptic ulcer disease, Bruce Springsteen and his E Street Band will return in 2024. Rescheduled dates include: Pittsburgh PPG Paints Arena August 15th & 18th, Phildelphia's Citizens Bank Park August 21st & 23rd, Washington DC's Nationals Park September 7th and Baltimore's Camden Yards on September 13th.
A week before they were set to step out on a tour commemorating their 30th anniversary, Perry Farrell-fronted Porno for Pyros announced a postponement. "Whilst rehearsing for our first tour in 25 years, we've also been in the studio creating new music. So, we've pushed the tour a few months from now. Listen up for the new music in the upcoming weeks and keep an eye out for new tour dates. We're coming!." New dates have yet to be announced.
Rush bassist and frontman Geddy Lee has announced a speaking tour for his forthcoming memoir "My Effin' Life," which drops November 14th. The 14-date tour kicks off at the Beacon Theatre in New York November 13th and making stops in cities including Philadelphia's The Met November 15th and National Harbor, MD Theater at MGM on November 17th. The announcement promises a "once-in-a-life-time event," and will include Lee giving a candid look into his life from childhood to rock stardom. A "special guest interviewer" is promised, along with a special Q&A with Geddy Lee answering questions directly.
Foo Fighters unveiled stadium dates for their 2024 tour including Hersheypark Stadium on July 23rd. The Hives and Amyl and the Sniffers will provide support in Hershey, while Pretenders, Mammoth WVH, Alex G and L7 will join Foo Fighters on various dates. This year, Josh Freese joined Foo Fighters behind the drum kit, following the late Taylor Hawkins. The upcoming tour supports Foo Fighters' latest album, But Here We Are, which arrived in June. The tour begins at New York's Citi Field on July 17th & 19th.
Blink-182 returns to North America next summer with the announcement of the "One More Time Tour," which features 30 dates. The trek comes in support of their album, One More Time…, which serves as blink-182's Mark Hoppus, Tom DeLonge and Travis Barker's first record together in a decade. The band will be supported by Alexisonfire and Pierce The Veil on selected dates. Stops include: Philadelphia Wells Fargo Center July 26th and Washington DC Capitol One Arena July 27th.
Aerosmith has now pushed back all currently scheduled performances on the "Peace Out: The Farewell Tour" trek "to sometime in 2024." The band now explains that Steven Tyler's "vocal injury is more serious than initially thought." "His doctor has confirmed that in addition to the damage to his vocal cords, he fractured his larynx which requires ongoing care. He is receiving the best medical treatment available to ensure his recovery is swift, but given the nature of a fracture, he is being told patience is essential." Tyler shared his own statement, saying, "I am heartbroken to not be out there with Aerosmith, I promise we will be back as soon as we can!"
NOVEMBER SHOWS: Genitorturers – Mechanicsburg Lovedrafts Nov 2. Timmy's Creepshow / The Super High Tech Jet Fighters – Hershey Englewood Nov 2. Amyl and the Sniffers – Philadelphia Union Transfer Nov 3. Scarlet Rose – York Cantina Nov 3. David Johansen – NYC Brooklyn Folk Festival Nov 11.