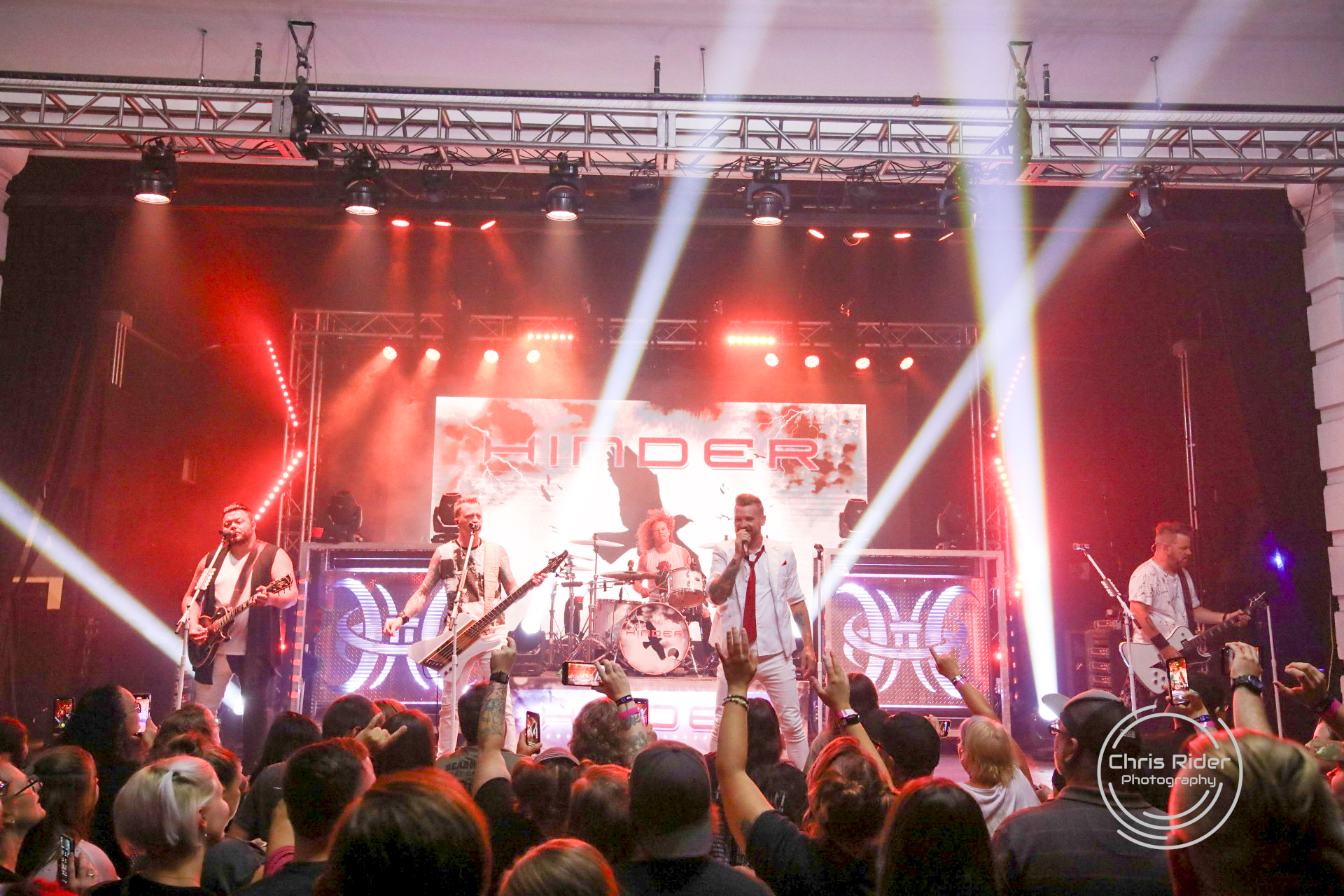 ---
September is knocking on the window as I type this and I can already smell the campfires and assorted festivities that come with the onset of fall. Steely Dan's "Reelin' In The Years" is playing as I start up my article…a song that brings back memories of growing up listening to music with my dad which, as I've probably mentioned more times than necessary, is a huge influence not just in my primary tastes and love for music but also continues to drive me along this really cool journey I've found myself on. August was an incredibly busy month, both on the music front as well as my personal life…all great things, and more to come.
My first trip out for the month was at the invite of Grammy Award winning Fred Pelegrini (congrats again dude!) to the Hershey Brewfest at The Englewood in Hershey. With over a dozen breweries from across the state, various other vendors and of course some awesome music; I was promised a good time and it was surely delivered. First up on stage was Fred and his pals in Crippled But Free covering a slew of Grateful Dead tunes including Feel Like A Stranger, I Know You Rider (how can I NOT love this song? LOL), Crippled But Free, and a bunch more. I never had the pleasure of seeing the Dead myself, but count myself lucky to be able to get at least a sense of how it must have felt seeing bands like Crippled But Free do such a great job paying tribute to their music. Next up on stage was my friends in Honeypump (2022 CPMA Best Cover Band winners by the way!). Cranking out tunes like Rock & Roll Hoochie Koo, Ramble On & Immigrant Song, Roundabout, and a ton of other great classic rock hits; Ritt and the crew did an awesome job of keeping the crowd up and moving.
A few days later I headed up to Spyglass Ridge Winery in Sunbury. I can't stress enough how beautiful a place this is to catch a show, especially during their Backyard Concert Series. Opening up the show this evening was Chris Trapper. A Grammy nominated artist, Chris has had his work featured in multiple movies and television shows over the years and put on a great performance of songs like In To The Bright Lights, The Accident, and ending his set with a crowd singalong of "You Are My Sunshine" that was not only great, but also hilarious. Headlining the evening was none other than Pat Benatar & Neil Giraldo. With over 40 years in the music industry herself, multiple platinum and multi-platinum albums, and not to mention her 2022 induction into the Rock & Roll Hall Of Fame; it was not hard to see how she had earned all these accolades and more. I'm not really sure what impressed me more: The incredible guitar work and musicianship, or Pat's vocals. I don't know if it even matters as it all combined for an amazing performance. Their setlist included songs like Sex As A Weapon, We Belong, Hell Is For Children, and a bunch more. If you ever get the chance to catch her show, I highly recommend it.
Next up was a trip to HMAC in Harrisburg for a show I'd been looking forward to since it was announced. I had no idea on my drive down there though that I would end up finding yet another band that blows me away. This band was the opener, Goodbye June out of Nashville, TN. I'd heard a few of their songs over the last few months and liked what I heard, but hadn't yet taken the time to dig deeper into their music. All I can say about these guys is this: holy crap! They took that stage and seriously kicked ass! From start to finish, these guys had more energy than Three Mile Island I think. The vocals were powerful, the musicianship was captivating, and their overall stage presence was just purely entertaining. These guys turned me from a passive fan into a huge fan in the span of a 45 minute or so set. They've got 4 albums out so far and I can't see what they come out with next. Headlining the evening was Hinder. I've listened to these guys for years now and was very excited to finally catch them live. Playing songs like Without You, Better Than Me, Life In The Fast Lane, and Lips Of An Angel, they played with a well-honed stage presence; interacting with the crowd constantly and just putting on a damn good rock show. I also want to give a shout out to a new friend that I made this evening at the show, Hinder's self-proclaimed biggest and youngest fan: Abby. Abby's mom brought her to see them for her second time and it was awesome watching her jam out to her favorite band while singing along to EVERY SINGLE SONG!
My next trip was back down to The Englewood for the Central PA Youth All Star Band release party debuting their music video of The Who's Baba O'Riley. Let me back up a few weeks here to preface this if you don't mind. Back in July, I'd been asked by the Central Pennsylvania Music Hall Of Fame to trek down to Rock Lititz to get some behind the scenes and promo photos during a video production. Eight of Central PA's most talented teen artists and musicians came together to perform and record Baba O'Riley, all while being videoed as well. Addi Grace, Amani Weary (of Before The End), Carmine Gontz, Noah Gibney, Faith Noel, Alex Lee Warner, Levi Dickinson, and Ethan Valentine got together with Grammy nominated producers Grant McFarland and Carson Slovak of Atrium Audio to mold this vision in to a reality. I have to say, I never would have thought I would get the opportunity to see a group of 13 to 18 year old musicians work so hard, and with such professionalism as I did this day. I think I can safely say it was an awesome experience for them, and for everyone involved. Now, back to the point of the evening – this was the premier showing of the video created that day. The final version of the video was every bit as good as I expected, and the audio even moreso. It was so cool getting to be a small part of this project, and then seeing the final results presented this way for a great crowd at The Englewood. If you haven't seen it yet, hop on Youtube and search for Baba O'Riley (The Who cover) – Central Pennsylvania Youth All-Star Band – CPMHOF
The following week saw me heading down to The Doyle Hotel in Duncannon for a bite to eat and some great acoustic tunes provided by Kirk James Folk. Kirk's played around the area for quite a while now and I had a blast listening to him cover songs like Goin To California, The Weight, Starting Over (a personal favorite of mine), as well as a few originals.
My final trip out for the month was to a new place for me (at least for a concert LOL), Hollywood Casino in Grantville for Bret Michaels' homecoming show for his Party-Gras tour. Opening up the show was PA native Dave Bray: a Rock N' Roll patriot and US Navy Veteran. I've followed Dave for a while now on social media and was excited to see him open up a show like this. Playing songs like God Bless America, the Marine Corps Hymn, , Fourth Of July (all in a solid rock style), as well as a really cool mashup of Enter Sandman/Justice For All/Don't Tread On Me/Fuel; Dave did an awesome job of getting the crowd warmed up for an awesome night of rock. Next on stage was a band I listened to a lot growing up, and had the chance to photograph a few years ago in Harrisburg – Warrant. These guys do not slow down once they hit the stage, they were pure energy and heart as they played through their set including Where The Down Boys Go, Filthy Stinking Rich, Heaven Isn't To Far Away, Uncle Tom's Cabin, and a bunch of others. Rounding out the evening was Mechanicsburg's own Bret Michaels. The excitement was palpable as Bret took the stage for his hometown crowd. It showed in his constant interaction with the crowd, with his band and with the music they shared. They started out with a few Poison favorites like Look What The Cat Dragged In and Mama Don't Dance, then Bret brought our very own Addi Grace out on stage to join him in playing Every Rose Has It's Thorn. Addi absolutely killed this performance with Bret and I couldn't have been happier to see her have her moment up there like this. Addi and Bret were then joined by Shea Quinn as well to perform the classic Nothing But A Good Time. Not slowing down with bringing local musicians on stage with him, Bret also brought up David Damone of Gun metal Gray to sing along with him as well. The amount of support shown for our local scene really was amazing! The show closed out with an awesome version of Sweet Home Alabama while huge beach balls were flying around above the crowd and a beautiful fireworks show went off behind and above the stage. Bret promised to bring the party, and he absolutely delivered! Following the show, there were even more performances up in the casino by Observe The 93rd, Blessing & Fowler, Faith Noel, Carmine Gontz & Alex Lee Warner which I managed to catch a little bit of as well.
So there it is, my month of music through my eyes and ears. Just a reminder:  if you've got a show coming up that I should see; make sure to send me an invite, shoot me an email or a message, let me know about it. Venues: please don't hesitate to reach out to me as well. The majority of the shows that I go and shoot I find out about through invites from all of you or your friends. Hit me up on facebook: @chrisriderphotography or email: chrisriderphotography@gmail.com, stop me if you see me out & around and say hi. Until next month…go find some live music and give them and the venue your support, they truly need it more now than they ever did.