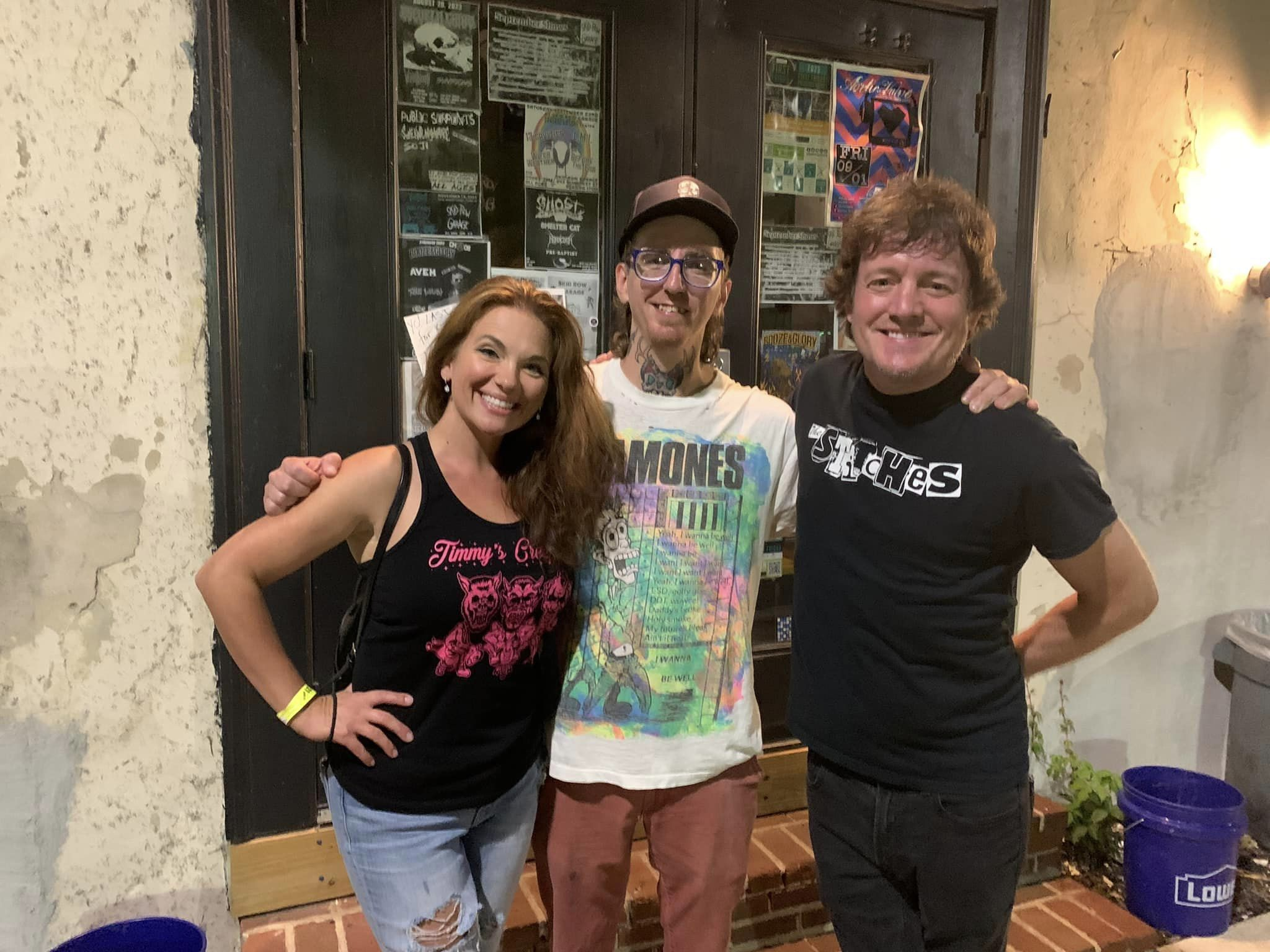 ---
Greetings Rockers 'N' Rollers! Central PA provided many great shows the past month starting with two Harrisburg University Presents shows; Jason Isbell & the 400 Unit on July 26 and The Roots on July 29. Both shows gathered massive crowds along Harrisburg's Riverfront Park. Timmy's Creepshow played a fantastic show at Mechanicsburg's Metropolis Collective on August 17th. Timmy's Creepshow has to be one of best original bands in Central PA and will play a special Halloween show at Hershey's Englewood on November 2nd. Luv Gods played a great show at Red Lion's Double Barrel Roadhouse on August 18th – the concert featured original Sharks members Shea Quinn & Steve Zero along with Ian Rawhauser on vocals. Shea Quinn also joined Poison frontman, Bret Michaels, on stage at Hollywood Casino in Grantville on August 26th. Michaels is currently on his solo tour, 'Parti Gras 2023', and his set consists of 9 Poison songs and 1 Lynyrd Skynyrd song. The Bret Michaels show broke the attendance record for the My Hero's Stage in Grantville. Lastly, an original punk band, I Defeat I, played the new Skid Row Garage in York on August 25th. I Defeat I are a great three-piece band based in Waynesboro with a motto "no gimmicks, no auto-tune, no covers." The band plowed through a fantastic set of screaming heavy originals. I Defeat I have released two albums, and their next show takes place in Hedgesville, WV on September 30th.
Pat Benatar and husband, Neil Giraldo, played the Spyglass Ridge Winery in Sunbury on August 5th. A huge thank-you to the staff at Spyglass for their hospitality and a really great night. At the age of 70, Pat Benatar, still is an amazing singer delivering classic hits, "All Fired Up," "You Better Run" and "Heartbreaker." This summer Spyglass featured concerts by Night Ranger, 38 Special, Skillet, We Are Messengers, and Colton Dixon – the venue will have Get The Led Out on September 16th. 
Guns N' Roses revisited Hersheypark Stadium for the third time in the past seven years on August 11th. GNR first played Hersheypark Stadium in June 1991 during the 'Use Your Illusion Tour' with Skid Row. Singer, Axl Rose, was in great spirits during the recent visit, telling the crowd, "We've got good weather. It's good to be here. It's good to see you – it's GREAT to see you!" Guns N' Roses performed for 3 great hours and played 28 songs. A big highlight of the night was seeing Chrissie Hynde and her band The Pretenders, who opened the show with 14 songs and sounded fantastic. 
Legendary alternative rock band, Pixies, are back on the road for their North America 2023 tour. Opening night took place at the Stone Pony Summer Stage in Asbury Park, NJ with support acts Modest Mouse and Cat Power. All three bands provided great sets and are touring together the next month until wrapping up at the Hollywood Bowl in Los Angeles on September 17th. 
Bruce Springsteen was forced to postpone his recent Philadelphia concerts after posting on social media he has "taken ill." The shows that were meant to take place on August 16th & 18th at Citizens Bank Park will be rescheduled. The Boss's tour, like many others, has been touched by illness, particularly early in the run. E Streeters Soozie Tyrell, Steven Van Zandt, Nils Lofgren and Jake Clemmons have all missed at least one stop due to positive COVID-19 tests.
Taylor Swift's earth-shattering "Eras' tour wrapped its opening U.S. leg with its six sold-out shows at SoFi Stadium in Inglewood, California, but she'll be back on North American shores in fall 2024. Swift will play 15 shows in four cities in October and November 2024. Those are the final shows of the tour on what, as of now, will end up being a 20-month 117-show run that could top $1.5 billion in gross. Her California shows brought thousands of fans, "Swifties," to line up for hours to buy merchandise a day before the actual concert. The stadium refused fans to loiter in the parking lot without a ticket to the concert. At Acrisure Stadium in Pittsburgh, estimated 15,000 to 20,000 fans hung around outside the building to soak in the atmosphere tied to Swift's June 16-17 performances in the Steel City.
In 1998, Ms. Lauryn Hill released her acclaimed solo album, The Miseducation of Lauryn Hill, and to mark the LP's 25th anniversary, she will be setting out on a 17-date tour stopping in arenas across the globe. The upcoming trek includes Washington DC's Capital One Arena October 21st and Philadelphia's Wells Fargo Arena October 23rd. Her original band, The Fugees, who had initially announced a reunion tour in 2021 that was continually postponed due to the pandemic, will be joining Ms. Lauryn Hill and opening throughout the North American dates. 
Robbie Robertson, the lead guitarist, singer and songwriter of the seminal group The Band, died August 9th in Los Angeles. He was 80. Robertson's long-time manager Sam Levine said he died "surrounded by family." His band became known as The Band, in a sort of cheeky knowingness to their place when they began supporting Bob Dylan in 1964. The Band consisted of – drummer Levon Helm, bassist Rick Danko, pianist Richard Manuel and organist Garth Hudson, and Robertson. The group fell apart in 1976 and their last concert "The Last Waltz" recorded by Martin Scorsese featured appearances from Beatles, Stones, Dylan and Neil Diamond – and is considered the greatest concert film of all-time.
In a suit filed in Los Angeles August 1st, three women who worked as dancers for musician Lizzo made wide-ranging allegations against Lizzo herself, her production company and her dance captain. The plaintiffs allege a long pattern of sexual harassment, along with religious and racial harassment, disability discrimination, assault and false imprisonment. Lizzo responded, "These last few days have been gut wrenchingly difficult and overwhelmingly disappointing. Usually, I choose not to respond to false allegations, but these are as unbelievable as they sound and too outrageous to not be addressed." A lengthy statement concluded "make it clear the allegations are false." Since the lawsuit was filed, Lizzo has lost hundreds of thousands of followers on social media. In 2019, Oscar nominated director Sophia Nahli Allison left documenting Lizzo due to her "disrespect" and that the singer was "arrogant and unkind."
SEPTEMBER SHOWS:
Aerosmith – Philadelphia Wells Fargo Center Sept 2.
The Used – Harrisburg XL Live South Stage Sept 8.
The Super High-Tech Jet Fighters – York West York Inn Sept 9.
L7 – Asbury Park Wonder Bar Sept 14.
Dream Wife – NY Brooklyn Made Sept 15.
Teenage Bottlerocket – Harrisburg HMAC Sept 16.
Billy Idol – Washington DC Atlantis Sept 17.
KIX – Merriweather Post Pavilion Sept 17.
L7 – Washington DC Black Cat Sept 18.
Aerosmith – Washington DC Capitol One Arena Sept 27.
Dirty Looks – Selinsgrove Susquehanna Center Sept 30.