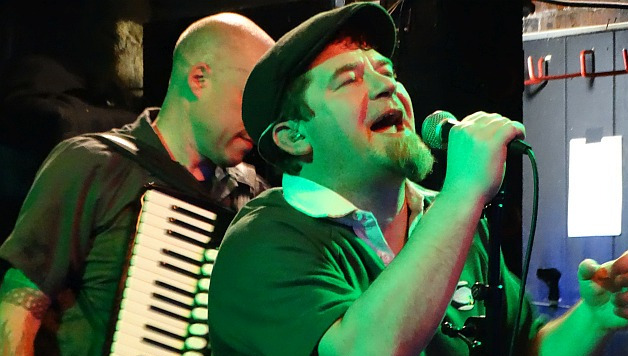 ---
By: Jim Price
Did anybody notice how Spring literally bum's-rushed Winter out the door last month? Winter made one last stand during its final two days with a quick snow, wind and drop to freezing temperatures. Spring then shoved Winter out the door with two comparatively balmy days with temperatures into the 60's! Hopefully this is a good omen as live music transitions back outdoors this month. As baseball season begins, singer-songwriter Coltt Winter Lepley helps kick off the Altoona Curve's home season and "Curve Concert Series" on April 6 at People's Natural Gas Field…Other area live music outdoor events include ArtsAltoona Center's Spring Art Market on April 15, the Pennsylvania Maple Festival in Meyersdale during the last two weekends in April, and both the Blair Creators Festival at Altoona's Heritage Plaza and Huntingdon Mayfest on April 29. Welcome back to warmer weather!
Much of my March was painted in Irish green as St. Patrick's Day became a month-long celebration on the area live music scene. McGarvey's in Altoona helped kick it off by hosting Harrisburg-based Celtic rock favorites The Kilmaine Saints early last month. Opening the night was Rochester, New York's 1916. Five members strong, 1916 brought a style that mixed Irish-geared punk rock with a touch of psychobilly, delivering constant high energy along the way. Singer and guitarist Billy Herring belted a feisty voice up front, flanked by upright bass player Ryan Hurley, mandolinist Jon Kane, drummer Tony Presutti and accordionist Sam Sarratori. 1916 showed a lively stage presence, with Sam taking his accordion out into the crowd a few times. Some of the group's songs included their blue collar-themed "Ordinary Man" and a version of "Back Home in Derry." The Kilmaine Saints soon followed with their rowdy brand of Celtic rock. Opening with the raucous title track from their most recent album, 2017's "Whiskey Blues & Faded Tattoos," The Kilmaine Saints escalated the party with their mix of hard-hitting Irish and Scottish-toned original songs, pub songs, favorites and a few surprises. Singer Brendan Power immediately brought the party to the crowd with his bold voice and personality up front; flanked by multi-instrumentalists Jon Heller (bass, bagpipes and accordion), Bill Brown (bagpipes, bouzouki and whistle) and Rich Lipski (acoustic guitar, mandolin and banjo), also Gary Eurice on fiddle, Erich Arndt on guitar and Tony Leanza on drums. The Kilmaine Saints played several of their original tunes, including "Painting Paradise Square," "Farewell, Self Esteem," "Long Shot Nag," "Memories Fade Away," "The Whiskey's Calling" and more. From their forthcoming new album "Same Again Tomorrow" (being released April 14), the Saints also did "Off the Wagon," "Undivided" and their version of "House Of The Rising Sun." The group fired off energetic takes on pub favorites like "All For Me Grog" and the sea shanties "Drunken Sailor" and "Haul Away Joe," plus gave a reverent spin to their version of "The Fields of Athenry." As they entered their homestretch, the Saints blasted out the rowdiest thrashing version of "Old Rugged Cross" I have ever heard; setting up for the finish as their bagpipe rendition of "Amazing Grace" transitioned into "Will the Circle Be Unbroken," which escalated into a raucous audience sing-along rocking rendition. This led into the group's fiery anthem "The Saints Are Up!" and their cover of Nathaniel Rateliff and the Night Sweats' "Son Of A Bitch" to end their set. But when the crowd loudly yelled for more, the Kilmaine Saints slammed the lid on the night with their version of House Of Pain's "Jump Around," with members of 1916 jumping on stage to help send the night to a feverish finish. The Kilmaine Saints' first foray onto an Altoona stage was a highly successful one, and they will return to McGarvey's in September.
Work duties prevented me from seeing anything except their encore, but I did get to enjoy a few night-ending songs from Chicago Irish rock favorites The Tossers the following weekend at McGarvey's. "The World's Loudest Folk Band," The Tossers entertained a full house with their mixture of Irish-flavored rock and folk original songs and traditional numbers. The group's founder, singer and banjo player T. Duggins, delivered his distinctive and prominent gruff voice up front, backed by violinist Emily Constantinou, guitarists Mike Pawula and Peter Muschong, whistle player Aaron Duggins and drummer Fred Frey. Before The Tossers took the stage, The Daylight Society, Treaties and The Snipped all helped fire up the large McGarvey's crowd.
For St. Patrick's Day itself, my journey started at Molly's Pub in Altoona, where acoustic husband-and-wife duo Lauren and Joe George entertained an afternoon matinee packed house. This pair lets the audience decide their setlist, as they circulated song lists and fielded requests from the full house. As the crowd enjoyed Irish libations plus the house's Irish stew and bangers & mash, Lauren & Joe sang a wide variety of favorites; including tunes from the Eagles, Billy Joel, John Mellencamp, REO Speedwagon, Amy Winehouse and many more. Lauren showed her vocal power and range with renditions of Pat Benatar's "Hit Me With Your Best Shot," Gloria Gaynor's "I Will Survive," Heart's "Magic Man" and others. Strumming acoustic guitar, Joe sang lead on a few numbers, including Jethro Tull's "Locomotive Breath." The pair didn't leave out the Irish music, performing the Sinead O'Connor take on Prince's "Nothing Compares 2 U" and the requested Joe-fronted rendition of "Whiskey in the Jar." They also honored requests for Lynyrd Skynyrd's "Simple Man," Bonnie Raitt's "Something to Talk About," Fleetwood Mac's "Dreams" and more. Lauren & Joe kept the house festive and cheering through their performance.
Afterward, I headed a few blocks away to take in Ed N'Born's performance at Levity Brewing Company's downtown Altoona location. Ed Hofer on percussion and Sean "Born" Osborn on acoustic guitar blended their voices on a wide assortment of favorites spanning the 1960s to 2000s. They quickly piqued my attention by breaking out their rendition of Traffic's "John Barleycorn Must Die," and did numbers from Led Zeppelin, Zombies, Tom Petty, Three Doors Down, Black Sabbath, the Moody Blues, Mumford & Son, John Mayer, Oasis and more. Some of their surprises included their take on Britney Spears' "Baby One More Time," plus their mergers of the Beatles' "Come Together" into Phil Collins' "In the Air Tonight," Led Zeppelin's "Stairway to Heaven" into Bob Dylan/Jimi Hendrix's "All Along the Watchtower" (dubbed "She's Buying a Stairway to Watchtower"), and morphing Kansas' "Dust in the Wind" into Snoop Dogg's "Gin and Juice." Ed N'Born kept the mood relaxed and the music fun.
I then doubled back to Molly's Pub to catch the latter half of Phil McCaulley's performance. Armed with his Telecaster guitar, Phil entertained the nighttime audience with his mix of country, rock and folk numbers. Although many local fans know Phil for his rich voice (especially from his former stint as an Elvis impersonator), Phil knows how to work a guitar as well, delivering fretboard fireworks several times this night. He honored a request for an electric guitar version of "The Star Spangled Banner," showed his bottleneck slide guitar skills on a request for Lynyrd Skynyrd's "Free Bird," and gave the strings a workout on his night-ending rendition of the Allman Brothers' "Jessica." Phil also did numbers from David Allan Coe, Toby Keith, Lee Greenwood, the Eagles and more, and also worked an Irish song into the mix late with Van Morrison's "Wild Night."
My St. Patrick's Day adventure then concluded with a stop at Altoona's 4D's Lounge, where the Giants Of Science were cranking up the party before a busy house. The dance floor was packed as the Giants contingent of singer and guitarist Mick, singer and bassist Johnny 5, singer and keyboardist Scotty B and drummer Steve fired through 1980s and 90s favorites from Soft Cell, Lit, Sublime, Wheatus, Rick Springfield, Chumbawamba, The Killers, Dexy's Midnight Runners, Guns N'Roses, Hootie & the Blowfish, Beastie Boys and more.
I ran into the Giants Of Science again the following night, as they provided half of the musical entertainment during Dauber's 13th Annual St. Patrick's Day Party at the Gallitzin American Legion's Oriental Ballroom. This event – a fundraiser for Gallitzin Fire Company No. 1 – was renamed in honor of its founder, Christopher "Dauber" Cox, a longtime fireman, paramedic and fire chief for the Gallitzin Fire Company. Dauber passed away last August following a valiant battle against cancer, and his memory and legacy live on through this event. Many green-clad celebrants filled the ballroom once the doors opened, and a huge sea of green greeted openers Full Kilt as they took the stage. Fiddler Mandy Passmore-Ott took the spotlight early with the fiddle-driven instrumental opener, "Jameson Set" – kicking off Full Kilt's two sets of Irish rock favorites, pub and folk songs. Mandy, singer and guitarist Mike Zerbee, bassist and singer Chris Myers and drummer Jake Yarnish did fun Irish pub and folk classics such as "Johnny Jump Up," the accelerating "Mary Mack," the clap-along favorite "Whiskey in the Jar" and more. They also did rocking Irish-flavored favorites such as Dropkick Murphys' "I'm Shipping Up to Boston," Van Morrison's "Brown Eyed Girl" and "Wild Night," and their "Irished-up" versions of Lynyrd (Mc)Skynyrd's "Free Bird" and Charlie (Mc)Daniels' "The Devil Went Down to Dublin, plus the ever-popular sing-along version of Smokie's "Living Next Door to Alice." And on a more serious note, Full Kilt devoted Flogging Molly's ballad "If I Ever Leave This World Alive" in Dauber's memory. The Giants Of Science then fired up the dance party, quickly packing the dance floor with their happy-go-lucky mixture of 1980s and other favorites. The Giants welcomed some audience members up to the stage to sing on a few numbers, plus a djembe-wielding "Professor" to tap out a few beats on the Rolling Stones' "Honky Tonk Women." And as the merriment continued, Mick and the Giants Of Science acknowledged and remembered Dauber several times during their performance, and also thanked the Cambria County community for all the love and support constantly shown to the group over the years. Dauber's 13th annual St. Patrick's Day Party was again a huge success.
Hate Grenade released their new full-length album, "iSociety," in late January, and kicked off a several-state tour in support of the album in late February. The second stop on that tour was in their hometown, Altoona; headlining a hard-hitting triple-bill at McGarvey's. Work duties kept me from seeing the opening sets from State College's Goatsmoker and Clearfield's Endbringer, but I arrived as Hate Grenade pulled the pin on their night-ending set. Singer Jeff Glace, guitarist Chuck Lavera, bassist Donny and drummer Mike Powers unleashed their fusion of nu-metal and rap metal with songs off the new album as well as previous numbers. Opening with the volatile "Hollywood" and "Bind" off the new album, Hate Grenade kept their intensity at a high level, with Jeff generating fast-firing rants and agitated howls, supported by the incendiary musicianship and go-for-broke stage action of his bandmates. Hate Grenade did several other tracks off the new album such as "RX" and "My Hell," also "Vendetta" and the title track from their 2013 debut EP "Reload," and "Burn" from their previous album, "The King Is Dead." Hate Grenade lived up to explosiveness of their name and ignited the good-sized audience this night. Hate Grenade returns to McGarvey's to open for national recording group (hed)PE on April 17.
The original lineup of Altoona metal rockers Fyre reignited to perform their first show in nearly a year at McGarvey's last month, headlining a triple-bill with Suburban Downgrade and Under The Sun. Work duties again kept me from seeing the first two acts. (High school basketball broadcasts at my radio employer are now over for another year; I'll be able to catch full bills again!) Fyre had just begun their set as I arrived; singers Matt and Denice Stoyanoff, lead guitarist Zach Kensinger, rhythm guitarist Sean Stringer, bassist Joe Earnest and drummer Tanner Kaurudar performed original songs from their first two CD's, "III Ghosts" and "2 Keys," along with a cover of Dio's "Holy Diver" and a surprise rendition of Adele's "Rolling in the Deep." Fyre also came bearing gifts this night, tossing belated wrapped Christmas gifts out to audience members through the course of their set.
Altoona's Without Zerb started returning from a several-year hibernation last year, and they played a double-bill with Bad Luck Lover Boys at McGarvey's last month. Bad Luck Lover Boys set the mood for the night with their uptempo brand of original pop-punk, doing a number of songs from their "Letters to Emily" album plus a few covers. Singers and guitarists Chris Diehl and Matt Godissart, singer and bassist Adam Lingenfelter, and drummer Brad Hengst fired up the crowd with their songs "Cory's Hangover" and the Adam-fronted "London Fog" and "Internal Monologue," and also did cover favorites from The Proclaimers, Fountains Of Wayne, the Offspring, Beatles, Violent Femmes and more. Without Zerb then picked up the ball and ran with it, generating their own high-powered party during their two sets. Group namesake Bryan "Zerb" Zerbee on lead vocals, guitarists PJ Kelly and Rik Golden (along with platooning guitar-wielding guest Kirk Robison), bassist Brian Mannarino and drummer Todd Harshbarger roused the house with a wide variety of tunes. Without Zerb kept the tempo lively with favorites from Green Day, R.E.M., Kings Of Leon, Blur, The Clash, Rancid, Bad Religion, Weezer, Ramones, Steve Miller Band, Simple Minds, Johnny Cash and many more. Without Zerb also threw in a few surprises, such as versions of Lady Gaga's "Bad Romance," Cee Lo Green's "Forget You" and a punk-rocking take on the Dixie Chicks' "Goodbye Earl." When the crowd demanded one more song, Without Zerb filled the dance floor with renditions of The Doors' "Roadhouse Blues" and Neil Young's "Rocking in the Free World" to end the night. Zerb and his bandmates were clearly happy to be back on the stage again; Without Zerb returns to McGarvey's on April 21.
The BSXpress has added a bass player to their roster, as Nick Bayer expands this group into a trio. Nick's first official performance with The BSXpress took place at McGarvey's in late February as the group capped a triple-bill with The Daylight Society and The Buckos. Nick added his bass thunder behind singer/guitarist Brian Walker and drummer Dean Kepner as they rumbled out a volley of hearty punk-rocking original songs and select covers. Many of The BSXpress' songs are short, sweet and to-the-point; so they did quite a few this night – including "Blood Stain," "For You," "Gas Station Chicken Salad," "Lobbyist," "Blood Eagle," "Crash Down," their multi-speed 'epic' "The Sundog" and more. The group also included two Misfits covers, "Where Eagles Dare" and "One Last Caress," and their aggressive punk-rocking take on the Meat Puppets/Nirvana's "Lake Of Fire."
I also caught up with area singer and songwriter Bree Gearhart in late February as she entertained at the Juniata Brewing Company in Huntingdon. Playing acoustic guitar, Bree was serenading a decent-sized audience as I arrived; mixing up a wide variety of classic and newer rock and pop favorites plus a few original numbers. Singing with her steady rhythmic sense and cadence, plus a potent and expressive voice, Bree took her diverse range of cover material and made it her own. She pulled out numbers from the Gin Blossoms, Goo Goo Dolls, Bryan Adams, Hinder, Sheryl Crow, Alanis Morisette, Fleetwood Mac, Amy Winehouse, Tom Petty and more. She also did a few surprises I was not expecting, such as Billy Idol's "Dancing with Myself," Elvis Presley's "Suspicious Minds," Led Zeppelin's "D'yer Maker," the Rolling Stones' "Beast of Burden" and her finisher, AC/DC's "You Shook Me All Night Long." I didn't catch titles on Bree's original tunes this night, except for a new one in the last set called "I Just Want You to Know." It all sounded good, and Bree drew increasing applause as the night moved along. Bree is currently writing new songs and will be doing more recording toward a new release later this year.
I also witnessed and participated in one of the weekly Tuesday Open Mic nights last month at D'Ottavio's Gran Sasso in Hollidaysburg. Performers this night included the BSXpress doing acoustic punk, Open Mic emcee and singer-songwriter James Grove, Dave Moses, Bob Martin (with djembe beats from a "Professor" in the house), and a fun night-ending jam with several of the above names mixing it up on a few song favorites.
News and notes…The annual "Crazy Fest" Amateur Youth Talent Show" makes its return on April 23 at the Juniata Civic Center in Altoona; started in 1990 by local entertainer Dennie Huber, "Crazy Fest" provided a showcase for area youngsters to demonstrate their performing talents, from singing, dancing and playing instruments to doing magic and much more in front of a friendly and supportive audience. The event was discontinued after Dennie passed away in June, 2016…Los Lobos, Keller Williams' Grateful Grass featuring The Hillbenders, and Gabe Stillman were three of the highlighted performers announced last month for the 2023 edition of the Flood City Music Festival, which happens Aug. 4-5 in and around People's Natural Gas Park near downtown Johnstown…A Celebration of Life and Benefit in memory of Lance Ross will take place on Saturday afternoon, April 22, on the outdoor deck at The Freight Station in Johnstown; bands performing include The Desperadoes, This Indecision and Octane. The event will celebrate and honor Lance, the owner of The Freight Station, who lost his life as a result of an apparent homicide on Feb. 20; the police investigation continues…Pennsylvania's longest-running ukulele festival, the 10th annual Allegheny Ukulele Soiree takes place April 21-23 at the Altoona Grand Hotel in Altoona; some of the top names in ukulele will perform and host workshops during the event, including Danielle Ate The Sandwich, Amber Rozel, Steven Espaniola, Jim Beloff, Mika Kane, Melissa Nannen, Debi Velasco and Mim. Online reservations can be made at www.ukulelesoiree.com…New area classic rockers SaniTee formed recently; the group features several longtime Altoona area musicians, including Jamie Shumac, Vince Gambardella, and Tom Brown with his family, including wife Amy and son Shawn. SaniTee debuts May 20 at the Bellwood Eagles.
Please send correspondence and recordings to: Jim Price, 1104 S. Catherine St., Altoona, PA 16602. You can also e-mail me at jptheprofessor@gmail.com. And if you're into social networking, look me up on Facebook. SUPPORT LOCAL MUSIC!