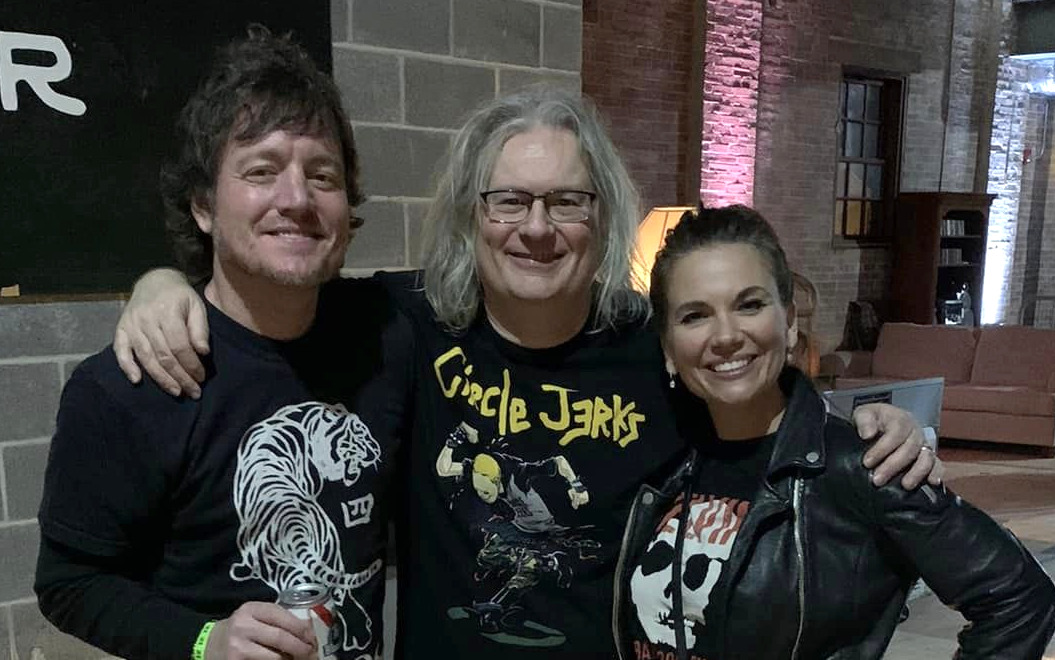 ---
By: Eric Hoffman
Greetings Rockers 'N' Rollers! Dublin, Ireland band Inhaler, are currently touring America and visited Washington DC's 9:30 Club for two sold-out shows March 13th and 14th. The young group has been gaining momentum since first visiting the USA in 2019 and continues to graduate to larger venues each tour. Inhaler's tour is supporting their second studio album, 'Cuts & Bruises', and the band's more popular songs include, "My Honest Face" and "It Won't Always Be Like This." It's been noted singer, Elijah Hewson, is the son of frontman Bono – and Inhaler carries an eerily sound reminiscent of early U2. My sincere thanks to Tommy Presite and Harrisburg University's Frank Schofield for a fantastic night.
Los Angeles folk rock band, Dawes, visited Harrisburg's XL Live on March 11th as part of Harrisburg University Presents. Their performance captured a high level of musicianship and their sound is derived from artists such as Crosby, Stills, and Nash, Joni Mitchell and Neil Young. Harrisburg University Presents continues to unleash more shows at Harrisburg's XL Live including: Wilder Woods (April 6th), Lucius (April 8th), Joywave (April 18th), Houndmouth (April 20th), Mountain Goats (April 21st), Alec Benjamin (April 29th) and Father John Misty at Harrisburg Forum (April 27th).
March 16th required a visit to Reading, PA for a memorable night titled "An Evening With Anthrophobia" at Nitro Bar. The evening not only celebrated the birthday of singer and founding frontman, Frank Phobia, but also featured many past band members and the several different carnations of the group, Anthrophobia. The band began in the 90s, released their first full length album in 1998, shared the stage with groups like the Ramones and Bad Brains, toured as part of the Vans Warp Tour and continue to play to this very day. Frank Phobia has been the glue and motivation to keep Anthrophobia a continuing moving freight train no matter what paths they cross or encounter. Future shows for Anthrophobia include Swarthmore, PA on April 7th and Pottstown, PA on June 2nd.
Glenn Danzig and Jerry Only will play three shows this summer as The Original Misfits, including a homecoming show for the horror punk icons featuring fellow New Jerseyites The Gaslight Anthem and Fear. In addition to Danzig, the founding frontman, and Only, the long-time bassist, this particular version of the Misfits will also feature long-time lead guitarist Doyle Wolfgang von Frankenstein. The limited run begins June 24th at Tampa, Florida followed by Newark, NJ July 8th and concludes July 15th in Phoenix, AZ. Danzig claimed their sold-out Madison Square Garden show in 2019 would be the band's last but then played Philadelphia two months later and were featured at Chicago's Riot Fest in 2021 and 2022.
The Cure's "Shows Of A Lost World Tour" will visit North America throughout the spring and summer. The 30-date run features support from The Twilight Sad and features three nights in both Los Angeles and New York City. The Cure visits Philadelphia's Wells Fargo Center on June 24th and Merriweather Post Pavilion in Columbia, MD on June 25th. The band is fighting to keep ticket prices reasonable and have put strict resale and transferability measures to combat scalpers. Singer, Robert Smith, tweeted he was "sickened by Ticketmaster's unduly high fees" when tickets went on-sale and Ticketmaster responded by refunding fans $10 per ticket.
Rock legend Peter Gabriel announced the first dozen dates of a North American leg of his "i/o: The Tour," with promises more U.S. stops are forthcoming. The two-time Rock and Roll Hall of Fame inductee will begin his tour in Canada in September followed by a show at Philadelphia's Wells Fargo Center on Sept 16th and NYC Madison Square Garden on Sept 18th. Future dates are promised in many cities including Washington DC and Pittsburgh. Gabriel co-headlined with Sting on the latter's tour in 2016, but this is his first full-fledged solo trek since 2014.
KISS are reaching the "End Of The Road," as the band unveils their final tour dates wrapping with two nights at Madison Square Garden in New York City on December 1st and 2nd. After first announcing their retirement 23 years ago, KISS plans to bring their 50-year career to an end at the same place where it all started. "KISS was born in New York City on 23rd Street, half a century ago," the band said in a statement. "It will be a privilege and honor to finish touring at Madison Square Garden, 10 blocks and 50 years from where we first started." KISS will play Baltimore's CFG Bank Arena November 29th right before the final NYC shows.
Foo Fighters unveil three American shows headline dates after promising they'd come back in 2023. In addition to the numerous festivals including Bonnaroo, Boston Calling, Harley-Davidson Homecoming and more – the band has added headlining shows in New Hampshire, Arkansas and Alabama. Following the death of drummer Taylor Hawkins last year, the band opted to go on a break and played only two tribute shows in the wake of Hawkins death.
APRIL CONCERTS: The Bobby Lees – Phadelphia Kung Fu Necktie Apr 6. Steel – Thomasville Racehorse Tavern Apr 7. The Super High-Tech Jet Fighters – Lancaster Launch Festival Apr 8. The Bobby Lees – Washington DC9 Apr 11. Sleaford Mods – Philadelphia Underground Arts Apr 11. Depeche Mode – NYC Madison Square Garden Apr 14. Houndmouth – Harrisburg XL Live Apr 20. Yung Gravy – York College Apr 21. Father John Misty – Harrisburg Forum Apr 27.