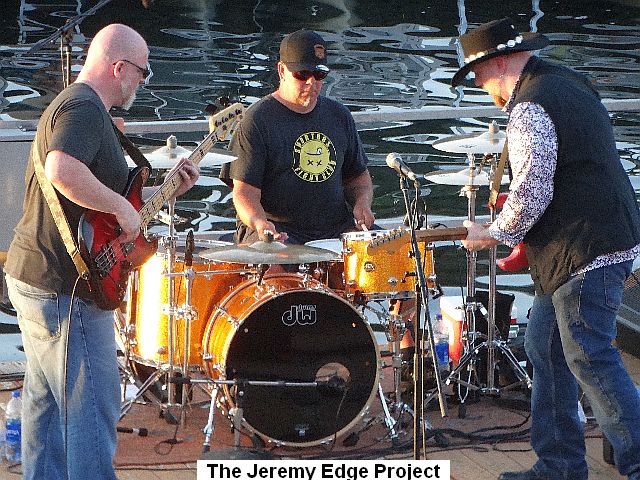 ---
By Jim Price
Some have said that 2020 has become the most difficult year ever for the music industry and live music…And it's become a frustrating year as well. After a few recent weeks when the area's music world seemed to be starting to get back on its feet, coronavirus got its second wind and new restrictions have forced many music venues to curtail events again, plus redefine what constitutes a "meal." (And I hereby dispute any claim that chicken wings don't constitute a meal; they have been my Monday night supper cuisine of choice for three decades!) Yet in spite of these challenges, musicians are still making music, and live music is still finding ways to happen – through outdoor venues and places that have an outdoor option for providing music, community and neighborhood festivals, backyard and backwoods shindigs, even basements, garages and more. And as music has found ways to happen live, I have been catching performances where and when the opportunities present themselves.
One of those opportunities was the annual Wham Bam Mountain Jam, which happened last month at a 13-acre backwoods location in the mountains near Port Matilda. Twelve different bands and performers graced two adjacent stages during this event, leading off with an acoustic set from Steve Treado. Keyboardist, bassist and vocalist with area band Jampact, Steve performed a set mixing some of his original songs with renditions of classic rock favorites. He did a few songs from his new album "Off the Grid," as well as versions of Hank Williams' "Move It On Over," Jefferson Airplane's "Somebody to Love" and more. Next was my first look at State College's Scotia…Five members strong, Scotia introduced their brand of original, alternative hard rock, plus a version of Nirvana's "Breed." Iris Corey and guitarist Jake Bersebal share lead singing duties, flanked by guitarist AJ Keashon, bassist Joe Bednarczyk and drummer Joel Deserio. My own band, the Backyard Rockers, then played our first set since February. It was refreshing to hit the hand drums again alongside bandmates Rich Dasch on vocals and guitar, and Mo Yon on bass; we shook off the rust on numbers from The Band, Steve Earle, Old Crow Medicine Show, Neil Young, Elton John and more. From there, State College's Gelatinous Cube brought their eclectic original sound to the stage. Singer/guitarist Tom Harper, bassist Ed Colby and drummer Z. Rozzi did an assortment of original songs and compositions that blended elements of alternative and progressive rock, jazz and worldbeat. Some of their selections included the international-flavored instrumental "Night Train to Shymkent," "Clockwork" and the title track from their next album, "Technicolor Dreams." The Perkolators followed with their blend of rock, funk, reggae and jam vibes. Despite a few technical issues, the cast of singer Crissee Gordon, guitarist and singer Eric Milinchuk, guitarist Tim Higgins, bassist Ed Colby, sax player Jack Ray and drummer Thomas Niuman percolated with their mix of upbeat original songs and their distinctive takes on the Grateful Dead's "Shakedown Street," Pink Floyd's "Young Lust" and more. Luke Cimbala then took the music in an acoustic direction with his selection of original songs, including such numbers as "Chasing Demons," "Breeze," "Shook_Spark," his car jingle song (created while he was a car salesman) and more; he ended his set with a take on Leonard Cohen's "Hallelujah." Lowjack's Jason Davoli continued the acoustic sounds with his blend of originals and favorites. Opening with Stealer's Wheel's "Stuck in the Middle with You," Jason did numbers from Johnny Cash, Oasis, Rolling Stones, Ramones, Pearl Jam, Bush and more. He also did his own songs, including "One Last Kiss," "For You" and more. Channeling a classic folk vibe reminiscent of Bob Dylan and John Prine, singer and songwriter Bill Ryan then performed a set of his acoustic original songs; including such numbers as "Suits and Guns," "A Girl Named Freedom" and "Pennsylvania Grass." As the sun began to set, event hosts Donny Burns & the 3rd Degree played a rousing set mixing their original songs and classics. Namesake Donny on lead vocals and guitar, Nick Stahlman on guitar and vocals, bassist James Arroway and drummer Rob Chisholm fired off hard-rocking songs off their forthcoming first album, including "Summer Rain," "Thinkin' Straight," "Never Givin' Up," "Give It All Away" and more. They also fired up the audience with numbers from Stone Temple Pilots, Red Hot Chili Peppers, Aerosmith, the Doobie Brothers and others. From east of the Susquehanna, Broken Fayth kept the rock going with their set of hard classic, modern rock and original tunes. Singer Chuck Michael, guitarists Tim Seiler (nursing a leg injury and performing from a chair this night) and John Leitzel, bassist Wesley Whitaker and drummer Danny Herner kept the audience energized with tunes from Live, Beastie Boys, Poison, Godsmack, Theory Of A Deadman and more, and also did their blues-rocking original "Whiskey Blues" and their popular "Sex Kitten." Port Matilda's Homegrown kept the party going with their inspired set of classic rock, blues and soul. Once again, this group was amazing – the sibling duo of singer Tabby Wilson and guitarist/singer Billy Wilson, plus bassist/singer Nathan "Tubz" Eisenhuth all displayed excellent voices throughout the set; flanked by guitarist Caleb Mitchell, keyboardist Rick Bailey and drummer Ray "Bink" Eisenhuth. Homegrown mixed together numbers from Stevie Wonder, Fleetwood Mac, ZZ Top, Doobie Brothers, Marshall Tucker Band, Janis Joplin, the Rolling Stones and more. And The Roof finished out the night with their distinctive mix of modern rock, funk and Americana. Playing one of their last local shows before relocating to Pittsburgh, singer/guitarist Frank Musaraca, guitarist Jacob Finkbiner, bassist/keyboardist Ivan Zvorsky and drummer Skyler Scholl mixed original numbers and select covers. They performed original songs such as "You and I" and "Honeybee," and also did tunes from Tom Petty, The Band and others.
Former Candlelight Red guitarist and founder Jeremy Edge will later this month release the first album of his new venture, the Jeremy Edge Project. Leading up to that album's release, the Jeremy Edge Project kicked off Lock Haven's Sunday Summer Concert Series in late June at the J. Doyle Corman Amphitheatre and river stage. Jeremy on lead vocals and guitar, Ray Gieda on drums and John DeLowery on bass played a mixture of classic rock and blues numbers over two sets, plus one song from Jeremy's album. The emphasis was on songs and artists that inspired Jeremy to pick up a guitar; he displayed his guitar skills early and often throughout the performance on numbers from ZZ Top, Jimi Hendrix, Cream, Stevie Ray Vaughan, B.B. King, Robin Trower and more. Jeremy welcomed two guest singers to the stage along the way – during the first set, Houston Bryce joined the group and flexed his pipes on Jeremy's original song "Hot Love," as well as versions of Curtis Mayfield's "People Get Ready," the Doors' "Roadhouse Blues" (where he also wailed some harmonica), and the Led Zeppelin double-shot of "Immigrant Song" and "When the Levee Breaks." During the second set, Jeremy's bandmate from the Ozzy Osbourne tribute group Bark At the Moon, frontman Greg Gory, stepped in to sing lead on renditions of Rainbow's "Man on the Silver Mountain," ZZ Top's "Tush," CCR's "Fortunate Son" and Black Sabbath's "N.I.B." Houston then returned to help close out the show, fronting the group on Don Nix/Freddie King's "Going Down" and Led Zeppelin's "Rock and Roll." The Jeremy Edge Project sounded strong through the entire performance, and kept both the amphitheater and river pontoon boat audiences happy.
The week leading up to the July 4 holiday provided several opportunities to check out live music. Morrisons Cove Memorial Park in Martinsburg held their annual July 4 Celebration during the week leading up to the holiday, including several live musical performances. I saw The Lawn Darts in action at the park's gazebo as they entertained following Tuesday's Agricultural Parade. The Lawn Darts team this night – singer, guitarist and keyboardist Mark Snyder, singer and guitarist Marvin Walter, bassist and singer Kim Metzgar, drummer Greg Williams, and percussionist and harmonica player Perry Conrad – took the audience through a fun assortment of classic rock, country, R&B, folk and other favorites. These Darts did tunes that "stick in your head" – including such classics as Tony Joe White's "Polk Salad Annie," Roy Head's "Treat Her Right," Don Williams' "Tulsa Time," Wilbert Harrison's "Let's Work Together," Chris Isaak's "Wicked Game," plus tunes from Ozark Mountain Daredevils, CCR, Dwight Yoakam, the Rolling Stones, Romantics, the Doors, the Hollies and more. The Lawn Darts' performances were sharp and to the point; Mark, Marvin and Kim all displayed strong singing voices, and the group's instrumental variety kept this song mix captivating throughout. It amounted to a fun night of Lawn Darts in the park, and nobody lost an eye or an ear!
Two nights later, I saw Roadkill as they entertained during the Columbia Fire Company's annual carnival, raising funds for the town's fireworks display. Ringleader, singer and bassist Greg Majewsky, guitarist and singer Tommy Raab, and drummer and singer Clayton Miller let loose with their "rot and roll" fury over two sets, mixing rocking favorites with several Roadkill rot-and-roll originals, and some of their trademark "terrible music, terrible singing and unfunny jokes" thrown in along the way. Leading off with CCR's "Bad Moon Rising," Roadkill fired through tunes from Neil Young, Lit, Tom Petty, Seven Mary Three, Grand Funk Railroad, Violent Femmes, Jimi Hendrix, Ramones, Lynyrd Skynyrd, Hank Sr. and many more. They also did tunes from their original song catalog such as "Them Blues," "Not Your Fault," "Thrashin' Generic Cigarette Blues," the seasonal "Fifth on the 4th of July" and their closer, "The Adam Stomp." Other chicanery included a guest singer on Alice In Chains' "Man in the Box," the group grunging up some country with their take on Johnny Cash's "Folsom Prison Blues," twisted birthday greetings and more. It was all fun, as the group kept the rock and self-deprecating humor steady; Greg's bass sounded especially grungy this night, Tommy was firing off some hot guitar solos and Clayton was hitting the skins hard. The audience was festive, and a good time in Osceola Mills was had this night.
A morning live stream performance became part of my musical July 4th celebration the day before the holiday as well. While enjoying a late morning cup of coffee, I came across musician and Progressive Enterprises Sound Studios main man Joe Trojcak as he gave a patriotic online piano performance. Joe played an instrumental selection of music from across the American catalog, opening with the "Star Spangled Banner," and spanning "Take Me Out to the Ball Game," a Ray Charles-inspired take on "Amazing Grace," "Battle Hymn of the Republic," an Armed Forces medley, "America (My Country Tis of Thee)," Louis Armstrong's "What a Wonderful World," and his closer, "America the Beautiful." Joe also paid homage to the recently-departed Carl Reiner with a rendition of "All of Me," a 1931 song that was the title to a 1984 movie directed by Carl (and starring Steve Martin); and he did his own original piano composition, "Cherish Your Freedom." Joe did nice work on the keys, and his arrangements were smooth-sounding and captivating.
Capping my Independence Day celebration was the Fabulous 4th 0f July Celebration at Altoona's People's Natural Gas Field. This event featured performances from Velveeta and Chris Woodward & Shindiggin,' preceding 4th of July fireworks to close the night. Marking a quarter century of musical fun this year, Velveeta set the festive tone of the night with their celebration of mostly 1980s-era "cheese" and classic rock/pop hits. Singer/guitarist Brian Kriley, bassist/singer Adam Becker, keyboardist/guitarist/singer Brent Martin and drummer John "Bones" Harper began with John Mellencamp's "Authority Song," and proceeded with upbeat numbers from Duran Duran, Modern English, Van Halen, The Cars, Kenny Loggins, Bruce Springsteen, Tom Petty, Poison, Romantics, Violent Femmes, Rick Springfield, Ramones, The Knack and many more. Velveeta kept the music constant and happy as folks continued to arrive for the celebration. An added highlight toward the end of Velveeta's set was when the group welcomed Brian's 15-year-old daughter, Alex, on stage to strap on the bass and perform during Dexy's Midnight Runners' "Come On Eileen" and Wild Cherry's "Play That Funky Music." The group then answered calls for "One more song!" with their rendition of Journey's "Separate Ways." Chris Woodward & Shindiggin' then took the audience up to the fireworks display with their brand of country-geared musical fun. Chris on lead voice and acoustic guitar, Mike McCartney on lead guitar and backing vocals, Brian McHugh on bass and Michael Hillegas on drums mixed country favorites and original songs with a few rock'n'roll favorites and other highlights. Opening with Luke Combs' "When It Rains It Pours," Chris and Shindiggin' did numbers such as the ever-popular "Wagon Wheel," Chris' original songs "A Dog Is A Man's Best Friend" and the upbeat "Happy Campers," and tunes from Chris Stapleton, Blake Shelton, rock'n'roll numbers from Tom Petty, Bon Jovi, Queen and Lynyrd Skynyrd. Among the highlights were Chris rushing off stage to do fist bumps with audience members during Johnny Cash's "Folsom Prison Blues," the group's playful teasing of hard rock and metal riffs, and the patriotic finale, as Chris saluted veterans and servicemen with a rendition of Lee Greenwood's "God Bless the U.S.A." Shortly after their set concluded, the festivities culminated with an impressive 30-minute fireworks display. This was a fun evening, and offered those who attended an opportunity not just to celebrate America, but community as well. It provided a much-needed evening of happiness, and a brief escape from the chaos and craziness of 2020 so far.
Newly-imposed restrictions on inside venues threated to derail Black Cat Moan's scheduled performance inside Johnstown's Venue Of Merging Arts last month. But thanks to the nearby BottleWorks Ethnic Arts Center, who donated their parking lot, the show was able to take place outside. This turned into a nice show – the sun was starting to set on a 90-degree day as things got under way, leading to a cool breeze off the Conemaugh River to make things more comfortable. Social distancing was in place, and folks willingly used masks when moving around (and even dancing). Black Cat Moan gave them plenty of reasons to dance and groove with two sets of newer and older blues-rooted original tunes, plus a few select bluesy covers along the way. Singer and harmonica man TK Mundok took charge from the get-go, working all corners of the stage as he passionately crooned and shared upbeat messages of hope and love. George Byich frequently displayed his guitar mastery, making his strings sing with fiery solos and slide work. And drummer Rob Bonsell and bassist Brad Jamison kept the rhythms tight and grooving to power the tunes forward. Black Cat Moan did a bunch of new songs, including "Take Me Back," "Groundbreaking Mama," "Sophia," the hard-driving "Coming Home" and more. They also did plenty of tunes off their first two CD's, including "No One Gonna Love You" (which they opened the night with and repeated by request late in the second set), "Lay It Down," "The Veil," "Medicine Man," "Anyday," "Feelin' Free," "Wanna Be Free" and – for their closer – "Is What It Is." The group also did their distinctive take on "House of the Rising Sun," as well as "Georgia," Howlin' Wolf's "Smokestack Lightning" and a version of "Baby Please Don't Go" that cleverly worked in a Golden Earring "Radar Love" midsection. Fired up to perform and happy that this show was able to happen, Black Cat Moan made it count for the entire evening, in turn igniting the audience into grooving in their seats and happily dancing at the rear of the parking area behind the seats.
One of this region's busiest performers, Zupe, hadn't performed since March entering last month's performance at Tyrone's Reservoir Park, part of the park's summer Sunday concert series. Shortly into the performance, Zupe – now sporting a beard – joked that he might earn enough money this night to get a shave! Decked in his gold coat and tie on this balmy evening, Zupe appeared to be relieved when a small, quick-forming thunderstorm passed nearby, with its cloud cover and a few brief raindrops bringing down the temperature by a few degrees! Zupe sang, tickled the ivories and entertained the mixed-ages audience with his blend of pop, early rock'n'roll, patriotic and other standards, and mixed in a couple of original tunes from his forthcoming new polka album, "Na zdrowie! (Nostrovia)." From the album he did the "Are You Workin'? Polka" and the title song "Na zdrowie! Polka (Nostrovia)" (Polish for "bless you"), and shared the inspirations for both polkas, citing memories of his family traditions and get-togethers. Zupe also broke out renditions of Bobby Troup's "(Get Your Kicks on) Route 66," Frank Sinatra's "The Way You Look Tonight," the Bobby Darin hit "Mack the Knife," Fats Domino's "Blueberry Hill," Roy Orbison's "Only the Lonely," Fats Waller's "I'm Going to Sit Right Down and Write Myself a Letter," the Dean Martin hit "That's Amore" (which turned into an audience sing-along) and more. On the patriotic side, he saluted veterans and their families in the audience and performed renditions of "God Bless America," "Yankee Doodle Dandy" and "Battle Hymn of the Republic." Zupe also did a couple of Elvis Presley hits, "All Shook Up" and "It's Now or Never," and he broke out the trumpet on several numbers – including both of his polkas, Louis Armstrong's "What A Wonderful World" (voicing the Satchmo growl as well), Herb Alpert & the Tijuana Brass' "A Taste of Honey," and his encore at show's end, Louis Prima's "Jump Jive an' Wail." Zupe sounded great on all of it, and explained to the audience that he also composed and performed all of his own backing arrangements for the numbers in his own recording studio, thus they were listening to a "bunch of Zupe's" on the stage this night. The audience – socially distanced via the park's benches and in their own chairs – clearly enjoyed the performance and showed appreciation throughout.
Indoors, McGarvey's was able to present a few shows before the new restrictions silenced their stage for the time being. One of the shows was the return of Pittsburgh favorites the Legendary Hucklebucks. Opening the night was the debut performance of The Heathen Parade, formed from the ashes of Johnstown metal rockers Darkness On The Radio. Darkness alumni Jason Straw on vocals and guitar plus Jay Snyder on bass join Rik Golden on drums; their sound retains the jagged heaviness of Darkness, but injects more outright groove and swagger into the mix. The Heathen Parade introduced a number of new original numbers, including their title song "The Heathen Parade," the slower-grooving "Victorious," the rampaging "Hellbent Hellbound," "Blasphamerican," "Born Again Leviathan," the Primus-like stomp "Diesel Jesus" and more. The Legendary Hucklebucks then cranked up their high-powered rock and roll party, slamming forth rock, rockabilly, surf, country and punk elements into all-out excitement and mayhem! Clad in red, white and blue overalls and suspenders, massively tattooed frontman Ted Bundy brought the fury with his enthusiastic personality, over-the-top vocal howl, ferocious harmonica wailing and crazed facial expressions; assisted by upright bass man Uncle Piddles, guitarist Dave Fresch and drummer Brian Gault. Opening with one of their older original tunes, "21 Days in Jail," the Hucklebucks quickly fired up the audience with their mixture of rowdy original tunes and amped up covers. Some of their original tunes this night included "The Crusher," "B-Movie," "Don't Feed the Rats," "Black Eyed Susan," "Honky Tonk Angel" and more. And their cover selection included a stormy rockabilly take on Hawkwind/Motorhead's "Motorhead," The Kinks' "I Need You," Johnny Cash's "Wreck of the Old 97" and "Folsom Prison Blues," Johnny Winter's "Lights Out" and AC/DC's "Kicked in the Teeth." The Legendary Hucklebucks never took foot off the gas pedal, and kept this show at a feverish pitch from start to end, providing the McGarvey's crowd with an exhaustive good time blowout!
I caught Old No. 7 in action as they performed at McGarvey's in late June. Cheeze and Tom Noel strummed acoustic guitars and sang an eclectic mixture of song material. They did versions of better-known numbers such as Tom Petty's "Free Fallin'" and "American Girl," The Misfits' "Skulls," Sublime's "Santeria," a PA variation on John Denver's "Take Me Home Country Roads," Johnny Cash's "Ring of Fire" and CCR's "Have You Ever Seen the Rain." They also did renditions of Frank Turner's "Substitute," Rancid's "St. Mary" and more.
Online…As reported previously, COVID-19 led to the cancellation of this year's Central PA Festival of the Arts in State College. But organizers did stage a virtual Arts Festival last month, which included online art sales and exhibitions, plus live-streaming performances from a number of entertainers, including renowned Celtic fiddler Alesdair Fraser and folk duo Trout Fishing in America. A number of local performers and Arts Festival regulars did online performances as well, and I caught one of them – the Denicats – in action. Singer and keyboardist John "JT" Thompson, upright bass player Bill Stetz and Doug McMinn on guitar, sax, clarinet and vocals did a variety of blues, jazz, swing and pop originals and covers with a prominent New Orleans/Mardi Gras flavor, performed before a continuous backdrop of New Orleans street scene footage. The Denicats did a few of JT's and Doug's original songs, including JT's "Chicken Bone" and "Last Night," and Doug's "Burgers and Fries." The group also did their own Big Easy-styled variations on Marc Cohn's "Walking In Memphis," a Professor Longhair number and more.
As they gear up to return to live stage action soon, Harrisburg's Six Bar Break presented a full-band live stream performance in late June. Singer and guitarist Ben Bollinger, bassist Robert Trowbridge and drummer David Long performed original songs from throughout their career, including several numbers from their upcoming new recording being released later this year. Six Bar Break blends classic and modern rock elements into a straightforward, hard-driving, melody-based rock sound. Their songs this night included new tunes such as "Walk On" and "Strange Days," plus established original songs like "Water's Edge," "Soldiers Call," "Nashville Calling," also "Mother Daughter," "Jesse James," "Coming Home," "That Woman Knows" and more.
And I saw the Vinegar Creek Constituency duo of Leonardo DiSanto and Jeff Bryson as they live-streamed a late June performance at the Black Knight Tavern in Landisville. Leonardo played guitar and Jeff played mandolin and banjo; both shared singing duties as they entertained diners and onlookers with their blend of folk, rock and string band sounds. The pair did an assortment of their original songs, including "The Corn Husker's Ball," "The Dizziest Train," "Big Blue Sky," "Our Burning Building," "No Darlin' One," songs from their forthcoming new album such as "Non Alcoholic Beer," and more. They also saluted influential singer and songwriter Gram Parsons with a medley of several of his songs.
The area's music scene was saddened last month with the passing of Dennis Ivory from injuries suffered in a July 22 auto accident near Altoona. Dennis in 2006 founded popular area vocal oldies trio The SharpTones, who frequently entertained at festivals, car shows, charity events, retirement homes and more. Dennis was 61.
News and notes…The Rail Gang Rockers, Urban Myth, Greg Burley, Above the Radar and 4th Street will perform during "A Day Of Music," happening Aug. 8 at the PPG Pavilion near Tipton…The annual Route 22 Rock & Blues Festival will take place on August 21-22 at the Lincoln Caverns Campground near Huntingdon; this year's performers include Faded Flowers, Matt Otis & the Sound, Kevo Can't Dance, Maul, Negan, Hate Grenade, Iron Wolf, On The Brink, PennSoulvania, Anchors to Anchors, The Roof, The Snipped, Wrath Of Typhon, The Blacksnakes, Abstentious, Donny Burns & the 3rd Degree and Black Sun…In lieu of the cancellation of the annual St. Bernard's Homecoming Picnic in Hastings this month due to COVID-19, Hastings Woodstock 2020 will instead take place on August 15 at Hastings Park, featuring performances from Acoustic Stew, Nag Champions and Mellissa Vella…The Johnstown Area Heritage Association has postponed their inaugural Homegrown Music Festival at Johnstown's People's Natural Gas Park from Aug. 29 to Oct. 17…Mr. Small's Theatre in Pittsburgh's Millvale neighborhood has postponed their annual Yinzfest event until December 12…Chris Rattie & the New Rebels have issued a new self-titled, four-song EP that features songs the group released digitally through the past year…Mysterytrain announced they will be taking the rest of this year off from performing live shows and festivals, and will concentrate on writing and recording some new songs in the studio, plus stage some live streaming events through the rest of the year…Acoustic duo Sarah Mellott and Tommy Fix entered Data Music Services last month to record their original music, with members of Felix & the Hurricanes assisting…And Pittsburgh's Black Ridge entered the studio last month to begin their next recording.
Please send correspondence and recordings to: Jim Price, 1104 S. Catherine St., Altoona, PA 16602. You can also e-mail me at jptheprofessor@gmail.com. And if you're into social networking, look me up on Facebook. Keep washing those hands and wearing those masks, and SUPPORT LOCAL MUSIC!