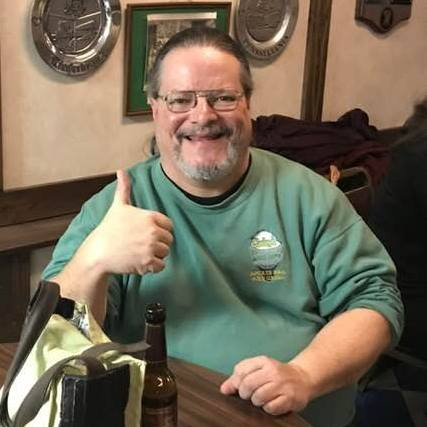 ---
THE PROFESSOR SPEAKS
By Jim Price
Summer season – and apparently, monsoon season – continues with multiple outdoor live music events to keep music fans busy.
As I started this month's writ, I observed video footage of the flooding conditions that impacted places like Hershey Park and Knoebel's Amusement Resort near Elysburg. Portions of Knoebel's were under water from heavy rains, less than a week after I spent an afternoon there for some relaxation and live music from annual performing favorites Rick K. & the Allnighters. I caught their two evening performances on the Hawaiian Bandshell. This Morgantown, West Virginia-based group is now a quintet, with new guitarist Donnie Barney and sax man Seth Mellon (both from PA) joining singer Rick K., bassist Paul Alan and "The Mad Drummer," Steve Moore. Both of the group's performances spotlighted a variety of pop, rock, funk and country hits. The earlier performance featured tunes from the Four Seasons, Contours, CCR, Wilson Pickett, Beatles, Beach Boys and more. Among the highlights were Rick's dedication of the Righteous Brothers' "Unchained Melody" to Relay For Life and cancer patients/survivors; Lee Greenwood's "God Bless the U.S.A.," during which Rick walked among the audience and shook hands with as many veterans as he could get to during the song; and a zany version of the Surfaris' "Wipe Out" with dualing drummer antics between Rick and Steve. The nightcap set featured the funky leadoff trio of K.C. & the Sunshine Band's "Shake Your Booty," Wild Cherry's "Play That Funky Music" and Mark Ronson & Bruno Mars' "Uptown Funk," the group's take on ZZ Top's "Sharp Dressed Man" (the song that brought Steve's "Mad Drummer" antics to internet prominence via a viral YouTube video), plus songs from Neil Diamond, the Temptations, Spencer Davis Group, Mitch Ryder & the Detroit Wheels, Fleetwood Mac, the night-ending version of Tommy James' "Mony Mony" and more. Steve provided the craziness and comic relief behind the kit, exploding into flailing arms and sticks at any given moment and living up to his more recent billing of "The Drummer at the Wrong Gig." Beyond the craziness and antics, though, this band was tight and concise, energetic, vocally strong, and frontman Rick continually addressed the audience and gave brief song histories before nearly every tune. Rick K. & the Allnighters again delivered polished, fun performances, and made it well worth my two-hour-plus roadtrip to Knoebel's to enjoy once again. Barring any more monsoonal flooding, Rick K. & the Allnighters return to Knoebel's August 12-16.
Closer to home, motorcycle thunder resounded through the region in late June, with motorcycle events happening throughout Cambria and Blair Counties. Johnstown's Thunder In The Valley, Ebensburg's Bike Week and Wheels & Wings were joined by a new annual event, Altoona's Pennsylvania Roundhouse Rally. All of these events featured live music, with Thunder featuring headliners such as Quiet Riot, Great White, AC/DC tribute Hells Bells and Joe Grushecky & the Houserockers. Rainy weather, my own band's gigs and show emceeing duties prevented me from taking in this year's Thunder in the Valley and the Ebensburg events, but I did witness several events tied to the Pennsylvania Roundhouse Rally, including the kickoff concert at Altoona's Railroaders Museum featuring The Clarks and Agent Smith. A few new "agents" have entered Agent Smith's ranks, as Randy Rutherford takes over bass duties and former Flight 19 keyboardist Phil Steele join singer Steve Oswalt, guitarist/singer Phil "Philly Grooves" Wagner and drummer Shawn Gioiosa. The addition of keys enabled Agent Smith to expand their setlist into some new avenues. The group opened with a take on The Tubes' "She's A Beauty," and ventured into numbers from Styx, INXS, REO Speedwagon, Faith No More, Loverboy, Autograph, Cheap Trick and more. Guest Randy Servello sat in behind the drum kit on the group's rendition of Aerosmith's "Walk This Way." Recently unveiling their new CD, Falling in Love at the End of the World, The Clarks showcased many tunes off the new album, as well as their established favorites. The group's founding roster of singer/guitarist Scott Blasey, guitarist/mandolin player and singer Rob James, bassist/singer Greg Joseph and drummer Dave Minarik, Jr. were joined by their extended band 'family' of Dave's son Noah Minarik on guitar, Gary Jacob on pedal steel and 12-string guitar, and Skip Sanders on keys and guitar. Opening with "Caroline," The Clarks switched between favorites and new song material. From the new album, the group performed the opening track "She's On Fire," "Summer Setting Sun," "Witness to a Crime," "Roses," "The Longest One Night Stand," "In Blood" and more. Rob strapped on the mandolin for the group's ballad favorite "Penny on the Floor," and The Clarks drew cheers from the large audience as they performed such favorites as "Cigarette," "Maybe," "On Saturday," "Trampoline," "Shimmy Low," "Better Off Without You" and more. For the encore, Scott first did the acoustic title track off the new album, "Falling in Love at the End of the World," before the group finished the night with the popular "Born Too Late," with the song's last notes sounding just as raindrops began to fall.
Three nights later, national recording group Puddle Of Mudd helped close out the Pennsylvania Roundhouse Rally before a massive crowd at the Railroaders Museum. Featuring founding singer/guitarist Wes Scantlin, lead guitarist Matt Fuller, bassist Michael John Adams and drummer Dave Moreno, Puddle Of Mudd provided nonstop music as they performed songs from throughout their career. They opened with their popular single "Control," blending in part of Black Sabbath's "War Pigs" along the way. They also performed radio staples such as "Drift and Die," a crowd sing-along version of "She Hates Me," the addiction ode "Already Gone," "Psycho" and "Famous," as well as "Never Change," "Bring Me Down," "Nobody Told Me" and more. With Pantera, Damageplan and Hellyeah drummer Vinnie Paul passing away the day before, Wes paid homage to Vinnie during the set. Puddle Of Mudd's performance was on the mark and sounded strong throughout. When the crowd demanded the encore, the group returned with three more: their radio single "Spaceship," a rendition of Neil Young's "Old Man," and their hit "Blurry" to bring the night to a close.
Also part of the Pennsylvania Roundhouse Rally festivities was a special performance by Jim Donovan & the Sun King Warriors at the U.S. Hotel in Hollidaysburg. Celebrating the recent release of their second album, We See Through It, Jim and the Sun King Warriors mixed songs from the new album with several older favorites and select covers. Some of the new songs performed this night included the album title track "We See Through It," "The Last Dance," "Love Is Right," "Ahh, Can You Feel It?" and "We Have Arrived." The group also did favorites from their first album such as "You Got to Believe It," "Oolala" and "I'm Doing Fine," and broke out renditions of The Record Company's "Off the Ground," Buddy Holly's "Not Fade Away," Led Zeppelin's "Fool in the Rain" and the night-ending, dance floor-filling version of Violent Femmes' "Blister in the Sun." Songs from Jim's famous former band, Rusted Root, also provided highlights, with "Send Me on My Way" escalating into an extended percussion display featuring Jim, drummer Joe Marini, djembe player/percussionist Harry Pepper and conga player Bryan Fazio, and "Back to the Earth" bringing folks onto the dance floor for a swaying, grooving display. Percussion again took the spotlight during the group's self-proclaimed "two tons of drums" display as they mashed together the drum thunder tracks off both albums, "March of the Sun King Warriors" and "Elephants in the Room," tied together with a hearty percussion jam workout. Beyond the percussion exercises, Kevin McDonald and Dan Murphy provided guitar solo fireworks along the way, Dan also wailed on harmonica, and bassist Kent Tonkin provided the solid and sturdy foundation on bottom end.
McGarvey's provided entertainment during Pennsylvania Roundhouse Rally weekend as well, hosting New York City's "all metal tribute to the Bee Gees and beyond," Tragedy. This group provided insane amounts of fun, applying the glitz and bombast of 1980s-era hair band rock/metal to Bee Gees hits and other late-1970s-era disco and pop staples. Opening the show was From Down the Road, who spotlighted a number of their various-flavored original songs, plus select covers from The Cars, Metallica, Rage Against the Machine and the Misfits. Shortly afterward, the assemblage of singer/keyboardist Disco Mountain Man, singers/guitarists Mo'Royce Peterson and Garry Bibb, singer/bassist Andy Gibbous Waning, drummer The Lord Gibbeth and utility man/comic Lance levied heavy-rocking arrangements to such unlikely headbanging Bee Gees anthems as the tribute's title song, "Tragedy," "Islands in the Stream" (written by the Bee Gees but popularized by Kenny Rogers and Dolly Parton), "Woman in Love," "You Should Be Dancing," "How Deep Is Your Love" and "Stayin' Alive." Other highlights included a funereal doom-metal treatment of Neil Diamond's "Sweet Caroline," plus thunderous renditions of Lipps, Inc.'s "Funkytown," "You're the One That I Want" and "Grease Is the Word" from Grease, Toto's "Africa" and more. Tragedy's energy level and antics were constant and often hilarious, yet their arrangements were clever and inventive, and their vocals and instrumental execution were strong. Tragedy rode their metal Bee Gees party to the climactic blowout finale, a metal take on – what else? – The Village People's "Y.M.C.A." to end the night. Tragedy tours the United Kingdom and Germany this month; based on the resounding response they received this night, Tragedy's return visit to McGarvey's is likely.
The following night, a local all-star tribute to Pearl Jam at McGarvey's closed out the Pennsylvania Roundhouse Rally. After Ed n'Born – the duo of percussionist/singer Ed Hofer and singer/guitarist Sean Osborn – opened the night, at least eight different area musicians – dubbing themselves All Five Horizons – collaborated onstage on a variety of song favorites from throughout Pearl Jam's career. Participants included the aforementioned Ed n'Born, along with Blacksnakes frontman Brian Elliott and bassist Hunter Carns, Small Town Horror Show/Black Sun/Maul singer Todd McKeone, Black Cat Moan drummer Rob Bonsell, Fyre guitarist Zach Kensinger and former Rain Must Fall guitarist Jarrett Bickel. These musicians brought to life such Pearl Jam classics as "Better Man," "Elderly Woman Behind the Counter in a Small Town," "Yellow Ledbetter," "Daughter," "Jeremy," "Black" and more. They also did the Pearl Jam versions of "Last Kiss" and "Rockin' in the Free World," as well as Temple of the Dog's "Hunger Strike."
Last month was again a busy time for festivals in Centre County. Although I arrived late, I did catch much of the performance of Jackie Brown & the Gill Street Band at the annual Central PA 4th Fest, which happened near Penn State's Beaver Stadium. Warming up the crowds for the ensuing fireworks display, namesake Jackie displayed her potent, joyous and soulful voice on a variety of soul and R&B classics – backed by John "JT" Thompson on keyboards, Stubby Stubbs on drums, Peter Jogo on bass, Charles Halcomb on guitar and the four-piece horn section of David Priester on trombone, Richard Meyer on trumpet, and Benjamin Kim and Tom Gallagher on saxophones. Jackie and the Gill Street Band performed such numbers as Earth Wind & Fire's "Serpentine Fire," Stevie Wonder's "I Wish," James Brown's "Get Up Offa That Thing" and more.
Arts festivals took the spotlight the following week, including the 52nd annual Central PA Festival of the Arts in State College. I attended and checked out some of Thursday's entertainment at the Festival, starting with JT & the Denicats at the Festival Shell stage near Penn State's Old Main. One of the blues vehicles of keyboardist/singer John "JT" Thompson, JT & the Denicats performed a blend of blues and R&B, spotlighting John's original song arsenal. Flanked by Bill Stetz on bass, Doug McMinn on saxophone, Joel Vincent on drums and Sean Farley on guitar, John sang numbers such as the stern-toned "Too Many Dead," "Wipe Away the Tears," the upbeat "Chicken Bone" and more. I then headed to the Allen Street Stage for my first look at Rodeo Serenade. This group did a feisty mixture of roots sounds, spanning early rock'n'roll to roots country, honky-tonk, Texas swing and more; capturing the sound, mood and even some of the look of that 1950s era when rock'n'roll was born. Singer Kristi Branstetter, singer/rhythm guitarist Susan Burlingame, lead guitarist Steve Branstetter, bassist Phil Burlingame and drummer Kyle Haust did nice work on favorites from Elvis Presley, Hank Williams, Carl Perkins, Patsy Cline and more. They spotlighted female roots artists such as Charline Arthur, Wanda Jackson and others. Rodeo Serenade's vocals were bright and they triggered dancing several times during their set, and even staged a twisting contest during one song with their American Roots CD as a prize to the best twister. Next on the same stage was Miss Melanie & the Valley Rats, who dazzled the crowd with their brand of blues, rhythm and soul. An early highlight during their performance was when members of the Penn State Nittany Lion football team strolled through the crowd and handed out free season calendars to everyone. A few players even danced as singer "Miss Melanie" Morrison Zeigler, guitarist Mark Ross, keyboardist Rev. James Harton and drummer Chris Coyne played "You're Not Gonna Steal My Shine." Melanie's voice was in excellent form and Mark displayed clean and tasteful guitar work on tunes such as "Brother John," Stevie Wonder's "For Once In My Life," Amy Winehouse's "Valerie," "Got My Mojo Working," and the soulful and solemn set-ending rendition of "Amazing Grace." And Chris Rattie & the New Rebels closed out the Allen Street Stage with their hearty brand of Americana rock. Flanked by bassist Jeff Downing, guitarist and harmonica player Nate Cutshall and drummer Forrest Schwartz, Chris played guitar and sang numbers from his new album, Porch, along with earlier numbers and a rendition of Bruce Springsteen's "Atlantic City." He did numbers such as "My Mountain" and "Heading into Darkness" off the new album, as well as "Hotel By the Highway," "So Long" and more. This was one of Forrest's final shows with the band; Chris Rattie & the New Rebels will pause to work in a new drummer before returning to action this fall.
Meanwhile, during the same week, the 26th People's Choice Festival of Pennsylvania Arts & Crafts took place at the Pennsylvania Military Museum in Boalsburg. I took in some of the Saturday performers, arriving in time to see the last few minutes of Myal Soul's set on the South Stage. Based in Williamsport, Jamaica natives Oneil Peart on lead vocals and guitar, plus Christopher Downer on drums, led their group on a mixture of reggae and soulful sounds. Toward set's end, Myal Soul led audience members in a reggae-based aerobic dance workout. Following them was Quarterstick, who blazed hard-rocking classics from Four Horsemen, AC/DC, Judas Priest, Golden Earring, Led Zeppelin, Ozzy Osbourne and more. Dana Confer's voice was in good form, backed by the strong guitar work of Jason Hritzko and Terry Cressman, and powerful rhythms from bassist Dave Coleman and drummer Farley Hill. I then headed to the North Stage to witness Eric Ian Farmer, Ady Martinez and friends. Eric sang, played cajon and guitar, and Ady sang and played cuatro venezolano (a Venezuelan stringed instrument similar to a classical guitar but smaller). Performing with them were guitarist Christopher Beiswanger, bassist Simon Gomez, Andrew Jackson on congas, Jason Crane on sax, and Nathalia Velasquez on vocals. Together, this cast of musicians created a world community among themselves and the audience through their music. Ady sang lead vocals on a couple of Spanish language folk numbers to open the set, and she and Eric alternated singing duties. One of the highlights was their rendition of the Chilean folk song "Todo Cambia" ("Everything Changes"), which Ady made into an audience sing-along. Dancers soon joined in, and this set became a celebration of diversity and togetherness as Eric, Ady and their friends made the world a better place this day, one song at a time. Back in action after a several-year hiatus, the legendary Harpo then closed out the day at the South Stage. Keeping the rock alive, the Harpo roster of singer/bassist "Billy Rock" Kerstetter, singer/keyboardist John "Lloyd" Kistner, guitarist Chris Silvagni and drummer Richard Smith brought the hard rock full fury as they mixed Harpo original tunes with classic rock and metal favorites. Harpo didn't hold back, pulling all stops on original tune favorites like "Tuff Love," "Rock A Bye Blues," "Heart's Cold," "Evil Breeds Evil," "Pleasure Dome," the storming finale "Gas House Alley Rock" and more. Harpo also lit it up on Krokus' "Long Stick Goes Boom," Kingdom Come's "Get It On," Deep Purple's "Perfect Strangers," AC/DC's "Whole Lotta Rosie," "Let There Be Rock" and "Highway to Hell," plus tunes from Led Zeppelin, Ozzy Osbourne and Metallica. The fans haven't forgotten – a good-sized crowd of Harpo fans was present, including one fan who drove all the way in from Delaware with his teenage daughter. As Billy said after the show, Harpo still "has fuel in the tank" so they are back to keep the fire burning. As one of the very first PA bands I ever saw (spring of 1983 at the Scorpion in State College), I am glad to see this crew back in action!
I also saw several groups perform during the annual Wam Bam Mountain Jam, a festival and backyard party event held last month in the hills near Port Matilda. Opening the afternoon was Odyssey, a group of friends who convene annually just for this event. The roster of singer/guitarist Donny Burns, Jr., guitarists Caleb Mitchell and Steve Eisenhuth, bassist Tubz Eisenhuth and drummer Clay Brown fired up revelers with hard-rocking numbers from Four Horsemen, Metallica, Judas Priest, Ozzy Osbourne and more. My own band, the Backyard Rockers, played next; serving up our mixture of acoustic numbers from The Band, Steve Earle, Waylon Jennings, Lynyrd Skynyrd, Johnny Cash, Tom Petty, Neil Young and more. Next up was Jampact, who mixed up classic rock and pop favorites. Guitarist/singer Ryan Clark, singer Lisa Bock, bassist, keyboardist and singer Steve Treado, and drummer and singer Jamie Shumac continued to fire up the party with numbers from Journey, Black Keys, Styx, AC/DC, Donnie Iris, ZZ Top and more. They were followed by Dr. C & the Hoopties, who blended classic and new rock/pop favorites. Donny Burns, Jr. also fronted this band and played guitar, joined by Crissee Higgins on bass and vocals, and Rob Chisholm on drums. Their song selection included tunes from Led Zeppelin, Smashing Pumpkins, Cage the Elephant, Elle King, Pearl Jam, Red Hot Chili Peppers and more. And I caught a few songs from State College trio Close to Ghosts, who did a set of original music that blended funk and modern alternative rock. Other performers at Wam Bam Mountain Jam included Time with Donny Burns, Centralia, The Bigs, CumuloTimbus and Rockweiler.
I have seen Felix & the Hurricanes at many venues and events over the years, but last month I added a new location – New York City, as the group turned a gig at Bar 9/Hell's Kitchen in Manhattan into a day-long adventure with a busload of their fans – the Hurricaniacs – in tow. The Hurricanes – singer and guitar man Felix Kos, bassist and singer Jeff Clapper, and drummer and singer Bob Watters – represented well, bringing their raucous rock'n'blues party and delivering the good time. Even the bartender was grooving and dancing behind the bar as she served up drinks! The Hurricanes mixed up classics and original tunes, with the emphasis on keeping the dance floor busy. They did original song staples like "Free," "Keep On Rockin,'" "Icy You" and "Cut That Line," and also did favorites from the Allman Brothers, ZZ Top, Al Green, Steve Miller Band, Blackfoot, Stevie Ray Vaughan and more. They also introduced their take on Carole King's "It's Too Late," mashed together ZZ Top's "La Grange" and Grand Funk Railroad's "Footstompin' Music," honored an audience request for Ted Nugent's "Stranglehold," and even fired off their version of Focus' "Hocus Pocus." Leading up to the performance, the Hurricaniacs were set loose in Manhattan, and we took in the sights such as Times Square, Rockefeller Center, Radio City Music Hall, St. Patrick's Cathedral, the Iridium (the jazz club where Les Paul used to perform every Monday night), numerous eateries, gift shops and more. Felix & the Hurricanes keep devising ways to give back to the fans, and this excursion to New York City was a great time; and early word is that there will be a sequel!
Detroit's Goddamn Gallows returned to McGarvey's last month, headlining a triple-bill. The night's first two acts, Florida's Viva Le Vox and Detroit's Koffin Kats, both performed prior to my arrival. Playing as a four-piece this night, the Goddamn Gallows stirred things up with their unique, high-powered blend of ominous punk rock, metal, bluegrass and gypsy sounds. Singer/guitarist Mikey Classic fronted the group with his sinister, fire-and-brimstone growl, flanked by the menacing Fishgutzzz on stand-up bass, Jayke Orvis on banjo and mandolin, and Baby Genius on drums. The Gallows did a number of tunes off their new album, The Trial, including "Honeyhole" and "Down with the Ship," along with past favorites like "7 Devils," "Load Your Guns," the ever-popular "Y'all M-F-ers Need Jesus" and more. The energy was intense and constant, and the Gallows triggered crazy punk slam-meets-folk dancing in front of the stage. The night ended with the Gallows inviting members of the earlier two bands to join them onstage for the last song. This band is an adventure every time they hit the McGarvey's stage, and future return visits are likely.
I took in the latter stages of the Benefit for Alan Delbert McConnell, which happened in late June at the Barnesboro VFW in Northern Cambria to raise money for Alan, an area musician and sound engineer who is battling Stage 4 cancer. Performing before my arrival were the Morgan James Band, Nag Champions, Talisman, Rick Ramsey Band, Rust and Acoustic Stew. I arrived in time to catch my first look at Downshift. Featuring singer Travis Dick, guitarists Rob Lynn and Jordan Ferraro, bassist Josh Michael and drummer/singer Randy Wilson, Downshift fired off uptempo hard rock and metal from names such as the Foo Fighters, Stone Temple Pilots, Metallica, AC/DC, Smashing Pumpkins, Ghost A.D., Pantera and more. After my own band, the Backyard Rockers, performed a set of acoustic classics, Negan slammed the lid on the night with their powerful set. Opening with the Ghost A.D. double-shot of "Square Hammer" and "The Pinnacle and the Pit," Negan – singer Mike Davis, guitarists Bob Gray and Jeremy Ashurst, bassist Josh Yahner and drummer Damien Falatek – triggered dancing and headbanging with original songs from their EP Burnt Pages, plus tunes from White Zombie, Danzig, Judas Priest, Tool, Alice In Chains, Motorhead, and an excellent rendition of Iron Maiden's "Two Minutes to Midnight" dedicated to Alan. The benefit was well-attended, and raised more than $1,200 toward Alan's medical expenses.
Other performances I saw in recent weeks included Florida-based Guns N'Roses tribute Nightrain at Altoona's Railroaders Museum with local band guests Kicked In, and the triple-bill of the expanded roster of Young Lungs, Pittsburgh's Two Birds and Altoona's Lose the Name – playing their final show – at McGarvey's.
News and notes…Blues Traveler, Pure Prairie League, The Devon Allman Project with Duane Betts and The Hillbilly Way are among the performers at this year's AmeriServ Flood City Music Festival, happening Aug. 3-4 at People's Natural Gas Park in Johnstown…Anchor & Arrow, Hops & Vines, Erin & Wiggus, Leah Mueller, Miss Melanie & the Valley Rats, Natascha & the Spy Boys and Jackie Brown & the Gill Street Band will perform during "Women's Voices," an event spotlighting women's voices in music and life, which happens Aug. 18 at the State Theatre in State College, with proceeds helping the Centre County Women's Resource Center…The annual Rails & Ales fundraiser for Altoona Community Theater happens Aug. 25 at Altoona's Railroaders Museum…Singer Tyler Ringland and bassist Jon Keller are parting ways with the band DopplerPoppins for personal and career reasons; the group plans to finish work on their debut studio album Turned On Neurons and an accompanying live album, Get Different, with both albums expected to be released in the fall…On a sad note, David Van Doren, former guitarist and singer for the Bellwood-based rock group Still Holdin,' lost his life on June 29 after his motorcycle was struck by an oncoming vehicle in Butler County; he was 50. We at PA Musician express our condolences to David's surviving family, friends and former bandmates.
Please send correspondence and recordings to: Jim Price, 1104 S. Catherine St., Altoona, PA 16602. You can also e-mail me at jptheprofessor@gmail.com. And if you're into social networking, look me up on Facebook or Google+. SUPPORT LOCAL MUSIC!