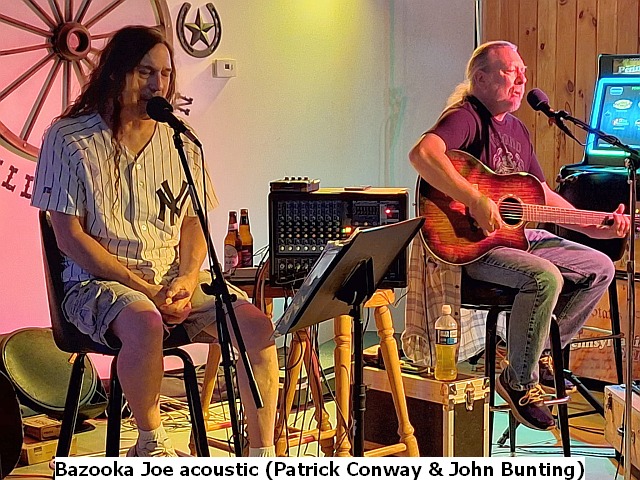 ---
It seems like only yesterday that I was posting final grades for my Spring Semester classes at Penn State Altoona, and now as I write this month's article, I am three weeks away from starting Fall Semester teaching duties. Where did my summer go? Needless to say, a lot of my summer went toward enjoying live music, especially in the past month; if my count is correct, I witnessed at least 43 different bands and artists since last month's deadline.
Several of those performers I saw during "motorcycle weekend" in late June, when several motorcycle rallies and gatherings happened in Cambria, Somerset and Blair Counties. I kicked off this weekend by taking in the Thursday opening night of Cambria Summit ABATE's Bikefest at the Ebensburg fairgrounds. Rainy weather forced the music to be moved inside one of the fairground buildings, but fun was ultimately had as Emmy & the Geriatrics and 100 Proof cranked up the party inside. I had wanted to see Nanty Glo-based Emmy & the Geriatrics for a while, especially after namesake Emmy – drummer Emily Marines – was one of my recent students at Penn State Altoona. Emmy and her "geriatric" cast of dad Ethan Marines on lead vocals and guitar, guitarist Korie Gorchik and bassist Darren Jones delivered powerful 90s rock over their three sets, letting it rip with numbers from Alice In Chains, Jane's Addiction, Toadies, Red Hot Chili Peppers, Foo Fighters, Faith No More, Sponge, Tool, Smashing Pumpkins, Green Day, Chevelle, 311, Dinosaur Jr., Screaming Trees, White Zombie, Deftones and more. I was amazed at Emmy's skills behind the drum kit – she was fearless, showing power and precision on everything she played, including Tool's "Schism." And she sang lead while drumming on renditions of The Breeders' "Cannonball" and Sublime's "Santeria!" The 90s is clearly Emmy & the Geriatrics' wheelhouse; they did all of it very well. Altoona's 100 Proof followed with their rowdy country-driven party over three sets. After opening with some more 90s rock via their version of Seven Mary Three's "Cumbersome," the cast of singer RJ Payne, lead guitarist Todd Belardi, rhythm guitarist Denny Yon, bassist Moose and drummer Dave Russell fired up the festivities with their mix of modern, classic and outlaw country, plus a few rock'n'roll numbers along the way. It didn't take 100 Proof long to get folks dancing, as they performed country favorites from Eric Church, Luke Combs, Jon Pardi, Toby Keith, Brantley Gilbert, Kenny Chesney, Luke Bryan, Trace Adkins, Big & Rich and more. An unexpected highlight happened during the second set, when the Giants Of Science – who performed earlier this night during the Wheels & Wings event in downtown Ebensburg – showed up, and the group's Mick and Johnny 5 plus soundman "Philly Grooves" Wagner joined 100 Proof on Bryan Adams' "Summer of  '69." 100 Proof did other rock favorites as well; including tunes from the Black Crowes, Rick Springfield, Tom Petty, Lit and – during the night's homestretch – Nathaniel Rateliff & the Night Sweats' "Son of a Bitch," a request for Lynyrd Skynyrd's "Sweet Home Alabama" and Collective Soul's "Shine" to end the night.
"Motorcycle weekend" also brought the two-day June installment of the PA Roundhouse Rally at Roundhouse Harley-Davidson near Duncansville. Friday's half of the music displayed a decidedly 90's rock flavor, starting with Altoona foursome The Zuds. Featuring singer Luke Patterson, guitarist Eric Prindible, bassist Brad Bender and drummer Jared Middleton; The Zuds awakened the arriving audience with their crisp takes on tunes from Pearl Jam, Everclear, Live, Incubus, Green Day, Weezer, Alice In Chains, Queens of the Stone Age, Red Hot Chili Peppers, Foo Fighters, Nirvana and more. Headlining this night was Philadelphia/New Jersey-based Stone Temple Pilots (STP) tribute Lounge Fly. Singer Brian Rosner, drummer Ira Fleischer, bassist and singer Richard Dean Wilson and drummer Scott Eller celebrated the Stone Temple Pilots' catalog over their two sets, doing many of the group's favorites and a few deeper cuts. Lounge Fly sounded sharp as they did established STP numbers like "Wicked Garden," "Unglued," "Lady Picture Show," "Dead and Bloated," "Big Empty," "Interstate Love Song," "Crackerman," "Creep" and more. They also did their title song, "Lounge Fly," "Down," "Sour Girl," and used a Pink Floyd "Shine On You Crazy Diamond" intro to lead into their second set-opener, "Vasoline." Lounge Fly kept the crowd excited through the duration, and closed things out with the homestretch triple-shot of "Plush," "Sex Type Thing" and "Trippin' on a Hole in a Paper Heart."
The Roundhouse Rally's second day kicked off acoustically with Lauren & Joe. Over two sets, the Altoona-based husband-and-wife duo of Joe and Lauren George mixed up a variety of favorites and honored requests; doing songs from CCR, Hall & Oates, Pat Benatar, John Prine, Black Crowes, Matchbox 20, Ben E. King, Radiohead, Lady Gaga, Heart and more. Celebrating the release of their debut CD "Lip Service" (see the review elsewhere in this issue), Altoona trio The Jaded Lips did many songs off the album, along with a variety of rock, funk and soul favorites. Singer and guitarist Mike Wertz, bassist and singer Hunter Karns, and drummer Dave Applas introduced songs off the album such as "It's Not Me," "Where Do We Run," the first single "Shallow Woman," the album leadoff track "Black Lashes," "Save Me" and others; and imprinted their own stamp on renditions of Peter Gabriel's "Sledgehammer," Jeff Beck's "Going Down," Stevie Wonder's "Uptight (Everything's Alright)," the Rolling Stones' "Miss You," Queen's "Another One Bites the Dust" and more. The 90s again took the spotlight with this night's headliners, Georgia-based 90s tribute Rock The 90s. Singer and keyboardist Hugh Hession, guitarists and singers Lance Rodriguez and Lewis Smith, bassist Rob Brown and drummer Bronnie Turner celebrated a wide variety of 1990s-originated sounds – spanning 90s rock numbers from Spin Doctors, Jimmy Eat World, Green Day, Third Eye Blind, Weezer, Pearl Jam, Collective Soul and more, to hip-hop classics from Coolio, Snoop Dogg and Dr. Dre, hits from Ricky Martin, Montell Jordan and others. Rock The 90s packed energy and excitement into all of it, delivering tight instrumental execution plus Hugh's hearty vocal delivery up front. 
Roundhouse Harley-Davidson also hosted the annual Bikers For Barkers motorcycle run and after-party last month, raising proceeds for the shelter animals of the Central PA Humane Society. Upon their return, participating riders were greeted with BBQ chicken dinners, souvenir T-shirts, raffle prizes and live music. Avenue Of Kings kicked off the music with their hearty mixture of mostly 1980s classic hard rock and metal. Singer Matt Stoyanoff, guitarist Chris Silva, bassist Beau Cabassa, and drummer and singer Randy Wilson opened with Iron Maiden's "Wicker Man," setting the tone for hard-hitting classics from Dokken, Judas Priest, Ozzy Osbourne, Metallica, Scorpions, Alice In Chains, Motley Crue, Volbeat, Ghost, Godsmack, Guns N Roses, The Darkness, Helloween's "I Want Out" and more. Matt delivered his soaring, siren-like howl, backed by his bandmates' ample instrumental firepower. Headlining the after-party was Long Island-based Completely Unchained: The Ultimate Van Halen Tribute, specializing in the David Lee Roth era of Van Halen. Singer Gene Hendriksen provided the voice and sass in the "Diamond Dave" role, flanked by Eddie Van Halen doppelganger Jake C. Miller on guitar, bassist Julian Simonelli and drummer Zoltan Chaney. Completely Unchained did the essential early Van Halen favorites such as "Ain't Talkin' 'Bout Love," "Runnin' With The Devil," "Little Dreamer," "Jamie's Cryin,'" "Mean Street," "Everybody Wants Some," "Ice Cream Man," "Feel Your Love Tonight" and more. They did a convincing job in capturing the sound, style and mood of early Van Halen, and Jake showed his credentials as an Eddie-inspired guitar shredder. After the group slammed their set home with "Hot for Teacher," they answered the crowd's encore demands with their Van Halen title song, "Unchained."
I witnessed (and emceed) two editions of the Rockin' the Yard summer concert series in recent weeks at Altoona's Jaffa Shrine upper lot and concert grounds. The Canadian wildfire smoke cleared out in time for the late June concert, which featured Backlash and Pistol Peg & the Beer Kegs. Featuring singers and guitarists Buck Dickson and Wade Shumaker, bassist Andy Krishak and drummer Mike Simone, Backlash warmed up the audience with their blend of rock favorites from the 1970s through 2000s. Their set included numbers from Lit, the Doors, Offspring, Led Zeppelin, Seven Mary Three, Foo Fighters, AC/DC, White Stripes, Billy Idol and more. And tipping the hat to the country headliners, Backlash broke out their own version of Luke Bryan's "Country Girl (Shake It for Me)." Before the headliners took the stage, Caitlin McConnell sang the National Anthem in honor of the July 4 holiday while members of Combat Vets Motorcycle Association (CVMA) Altoona Chapter 22-4 stood by in support. Pistol Peg & the Beer Kegs then stepped up to perform their happy-go-lucky country music celebration. The singing sibling pair of Jill Renee and Mark Simanski (who also plays acoustic guitar), lead guitarist Joe Scott, rhythm guitarist Brandon Kane, bassist Brad Davis and drummer Steve Holtz fired up dancing, grooving, hootin' and hollerin' en masse over their two sets as they delivered modern and classic country favorites from Eric Church, David Lee Murphy, Dixie Chicks, Luke Bryan, Miranda Lambert, Luke Combs, Shania Twain, Little Big Town, Maren Morris, Nitty Gritty Dirt Band, Dierks Bentley, Gretchen Wilson and more. Pistol Peg & the Beer Kegs kept the enthusiasm, energy and total love for the audience at a feverish high from start to finish, and – keeping with their norm – brought the night to a joyous close with their finisher rendition of Alabama's "Mountain Music."
Rockin' the Yard's music and weather took stormier directions two weeks later, when Chasing Karma and Metallica tribute The Four Horsemen took the stage. Bedford's Chasing Karma got the evening off to a rowdy start with their party-rocking variety. Singer, keyboardist and guitarist Jeff Goss, lead singer Ronnie Sheirer, lead guitarist Travis Ickes, bassist Tim Aungst and drummer Johnny Jones pumped up the crowd with uptempo tunes from White Striped, Steppenwolf, Johnny Cash, Escape Club, Ram Jam, Cameo, Ugly Kid Joe, Billy Idol, Doors, Rob Zombie and more. As they fired into Megadeth's "Symphony of Destruction," a close lightning strike and loud thunder signaled that an approaching storm cloud meant business. After a 15-minute torrential rain deluge soaked the grounds, The Four Horsemen "rode the lightning" on stage to celebrate early-era Metallica. Focusing on Metallica's first five albums (from "Kill 'Em All" to "The Black Album"), this Cleveland-based contingent of singer, lead and rhythm guitarist Sean Perry, lead guitarist Luke Kunkle, drummer Drew PenCook and western PA's Alec Wolf on bass opened with "For Whom the Bell Tolls," and fiercely tackled early Metallica classics such as "Master of Puppets," "Fight Fire with Fire," "Welcome Home (Sanitarium)," "One," "Creeping Death," "Seek and Destroy," "Through the Never," "Enter Sandman," "Sad But True," "Nothing Else Matters," "The Unforgiven," "Fade to Black" and more. The Four Horsemen delivered aggression and precision, striving to play the songs as close to the Metallica album versions as possible. Sean's James Hetfield snarl was on target, guitar leads and harmonies were razor sharp, and the rhythm section brought full thunder, keeping the crowd fired up and engaged.
Staged early last month in a rural mountain location just north of Port Matilda, the 10th annual Wam Bam Mountain Jam brought a full day of live music, with a dozen bands taking the stage. Launching the music was Carolina Red Clay, a new folk and bluegrass endeavor featuring Chris Bell on lead vocals and guitar, Steve Treado on bass and keys, and Dave Ramey on mandolin. They mixed traditional folk numbers like "Man of Constant Sorrow" with their own traditional-styled arrangements on numbers by J.J. Cale, the Eagles, Steve Earle and more. State College's Forrester Grey & the Cropdusters then introduced their blend of alternative, blues and Americana flavors. Led by namesake, singer and guitarist Forrester, the group spotlighted original songs from their debut EP "Of Gardens & Grassroots," as well as their version of CCR's "Born on the Bayou." Flanked by Nick Stahlman on guitar and Steve Treado on keys, Luke Cimbala followed with several of his original songs; including the dark and intense "Queen Master," plus a version of Pink Floyd's "Comfortably Numb." Port Matilda's Homegrown then triggered some dancing and grooving with their blend of classic rock and soul; firing up numbers from the Rolling Stones, Janis Joplin, ZZ Top, Temptations, an extended jam edition of the James Gang's "Funk No. 49" and more. Featuring members of The Perkolators, new band project Daystruck displayed a wide-ranging blend of sounds, from funk and jam to reggae, blues rock and even alternative metal with a version of Tool's "The Pot." GoatSmoker fired up the crowd with more heavy rock and metal, before the JR Mangan Band with Veronica triggered some dancing with favorites from Fleetwood Mac, Cranberries, Journey, Jefferson Airplane, David Bowie, Shania Twain and more. State College's Mellow Honey followed with their brand of high-powered, indie-flavored original rock. Wam Bam hosts Donny Burns & the 3rd Degree showcased new original songs from their forthcoming EP during their set, as well as fired off rocking favorites from Elton John, Spin Doctors, Red Hot Chili Peppers, CCR and more. Dauphin County hard rockers Broken Fayth then kept the crowd fired up and partying with their blend of hard rock and metal favorites. State College's Sidewinder – singer and guitarist Bear Ketchum, bassist Alex Mijangos and drummer Xavier Hons – continued with their mix of classic blues rock, hard alternative rock and original songs. Armed with acoustic guitars and hand percussion, The Roof then closed out the night with a more relaxed vibe, a mix of original songs, folk, soul and blues. Wam Bam Mountain Jam keeps getting bigger and better every year; this year's event was the best yet. Hats off to everybody involved!
Last month's 15th annual We Care Music Fest (formerly Day Of Rock) also brought multiple bands and performers to the stage; held at Roaring Spring's Shawnee Park, this event raised funds and awareness for the We Care Foundation of Central PA. The day saw performances by Felix & the Hurricanes, The Pines, Sweet Desire, the Zac Grace Band, Avenue Of Kings, Velveeta and others. This event enabled me to see several performers for the first time, including new area rock band Xorillion. Although the name is new, Xorillion features several familiar faces in former Downshift members Travis Dick on lead vocals, and Jordan Ferraro and Josh Michael on guitars. Isaac Sell plays bass, and Alex Michael plays drums. Xorillion played a mix of hard-hitting favorites from the Misfits, Stone Temple Pilots, Local H, Tom Petty, Weezer, The Cars, 3 Doors Down, Metallica and more. I also got to see Bedford-based solo performer Jud Bussard, who played songs in between band sets. Jud displayed a bold and powerful voice as he sang original songs plus favorites from Travis Tritt, Lynyrd Skynyrd, Jamey Johnson, Tyler Childers, Johnny Cash and more. Other highlights this day included Zac Grace joining Jud onstage for a spirited rendition of "Wagon Wheel," and – during Zac's set – drummer Randy Wilson, who applied his aggressive metal drumming style to a version of John Michael Montgomery's "Sold (the Grundy County Auction)," making this the rowdiest version of this country hit that I ever heard! 
Levity Brewing Company in Altoona ushered in Independence Day with a July 4th eve performance by Pittsburgh's Steel City Yacht Club at downtown Altoona's Heritage Plaza. Eight members strong including three-piece horn section, Steel City Yacht Club celebrated "yacht rock" mild-mannered rock favorites from the 1970s and 80s. Singer Gary Bickerstaff (who also sings for recent PA Musician front page group Radio 45) showed a clear voice and lots of energy out front as the group did numbers from Christopher Cross, Chicago, Boz Scaggs, Jay Ferguson, Gerry Rafferty, Steely Dan, Toto, Huey Lewis & the News, a Billy Joel medley, Firefall, Peter Gabriel and more. The group triggered increasing amounts of dancers as the night progressed.
My 4th of July live music and fireworks destination this year was the Fourth Of July Celebration at Altoona's Lakemont Park. Live music from The Pines and Bone Jacked led up to the fireworks display. Kicking off the music, The Pines – singer and guitarist Daman Mills, lead guitarist Logan Warner, bassist and keyboardist Alex Snyder and drummer Ben Brumbaugh – roused the arriving audience with their wide variety of classic rock, newer rock and hits. It was again cool to witness these guys sinking heart and soul into tunes created long before any of them were born – including numbers by the Beatles, Neil Diamond, Bill Withers, Grover Washington, Neil Young, The Sweet, Kiss, and others. They also a few of their own original songs, including "Want More" and "That's All Right." Bone Jacked then led up to the fireworks with three sets of classic rock and a few country favorites. Singer and guitarist Kip Woodring, bassist and singer D.J. Gates, guitarist and singer Chris Guella, and drummer and singer Terry Wilt kept folks happy with tunes from The Band, Lynyrd Skynyrd, CCR, Stray Cats, Eagles, a George Thorogood triple-shot, AC/DC, Steve Miller Band, Pink Floyd, Stevie Ray Vaughan and more. Those attending this event got a double fireworks treat, as the neighboring People's Natural Gas Field set off their own 4th fireworks display following the Altoona Curve's game vs. Erie.
Although other obligations prevented me from experiencing much of Arts Festival weekend last month, I did get to catch the last day – Sunday – of this year's Central PA Festival of the Arts in downtown State College. The Chris Bell Band was performing at the Festival Shell Stage as I arrived. Chris on lead vocals and guitar, Steve Treado on guitar and keys, David Ramey on mandolin, Doug White on drums and 14-year-old Max Campolong (one of Chris' music students) on bass entertained the Old Main lawn audience with country favorites from Kenny Chesney, Luke Combs, Steve Earle, the Eagles and others. I then took in the Skoal Brothers' performance on the Allen Street Stage. Singer and guitarist Julian Allatt, John "JT" Thompson on keys and vocals, Kate Twoey on vocals and acoustic guitar, bassist James Miller and drummer Stubby Stubbs generated fun grooves and vibes with their selection of blues, rock, jam and funk numbers. The group worked up feisty energy on numbers from Dolly Parton, Grateful Dead, Joe Tex, Bob Dylan, the Beatles, the Allman Brothers and more. And I caught the last few songs as Velveeta wrapped up this year's Arts Festival music on the Festival Shell Stage. Singer and guitarist Brian Kriley, guitarist and keyboardist Brent Martin, bassist and singer Adam Becker and drummer John Lynch inspired lawn and sidewalk dancing with their "80s cheese" favorites from Nena, Rick Springfield, Tom Petty and more.
Following the Arts Festival, I visited the Pine Grove Hall in Pine Grove Mills for my first time, checking out the venue's monthly Writers Round event. Organized by Luke Cimbala of the Band Junkies, this event brought together four solo singers and songwriters; this month featuring Nick Stahlman, Dylan Miller, Alyssa Hankey and Phil Reeder. All four performers played individual songs in rotation for nine rounds during the event, sharing inspirations for their songs as they went along. A member of Donny Burns & the 3rd Degree, Silver Lights and The Bigs, Nick introduced songs he created for all of these projects, as well as a few he hadn't played out before. Dylan shared folk and blues-based songs, including some that he co-wrote with Doug Forshey and Chris Strait. Alyssa performed several songs from her latest album "Northerner" plus a few newer numbers, some inspired by life in her home area in rust-belt western PA. And a member of bluegrass group The Lockport Drifters and several Lock Haven area rock'n'roll projects, Phil shared personal songs about life, love and relationships…plus his hilarious final song, an ode to nose cuisine (I think called "A Booger Can't Be Beat"), which ended the event with plentiful laughter.
I caught my first look at Johnstown trio From The Top as they entertained at the Woodside Bar & Grill in late June. Guitarist and singer Lou Nagy, his daughter Elyssa "Liddy" Nagy on lead vocals and bass, and drummer Doug Lohr sounded great on their wide variety of song favorites throughout the show. Liddy showed a clear, powerful and high-ranging voice on tunes from Janis Joplin, The Chicks, Joan Jett, Alannah Myles, Shania Twain, Elle King, Scandal, Cranberries, Alanis Morisette, Pat Benatar and more; and she was very solid on bass too! Lou fronted the group on a few as well, including Alice Cooper's "Be My Lover" and the night-ending rendition of Lynyrd Skynyrd's "Gimme Three Steps." I also liked several of the surprises the group broke out this night, such as The Champs' "Tequila" and Shocking Blue/Bananarama's "Venus." From The Top sounded strong through the whole show, instrumentally tight and playing their songs with heart and smiles.
Other performers I saw recently included Half Tempted as they rocked an audience of chicken wing connoisseurs during the weekly Thursday Legion Park Wing Festival at Hollidaysburg's Legion Park; this edition raised money and awareness for Folds Of Honor, which provides scholarships to the families of fallen or disabled military and first responders…Strings Radio, playing their first show in three years last month at the Italian Mutual Society (IMS) in Gallitzin…The Jeremy Edge Project, armed with guest harmonica player, at Altoona's 4Ds Lounge…also The Zac Grace Band and The PennSoulvanians at the 4D's Lounge, Felix & the Hurricanes at Altoona's Black & Gold Tavern…And, while in the process of delivering last month's PA Musician issues through Cambria County, catching one song by Bazooka Joe acoustic (Pat Conway and John Bunting) as they played at the Moonshine Mine Saloon near Nanty Glo. (The song was Dishwalla's "Counting Blue Cars.")
The area music scene was saddened by the passings of two musicians in recent weeks…David Baird – known as "Harmonica Dave" – passed away on June 30. Dave was an enthusiastic harmonica player and a founding member of Altoona-based acoustic trio the Backyard Rockers. Dave frequently attended jam nights around the area, donated his talents to numerous benefits over the years, and could frequently be seen busting dance moves on area live music dance floors. My bandmate in the Backyard Rockers, Dave was a hit with audiences as he brandished his huge arm-length harmonica (actually a large holder for his smaller harmonicas) and strode out into audiences with that big harmonica set-up. He was always upbeat, and for bandmates Rich Dasch, Mo Yon and me, Dave was a friend and brother…And the Johnstown area music scene mourned the passing of musician Jim Fetcko, who passed on July 11 after a sudden illness. Born in Johnstown, Jim spent the past 28 years living in North Ridgeville, Ohio (near Cleveland). An accomplished musician, Jim was a founding member of Maiden America, and also was a member of the bands Saturn, Destiny, Syndicate, OMCB and Capture.
News and notes…Los Lobos, Keller Williams' Grateful Grass featuring The Hillbenders, Gabe Stillman, Yam Yam and Dogs In A Pile are some of the featured performers at this year's AmeriServ Flood City Music Festival, happening Aug. 4-5 at People's Natural Gas Park in Johnstown…This year's Mass N Tha Grass Music & Arts Festival takes place Aug. 11-12 at the Sinking Valley Fairgrounds near Altoona; some of this year's performers include Mums The Word, The Jaded Lips, Rasan in the Heyday, David Koster Band and more…Life Of Agony and Sick Of It All are among the headliners at the Upstage Music Fest III; featuring 37 bands on two stages, this year's festival happens Aug. 11-12 at the Clearfield County Fairgrounds…XM, Sweet Desire, The Stiffs, Bone Jacked and The Backyard Rockers will perform at the annual Vets Fest, happening outdoors Aug. 13 at Altoona's Unter Uns Musical & Entertainment Society; proceeds help out local veterans through the Vietnam Veterans of America Blair County Chapter 967…The annual "Pickin' for Wishes" Bluegrass Festival, presented by the Make A Wish Foundation of Greater Pennsylvania and West Virginia, will take place on Friday and Saturday, August 18-19, at the Cresson Sportsmen's Association; Tree performs Friday evening, and the bands Centerfire Bluegrass, Hickory Bottom Band, Hillbilly Biscuits and Mama Corn will performing two sets each in rotation throughout Saturday. Proceeds benefit Make A Wish…The operators of Heroes Tavern in Nanty Glo recently announced that they have closed their doors, and they thank the bands, entertainers and the area community for their support…Altoona-based metalcore rockers A Starlite Grey have announced their new singer, as Shane Ross replaces former singer Matt Watson…State College's Ted McCloskey is releasing his new album, entitled "Behind the White Noise"; CD copies are available, and the album will officially be released across streaming and digital platforms on Aug. 4…State College acoustic duo The Extra Miles have released their first full-length CD, "Fingerprint"…Altoona's On The Brink has released their third CD, called "Unintentional Consequences"…and Johnstown's Jeff Webb and the Delectable Sound recently issued their new full-length album, called "In A World Of…"
Please send correspondence and recordings to: Jim Price, 1104 S. Catherine St., Altoona, PA  16602. You can also e-mail me at jptheprofessor@gmail.com. And if you're into social networking, look me up on Facebook. And continue to SUPPORT LOCAL MUSIC!  [The Professor photos & art by Jim Price]