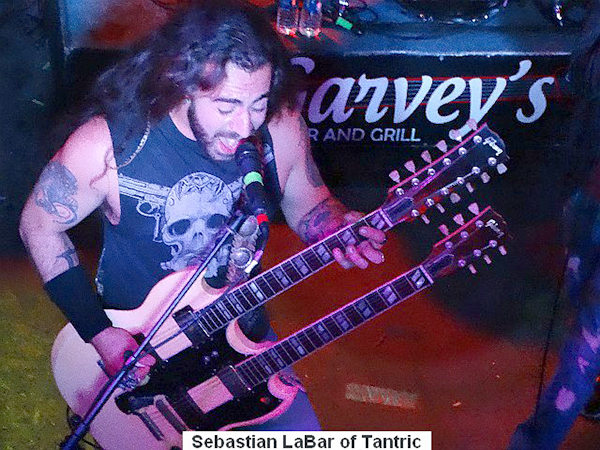 ---
By: Jim Price
We again enter another holiday season, and will soon close the door on the past 366 days and open the door on the next 365. This season will provide the opportunity to slow life down, relax and take stock for a few days, and resolve for better tomorrows in 2021. I wish all of our readers and the music community a safe and pleasant holiday season, and better fortunes in 2021.
Live music moved back indoors as outdoor temperatures dropped in recent weeks, and McGarvey's featured a few shows, including one national recording act. Tantric visited McGarvey's in late October, with The Pennsoulvanians opening. The new-look Pennsoulvanians – with the addition of Mike Stanley taking over bass duties – kicked off the night with their blend of original R&B, hip-hop, jazz and reggae grooves. Mike's presence makes The Pennsoulvanians' groove bigger and thicker, bolstering the sonic launching pad for singer/guitarist Chet Denny and rap specialist Michael "Duville" Thomas to weave their vocal magic. The songs all sounded strong; this night including "Strip You of Your Innocence," the reggae-toned "Day Has Come," "Forty Acres," "Girl You Deserve to Be," "Pennsoulvania" and others. The pieces of this band all worked well together – Chet's and Michael's respective vocal passages complemented each other and provided puzzle pieces to the same lyrical narrative; and the instrumental components gelled as well, including Lyndsay Reilly's sax solo displays, Nate Nagle's tasty guitar leads and Brett Fanelli's vibrant keyboard flourishes, all backed with Mike's bass lines and Todd Harshbarger's steady drum rhythms. This set showed yet more forward momentum for this group, and their future looks bright. Tantric then proceeded to light up the house with their powerful and tightly-executed performance. From the get-go, founding member, singer and acoustic guitarist Hugo Ferreira, lead guitarist Sebastian LaBar (son of Cinderella guitarist Jeff LaBar), bassist Jaron Gulino and drummer Jon Loree delivered raw energy and intensity as they played songs from throughout the group's catalog. The group opened with their 2008 track "Down and Out," and followed with "Angry," one of two songs off their latest studio album, "Mercury Retrograde." (The other tune, "Letting Go," was played toward the end of their set.) They did more popular tracks such as "Fall Down," "Hey Now," "Mind Control," "Mourning" and their main set-closer "Breakdown." Some of their highlights included Sebastian breaking out a double-neck guitar for "Astounded," Hugo dedicating the song "Hero" to his mother, and an impressive rendition of Whitesnake's "Is This Love." Hugo gave a fiery and intense performance that connected well with the audience, while Sebastian showed excellent skills on the guitar strings with his heated solo work, and Jon went for broke and hit his drums hard. The crowd called for an encore at set's end, and Tantric answered with three tunes to close out the night. Despite COVID restrictions, this was a successful, smoothly-run show, and early word is that Tantric may return once the COVID situation is in the rearview mirror.
Local punk rock took the spotlight during a Halloween night triple-bill at McGarvey's. Cheeze of the Railroad City Murder Machines strummed his acoustic guitar and sang a number of acoustic-geared punk rock tunes to commence the music; including Misfits numbers like "Skulls" and "Saturday Night," Rancid's "St. Mary" and more. Jokingly disguised as the "thermostat police," the dads of The Snipped then arrived on the stage to step up the tempo with their 'dadcore' punk-rocking favorites and new tunes. Singer/guitarist Wax, lead guitarist Jeff Reid, bassist Frank Conrad and drummer Justin Burket fired off original favorites like "Hand That Feeds," "The Mine," "All We Know," "Bus," "Friday Night" and "Along These Streets." They also included their punk-rocking makeover of Bruce Springsteen's "Born to Run" and a few newer original tunes as well. And X's For Eyes slammed the lid on the night with their high-velocity set of punk-rocking original tunes. Singers and guitarists Tom Noel and Tim Mort, bassist Oob and drummer Justin Fair fired through original tunes old and new, including newer songs such as "814," "Tragedy" and "Radio," plus established numbers such as "Walk Away" and more.
The Heathen Parade headlined a double-bill at McGarvey's during the weekend preceding Thanksgiving. Dr. Chance Bartleby and the ? opened the night. Instructing math by day and entertainer by night, the Doctor and "the ?" (his drummer) intrigued onlookers with his eccentric brand of music. Dr. Chance blended elements of indie rock, folk, punk and emo into an unpredictable sound. His songs could launch into sudden spoken word and yelling rants, humorous self-deprecating asides and one-liners, plus more. The Heathen Parade then took the music in a decisively heavier direction. Lead snarler and guitarist Jason Straw, bassist Jay Snider and drummer Rik Golden churned out their groove-driven brand of metal aggression. They crunched out heavy original assaults, including their recently-issued singles "Born Again Leviathan" and "Notorious," along with "Ready or Not at All," the new "Dead Heat for Dead Last" and their closer "Diesel Jesus." The Heathen Parade merged melodic elements with aggressive power metal riffs and rhythms plus a touch of swagger, and their rigid, thunderous sound drew a good response from the McGarvey's audience.
The final outdoor performance I witnessed this year took place in late October, as Asbury Lane entertained outdoor diners at Huntingdon's Stone Town Cafe & Gallery. Singer Tami Hinish and singer/guitarist Jeremy Schimansky were joined this night by harmonica-wielding frequent-flyer guest Jack Coyle. Asbury Lane was in the midst of a rendition of Van Morrison's "Brown Eyed Girl" as I arrived. Keeping with their tradition, Asbury Lane delivered several numbers from the John Prine catalog – including "In Spite of Ourselves," "That's the Way the World Goes Round" and "Spanish Pipedream." They also did renditions of John Denver's "Take Me Home Country Roads," Dolly Parton's "Jolene," Fleetwood Mac's "Landslide," the ever-popular "Wagon Wheel," the Johnny Cash classics "Folsom Prison Blues" and "Ring of Fire," "Will the Circle Be Unbroken," their night-ending take on Willie Nelson's "On the Road Again" and more. All three musicians were in good form; Tami and Jeremy both displayed great voices and harmonies, and Jack colored the songs with tasteful harmonica passages in all the right places. Coupled with a tasty dinner (I again enjoyed the Café's parmesan chicken over pasta), Asbury Lane's performance made a great start to the evening.
As Asbury Lane's show was early and ended by 8 p.m., this allowed me time to catch a second show this night just a few blocks up the street, as Charlie McClanahan was making the music at Huntingdon's Standing Stone Coffee Company. Armed with acoustic guitar, Charlie was under way as I entered the building – and just like Asbury Lane earlier, was also in the middle of Van Morrison's "Brown Eyed Girl" when I arrived. Charlie performed a wide variety of tunes, spanning John Prine's "Angel from Montgomery" to Elvis Presley's "That's Alright Mama" to the Temptations' "My Girl" to Ray LaMontagne's "You Are the Best Thing" to Philip Phillips' "Home," to his funky and folksy variation on "Swing Low Sweet Chariot" to end the night. He also included favorites from Mumford & Sons, John Denver, White Stripes and Steve Miller Band. Charlie did each song in his own punchy and soulful style, making each song sound fresh. This show, part of Standing Stone's After Hours series, was being shown online as well, and in between sets a staff member interviewed Charlie for the online audience, allowing him to share his story, life, influences and inspirations for his music. Combined with a refreshing Standing Stone grasshopper milkshake, Charlie's performance made for a nice nightcap for my live music endeavors this day.
Among online live streaming performances I caught in recent weeks was MauveStröm, presented by the Central Pennsylvania Music Hall of Fame on Facebook. First formed as Mauve in 2016 during a class in the Music Business Technology (MBT) program at Millersville University, the group reformed as MauveStröm in 2018 with a cast of Millersville MBT alumni and current students. Eight members strong including three singers, MauveStröm performed a variety of classic rock favorites from the 1970s and 80s. With all three vocalists – two female and one male – alternating lead singing duties, MauveStröm did numbers from AC/DC, Pat Benatar, Journey, Foreigner, Van Halen, Heart, Kansas, Bon Jovi, and their closing edition of Deep Purple's "Highway Star." All three singers packed potent, high-flying voices, and MauveStröm's instrumental corps of two guitarists, a keytarist, bassist and drummer were tight and talented. The group's enthusiasm and energy toward their song material made this an enjoyable presentation. Four members of MauveStröm – singer Elaina Hatton, guitarists Lauren Hill and Brady White, and keytarist Barry Atticks – will be joined by Millersville students Emily Lingle on drums and Declan Fischer on bass plus vocal instructor Kristin Sims to issue a special recording and video this month of their hard-rocking version of "O Come O Come Emmanuel," recorded and mixed by Grammy award winner David Ivory.
Blood Union shared their acoustic performance at the Break Room in Twin Rocks on Facebook last month. Tim Frick on lead vocals and guitar, Ron Gallucci on bass and backing vocals, Jay Snider on double-neck guitar and Ben Frick tapping the cajon did a selection of the group's original songs. Among the numbers Blood Union performed were "Sweet Misery," "World Apart," "Survive," "What You Lost" and the group's current single, the anthemic "Lit." The live stream sound quality was good, and the group sounded strong through all of it; the in-house audience received Blood Union's songs well. This provided a good introduction to much of Blood Union's current song arsenal, which others will get to experience in plugged-in electric form once COVID gets in the rearview mirror and more live shows can happen again.
The bass player and singer for The Boomers, Bob Helbig, presents a weekly live-streaming performance on Facebook every Thursday evening. During a performance early last month streamed live from Patton, Bob was initiating his new harmony box as he performed a wide mixture of acoustic rock, pop and country numbers. He debuted a few new songs, and broke out a lot of tunes I haven't heard in a while – such as Bob Dylan's "If Not for You" (made into a big 1971 hit by Olivia Newton John), The Searchers' "Needles and Pins," Marty Stuart's "Hillbilly Rock" and Al Stewart's "End of the Day." He also did numbers from the Eagles, David Allan Coe, Emerson Lake & Palmer, John Denver, Fleetwood Mac, Del Shannon, CCR, and – if you're familiar with Bob's musical world – the Beatles, doing renditions of "In My Life" and "Falling" during the portion of the performance I saw. Bob sounded strong through all of it, singing it all with heart and injecting his cordial personality into the presentation. And the harmony box worked well too. This was a fun and enjoyable performance, and Bob's live-streaming Thursday sets provide a relaxing way to start the weekend early.
Although now suspended until early 2021 due to COVID-19, Altoona's Oak Spring Winery had been presenting bi-weekly Open Mic sessions on alternating Sunday afternoons. I got to check out one of these in early November. Organized and hosted by Chris Norris, this day's session featured performances from a couple performing instrumental bluegrass numbers, at least two solo singers, and Don "Turk" Schnars toward the end of the afternoon. "Turk" played acoustic guitar and sang several folk, rock and pop favorites such as John Prine's "Angel from Montgomery," The Band's "The Weight," Steve Goodman/Arlo Guthrie's "City of New Orleans," The Bellamy Brothers' "Old Hippie," Jimmy Buffett's "Margaritaville" and "Wagon Wheel." As things were winding down, host Chris Norris got up and started playing guitar and singing, and asked if I wanted to get up and do anything; I just happened to have my djembe in the car, and brought it in, resulting in an impromptu "after hours" jam session with both Chris and "Turk!" This was fun, as we haphazardly went at it on a number of tunes, from Elvis Presley's "Little Sister" to Lynyrd Skynyrd's "Sweet Home Alabama" to Jerry Jeff Walker/Nitty Gritty Dirt Band's "Mr. Bojangles," Bob Dylan's "Knockin' on Heaven's Door," Don Williams/Eric Clapton's "Tulsa Time" and more. Don't be surprised to see such jams again once Open Mic resumes at Oak Spring Winery in 2021.
And although COVID-19 prevented it from happening live in-person, Penn State Altoona's literary arts magazine, "Hard Freight," hosted the fall semester edition of its "Hard Freight Café Open Mic" event online via Zoom. Several Penn State Altoona students and instructors presented original poetry and literary readings during this edition. The Open Mic event coincided with the submissions deadline for the online "Hard Freight" magazine, which will be published this month.
On a sad note, the Altoona area music scene and community lost two longtime friends and members with the passing of Steve Shiffler on Oct. 28 and "Big Jim" Ricotta on Nov. 11. See our tributes to both men elsewhere in this month's issue.
News and notes…The Central Pennsylvania Music Hall of Fame has pushed back their second annual Central Pennsylvania Music Awards and Hall of Fame induction ceremony events until spring of next year due to COVID-19; the deadline for award nominations has been extended as well…The 26th annual Millennium Music Conference will take place on Friday and Saturday, February 26 and 27, 2021 at the Hilton Harrisburg Hotel in downtown Harrisburg. The conference will feature industry keynotes, education panels, workshops, mentoring sessions, an industry trade show, and two nights of music from nearly 200 different bands and performers. For more information, visit the conference's website, www.musicconference.net…Some original members of northern PA-based heavy metal group Embers Fall have formed a new project called Return to Flame, and are entering the recording studio this month to begin recording vocal tracks for their new songs.
Please send correspondence and recordings to: Jim Price, 1104 S. Catherine St., Altoona, PA 16602. You can also e-mail me at jptheprofessor@gmail.com. And if you're into social networking, look me up on Facebook. SUPPORT LOCAL MUSIC! HAPPY HOLIDAYS! And keep WASHING YOUR HANDS and WEARING THOSE MASKS!