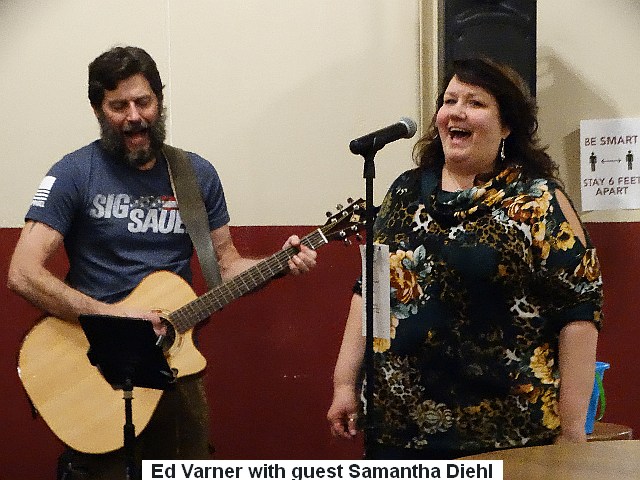 ---
By: Jim Price
At press time, I learned the sad news of the passing of the man who created Pennsylvania Musician Magazine almost four decades ago. LeRoy "Whitey" Noll passed on January 29 after a short battle with lung cancer. He was 79. Whitey was a longtime member and friend of the state's music community, and his magazine has through the years become a valuable and trusted resource that serves, informs and connects the state's musicians and music industry. And he was a friend, mentor and influence to me who helped change the trajectory of my life and career. I share my heartfelt sympathies with Robin, Josh, Rachel, Andrea and the entire Noll family, as well as all of Whitey's friends and colleagues.
February means MMC time…The 25th annual Millennium Music Conference & Showcase in Harrisburg is still happening this year, but will have a different look. The conference takes place February 25-27 at the Hilton Harrisburg Hotel & Conference Center in downtown Harrisburg. Due to the COVID-19 pandemic, the conference will follow the current Pennsylvania health and safety guidelines to offer a hybrid event including a virtual and in-person conference and showcase. Plans for a limited physical event are being provided in further updates as more information becomes available; check www.musicconference.net or the conference's Facebook page for details.
On to the music…Although the state's holiday season COVID-19 restrictions curtailed in-person live music celebrations for the New Year's holiday, several online music events still enabled me to ring in New Year 2021 in musical style. My New Year's Eve festivities began early, as Bret Alexander performed a lunchtime live stream show via the Central Pennsylvania Music Hall Of Fame's Facebook page. Bret played guitar and sang for 2½ hours nonstop, honoring many requests that had been submitted to him beforehand. A lot of those requests were for music he created or helped create while in The Badlees – such as "Poison Ivy," "Tore Down Flat in Jackson," "Gwendolyn," "Song for a River," "I'm Not Here Anymore," "Fear of Falling," "Like a Rembrandt," "Luther's Windows," "A Poet," "Ore Hill" and more. Bret also did numbers from his solo albums and other projects, including "Drive Back Home," "Bleeding Heart," "I Want to Win in This World," the title track from his album (and subsequent band) "Gentleman East" and more. And Bret did a few covers from influential artists – such as Neil Young's "Don't Let It Bring You Down," the Allman Brothers' "Ain't Wastin' Time No More," Steve Earle's "Copperhead Road" (on which he played mandolin), Van Morrison's "Jackie Wilson Said" and "Into the Mystic," Bruce Springsteen's "Atlantic City," "Battle of New Orleans," Johnny Cash's "Cocaine Blues," the Rolling Stones' "Paint It Black," Live's "Lightning Crashes" and his closing rendition of The Band's "The Weight." It was all good, as Bret sang with a strong voice and purpose, and shared reflections, insight and stories about many of the songs.
I bounced between two online events during the final hours of 2020. The Blues Society of Central PA presented a five-hour New Year's Eve Party gala, featuring several live-streaming performances plus several pre-recorded segments. The Nate Myers Duo – Nate Myers and Pete Netznik – opened the festivities with a pleasant mix of blues-rooted and Americana sounds. Nate on vocals and harmonica and Pete on acoustic guitar played such numbers as bluesman Jack Johnson's "Fishin' Musician," "Big Bad Bill (Is Sweet William Now)," plus original songs like "Everything Will Be Alright If I Can Get Away From Me," "Mean People" and the set-closing "Rise Above It," which transitioned into an "Auld Lang Syne" ending. Next was the Dillsburg-based Southbound Band, celebrating the music of the Allman Brothers. Featuring guitarists and singers Bob Creed and Bill Wasch, Eileen Creed on drums and vocals, Jeffrey Goodall on keys and vocals, and Jesse Larrimer on bass, the Southbound Band did solid work on Allmans classics such as "Midnight Rider," "Statesboro Blues," the instrumental "Hot 'Lanta," "Ain't Wastin' Time No More," "One Way Out," "Soulshine," the closer "Whipping Post" and more. Illness sidelined Harrisburg area trio The Mighty Klucks from performing live, so an earlier performance of theirs was shown instead. Scranton's Clarence Spady then performed a set of traditional blues and original songs. Clarence sang and showed nice technique on acoustic guitar as he did numbers such as Willie Dixon's "Let Me Love You Baby" and Screaming Jay Hawkins' "I Put a Spell on You," along with the original song "The Addiction Game," about the ongoing heroin addiction crisis in Scranton and other communities. Next was a prerecorded performance from southeastern PA's Peter Veteska & Blues Train. Leading up to midnight was a showcase of prerecorded performances from independent blues artists from around the country and world. Included were sets from Australian blues artist Fiona Boyes; Austin, Texas-based duo Kathy Murray & William Jones; Ventura, California duo Crooked Eye Tommy Marsh & Craig Williams; Colombian blues artist Carlos Elliot, and Alexandria, Virginia's Moonshine Society. It all made for a tasty and bluesy homestretch to 2020. Check out the Blues Society of Central PA's weekly Virtual Jam, which happens Thursday evenings at 7 p.m. on Facebook, with different performers every week!
I also checked out "Celebration Johnstown," which was streamed online during New Year's Eve and also was presented on public access television in the Johnstown area. This featured a wide variety of presentations and holiday greetings by community leaders, plus entertainment, holiday season sights and sounds, and even a televised (and online) fireworks display. Music was a part of it, with a variety of Johnstown performers appearing throughout the presentation in prerecorded segments. Among them were the father and daughter duo of Micah and Eliza Mood. Micah strummed acoustic guitar and young Eliza played the fiddle; both sounded good as they did pleasant renditions of the "Beaumont Rag," "We Three Kings" and "God Rest Ye Merry, Gentlemen." A few minutes later in the event, Rachel Allen played harp and sang several numbers. Rachel offered words of hope and encouragement to viewers as she performed three songs – Leonard Cohen's "Hallelujah," Matisyahu's "One Day" and an original number, "This Is the Life I'm Given." Other musical performers during "Celebration Johnstown" included Micah with his folk/Americana group Striped Maple Hollow, Johnstown polka favorites Rosie & the Jammers, The Evergreens, Matt Otis, The Irish Pretenders, former NBC Television "The Voice" finalist Josh Gallagher, the Johnstown Symphony Orchestra, Johnstown Symphony Chorus and more. This was a nicely put-together presentation, and a display of community spirit to help transition into the New Year.
With his bi-weekly Friday live stream presentation coinciding with New Year's Day, Pittsburgh favorite Norman Nardini kicked off 2021 as only he can. With his bandmate Harry Bottoms "playing the tuba part" on acoustic bass, Norman's "New Year's Day Spectacular" blended original songs from his catalog with witty and humorous observations for the "high-quality people tuned in," as Norman was "talkin' loud, sayin' nothin,' comin' on strong and staying on long." Switching between acoustic guitar and keys, Norman did such songs as "Look What You Done," "My Old Man," "Have's and Have Nots," "She's Crazy," "Game On," "Pittsburgh PA," "The Kingfish," "Three Times Your Fool," "The Man Who Loves You," his closer "Happy New Year to You" and more. Along the way, Norman extolled the joys of being Italian, and spotlighted "Guys Who Were Easy to Like" in the music world – including Joe Walsh, Vince Gill, Willie Nelson, B.B. King, Stevie Ray Vaughan, Keith Richards, Frank Sinatra, Dean Martin ("He had smooth…he owned that s**t!"), Muddy Waters, Buck Owens, Roy Clark, Johnny Cash, Louis "Effin'" Armstrong," Louis Prima, Keb Mo, Taj Mahal, and late Pittsburgh guitar great Glenn Pavone. As he put it, Norman was "falling in love with the humanity behind the music." This presentation set the tone for a whole New Year of Norman Nardini live-streaming fun (at least until music can go on live stages again) – watch for "The Norman Nardini Show" on Facebook and YouTube every other Friday night (Feb. 12 and 26).
Once the holiday COVID restrictions on eateries, bars and venues were lifted, live music returned to the stages of a few rooms, including McGarvey's in Altoona. Ed N'Born provided the first in-person live show I witnessed in 2021. Ed Hofer on percussion and Sean Osborn on acoustic guitar and lead vocals played a wide variety of hits, classics and mash-ups. They broke out tunes from the Beatles, O.A.R., Dave Matthews Band, Radiohead, Grateful Dead, Cage the Elephant, Black Keys, Red Hot Chili Peppers, Tears for Fears, Weezer, Garth Brooks, and even a take on Britney Spears' "Baby One More Time!" They also did the mash-ups: fusing together O.A.R.'s "That Was a Crazy Game of Poker" with Snoop Dogg's "Gin and Juice," Smash Mouth's "All Star" with Semisonic's "Closing Time," and an extended melding of Pink Floyd's "Breathe," Neil Young's "Down By the River," Black Keys' "Weight of Love" and Elton John's "Rocket Man." Ed N'Born kept the mood happy, taking requests along the way and conducting a tip jar poll to find if audience members preferred ranch or bleu cheese dressing with their hot chicken wings. (According to the bills in the jars, ranch appeared to win by a landslide.)
Taking advantage of mild January weather and good road conditions, I ventured up the hill for my first-ever visit to The Break Room in Twin Rocks to see Crawdad Joe in action. Featuring group namesake Joe Dedon singing and playing acoustic guitar, David Blake on djembe and license plate stomp board, and Christopher Volpe on keys, trumpet, harmonica. melodica and backing vocals; Crawdad Joe mixed up classic rock, soul, blues favorites and a few original tunes. Their performance this night included numbers from Big Head Todd & the Monsters, ZZ Top, Tom Petty, Otis Redding, Allman Brothers, B.B. King, The Band, Steve Miller Band, Pure Prairie League and more. Highlights were numerous; including a version of Hank Williams' "Jambalaya" with Chris playing melodica, a fiery take on the Joe Cocker version of "The Letter" with Joe delivering his throaty howl and Chris playing trumpet, a swamp blues take on the Doobie Brothers' "Long Train Runnin,'" an audience-energizing version of Nathaniel Rateliff & the Night Sweats' "S.O.B." and more. Crawdad Joe also performed original tunes such as the upbeat and bluesy "Full Of It." It all sounded good; Joe's big Louisiana howl was in good form, and the group was instrumentally solid. And the Break Room's BBQ Jack Burger and fries were excellent! I'll be back!
Wind, rain and a little bit of snow didn't thwart me from travelling to Bedford last month to finally catch my first in-person look at Ed Varner as he performed at Bella Terra Vineyard (formerly Briar Valley Winery). Singing, strumming acoustic guitar and buzzing the kazoo, Ed set out to get the small audience of onlookers into a festive mood, and did so with his blend of rock and pop favorites from the 1960s through 1990s. Ed wasted no time pulling the stops to get folks into the music, moving his mic stand out toward the tables and coaxing a sing-along on Tommy Tutone's "867-5309/Jenny." He also demonstrated his kazoo and ooga-chaka-ing skills on B.J. Thomas/Blue Swede's "Hooked on a Feeling," and mixed hits and classics from the Eagles, Dion, The Cars, Queen, Ben E. King, Fleetwood Mac, Phil Collins, Green Day and many more. During his latter set, Ed rallied the audience by breaking out a version of Chuck Berry's "My Ding-a-Ling," challenged them to reach the high notes on Bon Jovi's "Living on a Prayer," and showed that hard rock and metal are part of his musical vocabulary with versions of Alice In Chains' "Down in a Hole" and Metallica's "Nothing Else Matters." Near show's end, Ed welcomed guest Samantha Diehl (wife of longtime Bedford area musician Mark Diehl, also in the house) up to the microphone to sing lead on the Everly Brothers/Linda Ronstadt's "When Will I Be Loved" – her voice shined, and she and Ed combined for some great harmonies! Ed Varner showed that he knows how to work and fire up a crowd on any given night. He returns to Bella Terra Vineyard next month.
Back to the online live-streaming realm, where I caught an intriguing live-streaming double-bill in late December. Organized by Sascha Damon Frost, the "December Moon Stream" event on Facebook featured performances from both Sascha's electronica project Memory Collector and area soul/hip-hop artist Sijel Bee. With keys and electronics set up, the masked Sascha opened the music by performing the 8-song entirety of Memory Collector's just-released "Future Eyes" album. The tunes were interesting, with captivating melody lines, interesting chord arrangements and progressions, various beats and changing electronic landscapes. Most of it was instrumental, but Sascha did grab the mic to sing on "Masque." Although encountering technical issues early on, Sijel did soon get to follow with his set. With a changing video backdrop cascading behind him, Sijel presented a number of original song creations, blending sung and spoken passages along the way. He showed a knack of positioning his words both with and counterpoint to his beats, plus layering of voices and harmonies, timely use of reverb and other effects. I didn't catch many of Sijel's song titles except for one that stuck in my head afterward, his song and philosophy statement called "Know Yourself," with an infectious hook that stayed in my cranium the rest of the evening. This was a good live stream that exposed two of this area's up-and-coming creative talents.
I discovered the world of Brother Jack's Lost Cause early last month. The solo artist alter ego of Ride the Song's Jeremy Jack, Brother Jack's Lost Cause presents his "Happy Hour" performance every Tuesday afternoon on Facebook. Armed with acoustic guitar, harmonica and his happy-go-lucky personality, Brother Jack "rode some songs" and brought some smiles with his lively and jovial performance of original folk numbers and folk-flavored favorites. He did a number of his originals, including "Weird Folk," "Pancakes" (which prompted a discourse with several online audience members about the merits of pancakes vs. crepes), "Bleeding Time," "Chicken Skin Shake," "Snake Ate the Radio," "Hen House," "Boom Boom Ticka Ticka" and more. He also did his own folksy variations on the Beatles' "Let It Be," Bob Dylan's "Don't Think Twice, It's Alright," John Prine's "Fish and Whistle," the traditional folk comedy song "Seven Old Ladies (Locked in the Lavatory)," Slaid Cleave's "Breakfast in Hell," and his set-finishing rendition of Andrew Gold's "Thank You for Being a Friend." Brother Jack kept the mood happy and lighthearted throughout his performance, and kept things moving along at a lively pace. Check out Brother Jack's Happy Hour at 4 p.m. Tuesdays, and watch for his periodic breakfast live streams as well!
I came across the Somerset-based duo of J.D. & Cindy Ross as they presented a live stream performance last month. These two are always enjoyable; this day they blended several 1960s and 70s classics with their own original songs. Both shared and swapped lead singing duties, with J.D. brandishing acoustic guitar, bass, harmonica and flute; and Cindy playing two different acoustic guitars and bass. Their cover selection included some songs I do not often hear; they opened with a rendition of Thunderclap Newman's "Something in the Air," and also did takes on Carly Simon's "Anticipation," Neil Young's "Harvest Moon," Rosanne Cash's "Modern Blue," the Beatles' "Here Comes the Sun," Janis Joplin's "Me and Bobby McGee" and Jefferson Airplane's "White Rabbit." It's always cool to witness J.D. breaking out the flute; he did so on The Zombies' "Time of the Season" and the duo's original song "Rise Up." They also did their original tunes "Who You Are," "The Sky Is Blue," "Black Crows" and their finisher "Hope for the World." J.D. & Cindy's presentation was pleasant and jovial, and their voices and instrumental talents were in very good form.
I came across State College area favorite SGT Bob Timney as he did a live stream performance last month. Spotlighting his original songs this night, SGT Bob demonstrated his gift for both strong melodic and strong lyrical hooks in his creations. His songs provided easy-to-digest lyrical themes of life, love, feelings in the moment and more. SGT Bob sang and strummed his Martin acoustic guitar on such song creations as "Crystals," "Today I'll Think of You," "Fire in the Sky," "Young Man," "Dreams of You," "Wishing Wells and Miracles Like You," "What Smiles Are For," "Pocket Moon" and more. SGT Bob closed out his set with two nice-sounding covers, performing James Taylor's "Fire and Rain" and Dobie Gray's "Drift Away." SGT Bob does live stream performances from time to time, so keep an eye out for them on Facebook.
The State College duo of Ted McCloskey and Molly Countermine have been presenting Friday evening live streaming performances on Facebook recently; I witnessed one of them early last month. With Ted on acoustic guitar and both singing, Ted & Molly mixed a variety of cover material with several of Ted's original songs. Some of the selections this night included versions of Tom Petty's "Wildflowers" and "Girl on LSD," Hoagy Carmichael/Ray Charles' "Georgia on My Mind," Indigo Girls' "Closer to Fine," the Beatles' "Norwegian Wood" and their set-ending rendition of "Fever." Among the original songs they performed was "Down Side of the Boom" from Ted's latest album "The Lost Season Sessions Vol. 2 – Monotony & Madness." Ted and Molly sounded great through all of it, offering fresh arrangements on their covers that made the songs their own, blending for tasty vocal harmonies, and Ted showing style and skill with his guitar work.
Sadly, the region lost two performers in recent weeks…Chad Salvaggio, most recently the drummer for the Nate Myers Band, passed away on January 3 at age 53. Chad had played in several blues and jazz projects around the Harrisburg area, and was also a drum instructor. He was well-liked by his musical peers and fans alike…And Lewistown-based musician Aaron Bossinger passed away unexpectedly on January 15 at age 35. Aaron was a gifted singer, songwriter, guitarist and pianist who lived on the West Coast for several years, and was once nominated for an Emmy award for his music composition of "The Tree That Visited New York City for the Holiday." He was currently a member of the State College-based alternative rock group Relic Hearts, and was a guitar instructor at D.P. Music Center in Lewistown…We at PA Musician extend our heartfelt sympathies to the families, friends and colleagues of both men.
News and notes…A multitude of Pittsburgh area musicians joined forces to create a new song and video to raise funds and awareness for local music venues financially impacted and endangered by the COVID-19 pandemic. The original song, "SOS 2020" (Save Our Stages), was written by Eric Rodger of the band Royal Honey, and involves an all-star lineup of musicians including members of 27 bands, more than 60 artists total. Participants include members of Rusted Root, The Granati Brothers, A Common Crown, The Legendary Hucklebucks, Skell, Black Ridge, The Cheats, Chip & the Charge Ups, Royal Honey, The Borstal Boys and more. Proceeds from sale of the song will benefit Save Our Stages and the National Independent Venue Association (NIVA) Emergency Fund. For more information about the song and project, visit the website www.sos2020pgh.org. A four-weekend virtual concert series involving 12 of the bands kicked off on January 28; visit the SOS 2020 website for more details…Chris Woodward & Shindiggin' will release their cancer fight song and video, "No One Fights Alone," on February 4, which is World Cancer Day. The video will include multiple photographs submitted by cancer survivors holding signs offering words of hope and encouragement, including words from the song's encouraging lyrics. The song and video are being released to raise awareness of World Cancer Day and the ongoing efforts to improve cancer treatments and survival rates…The Derek Woods Band's song "Unforgiving Tree" won top honors as Americana/Folk/Acoustic Song Of The Year last month during the annual Hollywood Music in Media Awards in California…Western New York's Atropus – featuring former Backstreet Law/Til December singer Matt "Goody" Goodreau – has released a song and video paying homage to former Embers Fall singer Dennis Ray Gee Jr., who lost his life in an Oct. 2019 vehicle crash. The video of the song, "The Broken," features photos and quotes from Dennis; his father, Dennis Gee Sr., plays bass with Atropus…The Palace Theatre in Greensburg has begun a new free live-streaming concert series that is taking place through March. The Virtually in the Palace (VIP) Experience kicked off on January 28, and will continue each Thursday evening through March 25, with a different western PA-based band or artist performing each night. The concerts begin at 7 p.m., and can be viewed through The Palace Theatre and Westmoreland Cultural Trust Facebook pages…Guitarist DJ Carothers has decided to step away from Pittsburgh rock group Chip & the Charge Ups, citing other life priorities; the group is now seeking a replacement guitarist…Zach Wade & the Good Grief released their new full-length album, "Love, The Bomb," in late December…State College's Gelatinous Cube has completed and released their full-length album, "Technicolor Dreams"…Mysterytrain is continues work on their first studio album; according to group founder, singer and guitarist Dan Klock, the album is currently being mixed by the group's sound engineer, Dave Muddiman, and should be released in spring or summer… Williamsport's Dirty Mojo Blues Band is currently mixing and mastering their brand new album, which is expected to be released later this year.
Please send correspondence and recordings to: Jim Price, 1104 S. Catherine St., Altoona, PA 16602. You can also e-mail me at jptheprofessor@gmail.com. And if you're into social networking, look me up on Facebook. SUPPORT LOCAL MUSIC! And keep WASHING YOUR HANDS and WEAR THOSE MASKS!