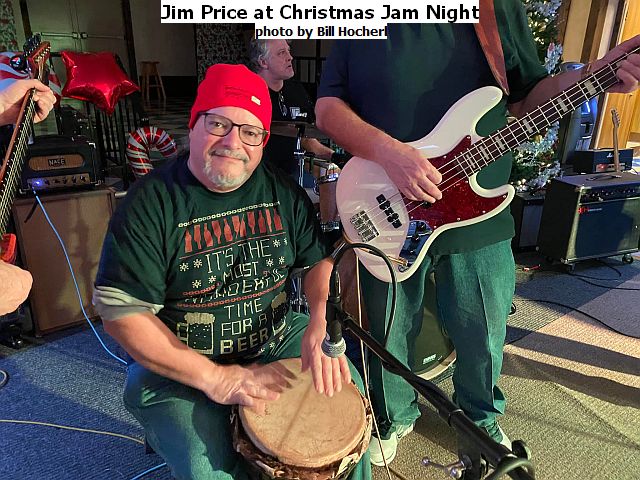 ---
By Jim Price
With the first month of 2022 now in the books, I'm feeling optimistic about this year on the area music scene, especially in my hometown of Altoona. New bands and artists are surfacing, exciting shows and events are being announced already for the spring and summer seasons, and I'm witnessing the growth of a music and arts community, with forward-minded people committed to growing and sustaining that community. It's all exciting and encouraging to witness, and I'm hopeful to see what the coming months bring.
A key component in this movement has been the growth of ArtsAltoona and the ArtsAltoona Center. A 501(c)(3) non-profit organization formed in 2015, ArtsAltoona has worked to support and connect the Altoona area's arts community, as well as work with community leaders to inspire creativity in the region. The gifting of two buildings by the congregation of Simpson-Temple United Parish to ArtsAltoona two years ago established the ArtsAltoona Center, an evolving arts center that hosts art classes and programs, community events and exhibits, and live music events in two performance venues (soon to be three).
I caught my first show at the ArtsAltoona Center last month, a triple-bill featuring Dr. Chance Bartleby & the ?, Bad Luck Lover Boys and Hot Fudge Mondaes in the venue's basement "Blank Canvas" space. Dr. Chance Bartleby & the ? were just under way as I arrived. The group has expanded to a trio with the recent addition of bassist Scott Jurcik (tentatively dubbed the '!'). The '?' – James Grove – played the drums while lead vocalist, guitarist, poet, philosopher, performance artist and sage Dr. Chance barked out lyrics and litanies. Although his punk rock-geared style – with hints of Henry Rollins and Fantomas-era Mike Patton – leaned chaotic, Dr. Chance laid down some interesting chord progressions as he wove stories and observations, while encouraging the audience to boo him after each song (some, like me, were both booing and clapping). Performing next was Bedford foursome the Bad Luck Lover Boys, firing off their catchy brand of punk-driven rock. Singer and guitarist Chris Diehl, guitarist and singer Matt Goddisart, bassist and singer Adam Lingenfelter and drummer Brad Hengst mixed songs off last year's "Letters to Emily" CD with several of their new tunes. Bad Luck Lover Boys showed a knack for melodies, both with the new songs and catchy numbers from the CD such as "In One Day," "Anything at All," "Corey's Hangover," "Movie Song," the Adam-fronted numbers "London Fog" and "Internal Monologue," and more. And Hot Fudge Mondaes finished the night with their volatile set, mixing high-powered, punk-rooted original tunes with select covers. This group was all-out from the get-go, and fired up some lively moshpit action.
Another venue that has opened its doors to the local arts community during the past year is JOOS in downtown Altoona, a wellness and juice café. They hosted last month's "A Path Less Traveled Music Showcase" event, which spotlighted five performing acoustic acts – solo performers Jeff Wendle, Samantha Press, Matthew Sheedy and Digital Graves (Ian Wissinger), plus acoustic duo Lucid Youth & the Space Queen – and their original music. Each presented their own styles and angles of songwriting and music creation, with a good-sized contingent of music fans and supporters on hand to cheer them on. The opener, Jeff began his set with a rendition of Bob Dylan's "Like a Rolling Stone," before introducing his melody-based original songs with a cordial, relaxed presentation. Bedford's Samantha Press followed with a set of her original songs. Leading off with her reminiscent ode "When Crickets Cry," Samantha painted pictures and told stories with her lyrics, and brought those words to life with her expressive voice. Matthew Sheedy's set showed a touch of swagger; with his rhythmic style of playing, Matthew mixed several original tunes with versions of Michael Jackson's "Billie Jean," John Butler Trio's "Good Excuse," his acoustic take on Incubus' "A Certain Shade of Green" and more. Digital Graves, the performance alter ego of singer and songwriter Ian Wissinger, introduced a mild and thoughtful slant with his set of acoustic original songs. The pairing of Philadelphia-based multi-instrumentalist and singer Guy Mauro and singer Anna Marie Bidoli, Lucid Youth & the Space Queen merged psychedelic and retro 1960s flavors into their style of acoustic music. Some of their numbers included "The Word," "Space Queen," and with the Space Queen singing the lead, "Kind." Capping the evening, Ariana Kriebel led much of the audience in a meditation exercise, with several audience members providing percussion and singing bowl accompaniment. Also taking place as the musicians performed was live painting near the stage courtesy of Emma Housel. JOOS presents their next evening of live music and art, "The Clearing" Arts & Music Showcase with five performers, on Feb. 25.
My New Year began on a positive note, courtesy of the Pennsoulvanians' upbeat and soul-stirring performance during McGarvey's Masquerade Ball New Year's Eve celebration. Celebrants were encouraged to dress up and wear their most creative masquerade masks. (I decorated mine with a variety of area band stickers.) After McGarvey's main man, masked pseudo-clergyman "Father Rich," opened the night by toasting the memory of actress Betty White (who passed earlier that day), the Pennsoulvanians carried the festive, masked crowd into the New Year with their grooving, upbeat vibes. Singer and acoustic guitarist Chet Denny, singer and rhyme artist Michael Thomas, guitarist Nate Nagle, saxophonist Lyndsay Reilly, keyboardist Brett Fanelli, bassist Michael Stanley and drummer Todd Harshbarger blended R&B, reggae, folk, jazz and hip-hop flavors into their surging and powerful original song creations. The group set an energetic tone early, and built on it through the rest of the night. They rode each song toward an uplifting crescendo, achieving full-powered grooves that pulled celebrants onto the dance floor and kept everybody nodding and grooving. The Pennsoulvanians performed crowd-pleasing favorites like "Hustle Til the Morning," "Third Time," "40 Acres," the reggae-driven "Day Has Come," "Slip Out of Your Clothes" and many more. The group's musicianship was top-notch this night, with Nate, Lyndsay and Brett providing frequent solo highlights on their respective instruments, as well as blending forces to help lift the songs to another level. After Brett and Todd ushered in 2022 with their key-and-drum rendition of "Auld Lang Syne," the Pennsoulvanians' homestretch set took things even higher, with band and crowd energy escalating the atmosphere to another level. For the finale, guest Danny Rivera joined the group to contribute words on another of their crowd favorites, "Swagger," with the band and dance floor riding the song's hopeful theme to an emotional high to end the night. The Pennsoulvanians look toward a hopeful year ahead, as they plan to record some of their songs, and introduce their live show into more areas around the state.
Beyond New Year's Eve, the first band I saw in 2022 was The Band OZ at Altoona's Unter Uns Musical & Entertainment Society. Lead singer and guitarist Don Osborn, guitarist Craig Albright, bassist and singer Bill Hunter and drummer Bill Hocherl presented their distinctive takes on a variety of blues, jazz and classic rock favorites, attracting dancers onto the floor along the way. They did hits and favorites from the Rolling Stones, James Brown, Gregg Allman, Jonny Lang, Dire Straits, Derek & the Dominoes, the Beatles and more. But they also pulled out several songs you don't often hear, such as Delbert McClinton's "Every Time I Roll the Dice," Albert Collins' "If You Love Me Like You Say," Jeff Beck's "Going Down," Elmore James' "Shake Your Moneymaker," B.B. King's "Help the Poor," and the merger of "Fly Me to the Moon" into the Beatles' "You Can't Do That." The musicianship sounded solid, with Don and Craig exchanging clean and inspired guitar leads, and the all-Bill rhythm section providing the solid foundations behind them.
The Unter Uns still hosts the weekly Open Jam on Wednesday nights, presented by the Live Music Preservation Society…And the Open Jams provided excitement during the Christmas holiday season, as unexpected guest musicians added to the musical fireworks. During the Wednesday preceding Christmas, guests included former area musician Barry Daugherty (now based in Alabama), who played some lead guitar and sang lead vocals on Neil Young's "Cortez the Killer," Nate Beatty (now based in Nashville) playing bass, and – all the way from Austin, Texas – Hanna Barakat and Altoona native Lisa Fazenbaker. Lisa sat in behind the drum kit a few times this night, and Hanna sang lead on the night-ending rendition of Tracy Chapman's "Give Me One Reason." The Wednesday following Christmas was the official Christmas Jam Night, with many musicians in the house and participating. It was great to see the interaction between musicians this night, as longtime area musicians played alongside young guns and newer musicians. Open Jam Night happens at the Unter Uns every Wednesday.
One of the final bands I saw in 2021 was Tyson Reid & the Juniata River Boys, who mixed bluegrass, folk and country flavors at Spring Dam Brewing Co. in Roaring Spring on the eve before New Year's Eve. Namesake Tyson on vocals and acoustic guitar, Gary Willison on fiddle and Dean Berkheimer on banjo, acoustic guitar, mandolin and vocals mixed original songs and favorites. Some of the favorites included versions of "Tennessee Waltz," Steve Earle's "Copperhead Road," Merle Haggard's "Silver Wings," "Green, Green Grass of Home" and "Boil Them Cabbage Down." Dean sang lead on one of his original songs, "Bullscreek Stew" (referencing the Bullscreek area near Claysburg in southern Blair County), while Tyson celebrated his local roots with the song "Back to the Ol' Juniata." Guest Brandi Naugle joined the group to sing lead on a rendition of "Silent Night."
Playing their official first show last month was Altoona's Paper Plants, whose debut headlined a triple-bill at McGarvey's. I missed openers Treaties, but arrived during the night's second band, Pittsburgh's Back Alley Sound. Five members strong this night, Back Alley Sound brought the crowd to attention with their powerful mix of hard-hitting funk, soul, hip-hop and slamming grooves. Vocalist Shark Parker brought the swagger and sass with his mix of soulful singing and fast-firing raps, flanked by guitarist Myles Mahoney, bassist and keyboardist Sam Kisic, saxophonist Robert Ruffner and drummer Jay B$. Formed during the COVID shutdown and weathering delays to their live debut through last year, Paper Plants finally took the stage to end the night. Several familiar area musicians comprise this group; Ty Ayers on lead vocals and guitar, Joe Scott on lead guitar and backing vocals, bassist Ty Miller and drummer Steve Holtz showcased their original songs, introducing their style of melody-geared hard rock. Paper Plants did several songs from their debut recording "Disclosure," such as "Fighting Gravity," "The Worst" and "Trials and Tribulations," plus a few newer songs. Their songs were catchy and intriguing, with singer Ty providing a strong voice up front, Joe crafting interesting guitar riffs and accents, and bassist Ty and Steve providing strong and sharp rhythms to power the songs along. Paper Plants received good response from the large crowd; watch for them as they play more shows in the coming months.
Indiana-based rockers Midnight Lights returned to McGarvey's last month, and introduced a new bass player, as Amy Manofsky takes over four-string duties from Tim Card. Also with the band this night was guest Drew Zimmerman of August Winters on rhythm guitar; Drew met three of the band members with their previous project, Twin Trees. Amy, Drew, singer Ryan Sharp, guitarist Tommy Lyttle and drummer Alex Brewer played power pop/punk numbers from the 1990s and 2000s, along with a few original songs. Midnight Lights kept audience members cheering and dancing with numbers from Weezer, Jimmy Eat World, Bowling for Soup, Green Day, Blink 182, Fallout Boy, All-American Rejects, Machine Gun Kelly, Ataris, Smashmouth and more. Ryan sounded good on the vocals, and eagerly addressed and rallied the audience as the show went along. Former bassist Tim joined Midnight Lights for much of the third set. Midnight Lights showed plentiful energy and enthusiasm, which resonated with the audience and kept them involved with the show. Watch for Midnight Lights as they play stages in Indiana, Cambria, Blair Counties and elsewhere in western PA.
Gelatinous Cube also returned to McGarvey's last month. This was the final show of this State College band's current edition, as guitarist Graham Colby is leaving the group to relocate to North Carolina. Graham, guitarist and singer Tom Harper, bassist Ed Colby and drummer Z. Rozzi again demonstrated their adventurous brand of original music. Gelatinous Cube mixes elements of rock, jazz and international music into a stew uniquely their own. Their compositions often ride along tricky time signatures and unpredictable chord progressions, with intensifying interludes adding tension-and-release dynamics. The group introduced several new tunes this night, including some intriguing instrumentals, and also did material off their latest album "Technicolor Dreams." Once Gelatinous Cube finds their new guitarist, watch for them on area stages for a taste of something different.
Two area band frontmen teamed up for a double-bill at McGarvey's last month, as Lloyd singer Nik Mik and Derek Mrdjenovich of Walkney both entertained with acoustic sets. Nik Mik (Nik Munyons) opened with his set of original songs, showing freewheeling melodies, unexpected progressions and mood swings as he merged rock, pop, folk and rockabilly flavors. Nik ran the emotional gamut from relaxed to rage, while addressing and sharing insights with the audience. Derek followed with his acoustic set, performing a mix of newer and older songs from his modern pop/rock arsenal. Derek continues to be an enthusiastic performer who likes to entertain, and he mixed in thoughts and perspectives as he performed his songs. Derek performed more recent numbers like "Selfish" and "All in My Head," as well as established favorites like "I Always Wanted You." Derek looks forward to returning to the road later this year and performing around the country.
I caught some country last month by taking in the Zac Grace Band's performance at Altoona's 4D's Lounge. Since setting out on his solo career a few years ago, Zac works between Nashville and his home base locally. Joining Zac on stage this night were bassist Eric Wertz, guitarist Brad Lego and drummer Matthew Stevens. (Another guitarist, Ben Eberhart, was not available this night.) Zac and his band had dancers boot-scootin' their moves on the floor, as the group did favorites from John Mellencamp, Brooks & Dunn, Morgan Wallen, Toby Keith, Nitty Gritty Dirt Band, Bryan Adams and more. Zac also performed a couple of his originals – his latest single, "PPL I Drink With," and "This Is the Day." Zac told the audience that "This Is the Day" was about his decision to pursue a solo career, and to not be afraid to pursue your dreams and ambitions. Zac was well-received by the crowd; he and his band return to the 4D's Lounge on March 12.
Also at the 4D's last month, I caught my first look at Buzz On 27. Formed five years ago, Buzz On 27 reunites several members of the former Hello, Vixen – lead singer and guitarist Mark Simanski, guitarist Bill Maguire and drummer Steve Holtz, with Brad Davis playing bass. Buzz On 27 delivered mostly punk-infused rock favorites to the audience; doing numbers from Blink 182, Ataris, Gin Blossoms, Nirvana, Linkin Park, The Offspring, Rage Against the Machine, The Outfield and more. They also offered a punk-rocking dropkick to Bob Dylan's "It Ain't Me Babe," as well as a rockabilly spin to Mumford & Sons' "Little Lion Man." And the group provided a reminder of their former Hello, Vixen days, breaking out their version of Bouncing Souls' "Ole" near the end of the night. Buzz On 27 sounded sharp and enthusiastic, and kept the Dees' dance floor busy.
Felix & the Hurricanes celebrated their 33rd anniversary as a band last month. During those 33 years, the group's ringleader, lead singer Felix Kos, has established himself as one of the region's most popular and respected guitar players. Because of this, every so often one of the group's Hurricaniac fans will bring a guitar along for Felix to check out and "christen." Such an occurrence happened last month at Altoona's Black & Gold Tavern during one of the Hurricanes' weekly Sunday night performances. During a set break, a Hurricaniac named Henry brought a colorful guitar up to the stage for Felix to look at. Henry's son had won the guitar, a NASCAR-themed PRS guitar. Felix quickly turned into a child on Christmas morning, plugging in the guitar and noodling with it during the break, and then proceeding to "tame the wild guitar" during the Hurricanes' final set. With drummer Bob Watters and Pat McGinnis filling in on bass, Felix gave that guitar a workout, making it sing on numbers by the Eagles, Santana, Albert King, CCR, ZZ Top, Chris Stapleton, and to close the night, the Allman Brothers/Molly Hatchet's "Dreams I'll Never See." Felix successfully tamed another wild guitar, bringing its clean and clear voice out for the crowd to hear and enjoy. Adventures like this can happen on any given Hurricanes Sunday night at the Black & Gold Tavern.
And while on the PA Musician magazine delivery trail in Bedford last month, I caught momentary looks at Eric Delozier (in the midst of performing Bob Dylan's "Like a Rolling Stone") at Bella Terra Vineyards, as well as Bree Gearhart in the middle of a song at Olde Bedford Brewing Co. I plan to catch full shows from both performers in the weeks and months ahead.
News and Notes…Halestorm endured a close call last month when their tour bus caught fire outside the Hilton Garden Inn in Worcester, Massachusetts as the group was sleeping inside the hotel. Local firefighters quickly arrived and extinguished the flames, which were confined to the bus' bunk area. Nobody was injured, and the group's guitars and luggage were rescued from the fire; Halestorm went on to perform their concert with Evanescence later that night at the DCU Convention Center in Worcester…The organizers of the annual Millennium Music Conference in Harrisburg announced that the conference has suspended operations and will not be producing the event this year due to challenges presented by the ongoing COVID-19 situation…Organizers have announced the dates for the third annual Mass N The Grass Music & Arts Festival; the event will happen Aug. 5-7 at the Sinking Valley Fairgrounds north of Altoona…Homer City-based rockers Post Traumatik have had another of their songs selected for an upcoming horror movie; the song "Flight of the Mothman" has been chosen to be included in the upcoming Joshua Brucker film update of "Mothman," currently in pre-production…The Derek Woods Band will perform live at Punxsutawney's Gobbler's Knob as part of the 135th annual Groundhog Day Celebration; the group will perform both in Barclay Square in downtown Punxsutawney on Groundhog Eve, as well as at Gobbler's Knob between the early morning fireworks and the official appearance of Punxsutawney Phil the groundhog on Groundhog Day…And singer Tess Marshall of Williamsport-based rock group Clyde Frog made her network television debut on the January 17 episode of NBC Television's drama series "Ordinary Joe."
Please send correspondence and recordings to: Jim Price, 1104 S. Catherine St., Altoona, PA 16602. You can also e-mail me at jptheprofessor@gmail.com. And if you're into social networking, look me up on Facebook. SUPPORT LOCAL MUSIC!