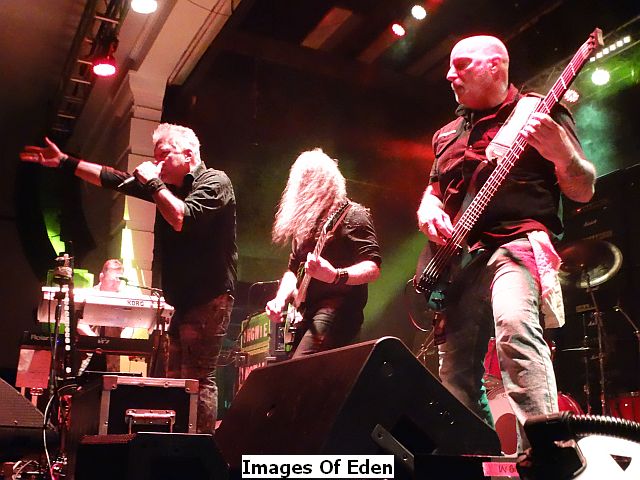 ---
By Jim Price
And into another year we go…Welcome to 2022! The beginning of the New Year is always a good opportunity to look forward, refocus and set new goals and objectives. Here's hoping all of our readers are able to reach their goals and prosper in the 12 months ahead!
I experienced several musical highlights before 2021 reached its end…One of them was a road trip to the Harrisburg Midtown Arts Center just before Thanksgiving to witness Swedish guitar legend Yngwie Malmsteen. This was my first time seeing Yngwie live, and before a wall of Marshalls, he brought the expected guitar fireworks; from volatile and detailed full-speed shredding and arpeggios to intricate and softer classical interludes, and everything in between – just watching his fingers move on the strings was mesmerizing unto itself! And he was the showman as well, working the stage and doing all the axe hero acrobatics such as playing behind his back and neck, with his teeth, whipping his guitar around himself, tossing guitar picks out after nearly every song and more. Yngwie and his band did some numbers off his latest album, "Parabellum," as well as "The Seventh Sign," "You Don't Remember, I'll Never Forget" and many more. He also did a guitar version of the "Star Spangled Banner," as well as his version of Deep Purple's "Smoke on the Water." For his encore, Yngwie started out playing solo on acoustic guitar, eventually switching back to electric guitar and his band joining in for his popular instrumental "Black Star" to finish the night. Besides seeing Yngwie for the first time, this show also provided my first chance to see both opening bands…Images Of Eden singer Gordon Tittsworth has been a guest on my "Homegrown Rocker" radio program four times since 2004, and this was the first time I got to witness him and Images Of Eden live, as they have been touring with Yngwie and were the middle band of this night's triple-bill. Gordon, drummer Steve Dorssom, guitarist Victor Morell, bassist Eric Mulvaine and keyboardist Dean Harris were clearly fired up to be playing before this central PA crowd, and brought the energy and intensity with their progressive-edged brand of rock and metal. Images Of Eden did several songs from their latest album, "Angel Born" – including "My Promise," "Serenity Reign" (with guest Michael Wolff joining in on acoustic guitar) and their popular update of Triumph's classic "Fight the Good Fight"; they also did a couple of numbers off their previous "Soulrise" album. Gordon's voice displayed passion, range and edge as he belted his words and addressed the crowd between songs, and Images Of Eden's instrumental execution was fiery, tight and intense. They energized this crowd, and I came away amazed as well – I look forward to seeing Images Of Eden on stage again sometime soon. Opening the night was Brooklyn, New York-based power trio Sunlord. Frontman and guitarist Al Ferrazza, bassist Emilio Martinez and drummer Griffin McCarthy brought an aggressive, hard-driving metal sound that hinted at Motorhead with a more doom-metal leaning. With his coarse and gravelly growl up front, Al led Sunlord on a set of original numbers, including the crowd-captivating "Do Your Push Up," "The Forbidden Witch" and more. Their scathing and relentless presentation set the hard-hitting tone for the night, and provided the opening spark for this concert.
Christmas season's arrival brought some more recent highlights…Five bands donated their talents during a Toys for Tots fundraiser early last month at the Root Hovett Hall near Patton. I missed the first band, York-based punk rockers Coffee With Lions, but heard that they delivered a
strong set and were well-received by the crowd. Altoona's Abstentious was just under way as I arrived, and they generated feverish velocity on their set of original punk rock. Singer and guitarist Brayden Adams, bassist and singer Noah Keller and drummer Jake Hicks played with speed and intensity on each song, yet executed it all tightly. Following them was Treaties, also firing off driving, fast-paced punk rock. Singer and guitarist Brandon Kane, bassist Brad Davis and drummer Toby Hunter kept the crowd excited with their blend of hard-hitting rhythms, effective melodies and vocal harmonies. Toby played drums in the next band as well – Deny Your Maker, Negan's Alice In Chains tribute side project. Toby, singer and concert organizer Mike Davis, guitarists Bob Gray and Jeremy Ashurst, and bassist Josh Yahner mixed favorites and deeper numbers from the Alice In Chains catalog. And The Snipped finished the night with their exciting set of 'dadcore' punk rock. Singer and guitarist Wax, lead guitarist and singer Jeff Reid, bassist and singer Frank Conrad and drummer Justin Burket fired off a number of songs from their forthcoming new CD, "Tales From the Workbench" (which comes out this month), as well as favorites from their "#dadcore" CD. They delivered their tunes with feverish energy as well, and triggered some vigorous moshpit action in front of the stage. This benefit was a big success, raising $400 in cash donations and more than 100 toys for the U.S. Marine Corps' Toys For Tots. This event will return, bigger and better, to the Root Hovett Hall on December 3.
In German legend, Krampus is a horned, half-demon companion of St. Nicholas that punishes misbehaving children during Christmas. Krampus made its return to Altoona's Unter Uns Musical & Entertainment Society last month, as Fortune & Glory provided the music. The family contingent of singer Dana Martino, husband and guitarist Art Martino, son Nicholas Martino on bass plus Bryan Starr on drums played classic rock'n'roll favorites before and after Krampus' visit. That visit happened at the beginning of the second set, as Fortune & Glory played AC/DC's "Highway to Hell" for Krampus' entrance music. Fortunately, St. Nicholas entered shortly after, providing candy and treats to the audience. Fortune & Glory kept the audience festive and dancing the rest of the evening with tunes from Grand Funk Railroad, Duran Duran, Tom Petty, The Knack, Tesla, Queen, Melissa Etheridge, Scandal, Three Doors Down and more.
For 40 years, a seasonal gathering of area musicians – Jack Frost & the Frostbytes – have helped Altoona area residents celebrate the Christmas season, often traveling in their own truck around neighborhoods and in Christmas parades to perform their brassy takes on Christmas carol favorites. With two members sidelined and unable to travel this past holiday season, five members of Jack Frost & the Frostbytes convened last month for their annual appearance at a single location, the Barrels & Beans Conference Center at Pennview Estates near Penn State Altoona. Scott Durbin on bells, Jeff Livermore on trumpet, Bill Wold on trombone, Scott Woomer on baritone and Rick Guyer on drums entertained holiday revelers with their playful instrumental versions of such favorites as "We Wish You A Merry Christmas," "Rockin' Around the Christmas Tree," "Grandma Got Run Over By a Reindeer," "Let It Snow" and their New Orleans jazz-toned rendition of "Jingle Bells." The group said that a "Christmas in July" tour around the area might be in the works, and they expect to be back at full strength for next holiday season.
Another exciting show highlight was the first visit of Pittsburgh's Fabulous Booze Brothers Show Band and Revue to McGarvey's in Altoona during Thanksgiving weekend. Formed in 2012 and 11 members strong, this group celebrates the music of the Blues Brothers and performs classic soul, blues and R&B. Ted Boyko and David Schroeder wear the black suits, ties and hats in the
Jake and Elwood Blues roles, backed by a lead guitarist, drummer, bassist, keyboard player and five-piece horn section. Over two sets, the Booze Brothers performed many of the favorites associated with the Blues Brothers' movie, soundtrack and "Briefcase Full of Blues" album – including Floyd Dixon's "Hey Bartender," Spencer Davis' "Gimme Some Lovin,'" Junior Wells' "Messin' with the Kid," The Chips' "Rubber Biscuit," Sam & Dave's "Hold On, I'm Comin'" and "Soul Man," "Everybody Needs Somebody to Love," "Theme to Rawhide," Tammy Wynette's "Stand By Your Man," a sing-along version of Cab Calloway's "Minnie the Moocher" and more. They also did numbers from James Brown, The Soul Survivors, the Isley Brothers, Eddie Floyd, Johnnie Taylor, Al Green and others. The Booze Brothers played it all with soul, swing and swagger, with 'Jake" and 'Elwood' stepping in front of the stage and working the entire room. And this group definitely studied the "Blues Brothers" movie – when they broke into Robert Johnson's "Sweet Home Chicago" toward the end of the night, 'Jake' and 'Elwood' both left the stage early (much as they did to escape the police in the movie), followed by their version of "Jailhouse Rock" to finish the night (which the Blues Brothers played in a jail cell at the end of the movie). This show was lively, energetic and a lot of fun – watch for the return of the Fabulous Booze Brothers Show and Revue to McGarvey's in the future, and the group debuts as a regular performance act at Pittsburgh's Rivers Casino in February.
The luck of the Irish was onstage at McGarvey's in December, first with the return of Pittsburgh's Bastard Bearded Irishmen early in the month. The Jaded Lips opened up the night with their punchy and melody-geared rock, featuring original song favorites like "Miss Sunflower," "Lockdown," "Where Do We Run," a cover of the Talking Heads' "Burning Down the House" and more. Six members strong this night, the Bastard Bearded Irishmen then mixed their high-powered blend of traditional Celtic styles with punk and rock'n'roll, and threw a few Irish rock takes on Christmas season songs in for good measure. The group did numbers from their latest album, "Drinkin' to the Dead," as well as earlier favorites such as "Last Drink," "Whiskey, Rum, Bourbon, Beer" and more. The group also offered their Celtic-rocking takes on "Santa Baby," "Holly Jolly Christmas" and "Must Be Santa Claus," and honored a request for their accelerating rendition of "Rattlin' Bog." The Bastard Bearded Irishmen were lively and rowdy, with singer and guitarist Jimmy Bastard and mandolinist Danny Rectenwald breaking into fast jigs and dancing on the stage, and sometimes bringing the party out into the crowd. Toward night's end, the group did their extended version of the title track to "Drinkin' to the Dead," during which Jimmy ran up the steps and played guitar from McGarvey's balcony area. When the crowd demanded an encore, the group responded with their song "Bartender's Friend." The Bastard Bearded Irishmen return to McGarvey's on March 5, when they open for Chicago Celtic rockers The Tossers.
Also opening that Tossers show in March will be local Celtic rock favorites Full Kilt, who also played at McGarvey's last month. Singer and guitarist Mike Zerbee, bassist and singer Chris Myers, fiddle player Mandy Passmore-Ott and drummer Jake Yarnish brought the fun with their mixture of traditional Celtic numbers, rocked-up versions of Irish favorites and Irish-flavored renditions of rock and pop favorites. Included this night were versions of Garth Brooks' "Ireland," Steve Earle's "Galway Girl," U2's "With Or Without You," "Wagon Wheel," the audience clap-along duel version of "Whiskey in the Jar," Carbon Leaf's "The Boxer," Dropkick Murphys' "I'm Shipping Up to Boston" and "Rose Tattoo," Queen's "Fat Bottomed Girls," Charlie "McDaniels"' "The Devil Went Down to (Dublin)" and more. The group also did a few of their own original tunes such as "Plastic Paddys" and their night-closer "Come Have A Drink With the Band." Full Kilt lifted spirits and pints of Guinness, and rallied the audience into steadily clapping along with their music as the night went along. According to Mike, Full Kilt is looking into recording a new album in the coming year.
Altoona's 4D's Lounge ushered in Thankgiving with the Thanksgiving Eve double-bill of Hot Fudge Mondaes and Sunset Over Mars. A new band on the area music scene, Sunset Over Mars showed an alternative rock/pop flavor as they began the night with a mixture of original songs and covers. Singer Stevey, guitarist Zach, bassist Kevin Neely (pulling double-duty this night with both bands) and drummer Nik warmed up the arriving crowd with their debut single "Stereo," as well as songs from Maroon 5, DNCE and more. Sunset Over Mars is continuing to record original songs, and will be issuing more of them soon. The house was packed by the time Hot Fudge Mondaes took the stage, and the group drew a number of audience members up to the dance floor with their blend of original modern rock/punk tunes, plus select covers. Singer Jake Mowery, Kevin on bass, Breydon Bremer on guitar and Christian Wesner on drums fired up the party with several of their original tunes including "Take What You Want," as well as tunes from Walk The Moon, The Offspring, Blink 182, Nirvana, Bowling For Soup, Lenny Kravitz, Fall Out Boy, and their rowdy edition of Rage Against the Machine's "Killing in the Name." Hot Fudge Mondaes brought the energy and explosiveness, especially Jake with his agitated delivery and full motion on the stage. Both of these bands are quickly building followings; watch for both on area stages in the coming months.
And I caught one of Felix & the Hurricanes' weekly Sunday night shows at Altoona's Black & Gold Tavern just before Christmas. Guest keyboardist Dave Villani joined Hurricanes mainstays Felix Kos on guitar and vocals, Jeff Clapper on bass and vocals, and Bob Watters on drums and vocals. The Hurricanes entertained a busy room with their reliable blend of classic and southern rock, blues, soul, plus some Christmas tunes and other surprises. As always, the Hurricanes were spontaneous this night, not using a set list and relying on the vibe of the audience to guide their musical selections. Audience requests resulted in the 'Canes pulling out Bill Haley's "Rock Around the Clock," and versions of "Silver Bells" and the night-ending Christmas combo of "White Christmas" into "The Christmas Song." Other highlights included a salute to late Pittsburgh guitar great Glenn Pavone with a version of his song "Postman Jack," an extended jam version of Eric Clapton's "After Midnight," and – you had to hear it to believe it – the Hurricanes weaving The Commodores' "Brick House" and Al Green's "Take Me to the River" together, and then throwing a "Here Comes Santa Claus" rant into the groove! Fun and surprises always abound during the Hurricanes' Sunday shows at the Black & Gold Tavern; always a good time!
News and notes…The Central PA Music Hall Of Fame has announced their 2022 Inductees: Live, the Del McCoury Band, Les Brown, The Emperors, the Pixies Three and Third Stream. The induction ceremony and Central PA Music Awards will take place March 24 at the Hershey Theatre…Black Ridge, David Granati's Academy of Rock, Sahayra, Another Day and Down N'Dirty are some of the names donating talents during a benefit concert for drummer and percussionist David Blake, who recently underwent surgery for tongue and neck cancer; the Road to Recovery Concert will take place on Jan. 16 at Peppers N'at in Braddock…Fire damaged the new facility of drum-builders HHG Drums in Hollidaysburg on Dec. 10; according to owner Sam Thurau, the new shop is not a total loss and will be rebuilt, and HHG will continue operations in their present facility…After more than two decades of entertaining audiences, Pittsburgh-based swing and rock ensemble Neon Swing X-perience has announced that they will be taking an indefinite break so that group members can pursue other projects…Matt Otis and the Sound have released their new album, "Here Not Here"…And on a sad note, Allan "Skip" Calhoun passed away on December 12 at age 69. Skip endeared himself to area music fans as Mick Jagger doppelganger "Skip Stone" in local Rolling Stones tribute groups Jumpin' Jack Flash and Dead Flowers, The Britz and other band projects.
Please send correspondence and recordings to: Jim Price, 1104 S. Catherine St., Altoona, PA 16602. You can also e-mail me at jptheprofessor@gmail.com. And if you're into social networking, look me up on Facebook. SUPPORT LOCAL and LIVE MUSIC IN 2022!