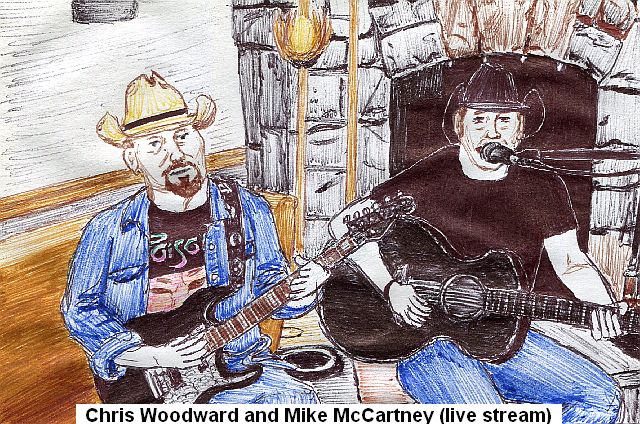 ---
By: Jim Price
The calendar again reminds me that it is anniversary time, and this month kicks off my 34th year of writing for PA Musician Magazine – more than half of my life! Thanks again to magazine founders Whitey and Robin Noll, and Josh Noll for keeping the PA Musician fire burning! And thanks to all the musicians past and present who have inspired me to keep writing and spreading the evangel about local and live music! I'll continue to report area music happenings through the current coronavirus situation and beyond, and keep raising awareness about the wealth of musical talent I experience here in the Keystone State!
A variety of Centre County musicians came together online in late April to raise donations to help Centre County United Way and its partner agencies, all which have been seriously impacted by the coronavirus situation. The "Live United Live" benefit raised more than $18,000; surpassing its initial target goal of $15,000. Emceed by local radio personality and Rama-lama member Jeff Brown, "Live United Live" featured a mixture of live streaming and recorded live performances from homes and personal spaces. Performers included Sgt. Bob Timney, Jeff Gibble and Hexed, Hops & Vines, the Brannen Family, Anchor & Arrow, Luke Cimbala, Dave Zimmerman, Raven & the Wren (who donated money raised from the sales of their new EP, "The Bottom Drawer," to the United Way), Rama-lama, John "JT" Thompson, Elizabeth Webb, Richard Biever & Family, Chris Strait, My Hero Zero frontman Jason O and family, Chris Rattie & the New Rebels, Caryn Dixon Jellen, Kristi Jean & Her Ne'er Do Wells, Jason Adams, William Ryan, Pure Cane Sugar, Bill Strayer, Jesse Tyler Moore, Donny Burns & the 3rd Degree, Kevin Briggs, Biscuit Jam and Ted McCloskey & the Hi-Fi's. This was a well-coordinated benefit, and the performers all did nice work during their performances. For those who missed it, you can still view the benefit video (and donate) through Centre County United Way's Facebook page.
Beyond "Live United Live," I also got to check out Sgt. Bob during one of his weekly Saturday evening live stream performances last month. Armed with acoustic guitar, Sgt. Bob performed a wide variety of hits and favorites with an emphasis on the 1970s. He broke out a lot of chestnuts this night that I hadn't heard in a long time – such as Charlie Pride's "Kiss an Angel Good Morning," Dr. Hook's "Sharing the Night Together," Lobo's "I Want You to Want Me" and Charlie Daniels Band's "The Legend of Wooley Swamp." He also broke out his acoustic take on Chicago's "Beginnings," numbers from Jim Croce, Jimmy Buffett, Don Henley, America, The Who, Eric Clapton, Gordon Lightfoot, Bob Seger, Dobie Gray, and toward the end, the Moody Blues' "Nights in White Satin" – complete with his recital of the poem "Late Lament" at the end! Sgt. Bob kept the mood happy and cordial, as he fielded requests from the online audience.
Felix & the Hurricanes made their live stream debut early last month for a benefit cause, providing the music during the virtual edition of the "Home Helpers 7th Vegas Night in Altoona" fundraiser, which raised funds for the local chapter of Home Helpers Home Care, a home health care agency that helps area seniors. With bassman and singer Jeff Clapper fully operational again after recently going under the knife, the Hurricanes were full steam as they played three sets of classics, blues and a few original tunes. Jeff, singer/guitarist Felix Kos and drummer/singer Bob Watters opened the night with their popular original "Walking A Straight Line," and proceeded to entertain the online world with tunes from Robben Ford, the Allman Brothers, Jonny Lang, Grand Funk Railroad, ZZ Top, Lynyrd Skynyrd, the Animals, Eric Clapton and more. The Hurricanes are always good for a few surprises, and they presented a few this night; Felix played the whole first set using a 12-string guitar; also, the group introduced a version of Grand Funk's "Bad Time" with Jeff on lead vocal, and their take on Carole King's "It's Too Late." They also fired off original songs such as "Talk About Love," "La La Land" and "Icy You." In between sets, volunteers from Home Helpers Home Care presented auction baskets of items donated by area businesses that people could bid for online. Despite a few audio issues, this benefit and performance was a good time, and provided a much-needed Hurricanes fix until these guys can get back onto public stages again!
Ziggy Zaggy, Ziggy Zaggy, Oi Oi Oi!" Who said you can't throw a polka party online? Alex Meixner has hosted several rowdy polka-driven live stream parties in recent weeks. I caught one of his recent Sunday afternoon celebrations…This was a fun show, as Alex (a Lehigh Valley native and Penn State alumnus now living in Florida) delivered all-out energy and happy vibes on two hours of polkas, waltzes, European folk tunes, and…rock and roll! Armed with accordions (standard and buttonbox) and trumpet, Alex set the 'anything goes' tone early with his accordion take on AC/DC's "Thunderstruck," before proceeding on his wide mixture of musical flavors and audience requests. He played selections from his various CD's – including "The Ballad of Thunder Road" from his 2007 "Polka Freak Out" CD, "Is Anything Better Than Beer?" off his 2011 "Three Ring Circus" album, "Hey Diand'l" from his latest CD "Make Some Noise," a medley of tunes off his 2014 "Happiness Is a Choice" CD and more. He also honored numerous requests, including "The Lady of Spain" (which he kicked off on trumpet), "Pretty Princesses Waltz," plus several polkas such as the "Pittsburgh Steelers Polka," the "Just Because Polka," "The Happy Wanderer" (the latter two combined in a several-polka medley) and more. And then there were Alex's rock'n'roll takes – including "The Devil Went Down to (Munich)" (featuring an "Innagaddadavida" midsection), the Beatles' "When I'm 64," a request for his "Crazy Train Medley" and mash-up (mixing together Ozzy's "Crazy Train," The Monkees' "Last Train to Clarksville," Duke Ellington's "Take the A Train," Patsy Cline's "Crazy" and Glenn Miller's "Chattanooga Choo Choo"), and a new one for current times, the "Social Distance Polka" with Alex's polka-fied takes on The Police's "Don't Stand So Close to Me" and The Offspring's "Come Out and Play" ("You gotta keep 'em separated"). And when online audience members became curious about the green hose and funnel spotted on the floor next to him, Alex introduced his "hose-a-phone" to close his performance with "Taps." Throughout the musical merriment, Alex led the online world on rowdy cheers and beer toasts, gave shout-outs to online audience members from throughout the world, and kept this presentation at a happy and feverish high.
One of the benefits of online streaming is that it does enable us to see performers from longer distances, such as area musicians who have moved to other locales, musicians who are beyond reasonable driving distance from us, and even discovering performers we have never seen before. Recommended by a local musician and friend, I saw and discovered South Carolina-based singer, songwriter and guitarist Eddie Bush during a late-April live stream performance. A longtime performer who has played at such events as Farm Aid, the Newport Folk Festival, CMA Fest and more, Eddie mixed original songs from his vast album catalog, along with select covers and requests. His style mixes elements of rock, soul and country, and he delivered his selection with an enthusiastic and soulful singing style and fast-firing intensity on the guitar strings. Some of his original songs this day included "Call Me Lucky," "Carolina Chains," Supercalifragilistixtc," "Too Damn Young to Feel This Old," the new "Broke Down" from Eddie's forthcoming 20th album, and "Two Nights in a Row" (with Queen "Bohemian Rhapsody" midsection. Eddie also applied his fiery performance style to numbers from Journey, Bad Company, Keith Urban, Prince, Elton John, the Eagles and more. It quickly became clear that Eddie is an all-out performer who puts heart and soul into each song, and I was glad to discover his talents this day.
I also caught up with a few musicians I met and discovered in recent years through the annual Millennium Music Conference (MMC) in Harrisburg. One of them was New York songstress Chelsea Takami, who does a weekly Monday live stream performance. It was a Tuesday early last month when I happened upon this performance; Chelsea performed a fun, uplifting set of her original songs, including tunes from her EP "Heart Wide Open," plus some newer and older numbers. Her music blends elements of folk, pop, funk and hip-hop into an infectious, grooving style. She did the title track from her EP as well as "Rolla Coas," and introduced numbers such as "Labyrinth," "Stay Away," "Don't Worry," the more serious-toned "Monday Mourning," "Gypsy Wings," "Finding the Way" and more. Chelsea played two different acoustic guitars during the performance, and broke out her ukulele for her song "Romeo." As pets can show up in live streams, Chelsea introduced feline friend "Romeo" (also named "Tiny Cat") this night. Besides her recorded music, Chelsea was also advertising her artistic "Takami-gram" creations during this performance for Mother's Day gifts.
While enjoying a late breakfast on a Sunday last month, I happened upon New York singer and songwriter Alex Cano's weekly Sunday midday live stream performance. I had seen Alex perform during this year's Millennium Music Conference, and enjoyed his rock-geared original songs. Playing acoustic guitar and singing this day, Alex was doing folk and country numbers early on, performing renditions of Kenny Rogers' "The Gambler," the Johnny Cash double-shot of "Ring of Fire" into "Folsom Prison Blues," Zac Brown Band's "Colder Weather," Gregory Alan Isakov's "If I Go I'm Goin,'" John Prine's "Long Monday" and more. He mixed in some additional flavors later on, honoring a request for Bob Marley's "No Woman No Cry" and shifting it directly into the Beatles' "Let It Be." Alex then paid tribute to Chris Cornell on the eve of the third anniversary of his passing, sharing a story of how Alex's grandmother and Chris both passed on the same day, and he had to collect himself for a show that night. This led into versions of Temple of the Dog's "Hunger Strike" and Audioslave's "Doesn't Remind Me." Alex then did one of his original numbers, "Two Steps on the Train," before closing his sety with a request for Tom Petty's "I Won't Back Down." Alex's voice sounded strong, and his presentation was relaxed and friendly.
After Alex's performance ended, I came across another MMC alumnus, New Jersey-based singer and songwriter Lauren D'Imperio, and her live stream performance, happening on her 28th birthday. During the 2019 Millennium Music Conference, Lauren was fronting the pop/rock/funk band Running Late. She has since left that group and is now doing some solo work, including some theatrical singing, some which she displayed during this day's performance. Lauren donated part of the proceeds from this day's event to the MusiCares COVID-19 Relief Fund, which helps out musicians during the current coronavirus shutdown of the music industry. Singing and playing keys, Lauren started off with a few of her personal favorites, including Ruth B's "Lost Way" and the Beatles' "Let It Be." She then sang "Ridiculous," a song by and for friend Chris Wade from his stage production "29 Lives" (which Lauren is part of), which is currently being recorded virtually during COVID-19. Lauren also paid homage to a friend who passed in a car accident four years ago with a heartfelt version of Celine Dion's "A New Day Has Come." She welcomed her boyfriend, Anthony, up to take over piano duties while she sang renditions of Elvis' "Can't Help Falling in Love with You" and Willie Nelson/Patsy Cline's "Crazy." After a song from "Les Miserables," Lauren sent the Bette Midler hit "The Rose" out to her mom, and sang a couple of tunes penned by her and her father, "The Rain" and "Believe" (the latter written for Rutgers defensive tackle Eric LeGrand, paralyzed during a 2010 football game), before ending her performance with a beautiful version of Leonard Cohen's popular "Hallelujah." Obviously inspired by the friends and fans joining her online on her special day, Lauren's voice sounded great, and she definitely showed that she has the "gift" for singing! This was a pleasant, heartfelt performance; Lauren usually does her "Music & Mimosas" live stream every Sunday and Thursday.
During a recent Tuesday night, I happened upon Sean Loomis in the early stages of a live stream performance. Sean has played in the region in recent years as a guitarist and singer with northern Virginia-based folk/bluegrass group Drymill Road. Sean mixed several of his original songs with a variety of covers spanning classic rock, folk, blues and more. Some of his original tunes this night included "Running in Circles" and the song "Drymill Road." He also broke out numbers from Led Zeppelin, Neil Young, Stephen Stills and his take on David Bowie's "The Man Who Sold the World." This was an enjoyable performance, as Sean's singing and guitar work sounded great, and he kept the mood relaxed and cordial. He encouraged the audience to – instead of tipping him during this performance – donating to and supporting local bars, restaurants and venues that support live music during this tough period for those businesses.
It had been several years since I last saw Pittsburgh guitar great Tony Janflone, Jr. in action, but thanks to live streaming I caught one of his online performances last month. Tony can still play the guitar, evidenced by his smooth and fast-firing string-bending on several live numbers, including "Crusader," Stevie Wonder's "My Cherie Amour" and Muddy Waters' "Close to You." He also shared several recorded studio and live tracks, including his performance of Jerry Lee Lewis' "Whole Lotta Shakin' Goin' On," a demo recording of The Temptations' "Get Ready" with guest Gina Collis, and a version of Bon Jovi's "Wanted Dead or Alive." Along the way, Tony shared some stories and anecdotes, and gave shout-outs to various fans and friends. Despite a few technical streaming snafus, it was an enjoyable set; Tony does these sets every Wednesday evening starting at 7:30 p.m.
Several members of Williamsport's blue community lit up the internet last month with the live streaming "Mama Warned Ya" 6th anniversary jam, started several years ago by the late Gary Strickland. Shawn Strickland (Gary's son) on harmonica and lead vocals, guitarists Gabe Stillman and Blair Mitcheltree, bassist Colin Beatty and drummer Michael Mummey cut loose with more than 60 minutes' worth of scorching electric blues, mixing traditional blues, original songs and more. All five musicians went for broke on each song, sinking full emotion and intensity into each note and beat. Among the highlights were a feisty rendition of Louis Jordan's "Caldonia" and an original song from Shawn and Gary's Dirty Mojo Blues Band, "Papa Bear." Shawn growled out his gravelly voice and wailed some intense harmonica, while Gabe and Blair mixed it up on guitar leads, even swapping licks with Shawn's harmonica a few times during the set. Shawn also mentioned the Billtown Blues Association's "Billtown Cares" donation and funding program to help the area's musicians who have lost income due to COVID-19.
Another fun live stream I witnessed recently was the northeastern PA trio of Jay Orrell, Bryan Banks and Dave "Dazz" Danishefsky as they rocked out an almost four-hour live stream party in late April. Jay on lead vocals and guitar, Bryan on drums (and switching off to guitar and vocals to spot Jay a few breaks along the way) and Dave (Poptart Monkeys alumnus) on guitar played multiple '90s-era rock tunes from Seven Mary Three, Cracker, Three Doors Down, Alice In Chains, Eve 6, Pearl Jam, Fuel, Third Eye Blind, Matchbox 20, 311, Sponge, Nirvana, Soul Asylum and more. They threw in a few '80s numbers as well from Bon Jovi, Journey, Van Halen, Def Leppard, Poison and more. The rock was pretty much nonstop, and all three musicians sounded strong and had fun as they rocked the internet and kept the online audience happy and festive.
Popular regional country performer Chris Woodward has been doing some online shindiggin' in recent weeks, as he and his Shindiggin' bandmate Mike McCartney have teamed up for a few live streaming performances. I caught their late April set as they mixed some of Chris' original songs, country and some rock'n'roll favorites. The duo kept a large online audience happy, including at least one viewer from the United Kingdom and a trucker listening on the road while driving through Indiana state. With Chris on lead vocals and acoustic guitar and Mike on electric guitar, the pair did country numbers such as Luke Combs' "Beautiful Crazy" and Blake Shelton's "God's Country," also renditions of Lynyrd Skynyrd's "Sweet Home Alabama" and Dobie Gray's "Drift Away." As a few folks were requesting rock songs, Mike teased a few riffs from Ted Nugent, AC/DC, Kansas and others toward the end of the performance, before he and Mike honored a request for Ozzy Osbourne's "Crazy Train." The duo ended things on a hopeful and patriotic note, closing with Lee Greenwood's "God Bless the U.S.A." Chris and Mike kept it fun and cordial, and the sound quality was good (well, seasoned sound engineer Jeff "Ritt" Rittenhouse was in the room). This was an enjoyable show, and future live stream performances are likely.
Another duo I have seen online in recent weeks is Washington County's Robin and Bob. Singer Robin Matthews and guitarist/singer Bob Giacometti mix together a stew of flavors, spanning folk, rock, country and soul. During the two live stream performances I caught – one in late April and the other during last month's grand re-opening of Valentour's Family Restaurant (near Pittsburgh) – Robin and Bob mixed their own original songs with favorites from the Traveling Wilburys, John Denver, Amy Winehouse, U2, the Beatles, Natalie Merchant, Chris Isaak, Patsy Cline, Smokey Robinson & the Miracles and more. They also did at least one song off their "Leave On" debut CD, their folksy "Leavin' Shoes." Robin showed a bold, powerful voice and style, and she and Bob demonstrated a strong knack for making their cover material into their own distinctive style and sound. Robin and Bob usually do live stream performances every Tuesday.
One of the most frequent-flyer live stream performers since the coronavirus shutdown began is Johnstown singer, songwriter and innovator Dave Distefano, who has been doing 30-minute matinee live stream sessions at 3:10 p.m. daily. I have caught a few of these (which Dave numbers, he was up to the 60th one as I was writing this). A musical free spirit, Dave lets the muse carry him each day as he mixes original songs from his vast catalog with a diverse range of cover material, and changes up the set list every day. Some of his recent sets – staged in both indoor and outdoor settings – have featured original jams such as "Spilled My Gravy," "Hope," "Simple Characters" and more. His cover selection can span from Bill Withers' "Lovely Day" to Pink Floyd's "Us and Them," to Wang Chung's "Dance Hall Days" to Katrina & the Waves' "Walking on Sunshine," Bob Dylan and John Prine numbers and many more. Dave lets the music and mood lift him on each number, carrying the tunes to spirited heights. Check in with Dave's live stream daily at around 3:10 p.m., and see where his journey takes you!
Playing online live stream shows most Wednesdays lately are the State College-based duo of Cori and Patrick Donaghy of Cousin Neddie fame, performing as Screwdriver Sally. Cori sings, while Patrick plays guitar. As Screwdriver Sally, they step outside of Cousin Neddie's 1980s new wave focus, and perform a lively variety of folk, pop, alternative and indie musical flavors. During this performance, they introduced original numbers such as "The Walk," as well as versions of Miley Cyrus' "Party in the U.S.A.," James Taylor's "Mexico," John Denver's "Grandma's Feather Bed" and the Dollyrots' "Because I'm Awesome," plus tunes from Foster the People, the Shirelles, The Wreckers, Eagles, Elvis Presley, Paramore and more. Screwdriver Sally's performance was upbeat and witty, as Cori and Patrick had fun with the online viewers and never took themselves too seriously.
Other live stream performers I've seen recently included Ed Roland of Collective Soul (who performed outdoors in front of his residence to the online world and an audience of socially-distanced neighbors), Norman Nardini, Scott Blasey of The Clarks, Denise Baldwin, Callie Tomblin, Tony & Stacy Feighner, Lux & Co., Sterling Koch and Freeway Jam, Rick Ramsey, Conner Gilbert, Dan and Chris Myers, and Jordan Temchack.
The area music scene mourned the passing of two musicians in recent weeks. Mike Diller passed on April 27 at age 62. Based in the Bedford area, Mike was a talented multi-instrumentalist who frequently collaborated with other area musicians and sat in with various bands from time to time. He also was a man of many interests, a traveler and a researcher, and well-liked in the music community. And William Shawn Gority passed away on May 12 at age 60 following a battle with cancer. "Shawn" played the bagpipes and tinwhistle, and frequently sat in with other musicians during jam night situations. More recently, he appeared as a guest during several of Full Kilt's shows. We at the "Homegrown Rocker" extend our heartfelt condolences to the families and friends of both men.
News and notes…More summer season events have been can celled due to the COVID-19 pandemic, including the annual Smoked Country Jam Bluegrass Festival, originally scheduled to happen in June at the Quiet Oaks Campground near Cross Fork, as well as the connected Pennsylvania Heritage Songwriters Contest…also this year's Centre Grange Fair, the Pittsburgh Blues and Roots Festival, the annual Hickory Fest Bluegrass Festival and Appalachian Fiddle Bluegrass Festival…Altoona's Railroaders Museum has revised the schedule of its summertime Alive at Five concert series, with the first show, featuring Lynyrd Skynyrd tribute group High Noon, happening July 10…Delgrosso's Amusement Park in Tipton has cancelled this year's summer season…Western PA progressive rockers We Came From Space have issued a new EP called "Reason in the Rhyme"…White Witch has signed a recording deal with Heaven & Hell Records, and will be issuing their new CD, "Hell Is Doomed," shortly…The Clarks will be mastering highlights from their live-streaming performances, and compiling them onto a forthcoming CD called "Live from the Live Stream"…Cambria County acoustic duo Low Voltage – comprised of singers and guitarists Joe Konior and Lee Miller – are going their separate ways…and Brookville-based heavy-metal rockers Hatred Rising have changed their name to Discord.
Please send correspondence and recordings to: Jim Price, 1104 S. Catherine St., Altoona, PA 16602. You can also e-mail me at jptheprofessor@gmail.com. And if you're into social networking, look me up on Facebook. SUPPORT LOCAL MUSIC!