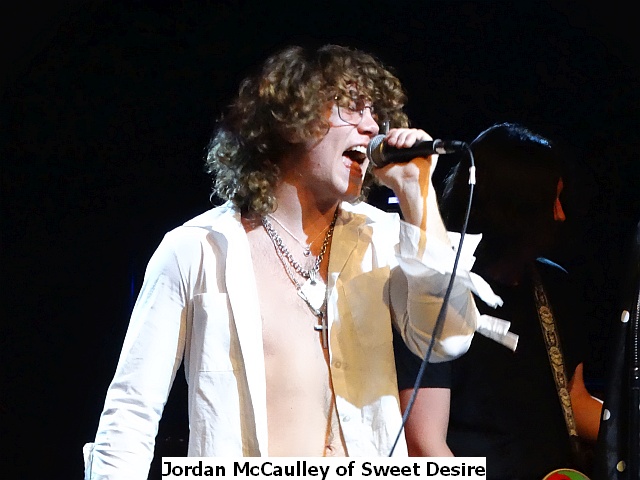 ---
By: Jim Price
As Spring officially arrives later this month, symbolic of rebirth, hope and new beginnings as green leaves return and flowers begin blooming, an epiphany came to me based on things I observed in recent days. The night before writing this, I attended the Skid Row concert at Altoona's historic Mishler Theatre (full recap in next month's article). During the event, members of Skid Row took moments to express their heartfelt appreciation to the sold-out house for supporting the concert and enabling the group to earn their living making music. Singer Z.P. Theart, bassist Rachel Bolan and guitarist Dave "Snake" Sabo each related how the COVID-19 shutdown kept them from the joy of making music in front of audiences, and – after two years – they were thankful to be able to enjoy that opportunity once again. I also had been thinking about Ukraine…When the news bulletins first broke reporting that Russian forces had begun their attack, I quickly started watching live news coverage of the situation on Great Britain's SkyNews livestream. They had reporters stationed in Ukraine's capital, Kyiv, where it was just before sunrise. The attack was in its very earliest stages, and not much activity was happening around Kyiv yet; the camera shots showed a city waking up, with some folks walking dogs and going to work as usual, and what appeared to be public works vehicles doing their early morning errands along city streets like normal – it looked similar to routine city life here in the U.S. But that routine was soon disrupted as the Russian attack intensified, and Ukraine was jolted out of the comfort of daily life and forced into defending their homeland. It reminded me that we should always take stock, be thankful and never take for granted the pleasures we enjoy in this life, because – as the COVID-19 situation and the current strife in Ukraine remind us – it can all be disrupted and taken away from us without warning. Be thankful and appreciative for what you have.
I'm always thankful for the joy of live music…One big highlight I witnessed in recent weeks was the launch of the Classic Vinyl Concert Series early last month at The State Theater of Johnstown. In this new series, area musicians take on and perform some of the most celebrated albums of the vinyl record era. Led by singer, keyboardist and director Jeff Webb, an ensemble of 17 musicians from Johnstown and surrounding areas opened the series by performing Stevie Wonder's epic 1976 double-album set "Songs in the Key of Life" before a sold-out house. The musicians – Jeff plus Mike Meketa on keys; Scott Jeffreys on bass; Randy Penrod and Josh Covert on guitars; Dom Peruso, Mike Bodolosky and Kraig Maldet on drums and percussion; Josh Hillard, Larry Detwiler and Josh Brumbaugh on trumpets and trombones; Dan Hutton and Greg Maiocco on saxophones; and singers Venus Hall, Bruce Harris, Ra'Anee Watson and Mere K Pouewells – performed the "Songs in the Key of Life" album in its entirety, with an intermission between the first and second records of the album. The musicianship was stellar and exciting throughout the performance, with almost every song directing the spotlight toward individual performers or sections of the ensemble. Highlights were constant – including the album's popular hit songs "Sir Duke," "I Wish," "Isn't She Lovely," "As" and "Another Star," all which roused folks to stand and dance in front of their seats. Other highlights included renditions of many of the album's deeper treasures such as "Pastime Paradise" (which Coolio reworked into his 1995 hit "Gangsta's Paradise"), instrumentals such as the guitar workout "Contusion" (which spotlighted Randy and Josh) and "Easy Goin' Evening" (with the spotlight on the brass section), "Black Man" (with an area school classroom voicing the song's call-and-response homestretch) and Ra'Anee's excellent voice on "If It's Magic." The talent and the enthusiasm displayed on the stage this night provided many jaw-dropping moments and kept the audience moving and grooving in their seats; and enabled audience members to reconnect with Stevie Wonder's masterpiece or even discover this music for the first time. When the audience called for one more song at the end of the album, the musicians closed out the night with a feisty rendition of Stevie Wonder's 1969 hit "Signed, Sealed, Delivered (I'm Yours)." Jeff announced that the Classic Vinyl Concert Series will likely take place twice per year; the next concert will take place on November 5, with a cast of musicians performing the Beatles' "Sgt. Pepper's Lonely Hearts Club Band" and "Abbey Road" albums in their entirety.
Another recent highlight was the "Acoustic Altoona" showcase at the ArtsAltoona Center in late January, which shined the spotlight on three area singers and songwriters. Devin Sherman, Brother Jack and Alyssa Hankey all presented their distinctive styles of original acoustic music to a receptive, nice-sized audience. Devin led off with a mixture of songs from his album "Devin Sherman Does a Demo" plus newer song creations, all performed with a strong voice and cordial stage presence. He did tunes from the album such as "Normal," "Think Again," "Let's Get Weird," "My Own Damn Blues," "Sylvia's Veil" and "Plant a Garden." He also introduced newer numbers such as "Village News," "Look What I Got," "We Are All Troglodytes," "Unsung," "Appalachian Wind" and "I'm Not Dead Yet." Devin was well-received by the audience, and successfully broke the ice with the onlookers to get the evening started. Next, Brother Jack entertained the audience with his playful set of original folk tunes. Jack's songs explored plenty of interesting topics, from breakfast food ("Pancakes") to reptiles ("Snake Ate My Radio") to the sun exploding ("Rivers of Light") to bugs ("Bugs") and more. His songs were often comedic but observational, as Brother Jack shared his perspectives on life and this bizarre rock we live on in his freewheeling, conversational and old-timey, folksy style. Jack performed many of his songs with acoustic guitar, but broke out the banjo on several as well, including numbers from his latest album, "Busted Banjo." Brother Jack's songs and cordial presence put smiles on the faces of the audience, and his set was also well-received. Finishing the evening, Alyssa Hankey captivated the audience with her hearty style of original, blues-rooted folk. She blended older material with newer songs, including several from her upcoming new album slated for an April release. With her heartfelt and emotive delivery, Alyssa sang such numbers as her portrait of rust belt western PA, "They Used to Make Things Here"; her ode to a turbulent time in American history, "1968"; as well as such songs as "Darkness Coming Down," "The Good," "Love Song," "Roots," "West Virginia" and more. Alyssa's voice and presence held the audience's attention – at several moments during the performance, she brought the house to total silence with her words and total feeling behind her voice. Alyssa's set provided an emphatic exclamation point to cap the night. This was a very good show from start to end, as all three performers presented their styles of music in an intimate setting, which allowed the audience members to more easily connect with each performer's presence, voice and words. Also enjoyable was the vibe of creativity in this space, as several participants were painting a cardboard tapestry along a side wall, while the artistic creations of Chelsea McMaster adorned other walls and spaces throughout the ArtsAltoona Center's "Blank Canvas." I totally enjoyed this, and look forward to seeing more "Acoustic Altoona" showcases in the future.
Live music was again part of the 50th year of Penn State's annual 46-hour dance marathon, THON, which returned as an in-person event to the university's Bryce Jordan Center last month. I wasn't able to attend in person, but thanks to THON being live-streamed through the event's website, I was able to witness at least one of the performing groups during the weekend, State College's Canary. Singer Kat Leverenz, guitarist Zach Dennis, keyboardist Sam Horn, bassist Alex Mijangos and drummer Tony Niuman kept THON's 700-plus dancers and a multitude of onlookers moving and grooving with their mixture of rock and pop hits and favorites. Kat showed a strong voice up front as she sang numbers from Amy Winehouse, Gnarls Barkley, Black Keys, Jet, Elle King, Abba and more. Some of Canary's highlights included a sing-along version of Adele's "Rolling in the Deep" and the rousing rendition of the Isley Brothers' "Shout" to end their set. Some of the other performers during THON weekend included Donny Burns & the 3rd Degree, SouthPaw, Anchor & Arrow, My Hero Zero and others. The largest student-run philanthropy in the world, THON 2022 set a new record this year, raising $13,756,374.50 for Four Diamonds at Penn State Health Children's Hospital and the fight against childhood cancer.
One thing I always admire about this area's music community is its eagerness to help out the local community and people in need. Bone Jacked donated their talents last month to help a family and the Tyrone community remember an infant whose life was cut short by SIDS (Sudden Infant Death Syndrome) just five months after his birth. The Orion Patrick Ellis Benefit took place at the Tyrone Hookies Fire Company Social Hall, and featured Bone Jacked, along with a spaghetti dinner, basket giveaways and a 50/50 drawing. Bone Jacked – singer and guitarist Kip Woodring, guitarist Chris Guella, bassist D.J. Gates and drummer Terry Wilt – rocked and rolled throughout the afternoon with their mix of hits, classic and southern rock favorites. This band is always rock solid and entertaining; Kip sings with heart and soul, exuding constant enthusiasm on the guitar strings, and this day taking his performance out to the fans on the dance floor several times. Bone Jacked brought dancers to that floor with tunes from Lynyrd Skynyrd, Bob Seger, Tom Petty, Stevie Ray Vaughan, the Eagles and others. Some highlights included the group's "slide show," as Kip displayed his slide guitar skills on the George Thorogood triple-shot of "Bad to the Bone," "Move It On Over" and "Get A Haircut"; also a guest drummer named A.J. who showed her skills on the Surfaris' "Wipe Out" and Chuck Berry's "Johnny B. Goode."
It's always exciting to see exciting new young bands arriving on area stages. After hearing a lot of buzz and rave reviews about them, I finally got to see Altoona's Sweet Desire for the first time last month at McGarvey's, as half of a double-bill with The Jaded Lips. Featuring singer Jordan McCaulley, guitarist (and theremin operator) Kenton Lewis, bassist Joshua Simpson and drummer Trey Boore, Sweet Desire displayed a sound rooted in late 1960s/early 1970s psychedelic hard rock. Early Led Zeppelin and the Doors come to mind through their original songs, and Jordan's soaring howl suggests a young Robert Plant. One highlight journey started with the group's title song, "Sweet Desire," which led into Trey's drum solo, which then transitioned into a fiery version of Led Zeppelin's "Whole Lotta Love" with Kenton generating effects with a theremin, and the group teasing a few seconds of The Doors' "Roadhouse Blues." Sweet Desire kept it exciting with go-for-broke passion throughout their set, and had the packed house crowd howling approval. With a third band, Skyline Drive, not able to perform this night, The Jaded Lips followed Sweet Desire's set by performing more than two hours of nonstop rock'n'roll. Singer and guitarist Mike Wertz, bassist Hunter James and drummer David Applas mixed a number of their original songs with various covers and audience requests. Their own sound rooted in classic rock with a touch of soul, The Jaded Lips performed catchy original tunes such as "Where Do We Run," "It's Not Me," "Jealous Eyes," "Miss Sunflower" and "Lockdown," along with a number of newer numbers. Their cover selection was wide-ranging, with versions of Bill Withers' "Use Me," Michael Jackson's "Billie Jean," the Talking Heads' "Burning Down the House," The Stooges' "I Wanna Be Your Dog" and their funk-rocking take of Snoop Dogg's "Gin and Juice" all keeping folks on the dance floor. Mike's gritty baritone voice, Hunter's constant movements around the stage and David's driving drum beats kept things exciting through the duration of the night.
Also at McGarvey's, I checked out Altoona's JuJu Bone Blues Band for the first time last month as they performed the first half of a double-bill with the Pennsoulvanians. Evolved from the previous Blacksnakes Blues Band, JuJu Bone features the former Blacksnakes core of singer Brian Elliott, guitarist Jason Feathers, bassist Hunter James and drummer Nate Woods; plus Brett Fanelli on keys and Lyndsay Reilly on saxophone. This group celebrated electric blues as they mixed classic blues numbers and originals. With Brian delivering his hearty blues howl, the group fired through renditions of Howlin' Wolf's "Little Red Rooster" and "Killing Floor," John Lee Hooker's "Boom Boom," Willie Dixon's "Hoochie Coochie Man," Eddie Boyd's "Have You Ever Been Mistreated" and more, and did their original blues numbers "Walking Dead Blues," "Bottom Shelf Woman" and "Blue Light Blues." JuJu Bone provided sharp musicianship, with Jason, Brett and Lyndsay displaying dazzling solo work and playing off one another for charged highlights. The Pennsoulvanians looked a little different this night, as both of their Mike's – vocalist Michael Thomas and bassist Michael Stanley – were not on the stage; Hunter James took over bass duties, joining singer Chet Denny, guitarist Nate Nagle, Brett on keys, Lyndsay on sax, and Todd Harshbarger on drums. The Pennsoulvanians delivered soulful sounds with their all-original set, doing their popular numbers such as the reggae-driven "Day Has Come," "Hustle Til the Morning," "Round Here," "Slip Out of Your Clothes," and their finisher "Swagger." The group's grooves kept folks moving on the dance floor, and the mood stayed at a constant high from start to end.
The Snipped released their second full-length album, "Tales from the Workbench," in late January (see the CD review elsewhere in this issue) with a CD-release triple-bill at McGarvey's. I missed the sets by the two openers, The Daylight Society and The Flannels, but arrived in time to witness The Snipped delivering their full punk-rocking "dadcore" fury. The fatherly cast of singer and guitarist Mike Wax, lead guitarist Jeff Reid, bassist Frank Conrad and drummer Justin Burket kept pedal to the medal as they fired through songs off the new album such as "Goddamn Shame," "The Mine," "Be That Way," "Back in the Day" and their slamming reboot of Bruce Springsteen's "Born to Run." They did songs off their "#dadcore" CD as well, such as "Waste My Time," "All We Know" and "Hand That Feeds." The Snipped's execution was tight, sharp, fast and furious, and their vocals and harmonies were on target. The Snipped followed this show by heading westward for their "World Tour" – of Ohio, doing shows in Columbus and Cincinnati.
And I saw Captain 90's as they celebrated 90's-era rock at McGarvey's in late January. Colin Lennox on lead vocals, bass and didgeridoo; Tim Beahm on guitar and vocals; and Shaun Shumac behind the drum kit took a nice-sized McGarvey's audience on a 90's rock journey, mixing up favorites plus several forgotten '90s gems. Captain 90's did tunes from Green Day, Smashing Pumpkins, Toadies, Bush, Lenny Kravitz, Collective Soul, Harvey Danger, Everclear, Nirvana, Local H, Stone Temple Pilots, Cake and others. They also broke out some pleasant surprises such as Dishwalla's "Counting Blue Cars," Southern Culture On The Skids' "Camel Walk," Spacehog's "In the Meantime," Nine Inch Nails' "Wish," Silverchair's "Israel's Son" and Butthole Surfers' "Who Was in My Room Last Night?" Colin also rumbled out some tones on the didgeridoo to lead into the group's third set. It all sounded good; since making their debut late last year, Captain 90's sounds stronger with each show.
Huntingdon now has another venue to enjoy live music, as the Muddy Run Tavern has opened a new and larger location near downtown Huntingdon. Backlash became the first band to initiate the new location last month. With Buck Dickson and Wade Shumaker both singing and playing guitars, Andy Krishak playing bass and Michael Simone supplying the drumbeats, Backlash kept the large Muddy Run audience happy with their mixture of mostly 1990's favorites. With Buck and Wade switching lead singing duties, Backlash maintained the dancefloor activity with tunes from Collective Soul, Weezer, White Stripes, Bush, Black Crowes, Blur, Harvey Danger, Radiohead, Sublime and more. Backlash kept the music constant and the pace upbeat, and when the crowd demanded more at night's end, the group answered with their version of Metallica's "For Whom the Bell Tolls" to cap the night.
After spending a day completing my monthly PA Musician delivery duties last month, I motored my way to the Spring Dam Brewing Co. in Roaring Spring to "party with Artie," as longtime Bedford-based performer Artie Burtnett entertained a nice-sized crowd. Switching between acoustic and electric guitars, Artie performed a blend of classic rock and country numbers, along the way showcasing his high-ranging, gritty vocal style. Artie sounded confident and comfortable on all of it; from Kiss' "Hard Luck Woman" and The Who's "Behind Blue Eyes" to Jamey Johnson's "In Color" and Chris Stapleton's "Broken Halos," plus songs by CCR, Lynyrd Skynyrd, John Mellencamp, Eric Clapton, Rod Stewart and more. Artie also poured heart and guts into his renditions of CCR's "Long As I Can See the Light" and Poison's "Something to Believe In," and gave a reverent treatment to Leonard Cohen's "Hallelujah." The show and Spring Dam's tasty brews made for an enjoyable "party with Artie"; Artie Burtnett plays throughout Bedford and southern Blair Counties; watch for his show near you.
The Giants Of Science have been celebrating the fun side of 1980s rock and pop since the mid-1990's, and their fan base is extending into a new generation. This was obvious during the group's visit last month to Altoona's 4D's Lounge, as young fans populated the dance floor while the Giants delivered their charged, happy-go-lucky show. Singer, guitarist and ringleader Mick, bassist and singer Johnny 5, keyboardist and singer Scotty B and drummer Steve elevated the dance floor party with 80's-era favorites from Soft Cell, Bruce Springsteen, Frankie Goes to Hollywood, Dexy's Midnight Runners, Bryan Adams, A-ha and many more. Beyond the music, the Giants Of Science kept it friendly with the dance floor crowd and made them part of the show, with some dancers busting their moves on the stage. Generating a fun time each night is why the Giants Of Science stay steadily busy on stages across the state; watch for their return to the 4D's Lounge on March 26.
News and notes…The Spin Doctors and Railroad Earth have been announced as headliners for this year's annual Flood City Music Festival; this year's event takes place July 29-30 at People's Natural Gas Park in Johnstown…This year's annual Route 22 Rock & Blues Festival will take place July 15-16 at the Lincoln Caverns Campground near Huntingdon; the performer line-up will be announced soon…Raven and the Wren, Canary, Hannah Bingman, Anchor & Arrow, Hops & Vines, Kristi Jean & Her Ne'er Do Wells, Miss Melanie and Natascha & the Spy Boys will perform at the "Women's Voices" concert at State College's State Theatre on March 26; proceeds benefit the State Theatre…Western PA-based Allman Brothers tribute band An Evening With announced the addition of a new drummer, as Dane Whatule joins the group's roster…Roadkill is now seeking a new drummer, as Clayton Miller has left the group to pursue other musical projects…Guitarist Tom Buck has stepped away from Cambria County classic rockers Fuse to devote more time to his family and grandchildren…Harrisburg hard rockers Steel are seeking a new frontman, after the group's longtime singer, Chris Redding, departed the group to focus more attention on his singing duties with Road Case…Chip & the Charge Ups have announced the addition new drummer Nolan Allen…SamarA have found their new frontman; Eric Pensyl will take over lead vocal duties, replacing Nigel Dirt…Images Of Eden is entering the recording studio to record two follow-up releases to their 2021 album "Angel Born"; both will be recorded simultaneously, with an initial EP followed by a new full-length album, and both will be released on Pavement Entertainment…Medusa's Disco will release their new full-length album on May 14 during a release event at the Harrisburg Midtown Arts Center.
The regional music scene was saddened by the passing of two musicians in recent weeks…Shane Burger, former guitar player for Harrisburg-based 80s metal and arena rock tribute band LeadFoot, passed away unexpectedly on January 31 at age 52. Shane was a popular and gifted guitar shredder, whose style was often compared to Randy Rhoads…And Dave Smith, who fronted Pittsburgh-based Rush tribute group Distant Signals, passed away in his sleep on February 2 at age 53.
Please send correspondence and recordings to: Jim Price, 1104 S. Catherine St., Altoona, PA 16602. You can also e-mail me at jptheprofessor@gmail.com. And if you're into social networking, look me up on Facebook. SUPPORT LOCAL MUSIC!