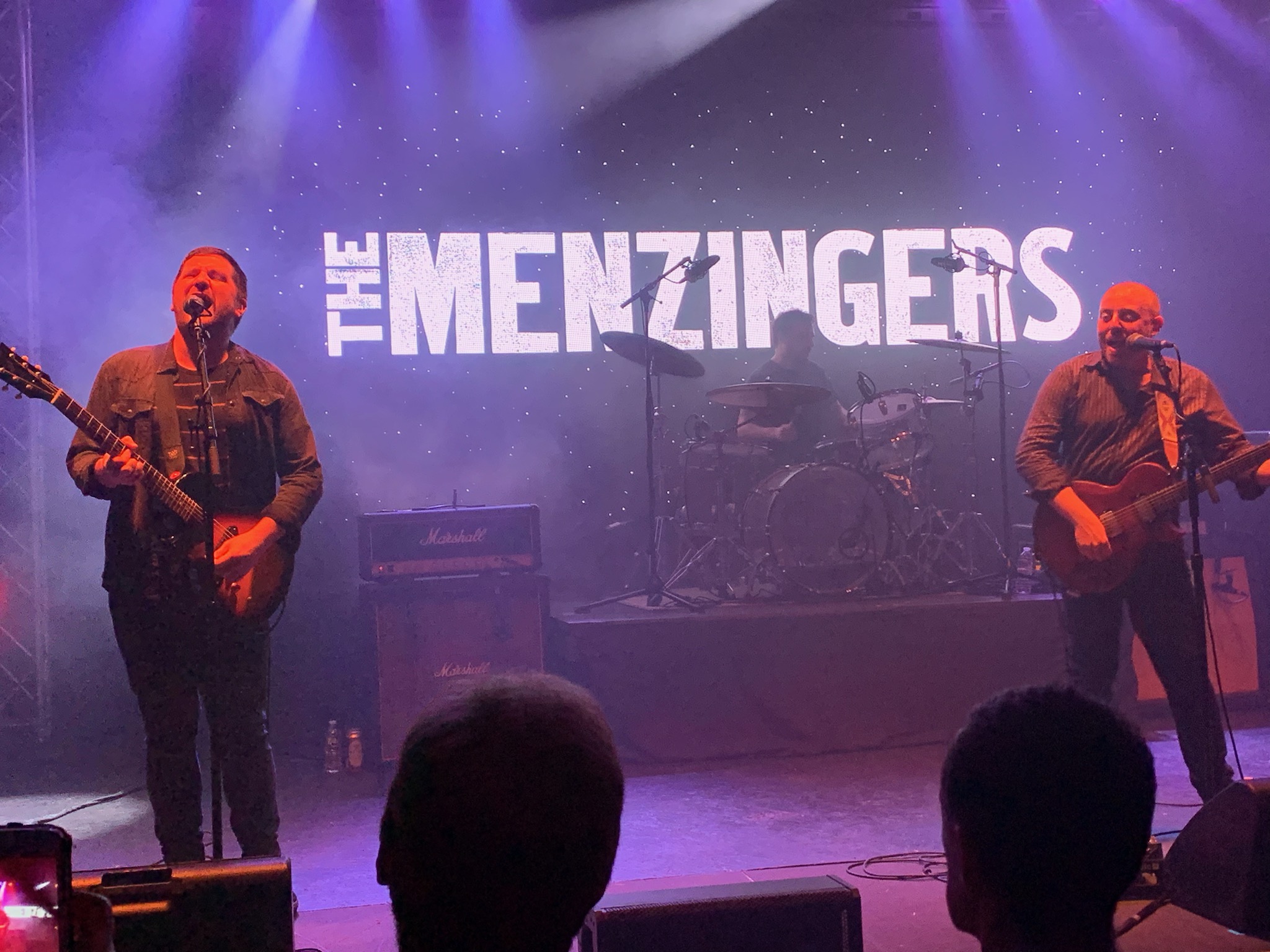 ---
By: Eric Hoffman
Greetings Rockers 'N' Rollers! Former Scranton-natives, The Menzingers, visited Harrisburg on Feb 12 to a nearly sold-out show in the Capitol Ballroom at HMAC. The concert had been rescheduled twice due to Covid but the band made good and came to play their first show in 2022. The venue was packed with devoted fans of the now Philadelphia-based band. The Menzingers were great, ripping thru popular songs, "Strangers Forever," "The Obituaries," "Lookers" and "After The Party." Singer, Gregor Barnett, is currently touring solo for his album, 'Don't Go Throwing Roses In My Grave,' and then The Menzingers begin a nation-wide 31-date tour starting April 1 and ending at Philadelphia's Franklin Hall May 14.
Justin Bieber made a visit to City Star Diner in Manheim on Feb 2. According to his bodyguard with him, the pop singer was in the area to practice at Rock Lititz for his "The Justice World Tour 2022" which began Feb 18 in San Diego, Ca.
Paul McCartney announced his return to the road with 14-dates. The legendary rocker will hit a mix of arenas and stadiums, the "Got Back" run will include plays at Los Angeles' SoFi Stadium (where the Super Bowl took place), Boston's Fenway Park, New York's MetLife Stadium and Baltimore's Oriole Park on June 12. It's the former Beatles first show in Baltimore since 1964. "I said at the end of the last tour that I'd see you next time. I said I was going to get back to you," said McCartney in a statement. "Well, I got back!"
Dolly Parton, Eminem, Lionel Richie, Duran Duran and A Tribe Called Quest are among this year's first-time nominees for induction into the Rock & Roll Hall of Fame. The Cleveland-based institution announced 17 artists and groups being considered for Rock Hall induction, including Rage Against the Machine, Pat Benatar, Dionne Warwick, Carly Simon, Judas Priest, Beck, Kate Bush, DEVO, Eurythmics, Fela Kuti, MC5 and the New York Dolls.
Chris Stapleton's "All-American Road Show Tour" has announced 25 new dates including Merriweather Post Pavilion on Aug 20 and Hersheypark Stadium on Aug 27. The country singer released his latest studio album, Starting Over, in 2020. The upcoming 64th annual GRAMMY Awards see Stapleton nominated for three awards, including Best Country Album for Starting Over, Best Country Song for his single "Cold," and Best Country Solo Performance for "You Should Probably Leave."
Legendary jam band Phish will return to the road this summer. The foursome plays two nights at Philadelphia's Mann Center, July 19-20 and two nights at Merriweather Post Pavilion in Columbia, Md., July 30-31. Foo Fighters have over 20-dates for their 2022 North American Tour which begins at The Pavilion at Star Lake in Burgettstown, Pa. on May 14 and also visits Philadelphia's Lincoln Financial Field on July 24. Train will be hitting the road this summer along with Jewel and Blues Traveler. Other notable tours this summer include: The Lumineers, The Black Keys, Luke Bryan, Bad Bunny, Halsey, Bleachers.
Elvis Costello and Nick Lowe reunite for select dates on tour for the first time since 1989 for "The Boy Named If & Other Favourites" this summer. Elvis Costello and his band, The Imposters (Steve Nieve, Pete Thomas, Davey Faragher) will also be rejoined on stage by Texas guitarist Charlie Sexton. The tour visits Bensalem, PA on Aug 12 at Parx Casino.
Mark Lanegan, ex of grunge stalwarts Screaming Trees as well as a collaborator with Queens of the Stone Age and other artists, died Feb. 22 in his adopted home of Killarney, Ireland. No cause of death was given, but he battled and appeared to recover from a case of COVID that put him in a coma for three weeks last year. The 57-year old singer was a pioneer in the late '80s and early '90s of what would become grunge as frontman of Screaming Trees and their popular single, "Nearly Lost You."
Roger Daltrey and Pete Townshend will regroup again as The Who for a summer arena tour. Titled, "The Who Hits Back!" tour, includes 29-dates including Philadelphia's Wells Fargo Center May 20, Washington DC's Capital One Arena May 23 and NYC's Madison Square Garden May 26. "Pete and I said we'd be back, but we didn't think we'd have to wait for two years for the privilege" Daltrey says. "This is making the chance to perfor feel even more special this time around. So many livelihoods have been impacted due to COVID, so we are thrilled to get everyone back together – the band, the crew and the fans. We're gearing up for a great show that hits back in the only way The Who know how. By giving it everything we got."
Nine Inch Nails will do a variety of shows in 2022, with a mix of major festival appearances and amphitheater dates announced spanning this spring and late summer. The tour will wrap Sept. 24 with a show in Cleveland, where NIN frontman and figurehead Trent Reznor founded the band in 1988. Support on that particular show will include industrial/metal veterans Ministry and Nitzer Ebb.
This year's Super Bowl LVI halftime performance featured some of hip-hop's legends including Dr. Dre, Snoop Dogg, Mary J. Blige, Kendrick Lamar, Eminem, and 50 Cent. Taking to one of the world's biggest stages, Snoop Dogg and Dr. Dre kicked of the show with hit single, "The Next Episode" followed by "California Love." 50 Cent then surprised fans as an unannounced guest with "In Da Club" which segued into songs from Mary J. Blige and Kendrick Lamar. Eminem then joined Dr Dre for "Forget About Dre," "Lose Yourself" and "I Ain't Made at Cha." All six performers closed out the show with Dre's 1999 hit "Still D.R.E."
The jam community will descend on Montage Mountain in Scranton, Pa. from June 30 to July 3 for the 10th anniversary edition of Peach Music Festival. Trey Anastasio Band, The Black Crowes, Billy Strings and Joe Russo's Almost Dead will headline the event, which will also feature Goose, The Revivalists, Pigeons Playing Ping Pong, Steel Pulse, Jason Bonham's Led Zeppelin Evening, Andy Frasco & The U.N., Keller Williams, The Wailers, Trouble No More, The Word and many more. Since its 2012 inception, Peach has been a key event for the jam world.
Kenny Chesney's long awaited "Here and Now 2022 Tour" has added 20 amphitheater shows to his already-announced 21-date stadium trek. The eight-time Entertainer of the Year is known for his stadium shows, performing to more than a million fans each summer. He concludes every tour traditionally playing two sold-out shows at Gillette Stadium in Foxborough, Ma on Aug 26-27. Chesney visits Pittsburgh' Heinz Field June 11, Philadelphia' Lincoln Financial Field June 18 and Merriweather Post Pavilion Aug 10.
Dave Matthews Band will play 46-shows for their 2022 North American summer tour. The band began in 1991 and has sold more than 25 million tickets and a collective 38 million CDs and DVDs combined. In 2018, Dave Matthews Band became the first group in history to have seven consecutive studio albums at No. 1 on the Billboard 200.
Neil Young's music will be removed from Spotify at this request, following the veteran rock star's protest over the streaming service airing a popular podcast that featured a figure criticized for spreading COVID misinformation. Spotify said that it regretted Young's decision, "but hope to welcome him back soon." Young had more than six million monthly listeners on Spotify. He appreciates his record company, Warner Brothers, standing behind him, it was "a huge loss for my record company to absorb." Young, 76, said "I realized I could not continue to support Spotify's life-threatening misinformation to the music loving people."
Hersheypark Stadium summer 2022 shows: Thomas Rhett – June 24. Def Leppard / Motley Crue / Poison / Joan Jett – July 12. Santana / Earth Wind & Fire – Aug 6. Zac Brown Band – Aug 14. Rod Stewart / Cheap Trick – Aug 20. Chris Stapleton – Aug 27.
MARCH SHOWS: Journey / Toto – Hershey Giant Center Mar 4. Martini Bros / Dirt Road Redemption – Shermans Dale Creek Inn Mar 4. The Badlees – Hershey Englewood Mar 4-5. Ministry / Melvins – Baltimore Soundstage Mar 6. Inhaler – Washington DC 9:30 Club Mar 7. Inhaler – Philadelphia TLA Mar 7. KIX – Millersville Phantom Power Mar 18-19. Dirt Cheap – Thomasville Racehorse Tavern Mar 18. CPMA Awards – Hershey Theatre Mar 24.