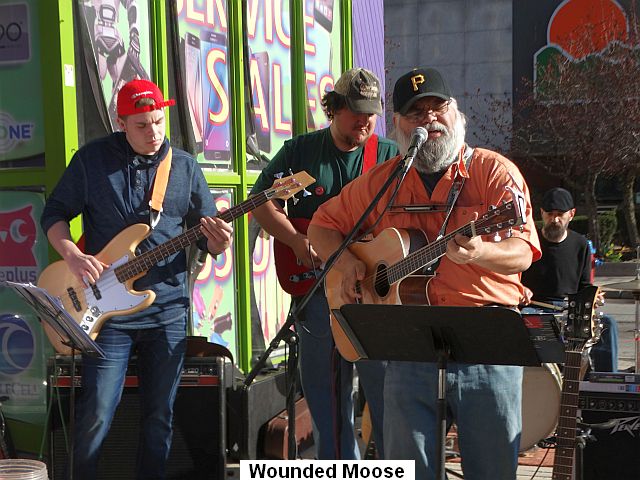 ---
By Jim Price
It arrives…The school year winds down this month, and the outdoor live music season continues to come to life, setting the stage to another busy warm and fun outdoor music season.
One of the first springtime outdoor events in the western PA region is the annual Pennsylvania Maple Festival in Meyersdale (Somerset County), which happens during the two weekends bridging late March and early April – the peak time for tapping maple trees for sap to make syrup and other maple products. Late-season wintry weather doesn't always permit me to attend this festival, but warm early spring weather conditions this year did allow me to attend the festival's second weekend early last month. Besides savoring the all-you-can-eat pancake and sausage breakfast (with local maple syrup) plus other maple edibles, I got to enjoy live music courtesy of young Harrisburg area country and pop singer/songwriter Claire Whalen. Claire sang with a pleasant, bold voice and strummed acoustic guitar, accompanied by pianist Shawna Ott and guitarist Alex Agosti. Claire sang several of her original songs, along with select pop and country covers; among them, renditions of Little Big Town's "Girl Crush" and Taylor Swift's "Call It What You Want."
Established in 2008 to celebrate independently-owned record stores, Record Store Day – held in April each year – provided an opportunity to check out live music outdoors last month. Established in 1932, the oldest existing record store in America – George's Song Shop in Johnstown – celebrated Record Store Day with a live band playing outside its door. It marked the debut performance of new Johnstown-based group Wounded Moose, as well as the CD-release event for "Very Stable Genius," the new EP by the group's frontman, established area solo performer Dan Stonerook. As vinyl record connoisseurs lined up outside the door, Wounded Moose – Dan on vocals, guitar and harmonica, guitarists George Feathers and Bill Venet Jr., bassist Mike Gerber and drummer Abraham Weber – performed a mixture of original songs and select covers. Wounded Moose did songs from the new EP such as "Changing," "Lightning at Night," "Highway 11" and more, tunes from Dan's "Ghosts from the Past" EP such as the Johnstown-themed "Our Old Town," and numbers from the Allman Brothers, Eric Clapton, Steve Earle and more. Dan and Wounded Moose perform this month at the Millvale Music Festival in Pittsburgh on May 11.
Although not held outdoors, the Riversongs Festival at Millheim's Elk Creek Café in late March benefited the outdoors, raising funds and awareness for the Penns Valley Conservation Association (PVCA) and the programs it provides. Kicking off the afternoon's music was the Dilly Beans, who performed original folk and roots music. Sharing singing duties in this group were Hannah Bingman and Nell Hanssen, with Hannah strumming acoustic guitar and Nell providing brassy accents on trumpet. Sean Hershey provided rhythms on cajon, while John "JK" Kennedy anchored the sound on upright bass. The Dilly Beans' songs were rustic and uplifting, with Hannah and Nell combining for some pleasant harmonies along the way. Chris Rattie & the New Rebels then performed a set of their edgy style of Americana music. Chris on vocals, acoustic guitar and bass drum, Jeff Downing on bass and Nathan Cutshall on guitar, harmonica and vocals performed original numbers, most from Chris' "Porch" CD such as "My Mountain," the downtrodden "Prisoner 743," the rowdy "Country Boy" and "Heading into Darkness." The group also introduced newer numbers such as "Cabin Fever" and "In the Year 2019." A packed house audience showed their support for both bands and the Riversongs event, which raised money to help with PVCA's environmental education programs, and maintenance and protection of the Penns Valley watershed.
The Reverend Horton Heat returned to conduct service at McGarvey's early last month, headlining a feisty roots music triple-bill. A large crowd had already gathered as the first band of the night, Springfield, Missouri-based blues-rock trio The Hooten Hallers, took the stage. This group provided a unique instrumental blend, as Kellie Everett anchored the group's sound with sinister-sounding saxophone bottom end, playing both baritone and bass saxes; guitarist John Randall and drummer Andy Rehm shared singing duties. The Hooten Hallers delivered a boisterous sound, rooted in John Lee Hooker-styled old-school blues with a spiritual fervor, as they did original tunes such as "Van Killer," "Rhythm & Blues" and more. Next up was Nashville's Legendary Shack Shakers, who introduced an upbeat sound that blended elements of early jazz, hillbilly music, country blues and rockabilly. Four members strong, the group kept the music and excitement constant as they did an assortment of original tunes. Frontman J.D. Wilkes mixed twang and grit in his presentation as he belted out the group's numbers, and at one point even launched himself into the audience with harmonica in hand. Touring in support of their latest album, "Whole New Life," Reverend Horton Heat delivered an all-out fire-and-brimstone display of uptempo rock, surf rock and rockabilly. The "Reverend," charismatic ringleader, singer and guitarist Jim Heath, brought the fury with his presentation, blending his gritty voice with fiery fretboard work on his red Gretsch guitar. His longtime cohort, Jimbo Wallace, reliably menaced on the upright bass string-thumping, while Arjunas "RJ" Contreras provided high-powered drumbeats. The Reverend Horton Heat did several songs off the new album, including the title track "Whole New Life," "Got It in My Pocket," "Hate to See You Cry" and "Ride Before the Fall." They also broke out many of their established favorites, including "Psychobilly Freakout," "Jimbo Song," "It's Martini Time," "Let Me Teach You How to Eat," "Galaxie 500" and more. Additional highlights included the Reverend standing atop Jimbo's bass during "Big Red Rocket of Love," and the two swapping their instruments for a version of Chuck Berry's "Johnny B. Goode." When the crowd demanded more, Arjuna commenced the encore with a freewheeling drum solo display, where he extended beyond his kit to tap rhythms on Jimbo's bass and even the wooden barrier at the front of the stage. The Reverend and Jimbo then joined him for their rendition of the Elvis hit "Viva Las Vegas" from the new CD, followed by their full-fury read of Motorhead's "Ace of Spades" and Gene Summers' "School of Rock'n'Roll," before the three musicians ended the night with a curtain call before their ecstatic audience.
Also returning to McGarvey's in late March was California's Swingin' Utters, headlining a three-band punk rock throwdown. Altoona's X's For Eyes started the night with their furious brand of punk rock aggression, blending established numbers with new ones such as "Blown Away," plus a torrid take on the Ramones' "Judy Is a Punk." Next was Asbury Park, New Jersey's Lost In Society, who delivered their own brand of punk velocity. Three members strong, Lost In Society fired off high-powered original numbers, including tracks from their latest EP "Eager Heart" such as "Creature." Featuring founding singer Johnny Bonnel and guitarist Darius Koski, Swingin' Utters capped the night by firing through a slamming set of tunes from throughout their career, spanning their 1995 debut album "The Streets of San Francisco" to their latest album from last year, "Peace and Love." They did the title track from the new album plus "Undertaker, Undertake," as well as songs off the debut album such as "Storybook Disease" and "Teenage Genocide." Swingin' Utters' energy and enthusiasm were constant, and they kept the McGarvey's crowd happily cheering and slam-dancing up front.
Among recent noteworthy shows that have taken the stage at State College's State Theatre was last month's exciting double-bill featuring Turkuaz and Aqueous. From Buffalo, New York, Aqueous commenced the music with their intriguing display of improvisational rock, funk, reggae and jam-styled grooves. Featuring guitarist/singer Mike Gantzer, guitarist and keyboardist Dave Loss, bassist Evan McPhaden and drummer Rob Houk, Aqueous generated experimental, progressive groove fests over their set; featuring inventive arrangements with unpredictable shifts, twists and turns, stellar musicianship and intensifying homestretches that got the audience up and moving. Their performance earned a standing ovation from much of the audience. Making their return to the State Theatre, Brooklyn's Turkuaz ignited the audience with their brand of dance-friendly, funk-driven sounds. Nine members strong including backing singers and a horn section, Turkuaz quickly had audience members up and dancing with original numbers from throughout their catalog, including their fifth and latest album, "Life in the City." Turkuaz's songs featured clever melodies and arrangements, male and female vocals, tasty musicianship mixing guitars, keys and horns, busy rhythms, coordinated dance moves and uplifting vibes. Some of their songs performed this night included "Superstatic" off the new album, "The Generator," "Percy Thrills, the Moon Dog" and more. The audience quickly demanded an encore at night's end, and Turkuaz responded with one more number to finish the night. Some of this month's offerings at the State Theatre include the David Bromberg Quintet on May 9, State College Area High School 2012 graduate and four-time Grammy award-winning jazz saxophonist Ian Hendrickson-Smith – a current member of The Roots who has worked and recorded with Lady Gaga, Sting, Stevie Wonder, Bruno Mars, U2 and others – on May 10 (with a master class for children preceding the concert at 5:30 p.m.), and Led Zeppelin tribute Get The Led Out on May 15.
April 5 marked the 17th anniversary of the passing of Alice In Chains singer Layne Staley, and several area musicians organized a musical salute at McGarvey's to mark the occasion. The "Cut Short: Layne Staley Tribute" saw performances from the bands Negan and Maul, plus additional guests, who celebrated a wide variety of music that Layne Staley helped to create, spanning his tenure in Alice In Chains, Mad Season and more. After an acoustic set started the evening, Negan – singer Mike Davis, guitarists Bob Gray and Jeremy Ashurst, bassist Josh Yahner and drummer Damien Falatek – delivered a powerful set that celebrated well-known and lesser-known numbers from Layne's career. After opening with Mad Season's "I Don't Know Anything," Negan proceeded with impressive renditions of Alice In Chains' "We Die Young," "Again," "Sea of Sorrow," "Grind" and "Down in a Hole," and dug deeper into the Alice In Chains catalog for "Sunshine" and "What the Hell Have I." Rick Ramsey joined Negan on stage to help with backing vocals on "It's Not Like That" and "Man in the Box." With Asa Mosey helping out with lead vocal duties, Maul then continued the celebration with more Alice In Chains and Mad Season numbers. Asa joined singer Todd McKeone, guitarists Nate Nagle and Eric Prindible, bassist Tanner Thomas and drummer David Applas for strong versions of Alice In Chains classics like "Them Bones," "Dam That River," "Rain When I Die," "Angry Chair," "No Excuses," "Got Me Wrong," "Would?" and more. From the Mad Season catalog, Maul did renditions of "Wake Up" and "X-Ray Mind," before the night's finale, as several musical guests – including Beth Helsel on bass plus Rick Ramsey and Ed Hofer on backing vocals – joined in for versions of Alice In Chains' "I Stay Away" and "Rooster." Both Negan and Maul will be opening for Tool tribute group Schism at McGarvey's on May 18.
Pittsburgh's The Filthy Lowdown returned to McGarvey's last month, headlining an action-packed, hard-hitting triple-bill. I missed openers The Zero Club, but arrived in time to see some of Downshift's set. Singer Travis Dick, guitarists Jordan Ferraro and Rob Lynn, bassist Josh Michael and drummer/singer Randy Wilson hammered forth rocking favorites from Metallica, Pantera, Drowning Pool, White Zombie and more. The Filthy Lowdown then presented their high-velocity set of punk-fueled heavy rock. Frontman Abe Like Lincoln again delivered a manic, intense performance, wrapping the mic cord around his face as he barked words to the group's original tunes. Flanking Abe were lead guitarist Max Snyder, rhythm guitarist Brandon Habera, bassist Charlie Kowalski and drummer Dan Kelly. The Filthy Lowdown did tunes from their latest album, "El Accidente," such as the torrid "Mischief," "308," "Punk Punch N'Roll," "Twisted Minds" and more, riding each song to the brink. Providing an exhaustive good time – fans of wild, rowdy punk'n'roll need to check out The Filthy Lowdown when they return.
For fans of 1970s-era progressive rock done well, State College's Cone Of Silence specializes in this vein of classic rock, and does it well – evidenced by last month's performance at Café 210 West in State College. Singer and guitarist Steve Christensen, bassist and singer James Miller, keyboardist and singer Liz Grove, and drummer and singer John Lynch were joined several times this night by Steve's son, Sam Christensen, who sang lead on several numbers. Cone Of Silence was masterful in their performances of some of rock's most challenging works – including Emerson Lake & Palmer's "Fanfare for the Common Man," Kansas' "Song for America," Genesis' "Entangled" and "Squonk," Pink Floyd's "Sheep," and Yes' "Tempus Fugit" and "Yours Is No Disgrace" during the first set; plus Yes' "Siberian Khatru," Jethro Tull's "Aqualung" and Pink Floyd's "Comfortably Numb" during the second set. Cone Of Silence also did great work on Crosby, Stills & Nash classics such as "Suite: Judy Blue Eyes" and "Cost of Freedom/Ohio" to open the second set, displaying excellent vocal harmonies along the way. Guest saxophonist Darryl Davies joined the group for their 'dance' portion of the night, as they filled the dance floor with Peter Gabriel's "Sledgehammer" and David Bowie's "Let's Dance"; Darryl also contributed his sax talents on an extended take of Traffic's "Low Spark of High-Heeled Boys." Cone Of Silence will donate their talents to the "ACRES of Music: The Music of Woodstock" benefit at the State Theatre on June 15; proceeds will help out the ACRES Project, a local non-profit organization that helps out adults with autism.
A generational passing of the torch took place at McGarvey's last month during a performance of Time with Donny Burns. For the past few years, singer and group founder Donny Burns Sr. and his son, guitarist and singer Donny Burns Jr., have performed together in the Time project. This night marked the final night of that collaboration, as Donny Sr. will continue the Time project with a different roster and direction, while Donny Jr. and the remaining band – guitarist and singer Nick Stahlman, bassist James Arroway and drummer Rob Chisholm – will continue as Donny Burns & the 3rd Degree. Donny Sr. likened it to a graduation, as his son and his younger cast will embark on their own musical path. For this transitional show, Time with Donny Burns performed a strong mixture of new and classic rock favorites; featuring numbers from the Foo Fighters, Rolling Stones, Kenny Wayne Shepherd, Third Eye Blind, Pearl Jam, Collective Soul, Black Crowes, Kiss, Billy Squier, and an extended Led Zeppelin excursion that included renditions of "Good Times Bad Times," "Hey Hey What Can I Do," "Ramble On," "The Ocean," "Bring It On Home" and "Whole Lotta Love." The group also did one of Donny Sr.'s original numbers, "Hooterville, USA." Both Time with Donny Burns and Donny Burns & the 3rd Degree are working on original songs and planning respective recordings, and both groups will perform at the annual Wam Jam Mountain Jam near Port Matilda in July.
Matt Otis & the Sound brought their show to the stage of the Hungry Duck Eatery in Roaring Spring for the first time last month. This night the roster of Matt on lead vocals, keys and guitar, Kent Tonkin on bass and Ron Brode on drums performed a mixture of acoustic-toned origjnal songs and select rock and pop covers. Matt did songs from throughout his discography, explaining inspirations and insights about each along the way; some of those songs included "Home," the title track off the latest album, "So It Goes," "Karma," the new number "Seasons," "You Ain't Got No Love," "Frozen Moments," "Make and "The Most Important Thing." Matt and the Sound did an eclectic selection of cover numbers – including Gotye's "Someone I Used to Know" to open the night, along with Rusted Root's "Send Me on My Way," Ben E. King's "Stand By Me," The Lumineers' "Ho Hey," plus songs from the Rolling Stones, U2, Buffalo Springfield, Katrina & the Waves and more. Matt Otis & the Sound were well-received at the Hungry Duck, and when the dinner crowd requested an encore, the group finished out the night with their rendition of John Denver's "Take Me Home Country Roads."
Also at the Hungry Duck, I saw western PA-based singer and songwriter Alyssa Hankey in action early last month. I enjoyed Alyssa's hearty vocal style and presentation, which ran the gamut from bold and bluesy to subtle and intimate as she performed a number of her original songs with her own distinctive takes on select covers. She introduced a number of songs that will be on her upcoming new album, "American Spirit," which comes out this month. Some of her original songs this night included "Black Cadillac," "Roots," "Back in the Woods" and "Jukebox Baby" off the forthcoming album. She also made her cover song selection her own, doing each song in her own distinctive bold style and cadence; she transformed several Bruce Springsteen numbers such as "Dancing in the Dark" and "Atlantic City," took on Tom Petty's "Yer So Bad" and "Walls," and also did numbers from John Prine, Dixie Chicks, Fleetwood Mac, Led Zeppelin, Rolling Stones, and – for her homestretch run – feisty takes on Jefferson Airplane's "White Rabbit," Woody Guthrie's "This Land Is Your Land" and Janis Joplin's "Mercedes Benz." Alyssa tours the country in support of her new CD this summer; she returns to the Hungry Duck on July 6.
I caught up with area country favorites Railtowne during their late March performance at Altoona's Four Dees Lounge. Lead singer and guitarist Ty Ayers, lead guitarist Kenny Murdick, bassist Paul Rainey, keyboardist Nathan Beatty and drummer Zac Grace mixed modern and classic country, keeping the dance floor busy with numbers from Zac Brown Band, Dwight Yoakam, Kenny Chesney, Hank Williams Jr., Jason Aldean, Joe Nichols, Big & Rich and more. Guest Brianna Sheeder added some female country to the mix by singing lead on Gretchen Wilson's "Here for the Party." And as all five band members previously played in various rock projects, they kept their rocking chops alive with a brief foray into tunes from Jimmy Eat World, Lit, Joan Jett, Proclaimers and Blink 182. Railtowne stays busy throughout the region; watch for the return to the Four Dees Lounge soon.
Zach Wade & the Good Grief delivered the good time at McGarvey's in late March. I arrived too late to see show opener Che Denny but heard he fired up the crowd early on. Namesake Zach on lead vocals and guitar, lead guitarist Rogan Allen, bassist Devin Pierce and drummer Keegan Allen kept the dance floor churning with their mix of new and old originals plus favorites from the Foo Fighters, Gin Blossoms, Stevie Wonder, TV On The Radio and more. Highlights included a cameo appearance by Walkney's Derek Mrdjenovich to start the nightcap set, plus guest singer and rapper Vi$a (Warren Peace) teaming up with Zach to front the group on Michael Jackson's "P.Y.T." At night's end, Zach and the Good Grief sent the show home with a jubilant read of Rusted Root's "Send Me On My Way." Zach Wade & the Good Grief will set off the musical fireworks at Altoona's reopened Lakemont Park on July 4, leading up to the park's official evening fireworks display.
And I saw Lauren & Joe in action in late March during one of McGarvey's 'Wings & Sings' Thursday nights. As I savored the house's hot ranch wings, I enjoyed the music as Lauren Johnson and Joe George entertained an assortment of pool players, college students and others with their wide mixture of acoustic favorites, spanning classic rock, pop, folk and country. Lauren did most of the singing, showing her vocal range and power on tunes from 4 Non Blondes, Fleetwood Mac, Melissa Etheridge, Amy Winehouse, Tracy Chapman, Janis Joplin and more. Joe showed he can carry a tune as well, fronting the duo on Neil Young's "The Needle and the Damage Done," Jethro Tull's "Locomotive Breath" and more.
Other performances I saw recently included Wednesday Open Mic Night at Altoona's Unter Uns Musical & Entertainment Society, and the Thursday Open Stage Night at Altoona's Greenbean Coffee House.
News and notes…The sixth annual Allegheny Ukulele Soiree will take place May 3-5 at the Altoona Grand Hotel in Altoona; performers and workshop presenters this year include Craig Chee and Sarah Maisel, Abe Deshotel, Amber Rozel, The Quiet American, Christopher Davis-Shannon, Mim Ukes and The Dirty Hillers…Felix & the Hurricanes, R2B2, Mama Corn, Frackwater Jack and Miss Melanie & the Valley Rats will be among the performers at the 52nd annual Blair County Arts Festival, happening May 18-10 at Penn State Altoona; this festival will go on temporary hiatus after this year, while the Blair County Arts Foundation devotes attention and energies toward improvements at Altoona's historic Mishler Theatre…Eric McCrum and Ed N'Born will entertain during this year's Pints for Pets Brewfest on May 4 at Altoona's People's Natural Gas Field; proceeds benefit the Central PA Humane Society…Simple Gifts presents their annual Folk College event May 24-26 at Juniata College in Huntingdon…Indiana County rockers Black Ridge have announced the addition of new sax player Tony Lassick…Lenina Crowne is currently recording a new EP, with an expected release date in June.
Please send correspondence and recordings to: Jim Price, 1104 S. Catherine St., Altoona, PA 16602. You can also e-mail me at jptheprofessor@gmail.com. And if you're into social networking, look me up on Facebook. SUPPORT LOCAL MUSIC!