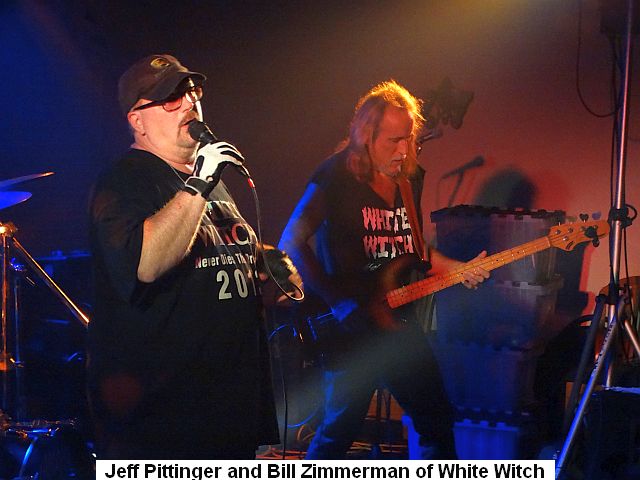 ---
By Jim Price
Pennsylvania Musician Magazine celebrates another orbit around the sun this month, marking 27 years of serving this state's music industry and community! Thanks again to Josh Noll for keeping this magazine's fire burning, and for allowing me to continue to be a part of it!
Live music migrated back indoors last month, with several area fall festivals and other events helping to bring the outdoor season to a close. One of those events was the second annual Cre814 Fest, which took place during late September in downtown Altoona. Celebrating the spirit of creativity within the 814 area code, the Cre814 Fest featured an assortment of artists, vendors, and live original music on several stages. I caught some of the main stage acts during the afternoon and evening, starting with Johnstown rockers Silver Screen on the Heritage Plaza railcar stage. Singer and rhythm guitarist Stephen Platt, lead guitarist Ben Ressler, bassist Robbi Rummel and drummer Austin Danel did a selection of their grunge-based original songs and select covers. Following them on the Heritage Plaza gazebo stage were fellow Johnstownians The Crew Of The Half Moon. The trio of multi-instrumentalists and singers Katie Rhodes and Dan Oatman, plus drummer Jon Beard, showcased a number of new songs they have been working on toward their next recording expected out next year. This Crew's sound continues to test new horizons, mixing elements of alternative rock with blues, jazz, progressive rock arrangements and more. Some of the new numbers performed this day included the piano-driven "Porcelain," an intensifying lengthier blues-geared number and more. Back at the railcar stage, Black Cat Moan celebrated songs from their new album "Symbols." Now a foursome featuring founding members TK Mundok on vocals and "Saint" George Byich on guitar, plus Rob Bonsell on drums and Brad Jamison on bass, Black Cat Moan has stretched from their blues-rooted foundation to incorporate elements of rock, funk, jazz and more. Led by TK's impassioned and charismatic delivery, the group did new songs such as "Is What It Is" and "Lay It Down," as well as tunes from their previous CD such as "Any Day" and more. I only caught one song from Pittsburgh-based Black Ridge, but was impressed with the energy level that this band now brings to the stage, including new frontman Paul Guerrini. On their set-opening "Blue Collar Blues," Paul commanded attention from the get-go with his boisterous energy, backed by the band's tight rocking thunder including a guest sax player. The Pennsoulvanians then followed with their soul and groove-based sound. Recently adding Lyndsay Reilly on saxophone, the group demonstrated their melody-driven blend of soul, hip-hop, folk, reggae and more, led by the soulful croon of singer/guitarist Chet Denny and rapper Michael "Duville" Thomas. Johnstown's Afro N'at slammed the lid on Cre814 Fest with their bold, brassy and boisterous set. Eight members strong including a three-part horn section, Afro N'at captivated the audience with their uplifting funk-based instrumental mixture, including a number of original compositions plus a rendition of Average White Band's "Pick Up the Pieces." Cre814 was well-attended, and it was heartening to witness the support for creativity and originality throughout the day.
The following day, I journeyed to Knoebel's Amusement Resort near Elysburg to enjoy one of the final days of the park's 2019 season and catch my first look at Grand Junction. Singer Stacey Kline, fiddler and guitarist Terry Wright, and singer and songwriter Jeff Mamett handled the bulk of lead singing duties; with Webb Kline playing keys, steel guitar and dobro and Jake Kline behind the drum kit. Grand Junction's banner says "At the crossroads where country swings," and that is an accurate description of what this group brought to the stage – a blend of country and western swing, plus some country-rock and southern rock, and even a few of Jeff's original songs. Among their song selection for this performance were Jim McGraw and the Western Sundowners' "Miles and Miles of Texas," the Johnny Cash triple-shot of "Hey, Porter" into "Folsom Prison Blues" and "I've Been Everywhere," Charlie Ryan/Commander Cody's "Hot Rod Lincoln," plus numbers from Marshall Tucker Band, Townes Van Zandt and Louis Jordan. Stacey showed her strong voice on Janis Joplin's "Me and Bobby McGee," and Jeff led the group on two of his original country-flavored tunes, "Bing Bang Boom" and "An Outlaw's Song." Terry showcased his fiddling talents a few times during the set, capped by his fiery fiddle-sawing on Charlie Daniels' "The Devil Went Down to Georgia" to end the day. I enjoyed Grand Junction's show; their musical blend was cohesive, their voices and playing were in good form, and their onstage mood was pleasant and welcoming.
Oh spud! Ebensburg celebrated the potato again in late September during their annual Potatofest, featuring vendors and community organizations offering a wide variety of potato-based foods, arts and crafts vendors, and live music on four stages throughout downtown Ebensburg. I arrived at the Main Tent stage in time to see much of the performance by Miss Melanie's Double Something, the new project that has emerged from the former Miss Melanie & the Valley Rats. "Miss Melanie" Morrison Zeigler and her bold, joyous voice are again front and center in this new project, joined by guitarist/signer Brian Cleary, bassist Bob Hart and drummer Chris Coyne. Blues remains a major part of Miss Melanie's new endeavor, but the group stretched into upbeat soul, rock and reggae flavors as well. Some of their song selection this day included Hall & Oates' "Sara Smile," Amy Winehouse's "Valerie," The Spinners' "Then Came You," Todd Rundgren's "I Saw the Light," plus numbers from Erykah Badu, Alicia Keys and more. I then headed up North Center Street to the Memorial Tent stage to catch the homestretch of Johnstown duo Walt & Jackie's performance. Singing and playing several instruments, Walt Churchey and Jackie Kopco blended their voices and generated pleasant vibes with their mix of favorites, including Jackie's bold rendition of Elton John's "Goodbye Yellow Brick Road," the pair's sing-along rendition of Neil Diamond's "Sweet Caroline," plus numbers from John Denver, Sugarland, the Walt-fronted edition of Janis Joplin's "Me and Bobby McGee," Bon Jovi & Jennifer Nettles' "Who Says You Can't Go Home" and more. I then proceeded to the Penn Eben Park gazebo stage, where The Zero Club had begun rocking out. An offshoot project from Negan, The Zero Club features Negan members Mike Davis on lead vocals and congas, Josh Yahner on bass and Bob Gray on guitar, along with Rick Ramsey on guitar and harmonica, and Dave "Red" Solinski on drums. The Zero Club mixed hard-rocking numbers with an emphasis on the 1990s, doing tunes from Stone Temple Pilots, Sublime, Seven Mary Three, Social Distortion, Tom Petty, the Doors, Johnny Cash and more. I returned to the Main Stage to see Pittsburgh's Metro. First formed 20 years ago but recently returning to action, Metro – singer Elisha Costello, bassist/singer Chris Caruso, guitarist Ron McBurney and drummer Bobby Breakiron – performed their party mixture of rock, funk, dance and party favorites. They generated street dancing with tunes from Prince, Walk The Moon, Def Leppard, Bon Jovi, Journey and more. I then finished my Potatofest tour at the South Center Street tent, where Bruce Schettig was into the homestretch of his performance. Accompanied by a second guitarist, Bruce performed innovative acoustic takes on a variety of numbers, including songs from Traffic, Jeff Beck, Classics IV, Jimi Hendrix, Nat King Cole, Bob Dylan, Gerry & the Pacemakers, Frank Sinatra and more.
The zombie virus impacted downtown Altoona's Heritage Plaza area for the fourth year in a row early last month, with ZombieTown USA providing the fun safe zone, complete with zombie themed activities, a costume contest, a zombie wedding, Altoona's Halloween parade, and live music throughout the day. The Backyard Rockers – singer/guitarist Rich Dasch, Mo Yon on guitar and bass, and yours truly on djembe, bongos and kazoo, led off the music with acoustic classics from The Band, Tom Petty, Johnny Cash, Steve Earle, Marshall Tucker Band and more Jae Smith then mixed 1990s-era and recent favorites plus a few deep cuts with several original songs, sharing some stories along the way. Before his version of The Badlees' "Fear of Falling," Jae shared the story of how members of The Badlees made sure that an under-aged Jae got to see them perform one night at an Ebensburg venue. He also broke out such numbers as NOFX's "Linoleum," Lifehouse's "Hanging By A Moment," the original tunes "Highland Haze" and "Weeks or Months" and more. Felix & the Hurricanes then braved the zombie apocalypse with their blend of classic rock, blues and original songs. Four members strong this day with namesake Felix Kos on lead vocals and guitar, Bob Watters on drums and vocals, Pat McGinnis on bass and vocals and Chuck Knepper on guitar and vocals, the Hurricanes did a wide selection of numbers spanning tunes from Neil Young, Allman Brothers, James Taylor, The Band, ZZ Top, James Gang, Keith Urban, Ben E. King and more. Guest Rick Ramsey joined in on congas and harmonica on a few songs, and the Hurricanes celebrated the Halloween theme with renditions of the Munsters TV show theme and Bobby Boris Pickett's "Monster Mash." Following the zombie wedding, Deny Your Maker celebrated the music of Alice In Chains. Another side project from the band Negan, Deny Your Maker – singer Mike Davis, guitarists Bob Gray and Rick Ramsey, bassist Josh Yahner and drummer Damien Falatek – celebrated songs from throughout the Alice In Chains catalog, including popular and deep cuts. They effectively captured the vocals and harmonies of Layne Staley-era Alice In Chains, while delivering the appropriate hard-rocking firepower on numbers like "We Die Young," "Dam That River," "Them Bones," "No Excuses," "Man in the Box," "Rooster," Would?" and more. And after the Halloween parade, The Musicologists celebrated the music of Prince to close out the band portion of ZombieTown. Chet Denny and Todd McKeone shared lead singing duties, with Ashley Peer accompanying with backing vocals, Jarrett Bickel on guitar, Hunter Karns on bass, Randy Servello on drums, and Lyndsay Reilly on saxophone. They performed the Prince hits such as "Let's Get Crazy," "Raspberry Beret," "Little Red Corvette," "Kiss," "When Doves Cry," "Musicology" and – for the finale – "Purple Rain." ZombieTown USA grows bigger and better every year, and it returns on Oct. 3, 2020.
I caught performances during both weekends of last month's annual Bedford Fall Foliage Festival in downtown Bedford. During the first weekend, I saw Pittsburgh's Arte Tedesco and his band as they entertained on the downtown gazebo stage. earlier this month during the first weekend of the Bedford Fall Foliage Festival. Flanked by Fred Delu on keys, Will Franklin on bass and Greg McIltrot on percussion, Arte sang and played guitar as he presented his fusion of blues, jazz and light rock flavors. Arte performed songs from throughout his career, along with a few tunes from his forthcoming new album, "Lightning Strikes." He referenced his popular 1980s Pittsburgh-area group, The Haywire Band, with songs from that era such as "Special Lady" and the set-closer "Dangerous Man." He did new songs from the forthcoming album such as "Love May Come Again" and "Hurricane." He also did numbers such as "A Man's Gonna Love You" and "Miami," plus led the audience on a sing-along during "Dream to Hold On To." It all sounded good – Arte and his band are skilled players, and Arte kept his presentation friendly and cordial.
I returned to the Bedford Fall Foliage Festival the following weekend to witness more performers at the gazebo stage. I arrived in time to catch the last two songs from Indiana's Coastal Remedy. Lead singer and guitarist Max Bizousky, bassist Matt Snyder and drummer Dylan Murphy closed out their performance with Neil Young's "Down By the River" into the Beatles' "Come Together." Performing during the band changeover was Grammy-nominated accordionist and singer Kevin Solecki. Based in Pittsburgh, Kevin entertained with a variety of polkas, standards and other numbers. Besides obviously knowing his way around the accordion keys and buttons, Kevin was a fun entertainer who engaged the audience and led them on several crowd-participation numbers, including the "Chicken Dance" and the "Hokey Pokey." He also did polka favorites such as the "Pennsylvania Polka," "In Heaven There Is No Beer" and the "Too Fat Polka," plus popular standards such as the Dean Martin-popularized "That's Amore," the Bobby Darin-popularized "Beyond the Sea," the German "Hofbrauhaus-Song," and an Armed Forces song medley to close out his set. Kevin played his accordion with a constant smile and had the crowd clapping, singing and even dancing along by set's end. Then taking the stage was Williamsport-based Americana group the Boom Town Boys. Together a year, the roster of singer and guitarist Joe Tokay II, multi-instrumentalist and singer Mike Steppe, bassist Nick Layton and drummer Mike Wrench mixed original songs from their recently-released debut EP "River Song" with numbers from Tom Petty, Oasis, Dwight Yoakam, Johnny Cash and more. The Boom Town Boys could vary their repertoire from softer and rustic to hard-driving and intense, sometimes in the course of the same song – such as their closer, the title track from their "River Song" EP.
I celebrated my birthday last month with a trip to Ligonier for the annual Fort Ligonier Days festival, which featured food, arts and crafts vendors, historic reenactments and demonstrations, and live music. I arrived in time to see some of the performance by Pittsburgh's Jeff Jimerson and Airborne. Known for singing the National Anthem at Pittsburgh Penguins hockey games during the past two decades, Jeff sang and played bass, flanked by keyboardist Herb Schweitzer, guitarist Dave Scopa and drummer Dave Marion. The group mixed popular favorites for the remainder of their set, doing numbers from Luke Bryan, Tim McGraw, John Denver and Kenny Loggins. Drummer Dave fired off a solo, and sang lead on Airborne's closing number, a version of Bruce Springsteen's "Born to Run." Following them was State College's Cousin Neddie. Five members strong, Cousin Neddie took the crowd on a journey back to the new wave and pop 1980s; doing numbers from Tears for Fears, Crowded House, Pretenders, Til Tuesday, Cars, Peter Gabriel, Smithereens, Police and more. Cori Donaghy sings lead, backed by guitarist Mike Cullin, keyboardist Steve Fishbaine, bassist Patrick Donaghy and drummer Dave McKee. Cousin Neddie delivered their set with abundant enthusiasm, especially drummer Dave, whose animated performance and antics behind the kit helped fire up the crowd. Capping the festival was a performance by 1960s hitmakers Jay and the Americans. Three members remain from the group's hitmaking heyday – founding members Howie Kane and Sandy Deanne, plus Marty Sanders. The group's third and current 'Jay,' Jay Reincke, joined in 2006. Backed by their six-piece USA Band, Jay & the Americans celebrated their own big hits such as "Only in America," "Come a Little Bit Closer," "Let's Lock the Door," "Cara Mia," "Sunday and Me," "This Magic Moment" and more. The group also celebrated music from 1960s contemporaries like Roy Orbison, the Ronettes, the Drifters, Fabian and others, and performed Steely Dan's "Reeling in the Years" in honor of the fact that both Donald Fagen and Walter Becker were members of Jay & the Americans' recording band in the early 1970s. This was an entertaining and informative performance, as Jay & the Americans shared stories and insight on their hits and the early 1960s rock'n'roll era.
Indoors, Round The Mountain, LLC, presented the latest installment of their "From Nashville, Songs and Stories" songwriter showcase last month at Altoona's Mishler Theatre. This series brings in three prominent Nashville hit-creating songwriters to perform their music 'in the round,' and share stories and insights on their careers. The latest showcase featured songwriters Jenn Schott, Phillip White, and Mark Nesler, who have collectively written hit songs for such names as George Strait, Reba McIntire, Tim McGraw and more. Each did a few of their hits…Phil performed "Nobody But Me" (which became a hit for Blake Shelton), "I'm Movin' On" (Rascal Flatts) and "I Will Survive" (a hit for Reba McIntyre, who called Phil while he was bass fishing to inform him that she was recording the song). Jenn performed some of her creations, including the title track to Tim McGraw's "Two Lanes of Freedom" album, and a song Tim is currently recording, "7,500 O.B.O." And Mark performed his hit song creations such as "Just to See You Smile" (which became a chart-topping hit for Tim McGraw), "Living and Living Well" (a Number One hit for George Strait), "Let Me Down Easy" (a Number One hit for Billy Currington), "A Different World" (recorded by Bucky Covington) and more. It was interesting to learn the stories behind the songs, as well as hear them in their stripped-down forms by the folks who created them. The next "From Nashville, Songs and Stories" chapter happens at the Mishler Theatre on January 17, 2020.
There are not too many bands that can say that they have been around for 50 years. But Williamsburg-based group Second Edition achieved the 50-year milestone this year, and celebrated the occasion with a matinee reunion and jam in late September at the Williamsburg Community Center. Singer, guitarist, keyboardist, bass player and founding member Herm Arnold helped form the band in 1969, and they played their first few shows under the name Black Mountain Express before changing their handle to Second Edition the following year. The group recorded a full length vinyl album and two 45 rpm records during their first two years, plus a subsequent 45 rpm record in 1981 and a cassette album around 1990. Second Edition also had the honor of opening for .38 Special at the 1992 Huntingdon County Fair. Through multiple member changes through the years, Second Edition has maintained a steady presence on the area music scene. The current edition features Herm, Lonnie Aungst on guitar and vocals, Big Jim on bass and Randy Lang on drums. A number of Second Edition alumni attended the reunion and joined in on a performance of classic rock, pop and country hits; some of the participating musicians included drummers Scott Gardner and Tom McDonald, bassist Dan McCorkle and others.
On the heels of releasing their self-titled new CD, White Witch hosted and headlined a concert in late September at the Gamble Farm Inn & Suites in Jersey Shore. Mycenea Worley led off the night with her acoustic set, mixing her own original numbers with select covers. Her voice and smile were in good form, as Mycenea did such numbers as her own "100 Days," plus renditions of Janis Joplin's "Me and Bobby McGee" and Miranda Lambert's "Vice." Unknown Legend followed with a strong set of hard-hitting classic rock favorites. Lead singer and guitarist Markus Hill, lead guitarist Bobby Blaze, bassist Keith Kitchen and drummer Alan Stever helped fire up the crowd with numbers from Ted Nugent, Neil Young, Billy Squier, AC/DC, Judas Priest, the Kinks and more. Next was my first look at Mechanicsburg-based hard rockers Defiant, who brought an aggressive, intense brand of rock to the stage. Singer and guitarist Albert Halterman, guitarist Joe Defiant, bassist Paul Barlowski and drummer Paul Cochran scalded oxides off the venue's inner walls with scorching original songs off their debut recording "The Anarch-EP" such as "Four Years for Nothing," "He's Watching," "Wendy" and "Dust the Democracy," along with renditions of the Sex Pistols' "Anarchy in the U.K." and the Beatles' "Helter Skelter." To the cheers of the crowd, White Witch next took the stage to perform their new songs and favorites. Singer Jeff Pittinger, guitarist Doug Lehman, drummer Carl Berry and Bill Zimmerman on bass did hard-hitting numbers off their new CD such as "Changes Comin'" and their update of "The Seed" and "Slaughter in Salem." They also broke out an early number from their career, "The Crutch," and performed numbers from Joan Baez, Ozzy Osbourne, and – to end the set – a version of Judas Priest's "Breakin' the Law" with guest Randy Bowers playing bass. Jeff's voice was in good form, Doug's guitar solos were clean and precise, and Carl showed he is still one of the region's hardest hitters on the drums. A casual jam session then ended the night.
Hate Grenade organized another edition of their annual Trick or FEED charity event last month at McGarvey's, which raised funds and nonperishable food items for the Altoona Food Bank. I missed show openers Same Old Haunt, but heard that they represented well. I did arrive in time to catch my first look at 2BB, who demonstrated their musical realm of dark-toned alternative and nu-metal originals. Mindspine alumnus Spencer Puzak sings and plays guitar, alongside keyboardist and singer Callie Shumway and drummer Toby Quick. 2BB delivered swaggering grooves, multi-speed rhythms and eerie keyboard fills to provide a unique sonic angle. With singer Matt Stoyanoff arriving on stage wearing a pumpkin head, Fyre followed with their set of progressive-geared metal music. Matt, guitarists Logan Yablonski and Sean Stringer, bassist Corey Colledge and drummer Tanner Kaurudar mixed songs from their two CD's with select covers – including Black Sabbath's "N.I.B.," Dio's "Holy Diver," Foreigner's "Juke Box Hero," and with Ember's Fall's Jairo Cerritos helping with backing vocals, Judas Priest's "Livin' After Midnight." Hate Grenade then pulled the pin and detonated with their explosive set of nu-metal originals to close the night. Frontman Jeff Glace, guitarist Chuck Lavera, bassist Donnie D and drummer Mike Powers blasted out furious tunes from their latest CD "The King Is Dead" such as the title track and "Revelation," earlier tunes such as "Left Behind" and more. Hate Grenade again left it all on the stage, and pushed their metal aggression to its limits. Trick or FEED was another successful effort, which will help needy residents during the upcoming holiday season.
I saw several bands for the first time in recent weeks, including Candlelight Red/Backstreet Law guitarist Jeremy Edge's blues-rocking project Black Star Sunrise at The Arena in State College…Johnstown/Somerset County rockers Facedown at Ebensburg's Castle Pub…State College favorites Burn Unit as they partied down State College's Phyrst to close out a weekend…Altoona area rockers Jack Squat as they entertained a Friday night football crowd at the Bullpen Lounge in Tyrone…and Talisman – the duo of singer Mellissa Vella and guitarist/keyboardist Phil Baskin as they performed at Hagen's Irish Pub in Chest Springs.
Other performances I saw included New York City blues-rocking women Jane Lee Hooker at McGarvey's, as well as Downshift at McGarvey's. So many bands, so little space…
The area music scene mourned the loss of two members in recent weeks. Ember's Fall frontman Dennis Ray Gee Jr. lost his life in an auto accident in Tioga County early last month. He was 31. A rising talent, Dennis was an innovative music creator and lyricist, as well as an exciting, intense performer; he was pleasant and personable off the stage as well. And longtime Altoona area musician Bob Hammond passed away last month from an apparent heart attack at age 66. A guitar player and singer who loved the blues, Bob performed with numerous Altoona area bands dating back to the 1970s. Some of his groups included The Surge, Bittersweet, The Rolling Rockers, Red White & Blues and others. He also frequently sat in with the U.S. Hotel House Band during their Wednesday night jam nights at Hollidaysburg's U.S. Hotel. Bob was a respected and influential musician, and will be missed. Our heartfelt condolences go out to the surviving families, friends, and musical colleagues of both men.
News and notes…The ninth annual Patched Together: A Day of Music to Benefit the Healing Patch will take place on Nov. 16 at Altoona's Bavarian Aid Society, raising funds and awareness for Home Nursing Agency's Healing Patch program; performers this year will include Jim Donovan & the Sun King Warriors, Stephanie & the Wild Hearts, Greg Burley (acoustic), Ed N'Born, Matt Otis & the Sound, Faded Flowers, The Backyard Rockers and Chris Vipond & the Stanley Street Band…A benefit show for the U.S. Veterans 22 Motorcycle Club happens Nov. 2 at The Arena in State College; performing will be the Donny Burns Duo, Speed Bump Willy, Wilted, Hawestone, Goatsmoker and Unknown Legend…The Altoona chapter of Guitars For Vets, an organization that collects used guitars and guitar accessories for veterans dealing with Post Traumatic Stress Disorder (PTSD), will present a special fundraising and instrument collecting live music on Nov. 9 at the Pinecroft location of Oak Spring Winery…Citing scheduling issues, guitarist James Forish has parted ways with Johnstown hard rockers Octane.
Please send correspondence and recordings to: Jim Price, 1104 S. Catherine St., Altoona, PA 16602. You can also e-mail me at jptheprofessor@gmail.com. And if you're into social networking, look me up on Facebook. Have a happy and safe Thanksgiving holiday, and SUPPORT LOCAL MUSIC!