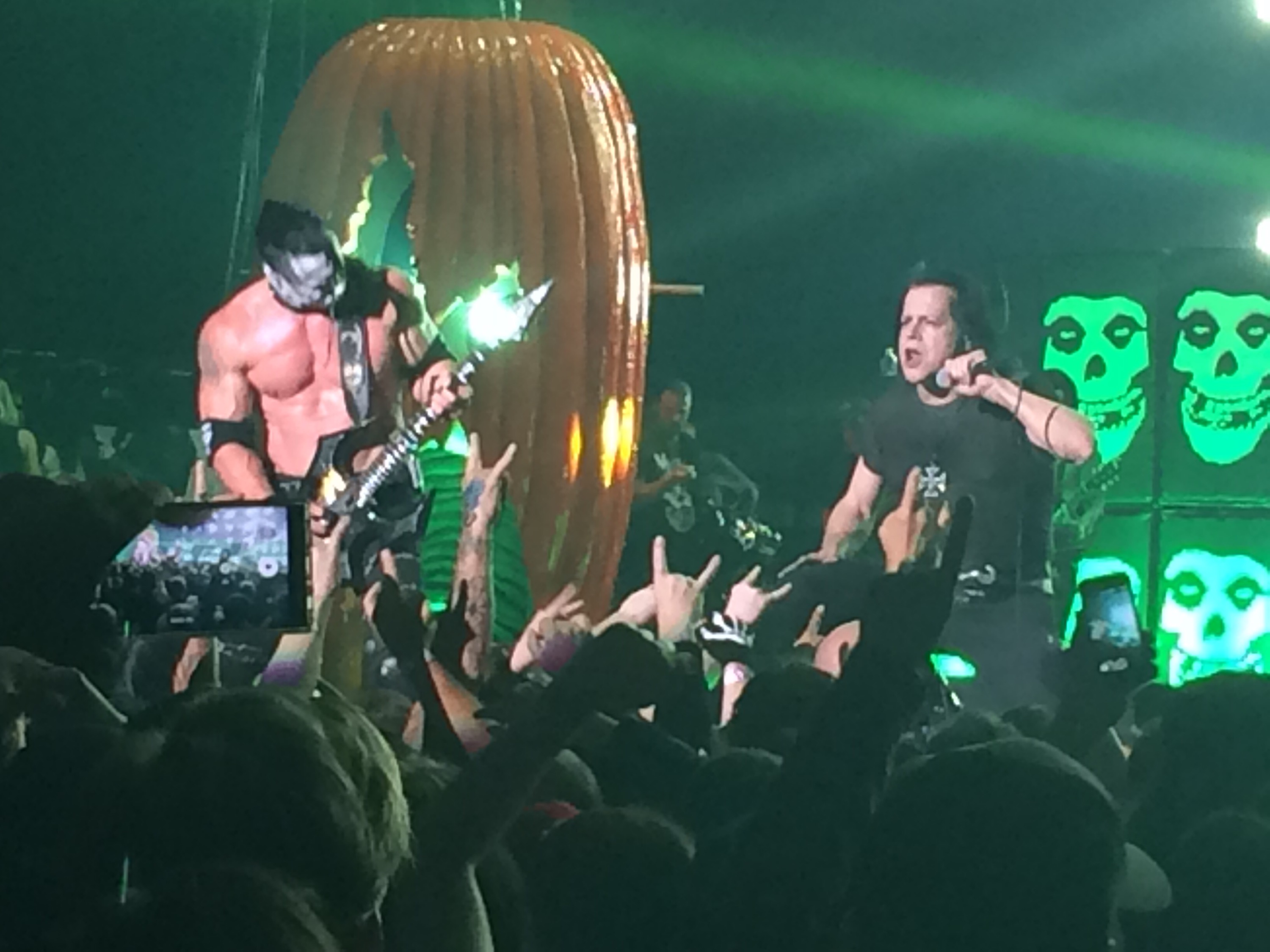 ---
By: Eric Hoffman
Greetings Rockers 'N' Rollers! The past month proved to be a great month for punk rock shows in both PA and NYC The Menzingers (originally from Scranton) played an in-store performance at Gallery of Sound in Wilkes-Barre on October 6th to promote their latest release "Hello Exile." The band performed acoustically at three different record stores to help sell their new album and to meet fans. The Menzingers are currently in the middle of a Fall Tour consisting of 33 dates that run into December. Now based in Philadelphia, they play their new hometown on November 29th at Franklin Music Hall.
Los Angeles punks The Distillers visited Philadelphia for the first time in 13 years, playing a show at Union Transfer on October 7th. They began in 1998 and disbanded in 2006, the original members formed again in April of 2018 and announced this past year they are recording their fourth album. The Distillers sounded as good as ever and singer, Brody Dalle, still captured the audience with her signature scream. The band experienced a few set backs on their tour this year forcing them to reschedule dates twice. First, Brody Dalle suffered a herniated disc in her back and was unable to stand to perform and then drummer, Andy Granelli, cut his hand open in a bicycle accident, requiring forty stitches and endured a broken finger.
It was off to New York City for two incredible punk shows in one week. A band not very well known called Wyldlife played an intimate show at Berlin in Manhattan to promote their new 7" single "Neon Nightmare." The Brooklyn-based band have released three albums and all are fantastic. DJ Rich Russo stated "The best power punk band to come out of NYC in the last 20 years … I expect huge things from this band and you will too." I spoke to the band briefly after the show and sounds like a tour is in the works, which may include a free show at Lancaster's American Bar and Grill.
The highlight of the month was seeing iconic punk band, The Misfits, play NYC's Madison Square Garden on October 19th. The band was active from 1977 until breaking up in 1983. In September 2016, for the first time in 33 years, original members Glenn Danzig, Jerry Only, and Doyle reunited for two headlining shows as the Original Misfits in Denver and Chicago. The Original Misfits lineup has performed 12 shows sporadically through 2019. The Madison Square Garden show was meant to be the band's last performance until the recently announced Philadelphia show at Wells Fargo on December 14th. I had never seen The Misfits before and they were truly unbelievable! The band sounded great as they ripped thru classics; "Hybrid Moments," "Skulls" and "We Are 138." Rancid and The Damned provided support for the NYC show and Dropkick Murphys and Agnostic Front will support the upcoming Philadelphia show.
Harrisburg's largest nightclub, XL also provided two good shows in the past month including heavy metal singer, Sebastian Bach (formerly of Skid Row), on September 26th and rockabilly artist JD McPherson on October 5th. Bach played Skid Row's first album in its entirety to celebrate its 30th anniversary, including songs "18 and Life" and "I Remember You." McPherson was impresssive playing his retro sound heavily influenced by Little Richard and Fats Domino.
HMAC also brought an awesome show on September 28th featuring Southern Culture on the Skids with opener The Split Squad. SCOTS are always amazing bringing their southern friend surf rock music and really fun show. It's hard not to take your eyes off the unreal guitar work of singer/guitarist Rick Miller. Thank you to HMAC for continuing to bring this band back year after year. The Split Squad were also great and are extremely talented musicians including the one and only Clem Burke (of Blondie) on drums.
NATIONAL NEWS: The Rock and Roll Hall of Fame announced 16 nominees for the 2020 class. Motorhead, Dave Matthews Band, Pat Benatar, Soundgarden, The Doobie Brothers, T. Rex, Thin Lizzy, Whitney Houston and the Notorious B.I.G. are all first-time nominees. The 35th annual Rock & Roll Hall of Fame Induction Ceremony will take place on May 2nd, 2020, at the Public Auditorium in Cleveland, Ohio. Nine Inch Nails, Judas Priest, Rufus featuring Chaka Khan, Depeche Mode, Kraftwerk, MC5 and Todd Rundgren round out the nominees for the 2020. The official inductees will be announced in January. Each year, between five and seven acts usually make it into the Rock Hall following a vote by 1,000 people. Acts are eligible for induction 25 years after the release of their first commercial recording.
Metallica says its frontman James Hetfield has entered rehab, and the band is canceling its upcoming tour in Australia and New Zealand. Metallica members Lars Ulrich, Kirk Hammett and Rob Trujillo posted a statement apologizing to fans and that ticket holders will receive automatic refunds. The statement also says Hetfield has struggled with addiction for years and has re-entered a treatment program. The statement didn't elaborate, but the band's members said they appreciate fans' understanding and support of the 56-year-old Metallica co-founder.
Jennifer Lopez and Shakira will headline the Pepsi Super Bowl LIV halftime show on February 2nd, 2020 at Hard Rock Stadium in Miami Gardens, Florida. Pepsi and the NFL teamed with Roc Nation – the Jay-Z-led company that recently teamed with the NFL for live entertainment consultation – to bring the pop stars together for the first time on stage. Lopez and Shakira are the first women to headline the Super Bowl halftime show since Lady Gaga in 2017. Other recent female Super Bowl halftime show headliners include Madonna (2012), Beyoncé (2013) and Katy Perry (2015).
Ozzy Osbourne assures fans he's "not dying," but says his recovery from a fall earlier this year and subsequent surgery is forcing him to push back his European dates once again. The former Black Sabbath frontman underwent surgery in March after falling in his Los Angeles home and aggravating injuries from a 2003 ATV accident. The Prince of Darkness says the North American dates are still on, including Hersheypark Stadium on June 6th, 2020. Ozzy says. "I'm not dying, I am recovering, it's just taking a little bit longer than everyone thought it would. I'm bored stiff of being stuck in a fucking bed all day. I can't wait to get off my ass and get going again. You're just going to have to be a bit more patient. I'm not retiring. When I do come back on the American tour I want to be 100% ready to come out and knock your fucking socks off. … One thing to the fans – I sincerely thank you for your patience, your loyalty, I love you. Now will you let me fuck off and let me get better?"
Kim Shattuck, known as lead singer, guitarist and songwriter of '90s Los Angeles punk band The Muffs and later The Pandoras, died of complications of ALS October 2nd after a very private two-year battle. She was 56. Although going on hiatus in 1999, The Muffs re-formed at various points and released Whoop Dee Doo in 2014. Kim's husband, Kevin Sutherland, announced "This morning the love of my life Kim passed peacefully in her sleep after a two year struggle with ALS… She will live with all of us through her music, our shared memories and in her fierce creative spirit." Shattuck kept working for much of her battle with the disease. Even when unable to play, sing, or even communicate by talking, she took the production reins of "No Holiday", the final Muffs album.
Eddie Van Halen has been flying between the United States and Germany to get treatment for throat cancer. The guitarist was treated for tongue cancer in 2000, resulting in surgery which removed a third of his tongue. He was declared cancer-free in 2002. In a 2015 interview, Van Halen revealed he had given up smoking cigarettes but blamed guitar picks for his cancer diagnosis. "I used metal picks — they're brass and copper — which I always held in my mouth, in the exact place where I got the tongue cancer Plus, I basically live in a recording studio that's filled with electromagnetic energy. So that's one theory. I mean, I was smoking and doing a lot of drugs and a lot of everything. But at the same time, my lungs are totally clear. This is just my own theory, but the doctors say it's possible." The band, Van Halen, has been inactive since it completed its U.S. tour in October 2015.
UPCOMING SHOWS: Bret Michaels – Reading Reverb Nov 2. Dirt Cheap – Mechanicsburg Blarney's Nov 2. Inhaler – Washington DC Rock & Roll Hotel Nov 5. Slayer / Primus / Ministry – Hershey Giant Center Nov 6. Jay Aston (Gene Loves Jezebel) – Baltimore Ottobar Nov 8. Tommy Conwell & Young Rumblers – Ardmore Music Hall Nov 23. KIX – Harrisburg Club XL Nov 29. Mary Prankster – Baltimore Ottobar Nov 29. The Sharks – Harrisburg Club XL Nov 30.