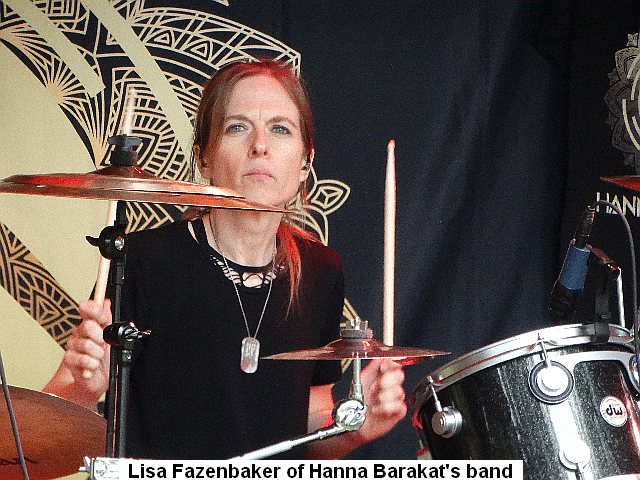 ---
By Jim Price
According to reliable local television meteorologist Joe Murgo, colder air arrives as this issue of PA Musician hits the streets, and some parts of PA will see snowflakes by the end of November's first week. Thus, the curtain draws shut on live music's outdoor season for this year.
Fall festivals and other outdoor events provided some memorable live music highlights during the outdoor season's homestretch run…One of those events was the inaugural E-Train Music Festival, which happened in late September at Cherry Runn Lodge near Homer City. Ten western PA-based performing acts – three solo artists and seven bands – joined forces and donated their talents to raise funds for the New Alexandria Volunteer Fire Department. The acoustic portion of the day started off strong with singer, songwriter and troubadour Alyssa Hankey. Armed with her sketch art-adorned acoustic guitar and harmonica, Alyssa introduced a number of new folk and blues-rooted original songs that will be on her soon-to-be-released new album. She brought songs such as "Darkness Coming Down," the rust belt-inspired "They Used to Make Things Here," "Wild One" and others to life with her hearty, gutsy vocal delivery and cadence. She also gave her own flavor to Bruce Springsteen's "Something in the Night." Next was country artist Tim Schmider; displaying an easygoing persona and sturdy voice, he sang classic country favorites from Randy Travis, Charlie Daniels, Jamey Johnson, Steve Earle, Johnny Cash and more. He also introduced one of his original songs, "That's When I Found You." Following Tim was Pittsburgh-based singer and songwriter Brian Genovesi, who performed a selection of his original songs, along with a version of Blackstreet's "No Diggity." Commencing the band portion of the day, Cambria County's Fuse lit the fuse on the live rock, doing numbers from Thin Lizzy, Eddie Money, Huey Lewis & the News, Ozzy Osbourne, Foreigner, CCR and more. Pittsburgh's Luke Weltz Band then introduced their melody-rooted original rock as they performed a number of original songs. Luke sings, plays bass and keys, flanked by lead guitarist Joey Connor, rhythm guitarist Anthony Farine, drummer Sean Rugh and Brandie Servello on tambourine, bass and backing vocals. Their songs merged elements of rock, folk and soul, and often developed into feisty grooves. Some of their numbers included "Paint It Blue," "Nowhere to Go," "Not That Bad" and "Turn It Around"; they also did a version of Tom Petty's "Mary Jane's Last Dance." Following a greeting from PA State Representative Jim Struzzi (himself a musician, he fronted Pittsburgh heavy metal band Genghis Khan in the 1980s and 90s), Crawdad Joe took the stage to perform their grooving blend of swamp rock, blues and soul. Group namesake (and E-Train organizer) "Crawdad Joe" Dedon on lead vocals and guitar, Chris Volpe on keys and trumpet, Mark Randall on bass and Scott Wilson on drums triggered lawn dancing with their mix of original songs and covers, all delivered with a festive Louisiana-toned vibe. Crawdad Joe's original tunes included "Dreamland," "Wings" and "Full of It," and they applied their swamp-rock style to numbers from Bill Withers, Buffalo Springfield, Doobie Brothers, The Band and more. A brief and unexpected downpour drenched the grounds before the day's next group, Greensburg-based power trio the Alec Henderson Band, took the stage. Led by namesake Alec's dynamic vocals and stinging guitar work, the group mixed original songs with numbers by the Doors (they opened with "Riders on the Storm" in deference to the weather that preceded them), Eric Clapton, Elton John and more. Blues then took the spotlight as Pittsburgh's Curtis and the Shakerz delivered their blues and boogie party. Singer and namesake Curtis Franciscus fronted the group with his potent and soulful voice, accompanied by guitarist Kevin McCarthy, sax player John Voetly, drummer Bob Fetherlin and bassist Phil Vento. Displaying stellar musicianship, Curtis and the Shakerz lit up the stage with their feisty takes on tunes from Albert Collins, Robert Cray, Stevie Ray Vaughan, the Temptations and others, plus their own smoking originals like "Boogie Train," "Start All Over" and their ode to first responders, "Standing on the Blue Line." Next was Pittsburgh's Black Ridge with their high-energy set – six members strong, Black Ridge mixed spirited original tunes with a variety of covers spanning Led Zeppelin, Spencer Davis Group, Sam & Dave, Mountain and more. Singer Paul Guerrini brought feverish energy and charisma up front, lifting each song into an action-packed adventure – including his intense rant during the original song "Blue Collar Blues," handing percussion instruments to audience members during Spencer Davis' "Gimme Some Lovin'" and more. Closing out the festival was Allman Brothers tribute group An Evening With… Tony Mollick and Matt Baranti on guitars, "Crawdad Joe" Dedon on bass, T-Bird on keys, and David Blake and Dave Resto on drums and percussion celebrated the Allman Brothers with inspired and reverent treatments of songs from throughout the group's catalog. An Evening With… performed Allman Brothers favorites such as "Statesboro Blues," "You Don't Love Me," "Blue Sky," "Midnight Rider," "In Memory of Elizabeth Reed," "Soulshine" and "One Way Out." They also dug deeper into the Allmans catalog for rousing versions of "Don't Keep Me Wondering," "Woman Across the River" and "Ain't My Cross to Bear." This group displayed excellent musicianship, and both Tony and Joe delivered heart and soul on the singing front. When the audience called for an encore, An Evening With… finished the night off with "Ain't Wastin' Time No More."
Delgrosso's Amusement Park in Tipton closed out its 2021 season with the annual HarvestFest celebration during the last weekend in September. Providing live musical entertainment at this year's event was Nashville-based family group Rockland Road, who had performed here three years ago under their previous name, the Martin Family Circus. Country music royalty informs this group; singer and guitarist Paul Martin previously fronted country-pop hitmakers Exile, and his wife, Jamie, is a daughter of Duane Allen of the Oak Ridge Boys. Their children, sons March and Kell, and daughters Texas and Tallant, all sing and play multiple instruments. Rockland Road played a blend of popular classic rock, country, soul, gospel and original songs, displaying strong vocals, harmonies, instrumental skills and versatility along the way. They also shared stories about their adventures as a band and a family. They celebrated the Oak Ridge Boys with renditions of "Come On In" and "Elvira," and broke out numbers from the Cornelius Brothers & Sister Rose, Little River Band, Journey, Tom Petty, Stephen Stills and others. Some of their highlights included bringing audience members onstage to dance and groove during their version of Prince's "Kiss," their reverent treatment of Lee Greenwood's "God Bless the U.S.A.," and their current hit "Feels Like This."
After missing 2020 due to COVID-19, the annual AmeriServ Flood City Music Festival returned early last month to People's Natural Gas Park near downtown Johnstown. The festival featured a variety of national, regional and local performers on three stages over its two-day duration. I caught much of the festival's first day, Friday; arriving as the West Philadelphia Orchestra performed. Eleven members strong including eight brass/woodwind players and three percussionists, this orchestra mixed elements of Eastern European and Balkan music, jazz and punk into a lively, danceable presentation. Their various instrumental numbers frequently spotlighted individual orchestra members and sparked dancing from audience members. The group offered their renditions of traditional Balkan numbers plus their own original compositions. I next caught the first half of the Jukehouse Bombers' performance, as the group delivered hard-hitting blues and blues-rock. The group introduced a number of new songs from their forthcoming album, and also did select covers from Molly Hatchet, the Allman Brothers and more. I then saw the latter half of Maggie Rose's performance. Backed by members of the group Them Vibes, Maggie displayed an incredible voice as she and band combined rock, blues and soul flavors on a variety of original numbers. Part of Them Vibes this night, former NBC "The Voice" contestant Dylan Hartigan played hand percussion and also sang his song "Crazy" with Maggie during the performance. Next was Johnstown's FlowerChild, who stirred up their own jam-based party with an emphasis on the Grateful Dead. Singer and guitarist Dave Distefano, bassist and singer Brad Rhea, keyboardist Joshua Ben and drummer Scotty Mina performed multiple Dead classics, including "Hell in a Bucket," "Ramble On Rose," "Alabama Getaway," "Franklin's Tower," "Shakedown Street," and even tackled the expansive "Terrapin Station." I then caught the latter portion of Uprooted's set. The current solo project of Rusted Root's Michael Glabicki, Uprooted took the audience through a journey that – like Rusted Root – blended elements of jam music, worldbeat, folk and more. Six members strong this night, the group introduced their own original songs, plus mixed in classics from Rusted Root's catalog. Highlights I witnessed included the crowd sing-along version of Rusted Root's hit "Send Me on My Way" to close the main set, and – for the encore – both of the group's percussionists matching beats and wits on a 15-minute-plus percussion adventure, followed by "Ecstasy," which received an ecstatic response from the crowd. The night ended with a stunning performance by Roosevelt Collier and his band. Based near Miami, Roosevelt specializes in steel guitar, and dropped jaws to the floor this night with his skills on both pedal and lap steel guitar; taking both instruments on scorching, full-shredding adventures! He and his group cranked out high-powered instrumental funk, blues and soul, riding each number to intense crescendos as they performed their mostly original set. Highlights were constant, including the dazzling musicianship, the group's stormy read of the Allman Brothers' "Hot 'Lanta," and a guest appearance by Maggie Rose plus Them Vibes keyboardist Kaitlyn Connor, who both traded vocalizations with Roosevelt's steel licks on an all-out blues jam.
A Mini Music Fest was added to this year's Outdoor Adventure Expo presented by Downtown Bellefonte Inc., which took place early last month at Bellefonte's Talleyrand Park. I saw the middle two bands of the scheduled four-band bill. Altoona-based bluegrass favorites Mama Corn were under way as I first arrived. The jovial cast of guitarist Bruce Forr, banjo player Jeremy Nelson, stand-up bass player Bryan Homan and dobro/harmonica player Johnny Stevens performed selections from their original song catalog, along with their folksy takes on select covers. They paid homage to Jeremy's father, Ben, by performing his song creation "Shenandoah Mountaintops." They also did original song favorites such as the Bruce-led "Someday Knock on Wood," Bryan's "In the High Rise" and Johnny's "Another Couple Days." Among their covers were Jerry Lieber & Artie Butler's "Down Home Girl," Manfred Mann's "Fox on the Run," the traditional "Keep on the Sunny Side," Flatt & Scruggs' "Foggy Mountain Breakdown" (where Johnny declared that the group "…flattened those Scruggs right out there") and the traditional "And We Bid You Goodnight" to end the set. Mama Corn's vocals and harmonies were in top form, and the group delivered their folk and bluegrass mix with groove and swagger. Next was State College's Cone Of Silence, specializing in epic music of the 1960s, 70s and 80s. Lead singer and guitarist Steve Christensen, keyboardist and singer Liz Grove, bassist and singer James Miller, and drummer and singer John Lynch tackled progressive rock epics from Kansas, Yes and Pink Floyd, the intricate jazz-rock stylings of Steely Dan, plus numbers from the Beatles, Sting and Crosby, Stills, Nash & Young. Cone Of Silence constantly dazzled with their detailed musicianship and crisp three-part harmonies. Highlights were numerous, including their opening rendition of Kansas' "Song for America," the Steely Dan double-shot of "Golden Earrings" and "Aja," and their sharp execution of Yes' "Yours Is No Disgrace," which even prompted dancing by a couple of passing youngsters. An arriving steady rain shortly after Cone Of Silence's performance chased me and much of the crowd away; other scheduled performers this day included the Triple A Blues Band (who kicked off the music before I arrived) and Tommy Wareham & the Intrigues (who were slated to finish the day's music).
After being cancelled last year due to COVID-19, the annual three-day Fort Ligonier Days festival returned to downtown Ligonier last month. I attended on the festival's middle day, Saturday, and witnessed entertainment on the central gazebo stage. Performing as I arrived was Pittsburgh-based country performers the Part Time Cowboys. Six members strong, this group sounded strong on their selection of country favorites and other numbers; including songs by Hank Williams, Jr., Brooks & Dunn, Ricky Skaggs, George Strait, plus a version of the Surfaris' "Wipe Out" to test the talents of drummer Andrew Hresko. Wrapping up the afternoon's music was the Derek Woods Band. Derek on lead vocals and acoustic guitar, saxophonist Joe Scheller, bassist Chris Schaney and drummer Chris Belin mixed their Americana-geared original songs with a variety of classic rock, folk and hit favorites. The group showcased a number of songs off their new full-length album "Picture Yourself," including "Don't Look Away," "Up in the Air," "Happiness" and others, and did established original numbers such as their award-winning song "Unforgiving Tree." They also infused their own flavor into numbers from Bob Dylan, Tom Petty, Bob Marley, the Rascals, Grateful Dead, Rolling Stones and others. A Ligonier native, Derek engaged the audience with his clear voice and friendly personality, and Joe provided constant highlights with his vibrant saxophone displays throughout the performance. The Derek Woods Band inspired dancing around the gazebo as their set progressed.
Also returning last month after missing 2020 was the two-weekend Bedford Fall Foliage Festival in downtown Bedford. I caught most of the musical entertainment on both stages during the festival's final day (Sunday, Oct. 10), rising early to arrive in time to see Hanna Barakat's two sets on the River Stage. Returning to the area from her home base of Austin, Texas, Hanna and her band – this day Altoona's Lisa Fazenbaker on drums and bassist Jeremy Gallegos – showcased the music from her "Siren" album, performing the album in its entirety during their latter set. Hanna demonstrated her hearty and soaring voice, and gave insight behind each of the songs. Hanna's music blended hard modern rock flavors with pop elements and a Middle Eastern edge, and some of her songs are inspired by the harsh realities of the Middle East. "Cycle," featuring a spoken word passage by Hanna's Lebanese father, addresses the endless cycle of violence in that part of the world, and offers hope for a day when that violence can come to an end. Hanna and her group also introduced a brand new song called "Dangerous Game." (I also caught Hanna's show the following weekend at McGarvey's, a double-bill with the PennSoulvanians. Joining Hanna and her band that night was the PennSoulvanians' Lyndsay Reilly on saxophone, giving a jazzier edge to Hanna's song material.) Following Hanna's performance, I caught part of the strolling performer set by hometown singer and songwriter Jackson Monsour, joined by Kevin Kutz on fiddle, Jackson and Kevin performed a number of Jackson's original songs plus a few select covers – including the ever-popular "Wagon Wheel," plus an original tune, "Find Me a Rocking Chair," that veered off into a hip-hop medley. I then headed to the Gazebo Stage to witness part of the set by south-central PA blues quartet Twisted Bluez. This group mixed original songs with select covers; I got to observe their version of the Beatles' "Come Together," their original tune "I Play the Blues, and the Blues Plays Me," and more. After their set, popular strolling performers The A Cappella Kinda Guys showed up to entertain, displaying their pleasant vocals and harmonies, mixed with their sense of humor – I thoroughly enjoyed their tongue-in-cheek ode "Cows with Guns." Then taking the Gazebo Stage for their annual Fall Foliage Festival appearance were Chuck Blasko and 1960s hitmakers The Vogues. Founding member Chuck, plus singers Shawn Moran and Jimmy Scott, provided crisp three-part harmonies as they did Vogues favorites and other classic doo-wop and early rock'n'roll hits. During their first of two sets, Chuck and the Vogues did such hits as the set-opening "5 O'Clock World," "Magic Town," "My Special Angel" (dedicated to a loyal fan, Wendy, who the group brought up and serenaded on the stage) and "You're the One." They also did a Four Seasons medley, plus a special hit medley that the group sang while having pictures taken with audience members. I then returned to the River Stage for the last portion of Josh Squared's performance. Based in Reading, Josh Squared performed a variety of hits spanning the 1970s to present; including numbers from Huey Lewis & the News, Bon Jovi, the Four Seasons, Redbone, Walk The Moon, Journey and more.
I caught a few indoor performances recently as well, including a roadtrip to the Harrisburg Midtown Arts Center (HMAC) in late September to see Bowling For Soup in concert. Recently appearing on PA Musician's August cover, State College's August Winters opened the show. I arrived in time to see their last few songs; lead singer, guitarist and group brainchild Drew Zimmerman rallied the large HMAC crowd as he and August Winters did rocking numbers from their new album "The Lion, the Reaper" along with a version of Good Charlotte's "The Anthem." Drew and his bandmates kept the musical action uptempo and constant. Next up was northeastern PA's Don't Panic. Four members strong, this group delivered high-powered, punk-infused rock'n'roll, showcasing selections from their two albums, "See Through It All" and "Dark Horse." Some of their numbers included "Watership Down," "Final Thread," "No Time for Second Chances," "Fall of '99" and more. Touring the southern U.S. this past month, Don't Panic heads to England for several tour dates in December. Headliners Bowling For Soup mixed their brand of punk-fueled hard rock with a sense of humor. Lead singer and guitarist Jaret Reddick opened their set with a near monologue, explaining that he was hung over, and that if he threw up on any audience members up front, that he had his COVID shots. This set the tone for the group's crazy set, as they performed songs from throughout their catalog and joked around with the audience between songs. Opening with "Almost," Bowling For Soup – Jaret, guitarist Chris Burney, bassist Rob Felicetti and drummer Gary Wiseman – fired through many of their best-known anthems, including such numbers as "Trucker Hat," "Ohio (Come Back to Texas)," "Today Is Gonna Be a Great Day" (their theme song for Disney's cartoon series "Phineas and Ferb"), their ode to WWE star "Alexa Bliss," "High School Never Ends," "The Last Rock Show," "Shut Up and Smile," and their set-ending hit "Girl All the Bad Guys Want." When the HMAC crowd demanded an encore, Bowling For Soup quickly returned and finished the night with "Since We Broke Up" and their popular number "1985." Bowling For Soup never took themselves too seriously, rocking for broke and having fun with the audience, and delivering a freewheeling, fun set.
During my first visit to one of Johnstown's newer live music venues, the Freight Station, I caught my first look at Pittsburgh-based rockers This Indecision. Six members strong, this group did excellent work on a variety of classic-rocking numbers from the 1970s and 80s. This Indecision features several strong singers – guitarist Dave Wilson handles the lion's share of lead singing duties, while keyboardist Tony Walsh, guitarist Bob Rojtas and bassist Eric Wilson also display good singing voices as well. Completing the group's roster are guitarist Mark Kapsha and drummer Mike Matesic. This Indecision did a wide swath of rocking classics, including numerous songs not often heard on stages such as Styx's "Crystal Ball," Bad Company's title song, The Who's "Getting in Tune," "Who Are You" and "Love Reign O'er Me," REO Speedwagon's "Roll With the Changes," Deep Purple's "Perfect Strangers" and many more. This Indecision's vocals and harmonies are stellar, and their instrumental execution is tight and powerful. This Indecision succeeded in pulling folks up to the dance floor in increasing numbers as the night progressed. This Indecision is expanding their turf throughout western PA, watch for them in your town soon!
And I caught my first look at State College-based duo Anchor & Arrow last month when they made their Hollidaysburg debut at the Argonne Café. Comprised of the husband-and-wife tandem of Matt Dashem on guitar and Jenn Henry-Dashem on lead vocals, Anchor & Arrow entertained with their distinctive takes on a variety of hits and favorites from the 1960s through 80s. Anchor & Arrow made their cover selection their own, infusing their own flavor into numbers like Don Henley's "Dirty Laundry," Greg Kihn Band's "Jeopardy," Blondie's "The Tide Is High," Cliff Richard's "Devil Woman," Hall & Oates' "Maneater" and many more. The pair also like to merge songs together; doing so this night with their funky take on "House of the Rising Sun" into Dolly Parton's "Jolene," Hall & Oates' "I Can't Go for That" into Pink Floyd's "Another Brick in the Wall," Stevie Wonder's "I Wish" into the Guess Who's "American Woman" and more. Anchor & Arrow performed all of it with constant smiles and pleasant personalities, and it was easy to see why this duo stay busy on regional stages. Watch for their return visit to the Argonne Café soon!
News and notes…Again cancelled for this year due to COVID-19 concerns, the Patched Together concert benefit for Home Nursing Agency's Healing Patch program takes place online on Nov. 18, and will feature performances from The Jaded Lips, The PennSoulvanians and Chris Vipond & the Stanley Street Band…Due to unforeseen and uncontrollable circumstances within the band, renowned Altoona rock band The Front has cancelled their farewell performance scheduled for Nov. 6 at The Casino at Lakemont Park…Resurfacing after a 10-year hiatus, Altoona's Infused will release a new full-length album, "Audio Epiphany," shortly…Pittsburgh's The Semi-Supervillains release their new album, "Play That Rock'n'Roll," in January…The regional music scene was saddened by the passing of several musicians and friends in recent weeks – Pete Sheridan, one of the founding members and original harmonica player of State College's Triple A Blues Band, passed in mid-September…Oscar "Oz" Christ passed away on Sept. 26 at age 48; a prominent drummer from the Lancaster area, Oz performed live with numerous bands and projects, and recorded music with many as well…Walter Wright, the frontman for Pittsburgh heavy metal rockers Skell and former singer for western PA's (kaj), passed after battling illness on Oct. 19 at age 43…and John "Jack" Fitzpatrick, a longtime musician from Cambria County, passed away after a battle with cancer on Oct. 20 at age 75; he sang and played guitar with groups such as the Country Gentlemen and Crossfire. We at PA Musician express our condolences with the families and friends of all of these musicians.
Please send correspondence and recordings to: Jim Price, 1104 S. Catherine St., Altoona, PA 16602. You can also e-mail me at jptheprofessor@gmail.com. And if you're into social networking, look me up on Facebook. Happy Thanksgiving, and continue to SUPPORT LOCAL MUSIC!