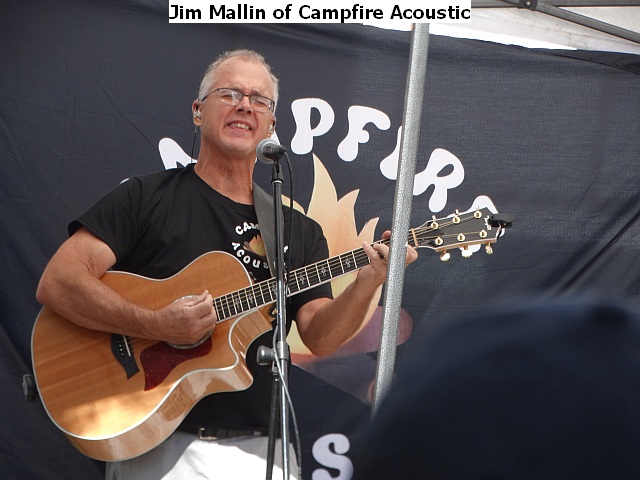 ---
First, congratulations to PA Musician Magazine for completing its 41st orbit around the sun! Thanks again to publisher/editor Josh Noll and consulting editor Robin Noll for keeping the fire burning through thick and thin, and for allowing me to be part of this publication for more than 36 of those years! Here's to more years to come!
A steady stream of area fall festivals and events helped conclude the outdoor music season; and as is often the case in this part of the world, the weather was either nice or rain-drenched. The weather was favorable for the night that I attended the annual Harmony Grange Fair near Westover in late September. Performing this night was longtime Altoona-based vintage rock'n'roll band The Fabulous Flashbacks. Adam DiFlaviano recently joined the group to share lead singing duties and play keyboard, joining Sue on vocals, Ken Civils on keys, Bob on bass, Phil on drums and Tom Fronauer Sr. on guitar and vocals. The Flashbacks added musical joy to the evening with classic hits spanning the 1950s to 80s; including songs from the Supremes, Elvis, Sam & Dave, Del Shannon, Leslie Gore, Patsy Cline, Connie Francis, Beach Boys, the Ventures, Linda Ronstadt, Kool & the Gang and many more. Adam and Sue did much of the lead singing (with Tom fronting on a few songs), and they dueted on several numbers. The Fabulous Flashbacks kept the music constant and the mood pleasant, providing a continuous good time.
Two days later, it was heavy rains and thick fog for this year's Cre814 Music, Art and Makers Festival, which happened outdoors and indoors at Blue Knob All Seasons Resort. The remnants of Tropical Storm Ophelia brought soggy fury to the Blue Knob area; the fog was so thick that it was a challenge to see the outdoor bands unless you were close to the stage. I arrived in time to observe the last few songs of Walkney's set, as group ringleader, singer and guitarist Derek Mrdjenovich, Nate Nagle on bass and David Applas on drums braved the thick fog to entertain onlookers with their catchy brand of power pop. Much of the crowd was inside the Blue Knob Clubhouse, where arts and crafts were on display and acoustic performers entertained. Brother Jack was just starting his set as I entered the building; he entertained a receptive audience with his unique brand of "weird folk," singing songs on a wide variety of interesting topics. Jack addressed breakfast cuisine ("Pancakes"), an infectious rhythm ("Boom Chicka Boom"), radio-ingesting serpents ("Snake Ate My Radio"), bugs (his forthcoming new single, "Bugs") and more in his freewheeling, old-timey style. Running sound for the indoor stage, Pat McGinnis next played a set of his original song creations, both old and new. Pat demonstrated his conversational, storytelling style as he introduced songs such as "Shades Of Grey," "If Dogs Don't Go to Heaven," "Give Your Love Away," "Walking My Dog" and others, along with select covers from Little Feat, Guy Clark and more. Roaring Spring-based singer and songwriter Nate Gates entered his ensuing set with a little unexpected vinegar after accidentally breaking the headstock off his main guitar. (Beware of unsteady guitar stands.) Nate used the situation to his advantage, channeling the rage into his original numbers like "From The Hollar to the Hood," "Ghosts On The River" and others. I then ventured back outside into the fog to "see" The Jaded Lips as they delivered their rock'n'soul fun to several onlookers. Other performers at the Cre814 festival included The PennSoulvanians Duo, Briarwood Bluegrass Band, Lucid Yooth & the Cubensis Lenses and Sweet Desire on the outdoor stage; and TJ Simpson, Little Jimmy Melonballer, Bree Gearhart, Alyssa Hankey and Nathaniel Mark on the indoor stage. Despite the weather, turnout was good for this year's Cre814 festival, and plans are already under way for next year.
Ophelia's rain also drenched that weekend's HarvestFest celebration at Delgrosso's Park in Tipton, but it didn't dampen the enthusiasm of Nashville's Rockland Road, who returned to perform during both days of the festival. This family group – singer and guitarist Paul Martin (former singer for Exile), wife Jamie (daughter of Duane Allen of The Oak Ridge Boys), and their multi-talented sons March and Kell plus daughters Texas and Tallant – played a variety of popular hits and country-toned original songs. I caught parts of their latter Sunday set, and heard them open with The Pointer Sisters' "I'm So Excited." They also did Exile's chart-topping 1978 hit "Kiss You All Over," along with renditions of Marc Cohn's "Walking in Memphis," the Everly Brothers/Linda Ronstadt's "When Will I Be Loved," Taylor Swift's "Carolina," Stephen Stills' "Love The One You're With" and more.
The sun returned the following weekend in time for Ebensburg's 32nd annual celebration of the spud – PotatoFest – to close out September. As a multitude of visitors enjoyed potato-based cuisine and browsed arts and crafts vendors, live music happened on four different stages spaced around downtown Ebensburg. I caught all three of the Main Stage performers, starting with Ebensburg's Wanderlost, who I first saw at this event last year. Keys and woodwinds power this group's unique sound, courtesy of lead singer and keyboardist Dustin Rainey plus sax and flute player Daniel Hutton; backed by the punchy rhythm section of bassist Mike Kokus and drummer Jason Olear. Wanderlost played plenty of their original songs, including "The Devil Drowns Them Out" and "Outside the In Crowd"; and they included select covers including their keyboard-driven take on Weezer's "Say It Ain't So" and – when the crowd called for an encore at the end – the Beatles' "Hey Jude." Pistol Peg & the Beer Kegs then showed up at high noon to provide the country music party, and quickly got the crowd fired up with favorites from KT Tunstall, Shania Twain, Little Big Town, John Michael Montgomery, David Lee Murphy, Sugarland, Zac Brown Band, Miranda Lambert, Alan Jackson and more. This group had fun from the get-go, and that fun vibe quickly spread to the onlookers. Highlights included a festival "Mr. Potatohead" mascot dancing with the group on stage during Nitty Gritty Dirt Band's "Fishing in the Dark," and the group's established rowdy treatments of "Rocky Top" and Alabama's "Mountain Music" near the end of their set. I then headed to the Memorial Park Tent Stage to check out Campfire Acoustic. Zach Mallin and Jim Mallin play acoustic guitars and sing, with Ben Battaglia playing banjo. The group did an assortment of favorites, including tunes from Georgia Satellites, Sister Hazel, Eddie Rabbitt, Bon Jovi, John Denver, Golden Earring and more. I then heard live music emanating from nearby the main festival, and discovered that area favorite Phil McCaulley was performing in the parking lot of Follow You Art. I watched Phil for a few minutes, as he did renditions of Lynyrd Skynyrd's "Sweet Home Alabama" and "Free Bird," Lee Greenwood's "God Bless the U.S.A." and the Rolling Stones' "Honky Tonk Women." I then returned to see the final performers on the Main Stage, Johnstown's Smooth Sound Band. Now eight members strong, Smooth Sound performed a smooth mixture of classic rock, pop, soul, funk and more. Lead singing duties were shared by Venus Hall, Ra'Anee Watson and London Jefferson; with Randy Penrod on lead guitar, Hayden Jeffreys on bass, Brandon King on keys and vocals, Daniel Hutton on keys and woodwinds, and Jeff "Jazzman" Wilson on drums. Smooth Sound's selection included numbers from Booker T & the MG's, Marvin Gaye, A Taste Of Honey, Chris Stapleton, Hootie & the Blowfish, Tracy Chapman, The Eagles, George Benson and more. A big highlight during their set was guest Aaron Jefferson, who stepped in front of the stage several times to sing and moonwalk on several Michael Jackson hits, including "This Place Hotel," "Billie Jean," "Rock With You," "Shake Your Body" and more. Aaron's moves moved the crowd, and added an extra dimension to Smooth Sound's fun performance.
The nice weather carried over into the first day of October and Prince Gallitzin State Park's annual Apple Cider Festival. As this festival has encountered increasing traffic problems in recent years, they started running pontoon boat shuttle service from a parking area on the other side of Glendale Lake. I tried the pontoon shuttle, and enjoyed the view of leaves turning color along the lake shore during the short trip to and from the festival. The pontoon arrived in time for me to catch the latter portion of the Tussey Mountain Moonshiners' performance. Stephen Buckalew on fiddle, mandolin and vocals, Gwen Stimely on banjo and vocals, Steve Crawford and Jeremy Tosten on guitars and vocals, and Marc "Lumber City Slim" Prave on doghouse bass and vocals generated a good-natured, happy vibe as they performed bluegrass and folk numbers. They did at least one of their original songs, "No Tomorrow," during the time I was there; and they also did some covers such as Noah Lewis' jug band number "Minglewood Blues" and Townes Van Zandt's "White Freight Liner Blues" to close their set. The Moonshiners were clearly having fun as they played, and that fun mood rubbed off on the audience, resulting in a good time. Although I didn't remain to see them, the Caldwells gospel group performed later to help close out the festival.
The sun prevailed as I headed south of the Mason-Dixon line in early October to catch the Saturday half of Berkeley Springs, West Virginia's 48th annual Apple Butter Festival. This is always an enjoyable event, partly because in addition to the main festival's entertainment, it's not uncommon to find local businesses holding their own smaller events, plus a street busker or two along the way. I enjoyed a little of each of these; first encountering live music in the parking lot of the Trail Depot, courtesy of local bluegrassers Bilgewater Bluegrass. Featuring Andrew Janosek on banjo, Russell Jacobsen on acoustic guitar, Travis Guthrie on mandolin, Victoria Grier on violin (all four sing) and a substitute upright bass player this day, Bilgewater played traditional bluegrass favorites like Flatt & Scruggs' "Roll In My Sweet Baby's Arms," Earl Scruggs' "Foggy Mountain Breakdown," Bill Monroe's "I Wonder Where You Are Tonight," Mac Wiseman's "Freight Train" and more. A little while later while enjoying lunch on a side street, I heard acoustic music a short distance away and investigated, finding busking performer Joe Ardinger. I watched as Joe – strumming a Charlie Brown shirt motif yellow with black zig-zag striped acoustic guitar – did versions of John Denver's "Take Me Home Country Roads," Jimmy Buffett's "Margaritaville," and Woody Guthrie's "This Land Is Your Land" into "America the Beautiful" to finish his performance. Speaking with him afterward, I learned that Joe was a former Hagerstown radio announcer. Afterward, I finally arrived at the main Apple Butter Festival performance stage to catch the latter portion of the Weber Brothers Band's set. Originally from Baltimore, brothers Ryan and Sam Weber became established as members of Ronnie Hawkins' backing band The Hawks, and continue that roots rock legacy in their current band. With Sam on guitar and Ryan on lead vocals and doghouse bass, the group did rowdy roots rock and rockabilly, doing original songs from throughout their career. I didn't catch much in the way of song titles, but this group was fast and feisty, with Ryan firing off a blistering bass solo on "When Love Comes to Get You." En route back to my car as the festival was finishing, I encountered more live music back at Trail Depot, where the Sideling Hill Stompers were finishing the day. With members from Pennsylvania, Maryland and West Virginia, the Stompers – lead guitarist and singer "Hillbilly Dave" Moore, rhythm guitarist and singer Izzy Pettijohn, husband Mark Pettijohn on drums, and doghouse bass player James Key – performed their own brand of feisty rockabilly and honky tonk. Songs they played during their homestretch included Charline Arthur's "I Heard About You," Marty Robbins' "Singing the Blues," "Seven Lonely Days" (made popular by Patsy Cline, Wanda Jackson and others) and Billy Adams' "Rock Pretty Mama." The Sideling Hill Stompers provided fun, toe-tapping music and a nice finish to the day.
During the following day, I caught some of the second day of the two-weekend 59th annual Bedford Fall Foliage Festival. Just under way on the downtown Gazebo Stage as I arrived were festival favorites The A'Cappella Kinda Guys. Formed 36 years ago as the four members served in the Air Force, The A'Cappella Kinda Guys – Jim Vanvleet, Chuck O'Donnell, Jeff Welch and Dennis Tice – converge every year during this event to write and learn new songs and entertain the festival audiences. Many of their songs are humorous and witty; they did a few original numbers such as "Ring Of Fire" (about hot wings at nearby eatery Bad Boyz Bistro)," "Richard Gar-bag-é," "Country Doctor Dave" and "I Gave Up Religion for Lent." They also did renditions of humorous numbers from Heywood Banks and Da Vinci's Notebook, plus their riotous take on Dana Lyons' "Cows With Guns." The group also did a few serious-toned original songs such as "Dancing in the Flames" (about recent street riots) and "The Face Inside the Lighthouse." During a brief intermission, the A'Cappella Kinda Guys welcomed members of the Bedford Area High School Jazz Combo onto the stage to perform renditions of "Route 66" and Charlie Parker's "Now's the Time." I then headed to the festival's River Stage to catch the latter portion of Matt Otis & the Sound's performance. Namesake Matt on lead vocals and acoustic guitar, Alec Zander Redd on saxophone, Rik Golden on upright bass and Ron Brode on drums did a number of Matt's original songs; I got to witness them perform "Sea to See" (from Matt's latest "Here Not Here" album), "Make" and the closer, "The Most Important Thing," as well as numbers from Sublime and Katrina & the Waves.
Rain returned in force to drench downtown Hollidaysburg's annual PumpkinFest in mid-October. I was both performer and spectator this day, first tapping on the djembe with The Joy Drummers as we did a selection of West African drum songs on the Diamond Stage (we were under a tent, so our drums didn't get wet). Following us soon after was a bigger drum contingent, as the Hollidaysburg Area High School Drumline made their annual PumpkinFest appearance. It was fun again to witness these student drummers show their precision on a number of rudiments and drum songs, with a large audience gathered in the rain to cheer them on. Engineering the sound on the Diamond Stage, Pat McGinnis next performed, doing his mixture of original songs and folk-geared covers from Sam Cooke, James Taylor, Bob Dylan, Todd Snider's "Train Song" and more. A brief torrential rain shower sent folks scattering for cover early during Pat's set; kudos to the person who stayed seated and watched Pat perform despite the downpour! And Shallow 9 acoustic closed out the afternoon. The rainfall subsided as singer Erika Machiel, guitarists Ryan Weaver and Greg Larrimore played two sets of classic and modern rock and pop favorites. The trio kept the mood bright as they did hits from Dolly Parton, the Commodores, Sublime, Amy Winehouse, Paula Abdul, Tracy Chapman, Black Crowes, Maroon 5, Radiohead and more. This acoustic setting allowed the nuances of Erika's powerful voice and range to stand out; she especially sounded great on versions of 4 Non Blondes' "What's Up" and Heart's "Alone." This setting also allowed this Shallow 9 trio to do songs not heard in their full band, such as Ryan singing lead on Eric Clapton's "Wonderful Tonight," and Elton John's "Your Song." But their music, as well as a running joke about Ryan breaking his G-string (guitar string, folks) kept the audience happy.
I witnessed a few indoor shows as well…McGarvey's in Altoona hosted Texas-based performer Scott H. Biram – "The Dirty Old One Man Band" – as he headlined a solo artist triple-bill. I missed local opener Randall Williams, but did get to see the tail end of Coltt Winter Lepley's set. Armed with several different guitars, Scott H. Biram then delivered his brand of fire-and-brimstone Texas folk and blues, mixing in elements of punk and outlaw country. With his rugged voice and some distortion effects, Scott mixed original songs with select covers. He displayed frequent slide guitar skills, including on the original song "Jack Of Diamonds." His other originals this night included "Burnin' Down This Highway" and a new song, "No Man's Land," from his forthcoming album. He also played versions of Bukka White's "Parchman Farm Blues," Robert Johnson's "Walking Blues," and during his encore, ZZ Top's "Thunderbird" to close the night.
Also at McGarvey's, Altoona-based Black Ridge Band celebrated their new 10-song recording, "Den Of Wolves," with a release event in late September. Work duties prevented me from arriving in time to see opening performer Braden McDannell, but I did arrive to find a jam-packed house bearing witness as the Black Ridge Band played songs from the new album along with select covers. Their music is rooted in folk and bluegrass, but mixes in darker themes and edgier punk flavors. Some of Black Ridge Band's songs included "Blood Brothers," the title track "Den Of Wolves," "Old Ideas," "Games We Play" and "Locusts." The group also offered their own takes on R.E.M.'s "Losing My Religion" and Bruce Springsteen's "I'm On Fire."
Sweet Desire and The Jeremy Edge Project joined forces for an exciting blues-rocking double-bill last month at McGarvey's. Work duties prevented me from arriving until after The Jeremy Edge Project's set, but I did get there in time to see Sweet Desire rock a full house with their brand of classic 1970s-rooted rock. Singer Jordan McCaulley, guitarist Kenton Lewis, bassist Joshua Simpson and drummer Trey Boore mixed several of their blues-based hard-rocking original tunes with several 1960s and early 70s classics – including their popular take on Cactus' "Evil," The Animals' "House Of The Rising Sun," The Doors' "Back Door Man" and "Break On Through," Led Zeppelin's "The Ocean" and "How Many More Times" and others. It's always fascinating to see Sweet Desire discover and go full-throttle on songs that were created decades before the band members were born. I look forward to seeing where their musical journey continues to take them.
And I enjoyed Bad Luck Lover Boys' latest "punk-pop takeover" at Altoona's 4D's Lounge last month. Singers and guitarists Chris Diehl and Matt Godissart, singer and bassist Adam Lingenfelter and drummer Brad Hengst did an energized assortment of punk-fueled favorites and originals over three sets. Shallow 9 singer Erika Machiel joined the group onstage early on to sing vocals on Jimmy Eat World's "The Middle." Bad Luck Lover Boys also sang tunes from Green Day, Blink-182, Killers, Violent Femmes, Fall Out Boy, Simple Plan, Lit and more. They also did plenty of their own tunes, including the Adam-fronted "London Fog" and "Internal Monologue," "Pirate Song," "Somewhere Girl" plus a few newer numbers. And there were surprises too, such as the Adam-fronted takes on the Beatles' "Come Together" and Motorhead's "Ace Of Spades." Bad Luck Lover Boys played it all with punk swagger and purpose, but never took themselves too seriously and kept it fun for the crowd; with the dance floor becoming busier as the night progressed.
News and notes…Altoona nu-metal rockers Hate Grenade announced that they will head west this month to join national recording group (hed)PE for eight show dates as part of their DETOX tour through December…Images Of Eden announced that they have been invited to perform at this month's three-day "Heaven & Hell" open air music festival in Mexico City; They will perform during the middle day – Nov. 4 – as one of more than 100 hard rock and metal acts playing on five different stages. Some notable names billed to perform at the festival are Slipknot, Coal Chamber, Muse, Guns N'Roses, Mudvayne, Billy Idol, Helloween, Asking Alexandria, Flogging Molly, Biohazard, Suicidal Tendences, Exodus, Ministry, Metal Church and more…The bands Nothing Much, Chris Vipond & the Stanley Street Band, The Jaded Lips, The PennSoulvanians, Jim Donovan & the Sun King Warriors, Half Tempted, the U.S. Sound Theatre, and solo performer Greg Burley will donate their talents as part of the 13th annual "Patched Together: A Day Of Music to Benefit the Healing Patch" event, taking place Nov. 18 at Altoona's Bavarian Aid Society Hall…Area musician, recording engineer and composer David Villani had the honor of having one of his compositions performed by the Altoona Symphony Orchestra at Altoona's historic Mishler Theatre in late September; David wrote the composition, called "Heritage Fanfare," to commemorate the orchestra's 95th season…Altoona area R&B-soul, hip-hop, reggae and rock music ensemble The PennSoulvanians release their debut EP this month, and will unveil the recording during an album-release event on Nov. 11 at The Casino at Altoona's Lakemont Park…Marking 25 years after releasing his first CD, Danville-based singer, songwriter and educator Van Wagner releases his 35th album, "Government Man," with a CD-release party on Nov. 2 at the Elk Creek Café in Millheim…Popular area bluegrass band Mama Corn announced that they are closing the book on their career after a 17-year run on area stages; Mama Corn's legacy includes three strong albums of bluegrass and folk-geared music, performances at numerous bluegrass festivals throughout the Northeast, and helping to open the ears of many area music fans to the world of bluegrass music…More than three decades after its initial limited release on cassette, the one and only album by 1980s/early 90s Altoona area power-metal rockers Fatal Maim is being remastered and re-issued on CD; the album, "One Beyond the Grave," will be issued in a limited 500 CD release by Heaven and Hell Records…Guitarist Tom Buck is stepping away from Cambria County-based rock band Fuse; his final show with the group will be on Nov. 24 at the Moonshine Mine Saloon near Nanty Glo…And the Altoona area music scene mourned the passing of John McKee on October 8 at age 75; John entertained audiences behind the drum kit for Altoona-based 1950s/60s rock'n'roll group Band Of Gold for a number of years.
Please send correspondence and recordings to: Jim Price, 1104 S. Catherine St., Altoona, PA  16602. You can also e-mail me at jptheprofessor@gmail.com. And if you're into social networking, look me up on Facebook. Happy Thanksgiving, and continue to SUPPORT LOCAL MUSIC!