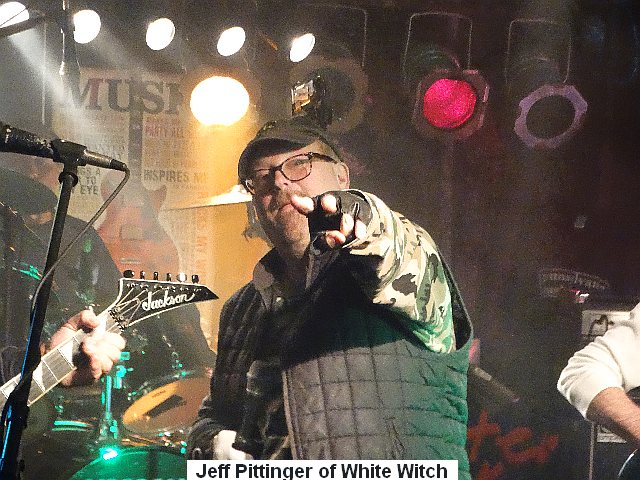 ---
By Jim Price
With indoor live music venues still under COVID-related capacity and other restrictions that largely prevent them from hosting bands and performers, outdoor situations have again provided most of the live music I have witnessed in recent weeks. But with cold weather bringing an end to those outdoor situations soon, and a vague new Facebook policy possibly slamming the door on live-streaming music events on that platform, musicians may face stiffer challenges for bringing their performances and music to fans. The coming weeks will tell.
Although COVID-19 concerns shelved many festival events this year, one area music festival event that was able to happen was the 8th annual Route 22 Rock & Blues Festival, which took place over two days in late August at the Lincoln Caverns Campground near Huntingdon. This year's event featured a blend of familiar and popular area bands, plus a few new ones. One of the new ones, Buckshot Tea Party, kicked off the Friday night festival slate. Five members strong including former Left For Dead members RJ Payne on lead vocals, Bill Nusom on bass and vocals, Rich Johnson on lead guitar and Dave Russell on drums; Buckshot Tea Party fired off a mixture of hard-rocking favorites from Foo Fighters, Creed, Collective Soul, Metallica and more. Another new band performing later that night was New Wrath. Featuring former Assault Method members Mike Houck on lead vocals, John Liebal on guitar and Cody Kensinger on drums, plus Jesse Evans on bass; New Wrath brought the wrath with ferocious heavy metal and metalcore. The group did several numbers from Lamb Of God, including "Now You've Got Something to Die For" and "Walk With Me in Hell." They also did numbers from Pantera, Devildriver, Chimaira and more. Saturday's leg of the festival also saw two new bands, Mediocre Gatsby and Abstentious. Featuring Kevin "Kevo" Quinn on lead vocals and guitar, bassist/singer Andy Mathias and drummer Greg Brigham, Mediocre Gatsby introduced their original style, mixing elements of punk, alternative rock and pop. They played a number of original songs, including numbers off their soon-to-be-released debut EP. Some songs included "Candy Hearts and Razorblades," "Bruce Campbell's Tunnel of Love," their title tune "Mediocre Gatsby" and "Dead Summer"; they also included a cover of Tom Petty's "American Girl." Youthful trio Abstentious unleashed spirited punk rock, mixing original songs and select covers. They fired up the audience with their go-for-broke velocity and enthusiasm; some of their original numbers included their opener "Means Well, Oh Well," "Dynamic Disaster" and "Milquetoast Melodrama," and they also did tunes from the Misfits, Descendents, NOFX, Minor Threat and Blink 182. Also performing during this year's festival were Hate Grenade, Wrath Of Typhon, Negan and Black Sun during Friday night, and Donny Burns & the 3rd Degree, The PennSoulvanians, Jae Smith (with guest Rick Ramsey), On The Brink, The Blacksnakes Blues Band, Matt Otis & the Sound, Faded Flowers, Maul, The Snipped and The Roof. The combination of strong musical performances and excellent late summer weather throughout the weekend made this year's Route 22 Rock & Blues Festival one of the best yet, and provided a great time for all who attended.
Phil McCaulley closed out the Carrolltown Public Library's Wednesday "Music in the Park & Basket Auction" summer concert series in late August at Carrolltown's American Legion Park. Armed with acoustic guitar and his rich, strong voice, Phil entertained a large audience with a wide-ranging mixture of hits and favorites, spanning early rock'n'roll, classic rock and country. His selection this night included tunes from Del Shannon, Neil Diamond, Lynyrd Skynyrd, Queen, Jimmy Buffett, Willie Nelson, Charlie Daniels, Alan Jackson, Conway Twitty, Johnny Cash, Stevie Ray Vaughan, Bob Seger, The Eagles, CCR and more. Long known throughout the area for his years as an Elvis Presley impersonator, Phil celebrated Elvis with renditions of "Burning Love," "Heartbreak Hotel," "All Shook Up" and "Suspicious Minds," as well as the Elvis version of "How Great Thou Art" and "An American Trilogy," which he dedicated to all frontline personnel and veterans in the audience. Community support for this concert was strong, as food sales, a basket raffle and 50/50 drawing all helped raise a nice chunk of money to support the Carrolltown Public Library.
Labor Day weekend was very different for me in this strange and chaotic year. Although one of my favorite annual festival events, the Labor Day weekend Cambria City Ethnic Festival in Johnstown, was shelved this year due to COVID-19 concerns, I still got to spend part of the holiday weekend near Johnstown, courtesy of another event, Stu-Fest, held in a backyard near the Westmont section of Johnstown. Started five years ago by Mike Borstnar (guitarist and singer for the Stone Bridge Blues Band) as a tribute to his departed friend, Patrick "Stu" Stewart, Stu-Fest has grown from a backyard get-together into a benefit event. Donations raised each year go toward a scholarship fund in Stu's name awarded through the Community Foundation of the Alleghenies and set up through Patrick's alma mater, Greater Johnstown Senior High School. As Patrick was a Pennsylvania state trooper, the scholarship is awarded to eligible students entering the field of law enforcement. This year's Stu-Fest transitioned from a musician jam into two scheduled performing acts. Jeff Perigo and Scott Jeffreys began the music, doing a selection of classic rock, folk, blues and original songs. Jeff handled most of the lead vocals as he and Scott played and stretched out on numbers from the Grateful Dead, Stephen Stills, The Mavericks, Willie Nelson, Bob Dylan, Pink Floyd and more. Along the way, guest Russ Lauf sang lead vocals on the Rolling Stones' "Dead Flowers," and fest host Mike Borstnar added electric guitar to a version of B.B. King's "The Thrill Is Gone." Felix & the Hurricanes soon followed with two sets of classic and southern rock favorites. Lead 'Cane, singer and guitarist Felix Kos, bassist and singer Jeff Clapper, and drummer and singer Bob Watters kept the Stu-Fest audience happy with numbers from Stevie Ray Vaughan, Albert King, the Allman Brothers, Tommy James & the Shondells, Marshall Tucker Band, Johnny Cash, Lynyrd Skynyrd, Ides Of March, Blackfoot, Doobie Brothers and more. As always, the Hurricanes dialed up the right mixture of songs to keep onlookers content. This Stu-Fest successfully raised $1,800 toward the scholarship fund, and was a laid-back good time.
Patton Park in Patton hosted their "End Of Summer Jam" fundraiser last month, which featured a classic car show, basket raffle, chicken dinner and live music. I arrived as Nag Champions Mystery Band was under way to kick off the music. The group's current roster – singer and guitarist Derek Gresh, guitarist and singer Gary McCloskey, keyboardist Tim Homerski, bassist Graham Albright and percussionist Ed Hofer – mixed a number of their jam-toned and psychedelic-flavored original songs with select classics. The group stretched out and jammed on original songs off their three albums, as well as tunes from the Allman Brothers, Crosby Stills Nash & Young, CCR, and a rendition of Stephen Stills' "Love the One Your With" done with a grooving Sublime "What I Got"-like arrangement. Next up was new rocking northern Cambria County trio Rivot. Although the band itself is new, its three members are seasoned performers of Cambria County stages, with Kenny Karlheim on lead vocals and guitar, Tom Yannitelli on bass and vocals, and Bill Cunningham on drums and vocals. Together, they did a blend of favorites from throughout the rock'n'roll spectrum – tapping 1960s hits from The McCoys, Them and Spirit, 1970s numbers from Neil Young, the Doors and ZZ Top, 1980s tunes from Greg Kihn Band and the Stray Cats, and 1990s classics from Tom Petty and the Gin Blossoms. Their performance was tight and sturdy, and Rivot kept audience members rivetted through the duration of their set. Kenny Karlheim stayed on stage to close out the music with his new duet with singer Mellissa Vella.
Vietnam Veterans of America Chapter 967 Blair County presented the fifth annual Vets Fest benefit last month outdoors at Altoona's Unter Uns Musical & Entertainment Society, featuring six bands and one solo performer. That solo artist, singer Anna Oberneder, led off the afternoon with a strong rendition of "The Star-Spangled Banner," and returned later to sing Lee Greenwood's "God Bless the U.S.A." and Gretchen Wilson's "Redneck Woman." Recently crowned Miss Kittanning International 2021, Anna actively advocates for the physical and mental well-being of area veterans. All six bands this day were interconnected and shared common members, with both keyboardist Ken Civils and singer/guitarist Don Osborn each playing in four of the bands. Family traditions were represented on the stage as well, as three father and son pairings helped bring the music this day – Ken and Kris Civils, Don and Sean Osborn, and Bill and Shawn Hocherl (Shawn was the sound engineer for the entire day). The first group of the day, The Band Oz, mixed rock'n'roll, blues and jazz numbers. Don, Ken, Bill Hocherl behind the drum kit, Bill Hunter on bass and Craig Albright on guitar did favorites from Dire Straits, B.B. King, the Allman Brothers, Stephen Stills and more. Highlights of their set included a take on the Frank Sinatra-popularized "Fly Me to the Moon," and Don's stellar vocals and guitar work on Gary Moore's "Still Got the Blues." Next was Flashbang, performing upbeat rock'n'roll of the 1970s and 80s. Adam DiFlaviano on lead vocals and keys, Don on lead vocals and guitar, Kris on bass, Ken on keys, and Rick Guyer behind the drum kit brought cheers as they did tunes from Loverboy, Robert Palmer, Duran Duran, Styx, Journey, Van Halen, Eagles and more. The music then shifted acoustic as Ed N'Born performed a short set. Ed Hofer on hand percussion and vocals, and Sean Osborn on lead vocals and guitar offered fresh-sounding acoustic treatments to Pink Floyd's "Breathe," a Dave Matthews Band number, and an excellent version of Tears For Fears' "Shout," before Bill Hunter joined in on bass for their closing rendition of the Beatles' "Come Together." Kickin' then put an additional kick into the afternoon with their set of upbeat rocking favorites. Sean on vocals and acoustic guitar, Craig on lead guitar, Kevin Mitchell on bass, Barry Yeager on keys, and Bill Hocherl on drums opened by stringing together the Moody Blues' "The Story in Your Eyes," Badfinger's "No Matter What" and the Beatles' "Ticket to Ride," before triggering the day's first dancing activity with tunes from Queen, the Rolling Stones, Foo Fighters, Cream, Tom Petty and Jimmy Buffett. After a presentation by Joseph Fagnani of Service Paws of Central PA, who provides service dogs to disabled veterans, Flashpoint continued the music. Don, Bill Hunter and Ken returned to the stage, joined by drummer Jeff Crownover; Flashpoint mixed up classics from Black Crowes, Steely Dan, Stevie Ray Vaughan, Procol Harum, the Beach Boys, Billy Joel, Spirit, Gin Blossoms, the Cars and more. Skye 2.0 then closed out Vets Fest with their celebration of 1970s and 80s progressive and arena rock classics. The configuration of Adam, Don, Ken, Kris and Bill Hocherl (I told you these bands were all interconnected!) tore into Deep Purple's "Highway Star" to open the set, before taking on some of rock music's most complex classics. They did Yes numbers such as "Roundabout" and "No Opportunity Necessary, No Experience Needed" (how often does anyone cover a tune from Yes' 1970 "Time and a Word" album?), and they creatively merged the Simon & Garfunkel and Yes versions of "America." Skye 2.0 also dug deep for Flash's "Children of the Universe," "Heaven on Their Minds" from "Jesus Christ Superstar," Uriah Heep's "July Morning," King Crimson's "Court of the Crimson King," plus versions of Deep Purple's "Perfect Strangers," The Who's "Real Me" and Boston's "Smokin.'" This year's Vets Fest was the most successful yet, raising more than $2,100 to help out veterans in Blair County. Hats off to fest organizer Bill Hocherl, the bands, Shawn Hocherl on production, the Unter Uns, and all who attended and supported the event!
I hit the road to the Williamsport area last month to witness a taping of Jeff Pittinger's Pennsylvania Pipeline Music-TV television program at Jeff's "batcave" studio near Muncy. Jeff's own band, White Witch, shook off the COVID-induced rust to perform four songs in front of the cameras; doing their original songs "Log Splitter," "Slaughter in Salem" and "Changes Coming," plus their torrid take on Black Sabbath's "Paranoid." Before a small but enthusiastic television studio audience, White Witch made it count – Jeff belted out his lead voice with range and intensity, Doug Lehman was surgical and precise on his guitar leads, Jimmy Lovcik was solid and steady on the bass, and Carl Berry slammed full tilt on the drums. White Witch is also working on a video for "Log Splitter," which should be ready for viewing in time for Halloween season. The new season of Pennsylvania Pipeline Music-TV kicks off on Wednesday, October 14.
With occupancy restrictions preventing them from hosting indoor shows, McGarvey's has hosted some Sunday afternoon outdoor shows in the lot adjacent to their building. The first such show happened in late August, and featured Shallow 9 and The PennSoulvanians. Shallow 9 played the opening and closing sets, with The PennSoulvanians performing in between, as Todd Harshbarger staffed the drum kit for both bands. The Shallow 9 contingent of Todd, vocalists Erika Marino-Ankeny and Mike Stanley, guitarist Greg Larrimore, guitarist/keyboardist/singer Ryan Weaver and bassist Mitch Neuder quickly set the festive mood for the afternoon in their opening set, kicking off with Billy Idol's "Rebel Yell" and Cake's "Short Skirt Long Jacket," before firing up the funk with the first of several grooving medleys to trigger the first dancing of the afternoon. Shallow 9 bounced between funky grooves, hip-hop rhymes (courtesy of Mike), a 1980s hit with The Outfield's "Your Love," and a touch of ska with The Interrupters' "She's Kerosene." The PennSoulvanians then took stage to continue the fun – singer/guitarist Chet Denny, Michael Thomas on raps and rhymes, Nate Nagle on bass, Brett Fanelli on keys and Todd behind the kit demonstrated their blend of original soul, funk, jazz, acoustic rock, reggae and hip-hop flavors. (The group's sax player, Lyndsay Reilly, was not available this day.) Their tunes were catchy, their grooves were infectious, and their words upbeat and hopeful. They blended new and established songs; some of their tunes included "Strip You of Your Innocence," "Hustle Til the Morning," "Forty Acres," "Third Time," "Revolution" and more. The outdoor audience appreciated the fresh sounds that the PennSoulvanians brought to the lot stage. (Since this performance, the group subsequently announced the addition of Mike Stanley to their roster to handle bass duties.) For their latter set, Shallow 9 opened with Ryan Weaver fronting the group on several modern rock numbers, before they took it funky again with tunes from the Commodores and Prince. A multiple-song funk/hip-hop medley triggered a sizable dance party down the homestretch, capping an afternoon of musical fun in the sun.
Local punk rock took over the McGarvey's lot last month for the outdoor "Band Lot Party." Enjoying the chance to perform before tending to leaf-raking chores soon, punk-rocking dads The Snipped kicked things off with a fast-firing set of their original songs. Mike Wax on lead vocals and guitar, Jeff Reid on lead guitar, Frank Conrad on bass and Justin Burket on drums mixed several new songs with tunes from their "#dadcore" CD. The Snipped were fast and furious on numbers such as "Waste My Time," "Hand That Feeds," "The Mine," "All We Know," the 40-second rant "Roadie," "Bus" and "Friday Night." And they included their popular punk-fueled take on Bruce Springsteen's "Born to Run." The Railroad City Murder Machines followed with their high-powered brand of punk-infused rock. Cheeze and Tim Mort on guitars and lead vocals, Dan Mort on bass and Billy Mort on drums hammered forth a number of new tunes such as "Gloria" and "Cut It Loose," and did several songs off their self-titled CD including" and "These Streets." Again this group showed its knack for mixing melody, chunky riffs, gusto and swagger, firing up the audience along the way. X's For Eyes then slammed the afternoon home with their enthusiastic, high-velocity set. Tom Noel and Tim Mort on vocals and guitars, Oob on bass and Justin Fair on drums unleashed feverish energy on a torrid set that mixed new tunes with previous song material. They did numbers from their new "Everything's Falling Apart" CD such as "I Don't Want to Wait" and "Sooner or Later," introduced brand new songs such as "Die for 814" and "Tragedy," and did established favorites such as their encore number, "Orchard Street." X's For Eyes held nothing back as they tore through their set; Oob especially was mobile and generating some menacing-sounding bass licks. All three bands delivered an enjoyable, action-packed show.
Out of concerns over COVID-19, the annual Sinking Valley Farm Show – held during September at the Sinking Valley Fairgrounds in Skelp (between Altoona and Tyrone) – was cancelled for this year. In its place, organizers held a smaller-scale event, Sinking Valley Community Days. Along with food and craft vendors plus children's activities, live music was part of the three-day event. Chris Woodward & Shindiggin' performed during the opening night (Thursday). Chris sang and played acoustic guitar, flanked by lead guitarist Mike McCartney and bassist Brian McHugh. Chris and Shindiggin' had fun bringing musical fun to the small audience this night as they mixed country and rock'n'roll favorites plus some original songs. They did some of their newer originals such as "Happy Campers" and "A Dog Is a Man's Best Friend," and also performed numbers from Toby Keith, Luke Combs, the Rolling Stones, Willie Nelson, Tom Petty, Chris Stapleton, Jon Pardi, Blake Shelton, Queen, Jamey Johnson and many more. Some highlights included playful mergers, such as Waylon and Willie's "Mamas Don't Let Your Babies Grow Up to Be Cowboys" into "Good Hearted Woman" into Alabama's "Mountain Music," and "Wagon Wheel" leading into Bobby Ferrin's "Don't Worry Be Happy." And all three band members stepped off the stage to take the music to the crowd during the Johnny Cash pairing of "Folsom Prison Blues" and "Jackson." Chris and Shindiggin' kept the audience happy, even inspiring some lively line dancing toward the end of their final set.
The C2 Trolley House at Altoona's Lakemont Park closed out their 2020 summer season last month with a final weekend packed with live acoustic music. Among the performers was Stephanie & the Wild Hearts first couple Stephanie and Bob Onkst. Their acoustic performance enabled Stephanie and Bob to do some songs outside of their full band persona. Some of the songs they did this night included versions of Green Day's "Good Riddance," Buddy Holly's "Oh Boy" and Connie Francis' 1960 hit "Everybody's Somebody's Fool." They also did favorites from the Eagles, Gretchen Wilson, Crosby Stills Nash & Young, Tom Petty and others. And as they were performing during the 19th anniversary of the September 11, 2001 terror attacks on America, Stephanie and Bob closed their show with a gospel music tribute, presenting the Carter Family pairing of "I'll Fly Away" and "I Saw the Light." Both Stephanie and Bob's voices were in good form, and they blended for some excellent vocal harmonies along the way.
I also caught one live stream performance recently, when Bedford's Coltt Winter Lepley played live and online in late August. Performing from Boston where he's currently studying for his MFA (Master of Fine Arts) degree at Emerson College, Coltt strummed his practice acoustic guitar "boat paddle" and generated a good-sounding mixture of folk, Americana sounds and his own folksy original tunes. With the recent passing of singer and songwriter Justin Townes Earle, Coltt saluted his memory with a rendition of Justin's "Lone Pine Hill." He also remembered John Prine with two of his songs, "Angel From Montgomery" and "Illegal Smile." Coltt also sang other interesting and not-often-heard numbers from the catalogs of Townes Van Zandt, Gillian Welch, Woody Guthrie, Lead Belly, Richard Thompson, The Civil Wars, Bob Dylan, plus the Cab Calloway take on "Saint James Infirmary." Coltt also did a few of his own numbers, introducing a song about his impressions of big city life called "City Livin,'" his Halloween-themed "The Witch," and his closing number, "God Bless the Working Man." Coltt shared his inspirations for his own songs, plus expressed his admiration for the artists he covered and their influence on his own music. Coltt proudly carries the torch for traditional-styled folk music – as he frequently proclaims on his social media posts, "Folk Ain't Dead!"
On a sad note, the area music scene mourned the passing of Paul Lanzendorfer on Sept. 21 at age 70 following an illness. Paul was a longtime musician who had performed with various bands over 55 years; including his longtime stint as bass player for Cambria County-based rock band Totem. We at Pennsylvania Musician extend our heartfelt sympathies to Paul's family, friends and musical colleagues.
News and notes…Due to concerns and restrictions stemming from COVID-19, the annual "Patched Together: A Day of Music for the Healing Patch" benefit, usually scheduled for November, has been cancelled for this year; instead of the live public event, several online performances will take place during this month to raise donations for the Healing Patch, with Matt Otis & the Sound and Jim Donovan & the Sun King Warriors confirmed thus far…The inaugural "Homegrown Music Festival" will happen on Oct. 17 at the Lorain Borough Park in Johnstown; performing there will be Black Cat Moan, The Ne'er Do Wells, Afro N'at, Even the Odds, Van Waylon and the Derek Woods Band, with proceeds helping the Community Foundation of the Alleghenies in their support of local charities…Altoona native and former NBC "The Voice" contestant Jimmy Mowery has signed a management deal with veteran entertainment and sports manager Jason Fowler of Elite Sports & Entertainment Management Group; a new album and project for Jimmy should come together before the middle of next year…COVID-19 continues to claim live music venues, as The Chameleon Club in Lancaster closed their longtime location last month; according to a message on the venue's Facebook page, The Chameleon plans to reopen at a new location in 2021…Meanwhile, the Rex Theater in Pittsburgh closed its doors permanently last month due to financial hardships incurred from the COVID-19 pandemic…Ted McCloskey this month releases his second album inspired by the events of this year; the new album, "The Lost Season Sessions, Vol. 2," follows the release of "The Lost Season Sessions, Vol. 1: The Big Pause" earlier this year…Western PA musical family patriarch Tim Woods will release his new album this month…And believe it or not, yours truly hits the big "Six-Oh" this month. Wow…
Please send correspondence and recordings to: Jim Price, 1104 S. Catherine St., Altoona, PA 16602. You can also e-mail me at jptheprofessor@gmail.com. And if you're into social networking, look me up on Facebook. Keep washing those hands and wearing those masks, and SUPPORT LOCAL MUSIC!