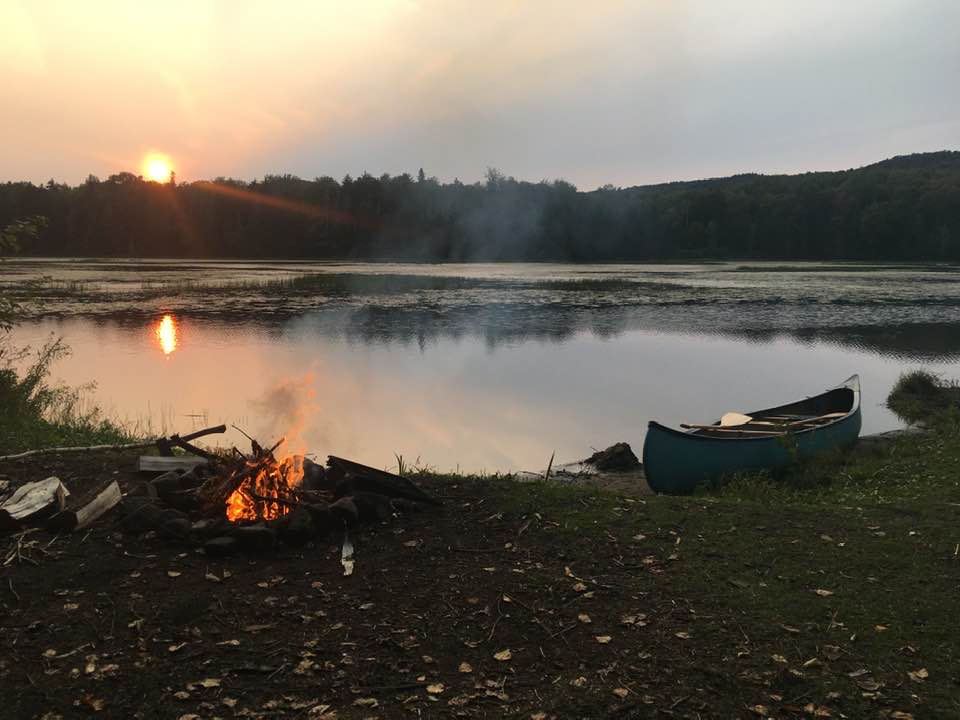 ---
Well September is over and the cold nights of winter are approaching fast. Its time to clean out that chimney or change that air filter and put away the lawn furniture for another long winter. This month started out with a much needed trip up to the Adirondack's in NY. I have never been there before but I must say I am already planning another trip in the near future to explore more and really enjoy the area. The area offers something for just about everyone interested in outdoor activities. We did a bit of bicycling, exploring the dirt roads that connect endless lakes after lakes throughout the area. Then we hit up some single track on our mountain bikes and finished it off with some canoeing out on the Cedar River Flow. This was our favorite part of the trip as we paddled 4 miles up to find a beautiful campsite along the lake. Sat down by the fire and started to enjoy some beers when out of no where we were treated to a Top Gun style mock dogfight right above the lake in front of our camp. I think most people are aware of my obsession with anything that flies and to sit along a remote lake watching my own personal air show unfold above us was something I will never forget. Hell Missy was even awe struck by the event and we talked about it the rest of the trip. The next day we paddled the rest of the way up the Cedar River Flow over beaver dams and around endless winding corners exposing spectacular views after views. In all it was about a 10 mile trip on the second day in some of the most beautiful waters I have ever paddled. If you love camping and nature and have never been up to the Adirondacks I would highly recommend you do so.
This month I did manage to find some live music the first place we stopped was over to the Perry County Wild Farm. When you think Perry County and Farm you envision corn fields for miles with big tractors and some silo's. The Perry County Wild Farm is much different. It is a mushroom farm that Shawn Pike has been working non stop on for the last year or so. It is quite the process to farm mushrooms and if mushrooms are your thing then you should look them up on facebook and check out what he is up to. The wealth of knowledge that Shawn shared with me was amazing. He has a crazy system of drilling the right size and type of logs for each mushroom species that he is growing with his most popular being the Shiitake mushroom. The day we were there he was having a little get together to tell people about what he is up to. They had local food, some right off the farm, prepared by Lindsay Hutchinson of The Ubuntu House, some vendors setup with interesting local made goodies and last but not least they had LIVE music! The first to entertain was Zach "Kingfish" King. He was already mid set when we arrived but we did get to catch some of his outlaw country style tunes and as usual he did a great job of playing to the crowd. Next up was Bobby Battaglia of The Jacks doing a solo set. I have never seen him play before and really enjoyed his sound and style of music I look forward to catching the whole band soon. After some arm twisting by the crowd, Shawn Pike took his turn and played us some of his originals with the stand out for me being Hillbilly Outlaw. It was great to get out by a campfire and listen to some live music in the hills of Perry County. Kudos to Shawn, Zach, and Lindsay and all the other vendors for taking part in this unique event.
Once the sun went down and the stars came out it was time for us to head over to another show not to far away over at The Dream at Top Notch near New Bloomfield. I was never here before although I drive by it all time. It is a nice sized building set in the hills of Perry County inside a beautiful horse farm. The building is available for Weddings and other large events and features a nice stage and sound system along with plenty of space to host just about any type of large gathering you could think of.
This night we were there to see Katz22. Its sad to say that since March I can literally count the number of plugged in rocking full bands that I have seen on one hand. Yes I love small acoustic shows but nothing beats the excitement of a great band rocking out at full volume. Katz22 is comprised of some very talented musicians all with the ability to lead the show. From bass player Rusty Fohner belting out the lyrics for "Love Me 2 Times" and "Rebel Yell". To Zach Nyce on keys singing everything from "Purple Rain", "Benny and the Jets", to a one of kind "Shut Up and Dance/Where the Streets have no name" mashup. Topped off with Kathy Rimm who's takes her guitar playing to another level for each song. Kathy has a wonderful voice and can belt out songs such as "Sweet Child of Mine", "Barracuda", I hate Myself for Loving you", and many more all while hitting all the leads along the way. Backed by local legend John Hawk on drums who never missed a beat the whole night. If your looking for a band for your next show/event that is sure to please everyone if the crowd then give Katz22 a call you won't be disappointed. Half way through the show the one and only Rachel Rocks showed up to keep us all in line and partying. Its always fun to watch Rachel at a show as she bounces around like a social butterfly snapping pics, supplying valuable drinks from her oversized flask and making sure everyone is having a good time. It is always clear that the PA Musician Magazine is on the scene when she is there. To say I am proud of her would be an understatement and there is now way the PA Musician would be the same without her. Please if you see her out and about please say hi and let her know how much you appreciate all the hard work she does. At the least you will most likely get a shot and if your lucky maybe some crazy ball of gummy fruit. Love you little sister thanks for all that you do.
So what is happening in PA for October? Well the Molly Pitcher Brewing Company is hosting two events at The Meadowbrooke Gourds farm in Carlisle The First one on the 10th with music by Shine Delphi, Grace Mahar and Seldom Said No. The Second event on the 24th with live music from Hold Fast and Bubba. Both are social distancing events and feature 16 x 16 areas you can purchase that include tickets for 5 people with an option including a tent or one that you can bring your own. Reserve your space now and don't miss out on these great events.
On the 3rd we the Children's Miracle Network Music Fest which I talked about last month. This is a full day of local hard hitting bands so check the flyer in this issue and don't miss this show. Road Case who is playing this show has a full month of music with some great events lined up for us to all enjoy. on the 10th its Rocktober Fest, the 17th they will be at Battlefield Harley-Davidson, and on the 24th its DIRTSTOCK 2020. Go check out the ad in this issue to get all the details.
On the cover this month we pay homage to Joey Welz. Joey has been a supporter of the paper pretty much since we started and is a long time supporter of our local music scene. He is always a treat to talk to and is always working on a new project. I'm not sure where he gets all his energy but its pretty amazing that at his age he is still able to do what he loves. He is now jamming out with Crazy John and working on his endless line of music. Go check out the cover story on page 13 to find out what these guys are up to.
Well that's it for this month. We do plan on continuing to print the paper along with the digital issue, but to do that we really need the support of the local music community. If you have been thinking of ways to get your name out there please give us a call or shoot me an email and we will do all we can to let people know what you and your band are up to. email: joshnoll@pamusician.net or call 717-636-4203. Take care PA and keep rocking!