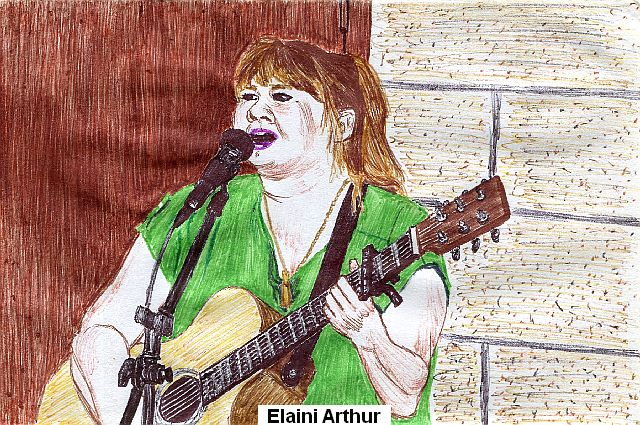 ---
THE PROFESSOR SPEAKS
By Jim Price
We enter the final weeks of a challenging and unusual summer. Mostly all of the popular outdoor concert, festival and fair events I look forward to attending and covering every year were shelved this summer due to COVID-19. But as mentioned in my August article, live music has found ways to at least partially fill the gaps left by the cancellations of those established events. At least a few communities proceeded with their scheduled public summer concert series, mindful of masks and social distancing protocols. A few new outdoor special events and benefits provided live music opportunities. Bars, wineries, craft breweries and eateries with outdoor spaces continued to provide some live music relief. And some musicians and music fans even grabbed the bull by the horns and created their own outdoor events to enable live music to shine. Enjoy the opportunities for remaining outdoor live music as they happen during the next few weeks, because once colder temperatures arrive, it's likely that many musical performances will be relegated back to live streams on computer screens for a while.
Altoona's historic Baker Mansion hosted the first installment of their new Mansion Mania Rockfest event in late July, featuring two bands performing on stage in the Mansion's front lawn, with proceeds helping out the Mansion's curators, the Blair County Historical Society. The 2020 edition of longtime Altoona rock favorites Half Tempted took the stage first. Joining the group's founder, singer and guitarist Ron Dalansky in the current edition are guitarist and singer Bob DeArmitt, bassist Todd Batzel and drummer Doug Stephens. Half Tempted reliably fired up the socially-distanced audience with two sets of classic-rocking favorites from Free, Grand Funk Railroad, Cheap Trick, Tom Petty, The Clash, The Ramones, Jimi Hendrix, Kiss and lots more. Along the way, the group broke out the Bob Seger double-shot of "Turn the Page" and "Old Time Rock and Roll," visited 1980s metal and hair-band rock with numbers from Poison, Twisted Sister and Judas Priest, and headed south for rebel rock favorites from Lynyrd Skynyrd and the Georgia Satellites. As longtime fans know, no Half Tempted show is complete without a healthy dose of AC/DC music; the group did their takes on "You Shook Me All Night Long," "The Jack" and "Highway to Hell." Following Half Tempted was a new acoustic-based group, Challenger Deep. Featuring singer Haley Hallinan, and guitarists and singers Max Knott and Brian "Moe" Lasinski, Challenger Deep performed a blend of acoustic classic and modern rock, pop and other favorites. The group's song range spanned from The Yardbirds' 1960s classic "For Your Love" to 2020 Grammy winner Billie Eilish's "Bad Guy," plus a variety of tunes from Violent Femmes, Better Than Ezra, CCR, Fleetwood Mac, Alanis Morisette, Tom Petty, Red Hot Chili Peppers and more. Haley displayed a strong voice and versatile singing style up front, highlighted by her performance on the Cranberries' "Zombie," and the group's presentation was sturdy and won cheers from the audience. This event's debut drew good attendance and was a success; Baker Mansion will stage their second Mansion Mania Rockfest on October 3.
I returned to Lock Haven's J. Doyle Corman Amphitheater and river stage in late July to experience "Thunder from Down Under," courtesy of northeastern PA-based AC/DC tribute group Halfway To Hell. This group features two different singers; Forrest Kline singing tunes from AC/DC's Bon Scott era, and Don Shoener singing numbers from the Brian Johnson era. Tony Harlan plays lead guitar in the Angus Young role, Kevin Palmer plays rhythm guitar in the Malcolm Young role, Joe Whalen plays bass and Jay Brotter plays drums. Launching with "Thunderstruck," Halfway To Hell proceeded to alternate between Bon Scott and Brian Johnson era AC/DC classics, with both singers platooning on and off the stage. Through two sets, the group roused cheers from the seated amphitheater audience in front of the river stage and the assembled pontoon boat flotilla audience in the river behind the stage. Halfway To Hell did favorites from throughout the AC/DC catalog, including "If You Want Blood, You Got It," "Girls Got Rhythm," "Rock and Roll Ain't Noise Pollution," "Sin City," "Highway to Hell," "You Shook Me All Night Long," "Who Made Who," "Hells Bells," "Moneytalks," "TNT," "For Those About to Rock We Salute You," "Dirty Deeds Done Dirt Cheap," "Whole Lotta Rosie," "Shoot to Thrill" and many more. After "Riff Raff" opened their second set, Halfway To Hell welcomed guest Chris Barnes ("Kristoff Piper") to the stage to play bagpipes on "It's A Long Way to the Top (If You Want to Rock'n'Roll." And when the audiences demanded an encore after "Back in Black" closed their nightcap set, Halfway To Hell responded by bringing both onstage together to sing on the encore edition of "Let There Be Rock."
Drive-in movie theaters have seen increasing use as concert venues during COVID-19. Johnstown's Silver Drive-In hosted the Community Foundation of the Alleghenies' (CFA's) 30th Anniversary and Founders Day celebration early last month, with three bands warming up the drive-in audience before a showing of the popular 1985 movie "Back to the Future." J.D. & Cindy led off the music with their blend of acoustic original songs, classic rock and folk numbers. J.D. Ross sang, played bass and flute, while his wife Cindy sang and played guitar. The pair opened with their original song "Hope of the World," and did other original tunes including "Black Crows." They also performed several 1960s classics from The Youngbloods, Jefferson Airplane, the Beatles and The Zombies' "Time of the Season," where J.D. broke out the flute. They finished the set with their variation on Redbone's 1970s classic "Come And Get Your Love." Next was Matt Otis & the Sound, mixing a variety of original songs and select favorites. Matt on lead vocals and guitar, Kent Tonkin on bass and vocals, Alec Zander Red on saxophone and Randy Servello on drums set the upbeat tone with their opening rendition of Katrina & the Waves' "Walking on Sunshine," and also did fresh takes on Fleetwood Mac's "Dreams," Gotye's "Somebody That I Used to Know" and The Monkees' "I'm A Believer." They also presented Matt's own song creations such as "Frozen Moments," "Home," "Make" and "The Most Important Thing." Johnstown-based folk duo The Evergreens – Laurel on vocals and acoustic guitar, and Amanda on drums – took the audience up to the movie with their mixture of acoustic "evergreen" hits spanning the 1950s through 80s. The pair opened by welcoming J.D. & Cindy to the stage to join them on a song that became a theme for this event, Natalie Merchant's "Kind and Generous." The Evergreens then did a wide assortment of hits, including Nancy Sinatra's "These Boots," Huey Lewis & the News' "The Power of Love" (their hit song from "Back to the Future"), the Beatles' "Oh Darling," Patti Smith's "Because the Night," Bill Medley and Jennifer Warnes' "(I've Had) The Time of My Life," a 1950s medley and more. Beyond the music and movie, the event also featured a recorded presentation from the CFA, who since 1990 has invested $103 million in grants and charitable distributions to the community; also a message from "Back to the Future" star Lea Thompson, who spent time in Johnstown while filming the 1983 movie "All The Right Moves" with Tom Cruise; and two DeLorean sports cars were on display as well.
One area musician took matters into his own hands to enable live music to happen. Allen Jones organized "A Day Of Music," which took place last month at PPG Pavilion in Tipton. This event allowed visitors to enjoy live music on two stages in a laid-back, comfortable and socially-distanced atmosphere. Five bands took the stage; I arrived as the day's first band, the Rail Gang Rockers, made their debut on the pavilion stage. Randy Karle on lead vocals and harmonica, Don "Turk" Schnars on bass, Will Green on guitar and Bill Hocherl on drums set the music in motion with classic rock favorites from Stevie Ray Vaughan, Lynyrd Skynyrd, Billy Idol, Johnny Rivers, Pink Floyd, Eric Clapton, Poison, Bad Company and more. The Rail Gang Rockers gave a solid performance; Randy's voice and harmonica playing were in good form, Will fired off clean solos, Bill kept the beats busy and steady, and "Turk" – normally a guitar player – handled his bass duties well. Performing between pavilion stage bands was acoustic duo The Chew on a second stage next to the venue's indoor facility. Rick and Wayne alternated singing duties throughout the day, doing a variety of favorites from Tom Petty, R.E.M., CSNY, Matchbox 20, John Mellencamp, The Who, Jethro Tull, Collective Soul and more. They broke out a forgotten 1990s gem I hadn't heard in ages, Pete Droge's "If You Don't Love Me I'll Kill Myself!" A few guests joined them along the way, including "Turk," Randy Karle and Pat McConnell on vocals, and during their last intermission set, Urban Myth frontlady Jerrichah Ickes belting out Jefferson Airplane's "White Rabbit." Urban Myth was next on the pavilion stage, doing a variety of upbeat pop and rock favorites. Jerrichah on lead vocals, guitarist (and her husband) Travis Ickes on guitar and backing vocals, Jeff Hahn on drums and the group's newest member, Tim Aungst on bass, fired up the audience. Jerrichah displayed a potent voice and bright personality up front, and the playful husband-and-wife jabs between her and Travis lent some comic relief into the set. Urban Myth generated the energy, kicking up the tempo on tunes from Lit, Blondie, Billy Squier, Georgia Satellites, Beastie Boys, Blink 182, Pat Benatar, Chuck Berry, Guns N'Roses, 4 Non Blondes, No Doubt and more. Urban Myth's set was fun, and prompted the audience to call them back up for a three-song encore. Following them was Reeds Gap area power trio Above The Radar. Lead singer and guitarist Steve Todaro, bassist Craig Treece and drummer Jesse Sheeder cranked up a mixture of hard rock and country-rock favorites and original tunes. They did the three songs from their self-titled EP, "Ride," "Lonely Town" and "Uncle John," as well as newer originals such as "Rolling the Stone" and "Dynamite." Above The Radar also brought the rock on tunes from AC/DC, Tom Petty, CCR, Neil Young, John Mellencamp, George Thorogood, Blackberry Smoke, a hard-hitting edition of Jimmy Buffett's "Margaritaville" and more. Steve brought a strong and powerful voice up front, and Above the Radar delivered a tight, charged set. Altoona-based foursome 4th Street finished up the show with their set of classic rock'n'roll, soul, funk, and other favorites. Bassist Aaron Gindlesperger, drummer Joe Degennaro and guitarist Jeff Hollenshead all handled lead singing duties, with show organizer Allen Jones playing lead guitar. The group did good work on a variety of tunes, including favorites from the Doobie Brothers, Them, Proclaimers, Gin Blossoms, Rolling Stones, Spirit, Temptations, Marshall Tucker Band, Queen, Grand Funk Railroad, Foo Fighters and others. The group triggered some dancing action along the way; some of their highlights included Aaron dedicating "Tennessee Whiskey" to his wife Jena, the group inviting Urban Myth's Jerrichah back to the stage to sing Wild Cherry's "Play That Funky Music," and a feisty rocking read of Rick James' "Superfreak." Hats off to Allen for organizing this event, which gave several bands the chance to shake some rust and provided music fans some relief and solace from the craziness of this year and the outside world.
Tyrone's Reservoir Park has continued their summer Sunday evening concert series, and I got to check out three performances on successive weekends last month. The Altoona Brass Collective – 21 musicians strong – brought a wide array of brass instruments to the stage for two sets. The first set, their classical set, opened with the "Star Spangled Banner," and followed with performances of Gustav Holst's "Second Suite in F," the hymn "It Is Well with My Soul," Henry Fillmore's "The Klaxon March" and the Spanish military march "Pasodoble." After the intermission, the Collective presented their jazz and pop set, which began with a medley of numbers from "Jesus Christ Superstar." They then introduced a new number, their brassy take on Kansas' "Carry On Wayward Son," followed by the Glenn Miller-popularized "Tuxedo Junction" and a rendition of "America the Beautiful." When the audience politely called for an encore, the Collective returned to finish the day with the "National Emblem March."
The following Sunday, Tyrone's own Kip Woodring graced the Reservoir Park audience with his personable and wide-ranging set. Armed with acoustic and electric guitars, Kip sang songs from the rock'n'roll, pop, country, folk and gospel spectrums. Opening with the gospel standard "I'll Fly Away," Kip did numbers from Johnny Cash, Hank Williams, Boxcar Willie, Bill Haley & the Comets, John Denver, CCR, Chuck Berry, Louis Armstrong, Arlo Guthrie and others. Some highlights included Kip's renditions of cowboy country songs such as "Mule Train," "(Ghost) Riders in the Sky" and "Tumbling Tumbleweeds," Willie Nelson's "On the Road Again" and "Angel Flying Too Close to the Ground," a version of Santo & Johnny's "Sleepwalk" performed on his Gretsch guitar, and his show-ending version of Chuck Berry's "Johnny B. Goode," during which he broke into Chuck's trademark duckwalk. Kip sang with a smooth and soulful voice, displayed frequent skills on his guitars, and radiated constant joy, enthusiasm and a warm vibe with the audience.
I've been following Elaini Arthur's musical path since her single-digit age years competing in the late Dennie Huber's "Crazy Fest" Amateur Youth Talent Show. Now a seasoned performer of the festival and fair circuit who records in Nashville, Elaini shared music on stage last month at Reservoir Park. Strumming her acoustic guitar, Elaini entertained the seated and socially-distanced audience with a mix of country, rock'n'roll, pop favorites and original songs. In the midst of recording a new album, Elaini introduced one of the songs that will be on it, "Every Moment With You," and she also performed her current single, "Sweet Kisses," which she wrote and created with several Nashville musicians. Elaini went to the country realm often for songs from Reba McIntyre, Jon Pardi, Patty Loveless, Patsy Cline, Emmylou Harris, Johnny Cash, Allison Krauss and others. She also visited the Elvis Presley catalog for renditions of "Heartbreak Hotel" and "Burning Love," and also did versions of Del Shannon's "Runaway," the Bette Midler hit "The Rose" and her hearty take on Bonnie Raitt's "Something to Talk About." After cautioning me early in the show that she had a ukulele nearby, Elaini coaxed me onto the stage to provide uke accompaniment on her rendition of Ben E. King's "Stand By Me." (Thanks Elaini!) And Elaini closed out her performance with a robust rendition of Martina McBride's "Independence Day." Elaini's performance was pleasant and easy-going, as she warmly welcomed audience members into her musical world.
The Carrolltown Public Library presented their weekly Wednesday evening "Music in the Park & Basket Auction" events throughout summer at Carrolltown's Legion Park, with proceeds helping out the library. I checked out Johnstown acoustic duo Gordy Haluska and Bo Moore during one of last month's events. Both strumming guitars and alternating singing duties, Gordy and Bo did a wide variety of 1960s and 70s rock'n'roll and pop hits. The Beatles and Eagles were prominent this night, as the pair did Beatles favorites like "All My Loving," "Here Comes the Sun," "Get Back," "Blackbird," and a six-song Fab 4 medley. From the Eagles the duo performed "Tequila Sunrise," "Hotel California," "Take It Easy" and "Peaceful Easy Feeling." Gordy and Bo also did numbers from America, James Taylor, Billy Joel, Paul Simon, Fleetwood Mac, Van Morrison, Eric Clapton and others. Along the way, they honored a request for Neil Diamond with "Sweet Caroline" (re-dubbed "Sweet Carrolltown"), and ended the night on a patriotic note with Lee Greenwood's "God Bless the U.S.A." This was a nice community gathering, as townspeople came out to share a pleasant evening, support live music and their public library.
The Boomers are happy to be back in action following their COVID layoff, and I caught them in action during their late July appearance at the outdoor C2 Trolley House Bar & Grille at Altoona's Lakemont Park. Bob Helbig on lead vocals and bass, Dave Nichols on guitar and backing vocals, and John Shimko on drums and backing vocals performed a wide variety of rock'n'roll and other hits spanning the 1950s to 1990s. The Boomers' lively cadence kept the Trolley House dance floor busy as they did favorites from The Kinks, Tom Petty, the Proclaimers, John Cafferty, the Stray Cats, Doobie Brothers, Hollies, Van Morrison, ZZ Top, Del Shannon and many more. The group put together several mash-ups and medleys, merging Wild Cherry's "Play That Funky Music" with Sly & the Family Stone's "Thank You (Falettinme Be Mice Elf Agin)," stringing together The Hollies' "Long Cool Woman (in a Black Dress)" with The Champs' "Tequila," CCR's "Suzie Q" and Tony Joe White's "Polk Salad Annie," and blending together Wilson Pickett's "Mustang Sally" with Johnny Rivers' "Rockin' Pneumonia and the Boogie Woogie Flu." The group happily honored requests for songs by the Rolling Stones, Jimmy Buffett and others, and Dave showcased his guitar skills on Santo & Johnny's "Sleepwalk."
With the Altoona Curve dormant this year due to the cancellation of minor league baseball, Altoona's People's Natural Gas Field has been presenting weekly "Curve Happy Hour" events; serving up food, beer and live acoustic music. I took in part of Ryan Matthew's Curve Happy Hour performance in late July. Ryan kept Happy Hour celebrants content with his mix of country and other hits; doing favorites from Kenny Chesney, David Lee Murphy, Craig Morgan, Hootie & the Blowfish, Dierks Bentley, Luke Bryan, Thomas Rhett, Chris Janson and more. Some of Ryan's highlights included his take on Sister Hazel's "All for You," Alan Jackson & Jimmy Buffett's "5 O Clock Somewhere," Barenaked Ladies' "If I Had $1,000,000," and one of Ryan's own original tunes, "Drinking Song" off his 2008 "Driving Home" CD. Ryan's voice was in good form, and his performance was pleasant and upbeat, as he shared stories and personal insights on the tunes as he went along. Ryan Matthew's tunes provided the fun musical soundtrack to put the audience in the mood for the weekend.
Where there's a will, there's a way…When the latest restrictions scuttled their late July show at McGarvey's, the bands Maul and Black Sun decided to move the show to both groups' basement practice space in Altoona and convert it into an online live-streaming benefit, the "Raise Your Glass to Rich for His Years of Support 'Telethon,'" with online donations going to McGarvey's proprietor Rich McGarvey to help his venue. Invited to be part of the basement "studio" audience, I got to witness both bands firsthand. A rising name on the area hard rock scene, Maul opened the show with their hard-hitting original sound, which merges elements of 1990s and 2000s rock with heavy and nu-metal riffs and dynamics. Singer Todd McKeone (doing double-duty fronting both bands), guitarists Eric Prindible and Nate Nagle, bassist Tanner Thomas and drummer Dave Applas mixed strong song structures with progressive arrangements, yielding an intriguing style with slight hints of Tool and Chevelle. Maul's performance was full-throttled and intense, and their instrumental execution tight and powerful. Black Sun introduced a new member this night with the addition of Jae Smith on keys; joining Todd on vocals, Jason Feathers on guitar, David Mollica on bass and Nathanael Woods on drums. Jae adds an extra dimension to Black Sun's doom-metal fusion hybrid, with his keyboard fills and effects adding depth and more mystique to the group's presentation. Black Sun took each of their angular original compositions and pushed them to the brink, ratcheting up the intensity as each number progressed. Todd's vocal howls became more intense, Jason's guitar solo displays elevated in ferocity, and the rhythms surged and stormed. This live stream performance successfully raised more than $800 for Rich McGarvey, as both bands and their fan bases showed their support and solidarity.
Another recent live-streaming highlight for me was the opportunity to witness last month's Sunday afternoon matinee show by youthful jazz trio Teen Town, whose performance at Harrisburg's Copper Pub & Grill was live-streamed through the Central PA Music Hall Of Fame's Facebook page. I was first amazed by these young musicians – Conner Rohrer on keys, Gabriel Severn on bass and Logan Bedard on drums – during the 2018 Millennium Music Conference in Harrisburg, and this day's performance again had me picking my lower jaw up off the floor! Named after a composition that legendary jazz bassist Jaco Pastorius created while a member of Weather Report, Teen Town laid down some incredible jazz fusion sounds during this performance. All in their teens, these guys dazzled with their instrumental skills, exploring and interacting with each other on their respective instruments, and radiating enthusiasm as they created music together. Improvisation was plentiful as they let the muse carry them, and there were plenty of dazzling solos, clever details and nuances, and all-out musicality on display. As this was an entirely instrumental performance, I didn't catch any titles of the compositions they did, but did recognize one familiar jazz piece I had heard before. I also liked the roving camera work during this performance, as a singular camera slowly panned back and forth to capture each musician doing his thing, so we could see the facial expressions as well as the details of each player's performance. It amounted to an uplifting, ear and eye-opening presentation – Teen Town is proof positive that the future of music is in good hands!
I also witnessed live stream performances from Pittsburgh great Norman Nardini and West Virginia bluegrassers Bud's Collective in recent weeks.
The regional music scene was saddened by passings in recent weeks…Jeff Paul, singer and guitarist for the popular 1990s Reading-based hard rock and punk band John Flywheel, passed away on August 1 at age 63…And Greg Shiley, owner and operator of popular outdoor concert venue Shiley's Acres near Martinsburg, West Virginia, died on August 19 from complications after heart surgery. He was 65. Our heartfelt condolences go out to the families, friends and colleagues of both men.
News and notes…More annual area festivals and events have been shelved until next year due to COVID-19, including the two-weekend Bedford Fall Foliage Festival in October, Altoona's Zombietown USA zombie and Halloween festival in early October, the Labor Day weekend Cambria City Ethnic Festival in Johnstown, and this month's Harmony Grange Fair in Westover…The Vietnam Veterans of America Blair County Chapter presents the fifth annual Vets Fest on Sept. 13 outside at Altoona's Unter Uns Musical & Entertainment Society; performing will be Skye 2.0, Flashbang, Oz, Flashpoint, Kickin,' Ed N'Born and Anna Oberneder, with proceeds assisting veterans in need in Blair County…The 9th annual Chuck n Christy's Backwoods Bash and Toy Drive happens Sept. 11-12 near Hopewell; performers this year include Buckshot Teaparty, Maul, New Wrath, Crow Hunter, Murder Method, Bound By the Grave, Purgatory Earth, Fyre, Black Sun, Paradigm, Iron Wolf, Negan, Wrath Of Typhon, The PennSoulvanians and more…The Clarks will release a new album this month created as a result of the coronavirus pandemic; The album, "Live from the Livestream," features 13 songs recorded during The Clarks' various live streaming performances during the COVID-19 shutdown this past spring – the album comes out Sept. 18…Longtime western PA entertainer Zupe has released a polka album with his group The Polka Commandos, called "Na zdrowie! (Nostrovia!)" (see the review of this album elsewhere in this issue)…An Altoona native now living in Pittsburgh, keyboardist and composer Don Hughes has released his third studio instrumental album, called "A Hero's Journey"…And Bloomsburg rock artist Jonah Whale issues his new album, entitled "VI," on Oct. 20.
Please send correspondence and recordings to: Jim Price, 1104 S. Catherine St., Altoona, PA 16602. You can also e-mail me at jptheprofessor@gmail.com. And if you're into social networking, look me up on Facebook. Keep washing those hands and wearing those masks, and SUPPORT LOCAL MUSIC!