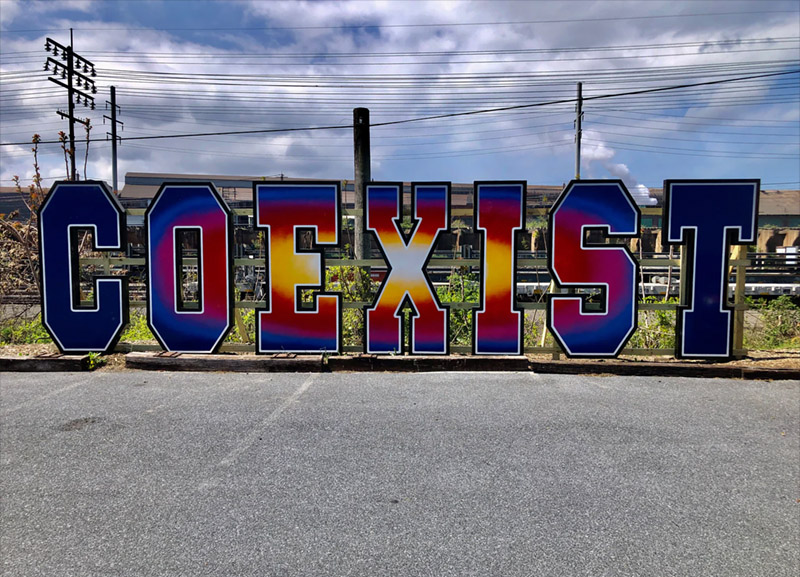 Coexist Glass Gallery
---
Located at 310 S. Front Street in Steelton PA the Coexist Glass Gallery has been transformed from a bland store front into a whimsical piece of amazing artwork. Just stopping down to check out the amazing glass work covering the entire building is worth the trip. The owner, Shawn Gold has given local artists a chance to shine! Literally all over his store front. The Mosaic was completed by Natasha Moraga and Carrie Stroope as well as many volunteers from the community. You can spend hours looking over the artwork and still see something new each time.
The amazing art doesn't stop on the outside, as the inside of the store is a visual overload; Glass pipes, pendants, anything you could imagine made out of glass. There is a glass blowing studio and if you're lucky you may even catch an artist at work. It doesn't stop with Glass. They also have crystals galore along with local made jewelry. Top it off with all your favorite smoking accessories, and a Coffee shop. That's right you can even grab a cup of Joe in the process. The Coffee shop, dubbed the "Melted Pot Coffee Shop", will be up and running by Summertime.
Shawn has also started Open Mic Nights Thursdays 7-11pm. They have a nice stage area with a drum kit and Shawn is also giving musicians a place to go hang out and jam, that's not your typical bar scene. Along with the Open Mic they are also doing a "BYOV" or bring your own vinyl night on Tuesdays starting in May (dates and times to be announced). Also in May they will be bringing back world renowned mask maker Jeff Semmerling with over 35 years of experience in making masks. He creates true masterpieces and will be creating a new duo to go along with the 'Cheech and Chong' masks he made in April.
But wait there is MORE!… The Coexist team is also starting a farmer's market on Wednesdays from 3-7p and Saturdays 8am-1pm. If you're interested in setting up a table please contact Shawn at Coexist for all the details. Or just stop down at Coexist and grab some local goods and check out all that Coexist has to offer. Remember this is not just a "Smoke Shop" this is a place where you can hang out and relax with like minded people and be part of the Community that they are building through unity. Check out the ad on the next page and if you mention that you saw the Coexist ad in the PA Musician Magazine you will receive 15% OFF your purchase (some exclusions apply)