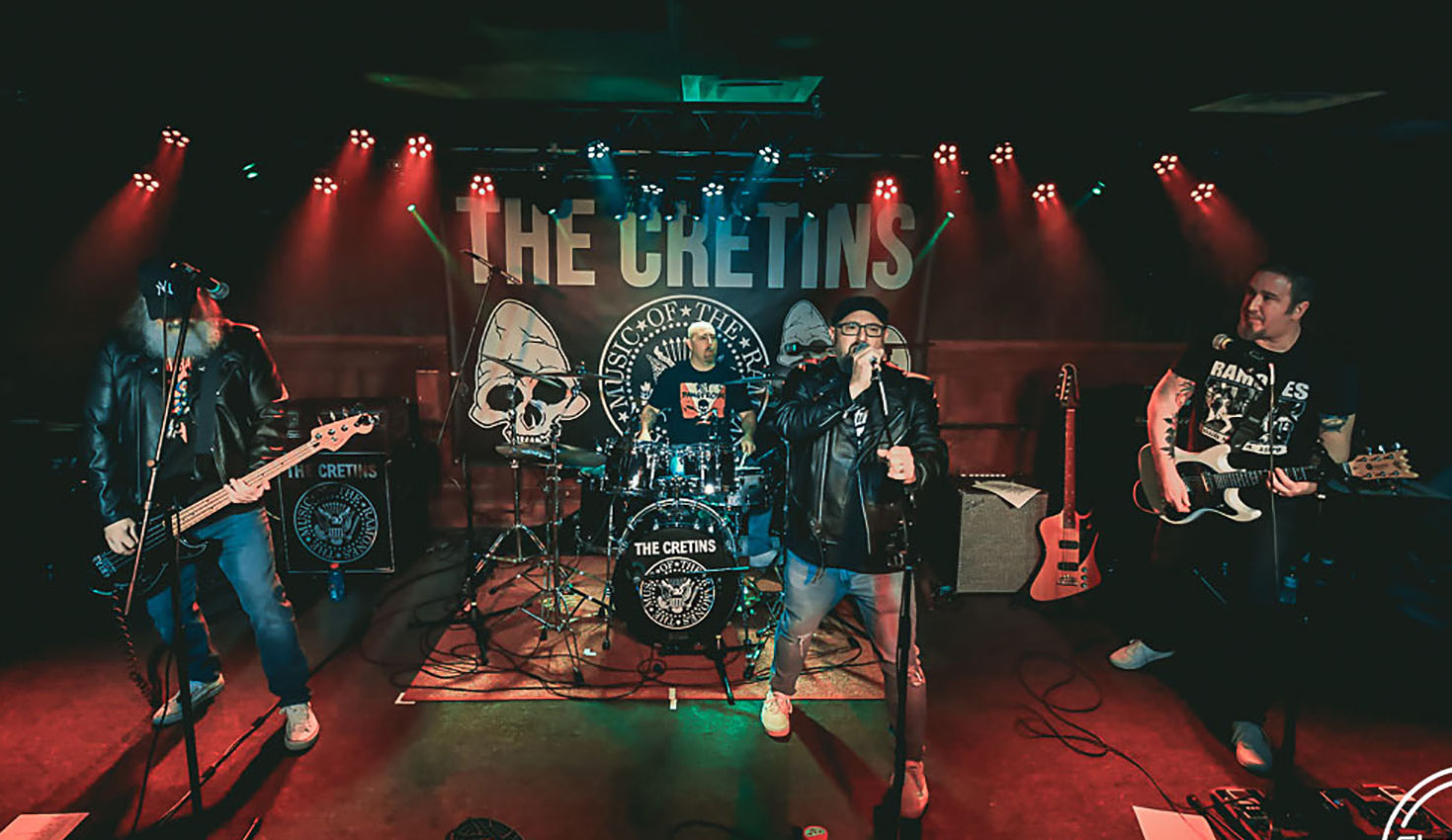 The Cretins at Underground LIVE
---
Hello PA and welcome back to the latest edition of PA Musician Magazine. You may have noticed that the paper is just a little thicker this month.  We have had a steady increase in advertisers and there was just no way to cram it all into 24 pages so we had to jump to 32 pages.  With the extra pages we are able to add some new content and I decided to feature Darlene Hassinger, for our first of and hopefully more, Spotlights on Local Music Photographers. There are a ton of talented photographers out there covering our area, whose talents sometimes get lost in the world of the internet.  Being able to get your photos published in print format is something not many people get to do these days. So please go check out Darlene's photos in this issue and give her a big hi-five the next time you see her out capturing a show. She is a true local music lover and one heck of a photographer. Also I would like to thank her for supplying us with photos and doing her first article. It isn't as easy as it sounds putting your work and yourself out there to the public, but she did a great job. thanks again Darlene. 
Say the name Jigsy's to just about anyone and they will say Oh I know that name, where did I see that at?  Well the answer is right along 11-15 just past the Summerdale plaza in Enola. Just a short drive away Jigsy's Brewpub & Restaurant is home to some of the best wings and pizza in the Harrisburg area. They have a beautiful patio area along with the restaurant and they also have LIVE Music! This month they have Neil Mcclain on the 6th, Wilson Lucia Duo on the 13th, the ever popular Matt Jameson on the 20th and an Open Mic Night with RJ Conrad on the 27th. The weather is starting to break and we will have some nice evenings before long, so get out and enjoy them at Jigsy's Brew Pub. Check them out at facebook.com/jigsysoldforgepizza . 
Nick from 717 entertainment has been blasting shows out of the solar system this year. May is no exception with some huge shows over at Lovedrafts Brewing Co. Starting off with Through Fire, Dropout Kings, Hate Grenade, Defiant and Nailbite all in one night on Tuesday the 9th. On the 11th it's Saving Vice, Renovare, Ultraviolent, Who they Fear and Obsolescence. Wow some heavy hitters, but there's more UGLY KID JOE! that's right I guess that's pretty much all you need to say about that. Except it's on the 26th and this is the  first U.S. tour in nearly two decades. They will be rocking with special guests Pistols At Dawn. That's not all they also have Filter on the 30th along with a full schedule of events you can check out on page 2.
Another big event going on this month is the Racehorse Tavern's St Jude Benefit week!  This event is all about the kids at St Jude Children's Research Hospital and is in memory of James K Delisio Sr. Jim at the Racehorse is very passionate about this event and goes all out to bring in the best entertainment and guest bartenders to help raise as much as possible. The week starts out with guest bartenders and all tips go to St Judes. Along with the guest bartenders there will be acoustic music each night as well. On Friday they start out acoustic with the infamous Johnny REEVER then switch to the big bands with Smarty Jones, Stoned Alice, Pillbox, Rock Hollow and Awaken The Giant!  Saturday is once again opened up by MR REEVER followed by Faith Noel then a Live auction with gift baskets.  After the auction it's back to the music with Derailed, Ten Ton Stone, Diminishing Returns, Six Whiskey Revival and Jeremiah James & The Revival.  Not to mention he has the rest of the calendar full on LIVE MUSIC!
I wish I could write about all the great shows going on this month but just look through the pages and see for yourself.  I would like to say I'm very grateful for all the support showing up the last couple months. I really appreciate each and everyone of you. Next month marks 5 years since I took over the paper so I'll save all the mushy thank you's for June. Till then, take care PA and like I say each month, get a hold of me call or text 717-636-4203 ( I think my phone is working now! that's another story!) or email joshnoll@pamusician.net  Peace.